This sophisticated, celebratory hankie sends cheer and good wishes to the recipient in a multitude of languages. What a lovely gift to start off the New Year.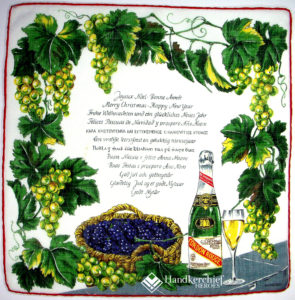 "Cheers to a new year and another chance for us to get it right."
Oprah Winfrey
Sparkling and effervescent, champagne epitomizes jubilation and revelry. The list of "best years" ends at 1949, which helps us date this charming accessory.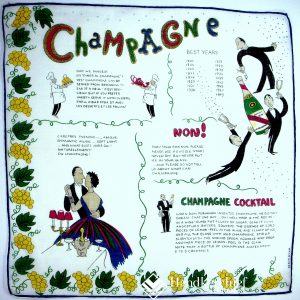 This hankie is a hoot. Although the dice spell "Good Luck" this gentleman's roll may have sentenced him to buying a Mathusalem or (gasp) a Nabuchodonosor for the celebration. Yikes!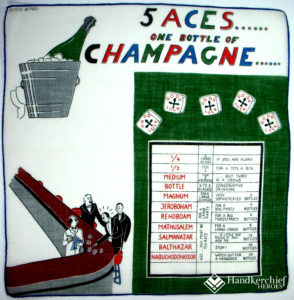 Seeing these gentleman at the bar always brings to mind the fabulous Slim Aaron's photo dubbed "The Four Kings" (of Hollywood) featuring (L to R) Clark Gable, Van Heflin, Gary Cooper a James Stewart, shown here in white tie at a 1957 New Year's party in the Crown Room at Romanoff's in Beverly Hills. Smithsonian magazine called this image "a Mount Rushmore of stardom."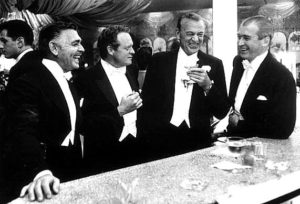 One of today's trends has folks spending

New Year's Eve

in Las Vegas, Atlantic City or other casino hot spots, hoping for Lady Luck to kickstart their New Year with a winning streak. If you want to get lucky on the slots or table, you don't need to be in Nevada to do it. You can quite easily access dream palace casino online and from your mobile device.

"My luck's no greater than yours or any man's. You need only to sharpen your eyes to see your luck when it comes, and sharpen your wits to use what falls into your hands."

Lloyd Alexander, Taran Wanderer
To enhance your viewing, an instrumental of Luck Be a Lady by the Lame Street Band. The song was written by Frank Loesser in 1950 and featured in the musical Guys and Dolls.
httpa://www.youtube.com/watch?v=xmWkqjMYtFE
A silk souvenir from the French Riviera surely holds memories of starlit nights and games of baccarat chemin de fer beneath crystal chandeliers.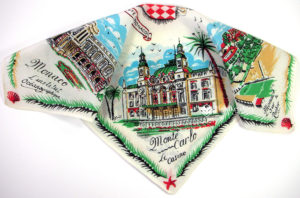 This gem includes the likeness of HRH Princess Grace on a postage stamp. Note our mink-stoled maven sports a lace trimmed evening handkerchief.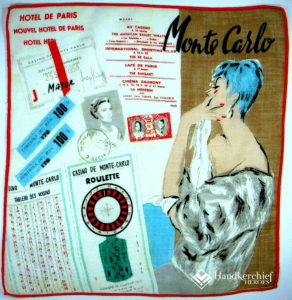 Regardless of resolutions and good intentions, every New Year starts with a roll of the dice, so flaunt your come –what-may attitude with these flirty fashions. Green and gold dice tumble and twirl on this rosy fantasy. Yes, that's gold paint shimmering throughout. This hankie was strictly for fashion, not function. It's fanciful, fabulous and fun!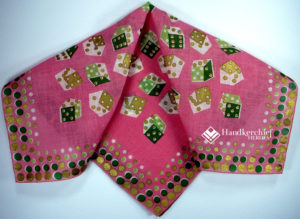 These geometric gems are sooo 1930's. The dice seem to crown the apex of skyscrapers in a cityscape. Perfect for either a lady or gentleman.
"Fortune favors the bold."

Virgil
Dice float like wind tossed marshmallows betwixt and between celebratory balloons.

"Just as we tend to underestimate the role of luck in life in general, we tend to overestimate it in games of chance."

Nassim Nicholas Taleb

The Black Swan: The Impact of the Highly Improbable
Advice for casino goers runs the gamut, from "Don't mortgage the house" to "Carry your lucky charms."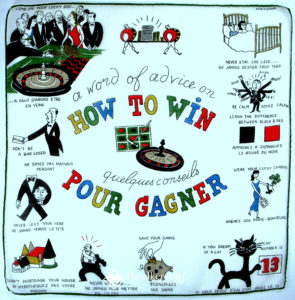 Some gamblers will wager on any game from backgammon to Chinese checkers. (Collect long enough and you'll find almost any image on a handkerchief!)
Of course there's the ubiquitous lottery, shown here with a colorful cat that could match wits with the Pink Panther. When you hear the word lotto, most of us think of state lotteries or Powerball games, yet the dictionary defines lotto as "a game of chance in which a leader draws numbered disks at random, and players cover corresponding numbers on their cards, the winner being the first to cover a complete row." Sure sounds like Bingo to me. (or Keno in a casino.)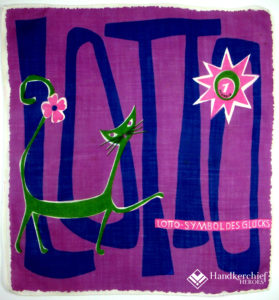 "Luck is not as random as you think.
Before that lottery ticket won the jackpot, someone had to buy it."
Vera Nazarian
If you're not a whiz with games, perhaps your skill lies with trivia. If you hear the words "Liberty Bell" what comes to mind? Could there be more than one answer? Indeed. Charles Fey of San Francisco is commonly credited with inventing the "Liberty Bell" in the late 1800's. His Liberty Bell was the first what? (Answer at the end of the blog.) Now, back to the games….
One timeless casino favorite is roulette. Below, little knights wield croupier's sticks to swoop up stacks of poker chips. Note the French "Chance et Bonheur" which translates Luck and Happiness, a message found on many a fashion handkerchief.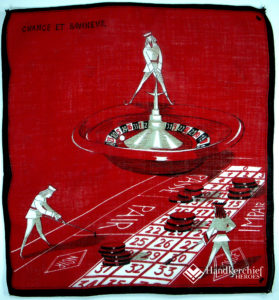 "Bond didn't defend the practice. He simply maintained that

the more effort and ingenuity you put into gambling, the more you took out."

Ian Fleming, Casino Royale
What would a casino be without poker? Here's a royal flush – in diamonds no less, which indeed, the lucky player may indulge in purchasing, once he's cashed in his chips. Poker is a game that can lead to unbelievable wins, which is why so many people decide to play it on websites like topjapanesecasino.com. You may also be inspired to after you're done here.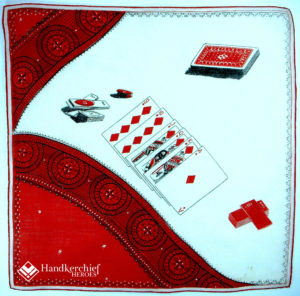 "I don't gamble, if you will concede that poker is a game of skill."
Robert A. Heinlein, Glory Road
Countries around the world partake in card games, from childhood upward. Many expressions used in cards are transferable to the game of life. Someone holding a Royal Flush is considered to be "holding all the cards", thus, the grand winner over all. The opposite is being "dealt a bad hand", with dismal odds for success. When you don't want others to see your cards you are said to "play your cards close to the chest" as opposed to "laying all your cards on the table". People are cautioned to "play your cards right" if you want to succeed in an endeavor, and in some instances, you may even have a chance to "play your trump card." The trump card holds a higher value. If you have a good card but are keeping it hidden, waiting for just the right moment to play it, you are said to "have an ace up your sleeve." You can readily see these plays relate to life as well, whether you decide to lay your cards on the table or sequester that little ace up your sleeve.
Here's a fun, flirty hankie to let peep from your pocket or drape over your belt as you wend your way through the casino.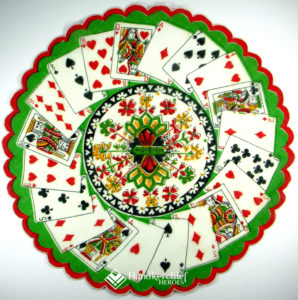 A fanciful frolic of Kings, Queens, and knaves in soft spring hues.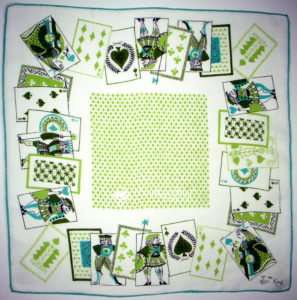 No one can top textile designer Tammis Keefe when it comes to composition and color. Keep one of these merry mouchoirs in your pocket and you may be inspired to play long into the wee hours. This prolific artist passed away in 1960, so we know these images are prior to that date. Back then olive with salmon and turquoise was cutting edge. The image is perfection.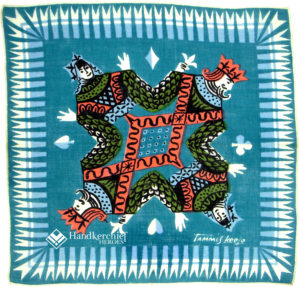 They're not the four Kings of Hollywood, but nevertheless, still a handsome quartet in royal regalia.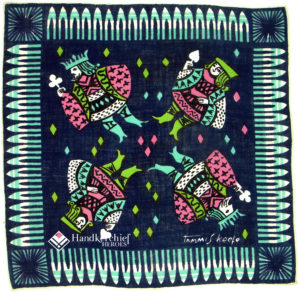 Royalty in Renaissance attire adorn this beauty. Note the teensy dice dead center, surrounded by not only the four suits of spades, hearts, diamond and clubs, but also orbs, acorns, roses, bells, shields and more.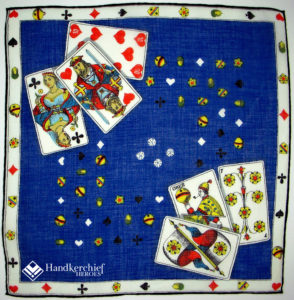 Many of these images are featured in the table below* which illustrates how different countries suited their cards.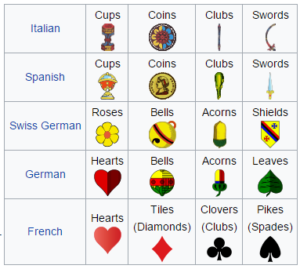 Histories vary as to the origin of playing cards. Some claim card playing began as a gambling game in the 10th century in China or India. Cards possibly entered Southern Europe in the 14th century through Egypt, where the suits were cups, coins, swords and polo sticks. As cards became more popular, various cultures created their own suits. In France, card makers chose spades, hearts, diamonds and clubs. Purportedly, the suits represented the four classes – Spades represented nobility, Hearts embodied the clergy, Diamonds personified merchants and Clubs typified the peasant class. The history of playing cards is voluminous and fascinating, with dozens of books explaining the symbols and their origins. We can't do them justice here, but it's no surprise they are a popular subject for fashion handkerchiefs.
It's also no surprise to find playing cards on these fashionable lipstick hankies. For one thing, no lady wants to excuse herself from the table when she's on a winning streak. She can reapply and blot her lipstick right there at the game. In addition, waving a little red flag could prove to be a calculated distraction at a crucial moment, such as during a bluff in a poker game.
These "roll of the dice hankies" are ab fab, n'est-ce pas? Note the dice on the left sport images of playing cards, creating a hybrid of dice & cards. Ah that a hand could actually hold four ace of spades!
Fans have always been a flirting staple for women, so to place a scarlet one on a flirty hankie is a double whammy. Fluttering this little number could drive a man to distraction, while m'lady quietly wins the game. Chance et Bonheur indeed! ? The game on the right may look like solitaire, but with whisper of netting set against a chili hot backdrop we doubt the owner of this hankie will be solitary for long…
From the top hat and wands featured in the hankie below, we can assume prestidigitation is afoot, and what magician leaves home without his trusty deck of cards? With magic on the marquee, methinks this is a perfect handkerchief to carry in Las Vegas.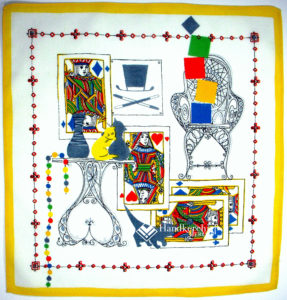 "Learn to recognize good luck when it's waving at you, hoping to get your attention."

Sally Koslow
Regardless of what the cards hold in store for you in the coming year, we wish you many colorful adventures; hopefully some may include hearts and diamonds, along with boundless good luck in spades.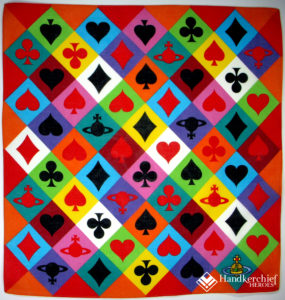 "If I lost all, at least I would have played for it. It's always been my philosophy

that one must play, or be a loser two-fold."
Anna Freeman, The Fair Fight
Just for Fun
Answer: The Liberty Bell was a slot machine. There had been earlier versions of gambling machines, but they were more like vending machines. Anyone who has been to https://www.bcasinoreview.com/ will note the evolution of slot machines has been extensive in the digital age. (Workman Publishing, pageaday.com)
If you happen to find yourself in United Airline terminal 3 at San Francisco Airport anytime soon, leave yourself a few moments to check out "Games of Chance: Gambling Devices of the Mechanical Age" one of the many temporary exhibits of this terrific museum. You'll even one arm bandits – life size carved statues of men with one arm serving as the lever to activate the slot machine displayed in their chests. You can get a teensy taste of the exhibit here: https://www.flysfo.com/museum/exhibitions/games-chance-gambling-devices-mechanical-age
"In the dank utility room deep in the subbasements of my personality,

a little man wiped his hands on his overalls and pulled the switch: More."

Colson Whitehead
Songs about gambling are almost too numerous to List. Viva Las Vegas alone has been sung by everyone from Elvis to Engelbert Humperdinck, ZZ Top to Nina Hagen, to Bruce Springsteen and more.
This compilation, courtesy of Anthony Curtis' Las Vegas Advisor, lists songs and recording artists (not necessarily the lyricist or author of the song). One wonders if these were written after a big win or a big loss. Probably a bit of both.
The Gambler – Kenny Rogers
Luck Be A Lady – Frank Sinatra
Lucky Too (Christmas in Las Vegas) – Bob Neuwirth
Las Vegas Virgin – Sonia Dada
Gambler – Madonna
Ace of Spades – Motorhead
Son of a Rotten Gambler – Emmylou Harris
I Let A Gambler Lead Me Astray – Odetta
Blackjack – Ray Charles
Shooting High Dice – Mississippi Sheiks
Draw of the Cards – Kim Carnes
Poker – Electric Light Orchestra
Riverboat Gambler – Carly Simon
Shape of My Heart – Sting
House of the Rising Sun – The Animals
The Angel and the Gambler – Iron Maiden
Tumbling Dice – Rolling Stones
The Card Cheat – The Clash
The Winner Takes It All – ABBA
The Gambler – Leonard Cohen
A Good Run of Bad Luck – Clint Black
Easy Money – Billy Joel
No Luck in Gambling – Yellowman
No Cheap Thrill – Suzanne Vega
Las Vegas Turnaround – Hall & Oates
Life is Just a Card Game – Big Joe Turner
Roulette – Bon Jovi
Ramblin' Gamblin' Man – Bob Seger
Ooh Las Vegas – Emmylou Harris
Gamblin' Man – Bonnie Raitt
The Jack – AC/DC
Dealer – Traffic
Deal 'em Again – Christopher Cross
Go Down Gambling – Blood, Sweat & Tears
Whiskey, Women and Loaded Dice – Joe Liggins
Gambling Woman – Memphis Minnie
Lay Your Money Down – Bread
The Gambling Song – Cliff Richard
Gambling Polka Dot Blues – Hank Snow
The Loser – Grateful Dead
Turn of a Friendly Card – Alan Parsons
Norman the Gambler – Max Romeo and the Upsetters
Leavin'Las Vegas – Sheryl Crow
Moonlight Gambler – Frankie Lane
Queen of Las Vegas – B52s
Roll the Bones – Rush
Wind Him Up – Saga
Vegas Two Times – Stereophonics
Vegas Remains – Reclinerland
Vegas Baby – The Weeopies
Vegas – Clowns for Progress
Vegas – The Regulars
Vegas – Dan Mackenzie
Vegas Bound – Evan Olson
Vegas – Penthouse
Vegas Dream – Rick McGuire
Vegas Drag – Count Basie
Vegas – Suitcase Pimps
Vegas Polka – Frankie Yankovic
Vegas – Bobby Bare
Jesus in Vegas – Chumbawamba
Pretty Vegas – INXS
Goin' to Vegas – Jimmy Ray
Do It Again – Steely Dan
Casino Queen – Wilco
Roll of the Dice – Bruce Springsteen
It's Midnight and I'm Not Famous Yet – Jimmy Buffett
Sin City – Emmylou Harris
Here's to the Losers – Frank Sinatra
With Plenty of Money and You – Tony Bennett, Count Basie
Silver and Gold – U2
Street of Dreams – Frank Sinatra
Five Card Stud – Ace Frehley
Poker Face – Lady Gaga
Waking Up in Vegas – Katy Perry
Vegas Nights – Hootie & the Blowfish
Las Vegas with the Lights Out – Geggy Tah
Vegas – Nico
Conventioneers – Barenaked Ladies
Your Love is Like Las Vegas – The Thrills
Vegas – Clubstrophobia
Las Vegas Dealer – Gomez
Here's to Las Vegas – Barry Manilow
Sin City – Flying Burrito Brothers
L.V. (Las Vegas) Clint Holmes
Big in Vegas – Buck Owens
Straight to the Top (Vegas) – Tom Waits
Reno, Nevada – Richard Farina
Jack of Diamonds – Blind Lemon Jefferson
I Got Mine – Jim Kewskin, Dan Hicks, et al.
Sunday Street – Dave Van Ronk
Hey Louis Prima – Brian Setzer Orchestra
Gambler's Yodel – Delmore Bros./Doc Watson
I Take My Chances – Mary Chapin Carpenter
Lonesome Loser – Litter River Band
Christmas in Vegas – Dale Watson
40 Miles to Vegas – Southern culture on the Skids
Casino Road – Kevin Gordon
I Saw it Coming – Reckless Kelly
Meet Me in Las Vegas – The Four Aces
Ace in the Hole – George Strait
Waiting on the Cards to Fall – Guy Davis
Bad Card – Bob Marley
Card Sharks – Frestyle
Crazy Game of Poker – O.A.R>
From A Jack to A King – Roger Miller
Queen of Hearts – Juice Newton
Happy Ending – Randy Newman
*Image table courtesy of Wikipedia.