Today we feature a very special Thankerchief™ – a way to say "Thank You" to the front-line heroes – doctors, nurses, first-responders, firefighters, law enforcement, military, and more, along with our personal heroes – parents, grandparents, teachers, pastors, and all who deserve our unending thanks.
The border says Thank You in 56 languages, while the center holds words of hope, encouragement, heroism and strength – from Nelson Mandela to David Bowie, to provide emotional support when days are long. It can be used as a face mask, kerchief, headwrap, rally towel, or wristband.
An Angel in Your Pocket
Like having an angel in your pocket whispering encouragement It's the perfect gift for the heroes in your life.
To order your Thankerchief(s), visit our Etsy Store!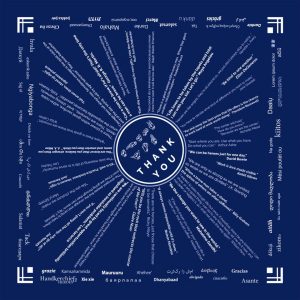 Created by HandkerchiefHeroes.com
Throughout history, the handkerchief has been there at life's crucial moments – circling the brow of an Olympic athlete, catching a bride's tears of joy, tucked over a soldier's heart as he marches into battle. They carry stories of hope, tragedy & triumph. Today's heroes stand sentry on the COVID-19 battlefield, and we offer our unending thanks.
A portion of all proceeds will support holiday gift boxes sent to our troops.  Ann Mahony has presented to members of The Marine's Memorial, The Naval Order, Gold Star Mothers, Blue Star Mothers, and Vietnam Veteran Nurses.