Today we feature a very special Thankerchief™- a badge of honor for our front line heroes – doctors, nurses, first-responders, firefighters, law enforcement, military, and more, along with our personal heroes – parents, grandparents, teachers, pastors – and all who deserve our unending thanks.
The Thankerchief™ can be used as a face mask, kerchief, headwrap, rally towel, or wristband.
In addition to saying Thank You in 56 languages, it holds messages of hope, encouragement, heroism, and strength – from Nelson Mandela, David Bowie, Mahatma Gandhi and others – to provide emotional support when days are long.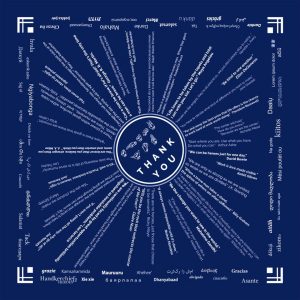 An Angel in Your Pocket
Like having an angel in your pocket whispering encouragement, the overall design represents rays of hope. It's the perfect gift for the heroes in your life.
To order your Thankerchief(s), visit our Etsy Store!