"Life is more fun if you play games."
Roald Dahl, My Uncle Oswald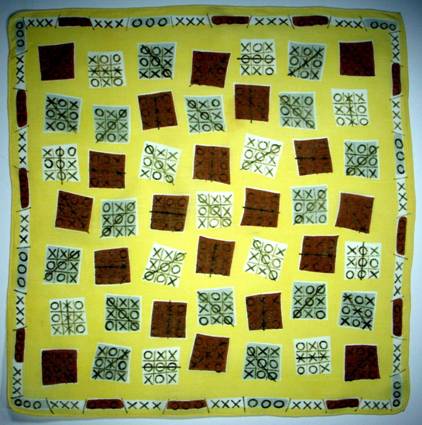 "One good thing about freezing sleet and rain" my friend Jane confided "is the family gathers around the fireplace for popcorn and hot cocoa."  I bring out the board games in an effort to compete with ipads and Xbox, and I sometimes succeed. There's something about snuggling in blankets with sleet beating against the window that makes kids reach for an actual book, playing cards, dominoes or checkers.  I love it."
Whether you indulge in a simple game of tick tac toe or roll the dice for backgammon, games are a sure fire solution for connecting people.  I know one woman who hosts game night at her house once a year for friends of all ages. There's a different game going on in every corner, in every room, and it's always great fun.
Who says checkers have to be red and black? This version in wine and moss green would be welcome in the swankiest Park Avenue pad,  sun dappled terrace in Napa, or jazz filled veranda in the Big Easy.  The hot pink and turquoise backgammon vixen alongside, who beckons us to roll the dice is equally sexy, snappy and fun.
"We do not stop playing because we grow old, we grow old because we stop playing!"
Benjamin Franklin
The Game of Kings
Centuries old, first played in China, India and Persia, the game of chess derives its name from the Persian word shah, which means "king." the Moors eventually brought chess to Spain and other parts of Europe, where the pieces earned the names we know today Castle, Knight, Bishop, King, Queen and Pawn.  The six pieces represent a cross section of social classes, and the game itself has often been compared to a microcosm of life.
| | |
| --- | --- |
| Pawn | Serfs, laborers, foot soldiers that comprise the "civilian" army. Often sacrificed to protect the important pieces. Maneuvered deftly, however, they can also trap the king. There are 8 on each side. |
| Castle | Ah yes, a man's home is his…… fortress, his safe haven.  Also known as the rook. Each side has 2 castles. |
| Knight | A professional solider, rides horseback and carries a spear. Seeks adventure. There are 2 on each side.  (The term "freelance" came from these soldiers of fortune who traveled the kingdom for hire.) |
| Bishop | Represents the church, important in Medieval times and works in conjunction with the castle. There are 2 on each side. |
| Queen | The most powerful piece on the board. Her moves combine those of the home (castle) and the church (bishop) Queen/Castle/ Bishop = a powerful triumvirate. There is only one Queen on each side. |
| King | The most important (but not the most powerful – that's still the Queen!) piece on the board.Everyone works to defend him, for if he is lost, so is the kingdom. |
The rich colors and crisp, sophisticated graphics on these chess handkerchiefs are worthy of this bold and challenging game. I love them both.
.

.

.

This hankie evokes memories of strolling through the antiquities gallery at the Metropolitan Museum on a rainy afternoon, viewing vases  from ancient Greece and Rome.  The layout allows your eye to meander betwixt and between the intriguing shapes.
The marvelous layout of chess boards in this next pair of handkerchiefs indeed makes us feel as though we have a bird's eye view on the game of life at play, particularly for those who live in the city or work in a corporate office. The pink and red with pops of bright blue feels frenzied and chaotic, while the subtle gray lulls us into the illusion the game is gentlemanly.  We know these are fashion hankies and not utilitarian, as each game piece is highlighted in metallic gold to enhance its importance, and shimmer in the spotlight.  A bit of subtext when it comes to gamesmanship?
.
Note there are far more kings, queens and knights on the board  than regulations call for, yet  isn't that how life rolls? Phalanx of competitors continually vie for position, encroaching on our territory. The artist of these pieces sends a multi-layered message, and he's not alone in his impressions.
"Chess is everything – art, science and sport."  Karpov

"Chess is really 99 percent calculation."   Soltis

"Chess is ruthless; you've got to be prepared to kill people."  Nigel Short

"When you see a good move, wait – look for a better one."  Emmaneul  Lasker

"Play the opening like a book, the middle game like a magician, and the end game like a machine."  Spielmann
When I Was Your Age….(not that old chestnut!…)
When I was around ten or eleven, my father would question why I didn't have a summer job.  I endlessly heard about how he was working "full time all summer" at my age. The martyrdom lost a bit of its punch, however, when we visited my grandparents and I asked grandma to verify his claims. "Oh yes," she confirmed, "I even made his costume." Uh, did you say costume? Apparently my father "worked" on the chessboard at the Chicago World's Fair. Long before most events were

telecast

chess masters would play on a regulation board, while below them, on a large field, actors would replicate their moves on an enormous Human Chessboard, allowing the crowd to follow along.
.My father was a knight on the chessboard.  His job gave him free admission to the fair, and if he were lucky, and removed from the board early in the game, he had the rest of the day to roam the fair. His costume earned him free admission into every exhibit and arcade. The way he described "working," sounded as though he had toiled in the Chicago stockyards or some Pennsylvania coal mine. Come to learn he was decked out in colorful breeches and tunic, and STOOD in a SQUARE.  I couldn't stop smiling.
"It could reach 100 degrees on some days" he countered, "and I couldn't move."
"Yes," chided my grandmother, "but when that happened, you could hold an umbrella."
Hmmm, a hardworking lad wielding a parasol.  Alrighty then.  After that visit, I never again heard a peep about his long summers spent "working."
Today's Tweet
A bit of research reveals that live chess games are still conducted today around the world. Who knew?
Another way to fill squares….
| | |
| --- | --- |
| | Perhaps you're a wordsmith, preferring the challenge of a crossword puzzle.  With terms like amoureuse, eros, and caresses, methinks the puzzler might next reach for a romance novel to assuage the doldrums of winter.  Or perchance a game of hearts?  Let the player beware, however, as we're reminded of the well- known adage depicted below "Lucky at Cards, Unlucky in Love." |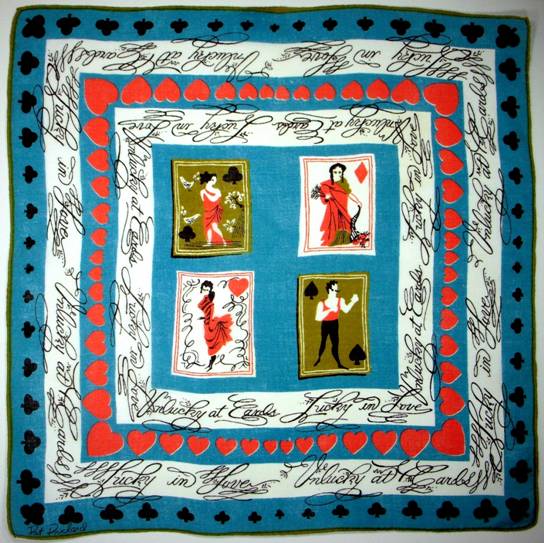 Handkerchiefs depicting card are so beautifully crafted, however, it would be hard to resist gaming.
"One of the world's most popular entertainments is a deck of cards, which contains thirteen each of four suits, highlighted by kings, queens and jacks, who are possibly the queen's younger, more attractive boyfriends."

Lemony Snicket
A Tisket A Tasket
Canasta is Spanish for "basket", as well as the name of a card game which swept the country in the 1950s. First devised in Uruguay in 1939, it quickly spread throughout South America, before it appeared in the US in 1948 as Argentine Rummy.  Canasta was all the rage, birthing a plethora of card sets, trays and books on the subject.  If all this sounds silly, show me a street corner where you won't find at least one person texting or talking on a cell phone.  One pastime replaces another…
Sleek and sophisticated or scalloped and girly, there's a hankie for every taste.
Hankies provided invaluable guides to keep you up on all the rules, regardless of which game you preferred.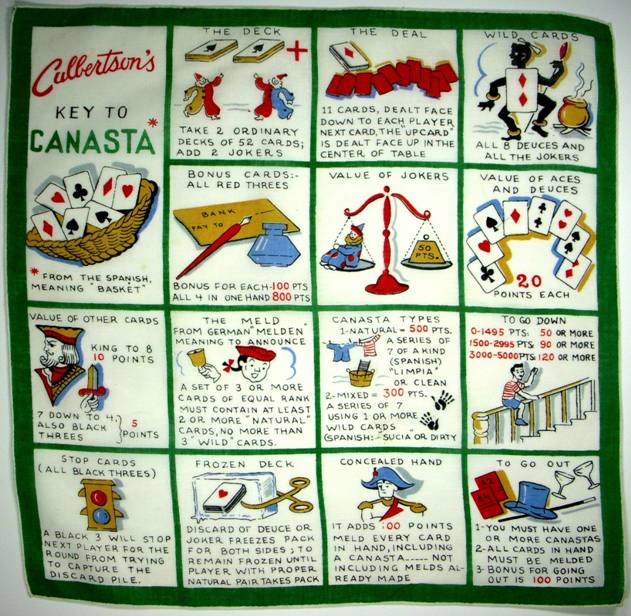 Check out this Bridge hankie which illustrates the Squeeze Play, Come On, Jump Bid and Long Suit, among others.  What a fun little number to carry in your pocket.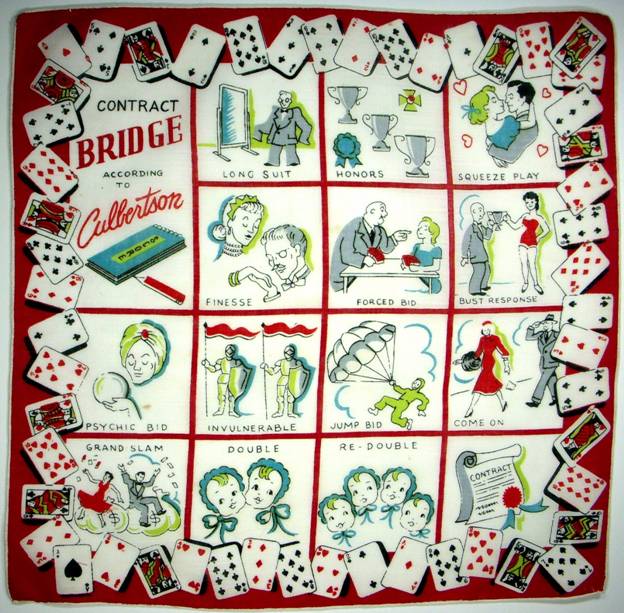 "Games give you a chance to excel, and if you're playing in good company you don't even mind if you lose because you had the enjoyment of the company during the course of the game."

Gary Gygax
Bridge –  Southern Style
Here's a set of bridge hankies still in their box from Bonwit Teller. Any collector would smile at this charming quartet, until they spy the original price tag (gulp) .25 cents!  Smaller than a standard handkerchief, these mini-hankies were meant purely for fashion, to peek from the breast pocket of a jacket or blouse.  This terrific foursome was probably intended as a hostess gift.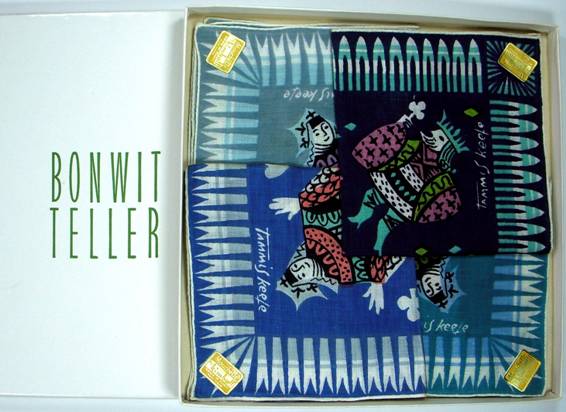 The colors and images are spectacular. I would expect no less from artist Tammis Keefe.
According to one southern friend, recalling her mother's bridge parties – "It was something all right.  Bridge in the morning concluded with lunch, usually chicken breasts or chicken salad.  If bridge was played in the afternoon, there was tea, complete with our best linens, china and silver.  My job was to pass  the petit fours.  I loved smelling all that perfume and looking at the ladies' charm bracelets.  Whatever lady was the 'dummy,' and sitting the hand out, would tell me a story about each little charm on her bracelet.I remember one bridge day when my father arrived home from work and went to the bar to make a drink."
"They consumed an entire bottle of gin?" he asked incredulously.
"Don't be silly Rand" mom replied in a soothing tone, "I'm sure it was already half empty.  We just needed a little something to fortify the lemonade."  (Fortify?) Dad winced.
"Next thing I know you'll be telling me you put bourbon in the ice tea."
"Don't be ridiculous," mom chided, "I used the bourbon for the chicken glaze."
When mom gave me a quick wink, dad caught the gesture. Afraid she was raising me to become a belle who knew the fine art of both teasing and appeasing a man, he grabbed my hand, and we headed out the door to replenish the bar.  On the way home, he stopped and bought us both ice cream cones!
"Go ahead," he instructed, "spoil your dinner.  Mine already is."
Within a few seconds, he burst out laughing.  "Oh h—, I can never stay mad at your mother.  She knows me inside and out. That's why I married her."
My oh my, what tales and memories can lay hidden in the folds of a handkerchief!
| | |
| --- | --- |
| | It wouldn't surprise me to learn that those southern ladies kept score on these pink "Handkerchief Tally" cards complete with faux lace corners and woven silk tassels. |
This regal monarch could rule any game with aplomb, whether holding court on the chessboard or anchoring the winning hand in a royal flush.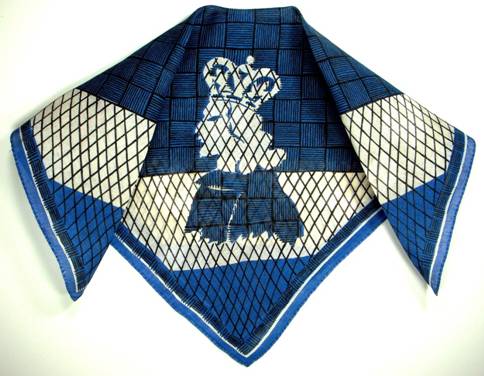 "The game itself is bigger than the winning."
Dejan Stojanovic, The Sun Watches the Sun
So if you can't play outside, play inside… your mind.  Let your imagination, and possibly competitive spirit out for a round of fun – and I don't mean thumb punching a keyboard, while your face glows, ghostly white in the reflection of an electronic screen.  May you find both the time and the company for some fun, challenging, enlightening, and joyful games, as we transition from the doldrums of winter to the softness of spring.
What's your favorite game?
I learned a domino game called chicken feet when visiting my cousins in Colorado.  It's almost a ritual that we play whenever we get together and I truly look forward to both the game and the camaraderie.  I also enjoy murder mystery dinner parties.  Do you have a favorite game from childhood?  What memories does it evoke?   What's your favorite game as an adult?  Most importantly – do your kids play anything other than electronic games? Let us know…
Just for Fun
For fans of Sudoko, chess, crossword puzzles and other games that befuddle, bemuse and bamboozle the mind, I thought you mind find this interesting.  It's a tome teeming with  "games, puzzles and word plays" created by that most imaginative author of 

Alice in Wonderland , Lewis Carroll. The name of the book? The Universe in a Handkerchief!