"If you want to establish an international presence you can't do so from New York. You need the consecration of Paris."

Oscar de la Renta
Indeed, the word consecration does seem fitting, since you feel the urge to almost genuflect when entering a hallowed House of Couture. Centuries of couturiers, lace makers, cobblers, milliners, skilled seamstresses, tailors, button makers, crafters of velvet flowers, and those who bead and embroider onto gossamer and silks, can all be found in the ateliers and workshops of Paris.
If you viewed the video in our sewing blog you witnessed the legions of master craftsmen required to assemble a single couture creation, in this case, by the House of Dior. Would a lady who attends meticulously to her wardrobe dare leave home without the appropriate handkerchief? Mon Dieu, non, non. It's not surprising then, to find ladies of fashion depicted on hankies.
To enhance your viewing, C'est si bon, composed in 1947 by Henri Betti
Played by jazz pianist Beegie Adair
.
As we saw in Under the Mistletoe, lipstick hankies are de rigueur for any romantic mademoiselle, and what better images to portray than from the City of Love? Here we find gallant gendarmes and lively kiosks emerging from all corners of the city. Alongside, a model strikes a pose as stately and elegant as the Arc de Triomphe she studies. (along with her requisite French poodle!) We've joked in the past that the fortuitously blank placard on the ground at her feet provides the perfect venue for m' lady to affix her phone number before dropping said hankie before her intended target.
A très distinguée madame in swing coat, perfectly poised chapeau and matching gants embodies the element of chic. A sophisticated mademoiselle in polka dot wrap exudes all manner of charm and glamour. Note Sacre Coeur in the distance – another great beauty to be admired.
In addition to containing phrases about fashion, the little white handbills were discretely employed for subtle advertising. The proprietor on the right includes a map to guarantee you'll find his establishment. Advertising, yes, but it's so colorful and fun. We'll definitely pop it into our pocket!
"Elegance is good taste plus a dash of daring."

Carmel Snow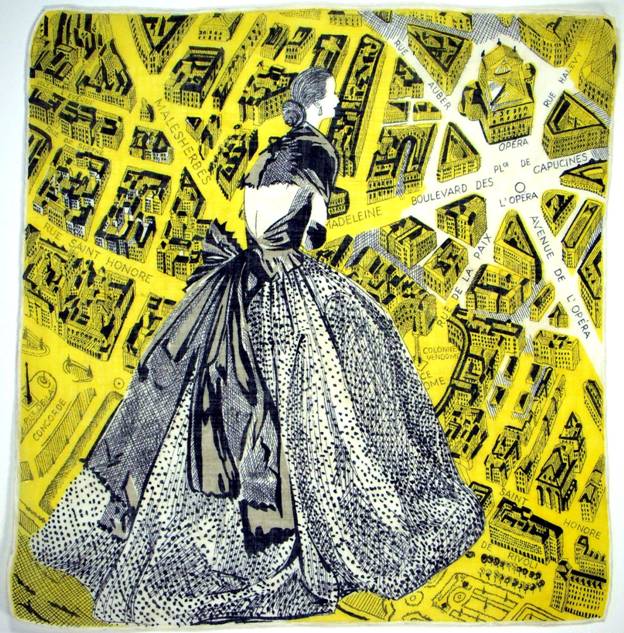 Beautifully appointed for a night at the opera in a couture gown. What a splendid handkerchief.
"For in Paris, whenever God puts a pretty woman there (in the streets) the Devil, in reply, immediately puts a fool to keep her."

Jules Barbey d'Aurevilly, Les Diaboliques
What better place to people watch and fashion shop than the steps of the Paris opera? My oh my, everything from the sweet ingénue in floral taffeta on the left to la grande dame in toreador cape and plumed turban on the right. You know from her ensemble that she's "been there, done that" and has marvelous stories to share. Women do appear to be ageless in Paris.
"Paris, I believe is a man in his twenties in love with an older woman."

John Berger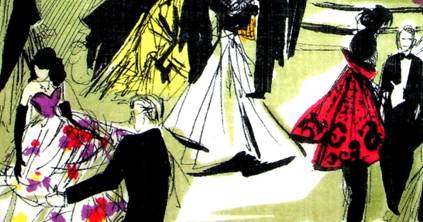 Both women hold court with equal aplomb at the foot of the grand staircase.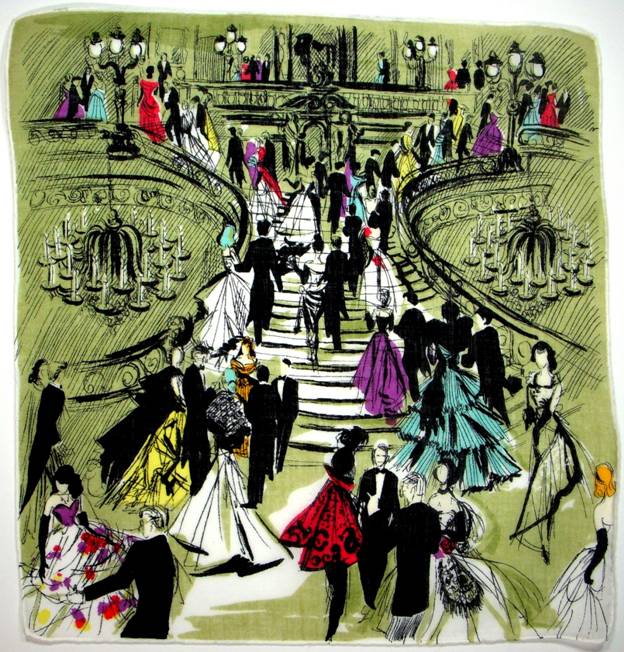 Another gorgeous opera gown which brings to mind an outrageous tale I promise to relate if you are still with us at the end of this blog.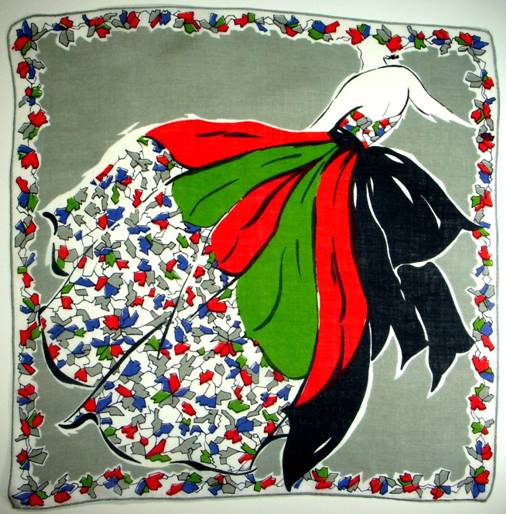 Naturellement, one does think of spring and ingénues when one thinks of Paris. Whether the demure mademoiselle shadowed in silhouette (so lovely and fresh) or the adventuresome beatnick on the left bank, we wish her every good fortune during her Paris adventures.
.
"Happy girls are the prettiest."

Audrey Hepburn
| | |
| --- | --- |
| Perhaps she's come to Paris as young model, or correspondent to cover the latest fashions, for as everyone knows, Paris sets the trends for the rest of the world. | |
In this fashion capital, you can find man's earliest artwork (the cave paintings of Lascaux) on man's latest fashion. Note how the hat, collar and gloves meld graphically, and a gentleman in black tie completes the backdrop. Sensational image, n'est-ce pas?
For the adventuresome spirit, this next hankie has it all. For the fashionista with flair who turns the rules on their head, we have this mélange of modern and medieval, wild and winsome, playful, chaotic, and just plain fun! Can you imagine what her closet holds?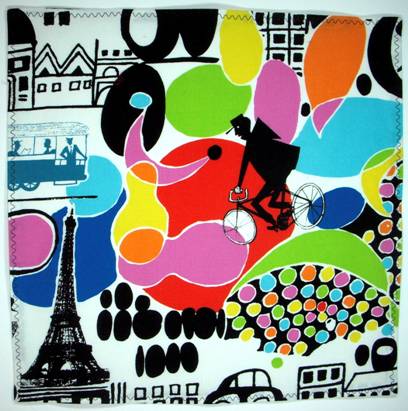 "Paris is a heaven for all woman's obsessions: hot men, great chocolates, scrumptious pastries, sexy lingerie, cool clothes, but, as any shoe-o-phile knows, this city is a hotbed of fabulous shoes.

Kirstien Lobe, Paris Hangover
Bonus
In addition to depicting images of actual fashions, artists often utilized handkerchiefs as canvasses on which to express their inspirations. Luckily, we get to carry these artworks with us to amuse, delight, and accessorize. From the soft spring muguets of Dior to the bold geometrics of Givenchy.
Artists like Marielle and Monique cavort in colorful abandon on these tiny harbingers of fashion.
Marielle
Monique
Some silly guy might think he can kill two birds with one stone by gifting his mate with images of jewelry on a hankie. Nice try pal.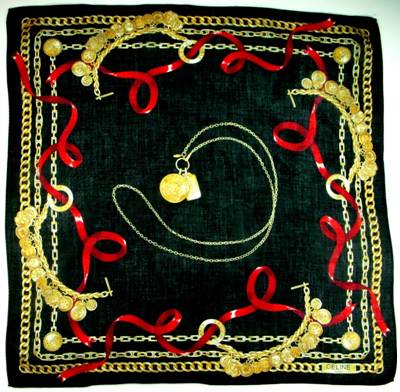 In sympathy, however, it must be impossible for any man to understand how his beloved can point to an armoire bursting with couture and claim she has nothing to wear.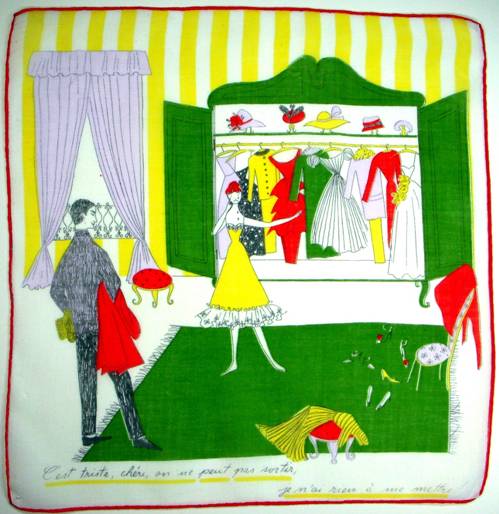 .
Seriously?
Okay, I promised if you stayed to the end, I'd relate a story inspired by this lovely hankie. Note how the border repeats the pattern in her gown….
| | |
| --- | --- |
| | My mother used to teach classes in découpage, repoussé and papier tole, and in the early 1970's she had the opportunity to study with Hiram Manning in New York. In addition to sharing his extensive knowledge, he spent lunch hours regaling his students with stories from his childhood. His family, he admitted, was wealthy and old school – maids, a butler, a chauffeur, the works. It was not unusual for his mother and her friends to have custom gowns crafted for special events and parties. Apparently there was a woman in his mother's social circle who flirted shamelessly with Hiram's father. She took note, and took charge to set the woman straight. |
.
His mother planned a formal dinner several weeks hence, and invited the interloper. She instructed both her maid and dressmaker in no uncertain terms to get a sample of the fabric to be used in her rival's dinner gown. Somehow, through her "staff" network, the maid was successful, and returned with a sample of a lovely pink and gold floral brocade. Hiram's mother proceeded to have dozens of yards of this pattern silk screened onto fabric. She then ordered slipcovers and drapes for their living room, and had the apartment "freshened" in this fabric for her garden party theme. She even had tablecloths made from the same fabric. Seriously. When 'the vixen' swept into the party, she basically disappeared against the backdrop of the newly appointed interior. No matter where she sat, she faded into the background. Wow. What did Hiram's father think? "Father adored mother" said Hiram. "He thought it was hilarious, and was flattered she would go to such lengths to keep her man." No whining, no tears. Like a five star general she marshalled her resources and 'fashionably' dispensed with her rival!!