Some folks are accidental collectors – they inherited Aunt Ruthie's depression glass or Uncle Bill's vintage pen collection.  For others, a hobby becomes a passion.  One businessman  I know has a museum quality collection of toy soldiers.  "My collecting" he explained, "was accidental.  I was sick as a child, and had to entertain myself while spending months in bed."  He transformed the folds of his blanket into Lawrence of Arabia deserts, and Civil War battlefields, as he lined up his tiny cavalries and battalions.  Once housed in shoeboxes under his bed, his regiments now command an entire wall of glass shelves in his office, from Revolutionary red coats to French legionnaires.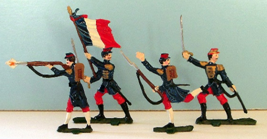 The reasons for collecting are as varied as the collectors themselves – and as fascinating.  The great fun for me is learning about something I would have completely overlooked, were it not for the passion of the collector. These stories are posted as I discovered them, in no particular order. Please wander and enjoy as you might in a flea market or antique stalls, pausing for what catches your eye.  And if you, too, are a collector – accidental or otherwise – we'd love to hear from you and share your passion.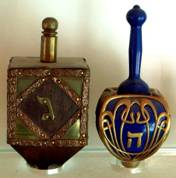 Putting Her Own Spin on Tradition Follow the convertible with the license plate TRIALSTAR, and if you can catch this whirlwind, you'll discover the powerhouse behind the wheel is Debra Bogaards, partner in the law firm Bogaards Davis. When she isn't schussing the slopes in Steamboat Springs, biking the hills of Pt. Reyes, or rowing under the Golden Gate Bridge, she's busy being a Super Lawyer, a professional designation she has held for the past eleven years.  But few know her secret passion – collecting dreidels. Like many who have...
read more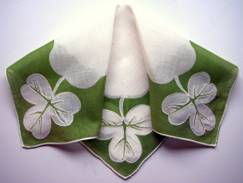 Are people so consumed with collecting that they'll drag blistered feet through antique stalls or hunker over a hot keyboard for hours to scroll through web auctions for watch fobs, pickle dishes, or campaign buttons to find the pièce de résistance to complete their collection?  Indeed they will.  You'll know them by the pallor of their skin, and the tiny computer monitors reflected in their pupils.  I used to scoff at those silly fools…until I became one.  A zombie from The Walking Dead is tame compared to a gimlet-eyed ebay master...
read more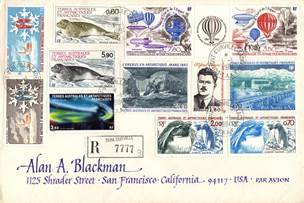 "Postage stamps have been in my blood since early childhood. My older brother and I fought to the death for the possession of our stamp collections." Alan A. Blackman From our opening quote, you might assume we'll focus on stamps, and indeed, we'll view some remarkable ones. But in this instance, it's the dance between the stamps and handwritten addresses that will hold you spellbound, as the stamps provided a springboard for the imagination, wit, charm and talent of calligrapher Alan A. Blackman. I'll keep the facts brief, so you can...
read more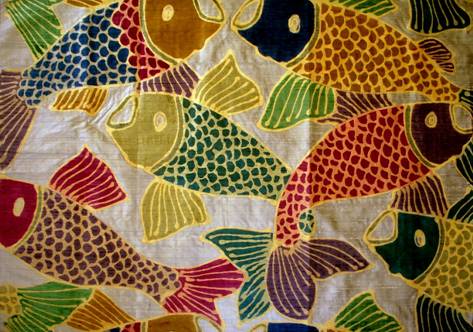 "The purest and most thoughtful minds are those which love color the most." John Ruskin, The Stones of Venice Textile artist Barbara Beckmann is the epitome of a consummate artist.  A world traveler, she collects ideas from anywhere and everywhere, as her gimlet eye absorbs line, color, and form from all corners of the globe, then translates them into one-of-a-kind sublime creations.  She's been putting a brush to fabric for decades now, and never tires of the adventure, the romance, and the thrill of inventing fresh and original designs....
read more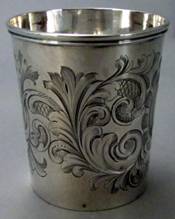 Ownership is the most intimate relationship one can have to objects. Not that they come alive in him; it is he who comes alive in them." Walter Benjamin Some friends of mine were lamenting the fact that none of their children were interested in inheriting the family silver or other treasured antiques. A few ladies were heartbroken, while others pragmatically observed "It's a different world, and tastes change."  True enough.  I'm reminded of the Wall Street Journal article which appeared in the fall of 2014 titled "She Can't Give It Away"...
read more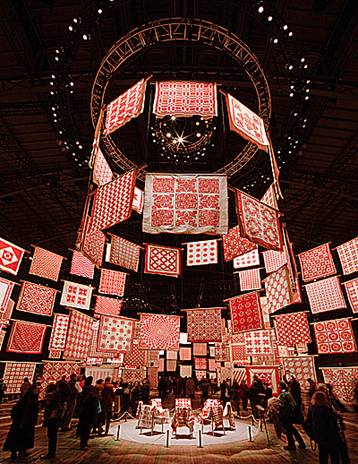 When asked by her husband Daniel what she wanted for her 80th birthday, Joanna Rose replied "Something I've never seen before" and "a gift for New York."  She got her wish.  In March, 2011, the American Folk Art Museum held an exhibit at New York's Armory showcasing Joanna's magnificent collection of 651 quilts.  The twist – each and every one was executed in only red and white.  It was a feast for the eyes and a banquet for the spirit. A Treasure Hunter When asked about her outstanding collection, Rose replied "I'm not a collector." ...
read more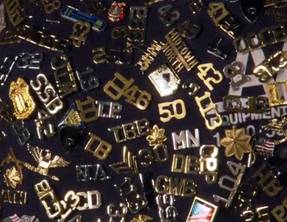 As New Yorker Susan Vitti watched the devastating attacks on the World Trade Center twin towers on September 11, she knew she had to do something, but what? She was only one person.  Then inspiration struck.  She contacted Entemann's, the famous and favorite bakery of New Yorkers, and requested donations.  Over the next nine months, Susan was personally responsible for the distribution of 14,000 boxes of donuts, bagels, cakes cookie and pies.  In gratitude, the fireman began pinning their "collar brass" to her clothing as a small gesture of...
read more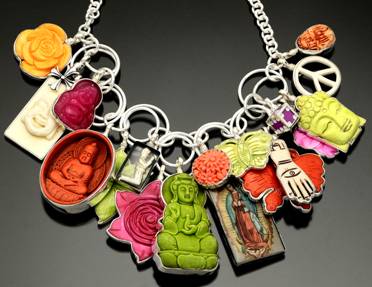 To say Coreen Cordova is a colorful personality is an understatement.  Her home, her design studio, her wardrobe, are all awash in brilliant hues that make you smile.  Not surprisingly, she is also an Accidental Collector.  Although some collectors find their passion and delve deeply in one area, there are others who find something fascinating in everything they see and touch.  They're explorers on a grand scale, often with multiple collections that reflect their grand curiosity. Coreen is an explorer extraordinaire. Before I show you her...
read more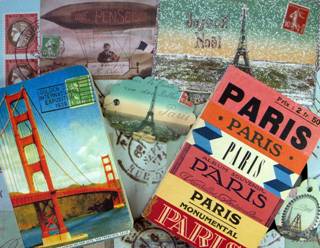 In 1968, a nine year old boy responded to an offer on a cereal box, and received an envelope containing luggage labels from around the world.  Forty six years later, he still has that envelope and its contents.  No one could have predicted, least of all that little boy, his interest in ephemera would one day mushroom into a business with clients around the globe. The young lad, Brad Parberry, grew up, and like his peers, pursued the traditional route to success, earning a degree in accounting, and an MBA in International Business, eventually...
read more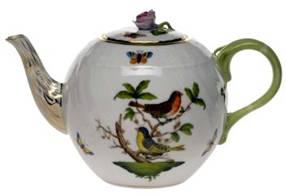 "I wasn't a man with a plan" claims Jose, "it was all a happy accident."  I knew it!  Another Accidental Collector.  When I first met Jose over a decade ago, he was an international attorney for a high tech firm.  Fluent in Spanish, French, English, Italian and more, he was adventuresome, engaging, energetic and fun.  He was interested in everything, so it's no surprise that he now spends his time in global business development and branding for companies worldwide. But back to his collection – you may be surprised to discover it's teapots! ...
read more