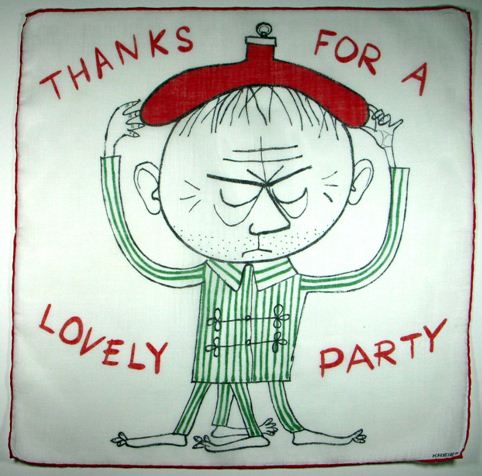 Oh dear, looks like this hapless chap may require a bit of "hair of the dog" to restore him to his former glory, or at the very least to an 'upright and locked' position. Note the wobbly-kneed stance so cleverly depicted by the four-footed stumble of our staggering celebrant. Or is it just our own double vision? If you've ever attempted to "party hearty" like this sad creature, your sympathies are with him, I'm sure.
Aside: Hair of the Dog dates back to the time of Shakespeare, and is a term we use today to refer to treatment for a hangover. Apparently the Scots believed that a few hairs of the dog that bit you applied to your wound would prevent infection or 'consequences.' According to E.C. Brewer (yep, that's his last name, and certainly apt for our circumstances here) in his 1898 Dictionary of Phrases and Fables, "If you have indulged too freely, take a glass of the same wine within 24 hours to soothe the nerves." Some sources claim the remedy dates back as far as Hippocrates.
Since the early 1970's, American vintners have supplied us with a score of award winning wines. With such a bounty to choose from, many consumers have confined their alcoholic consumption to wine alone, refining their palates and becoming true connoisseurs of the grape.
In the last decade or so, however, frosty, sexy, cocktail concoctions have been making a comeback; some say, as a result of the TV show Sex in the City, where "Cosmos" flowed like water. Gals were seen barside ordering Lemon Drops, Cosmopolitan, Appletinis and more …..
Shaken, Not Stirred….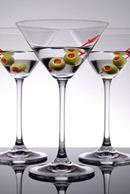 Sean Connery, in his role as James Bond, elevated ordering a martini to new heights of sophistication, with his ever so seductive admonition his gin and vermouth should arrive "Shaken Not Stirred." Fast forward to 2006 when Bond, now played by Daniel Craig, orders a dry martini in Casino Royale. He instructs the waiter "Three measures of Gordon's; one of vodka; half a measure of Kina Lillet. Shake it over ice, and add a thin slice of lemon peel." Indeed. Aficionados know precisely what they want, be it a simple lemon drop, or something more exotic.
The era of the handkerchief overlapped with the heyday of the cocktail and its ubiquitous shaker. Both venues provided a canvas for styles that ranged from sleek and sophisticated to fun and outrageous. Before we view our hankies, let's enjoy some of the shakers that accompanied the era of the cocktail. When it comes to 'shaken, not stirred,' industrial designers and artists exercised as much thought, care, and skill as any jeweler creating a work of art. You'll find everything from sleek and handsome art deco towers inlaid with cinnamon-hued enamel, to this luxurious black glass decanter with silver overlay lattice-winged geese soaring over the rushes. Both are equally breathtaking.
Cocktails in fancy shakers frequently signaled a black tie affair or formal dinner at home. Men referred to their tuxedos as their 'penguin suits,' so we're not surprised to find the silly birds depicted in all shapes and sizes. Note the difference in feeling of the second penguin with the sleek round head, delicate wings, and snazzy split bill, in contrast to the flat top, almost robotic head, and cone shaped bill of the penguin facing him. Both are delightful, but convey very different sensibilities.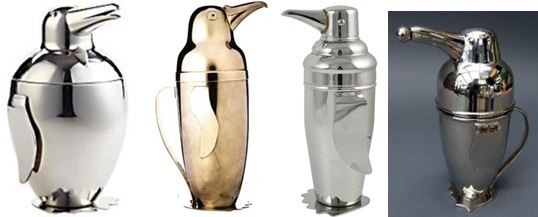 Personally, I'm partial to all things nautical. This lighthouse cocktail shaker, in all its magnificent detail, is nothing short of perfection. It's paired alongside a more robust green glass 'starboard' shaker – very masculine in feel, but both are ready for a P.O.S.H. time. The lighthouse belongs in a swanky Park Avenue penthouse of the 1930's. The nautical lamp could anchor the bar aboard a gentleman's yacht in Newport.
(P.O.S.H. is the acronym for Port Out, Starboard Home, indicating the best stateroom location when taking an ocean cruise. You wanted to be on the port/left side, when departing, and the starboard/right side when returning home.)
For the big game hunter in your life, check out these beauties. One is a mosaic of animal horn in brown and cream; the other sports the engraved image of crocodile skin. The artistry is nothing short of outstanding.
Both masterpieces of craftsmanship would feel right at home at Finca La Vigia, Ernest Hemmingway's home in Cuba. Note the ever present bar set up in his living room. Even his bedroom is adorned with the trappings of his big game hunts. Dozens of African trophies are scattered throughout the house.
Yes, this is a hankie blog, but if you don't understand the era in which the cocktail hankie flourished, I believe you miss out on much of their appeal. Hankies served as mini-canvases where artists could depict what was going on in the world around them – socially, politically, artistically, etc.
In the 1920's, 30's, 40's and even 50's, we were neither as aware of, nor sensitive to, the dangers of alcohol being a disease, as we are today, thus phrases such as drinking 'like a fish' and/or seeing 'pink elephants' was the norm, and martini graphics carried those images.
Drinking was fun and frivolous, with patrons trying the latest recipes. Many shakers spelled out the recipes, as did handkerchiefs of the day.
When not being functional, shakers were a fest for the eyes, whether sleek as a rocket ship, cool as a Bauhaus design, or a reflection the owner's passion.
Cocktails were 'in fashion' and everyone from the true sophisticate to the social climber wanted in on the game. (In the current hit show Mad Men, which depicts the fast track life Madison Avenue advertising, an office bar is ever present, with events large and small, positive and negative, seeming to call for a drink.)
Aside: Collecting martini shakers is nothing new. Stephen Visakay, author of the 1997 tome Vintage Bar Ware, identifies and values everything from the ubiquitous shaker to ice buckets, stemware, trays, and even swizzle sticks. His collection of over 1,800 pieces has been featured in seven museums. In fact, when Visakay's collection was showcased at The Museums at San Francisco International Airport, a martini shaker caught the eye of Restoration Hardware CEO Stephen Gordon. He immediately gathered his troops to the museum, and soon thereafter Restoration issued replicas of classic shakers including a 1936 Penguin, a Rooster, a Zeppelin, and more.
Retro Music, Retro Cocktails, Retro Chic
Whether gaily gulping a martini à la Carol Lombard in the 1936 screwball comedy My Man Godfrey, or slowly nursing a martini at the bar à la Humphrey Bogart in To Have and Have Not, there's a sense of romance, mystery and sophistication association with the cocktail. So fire up your mood music – Billie Holiday, Ella Fitzgerald, Count Basie, Duke Ellington, Keely Smith, Louis Armstrong, Eartha Kit, Bobby Short, Sarah Vaughn, Dean Martin, Mel Torme, Tony Bennett, etc., grasp your fashionable hankie à la Rosalind Russell, and sip a cool one… If you have any of these wonderful musicians on vinyl then you might want to have a look at Graham Slee HiFi System Components to see how the sound quality can be enhanced.
With so much attention focused on the cocktail and its many permutations, is it any wonder handkerchiefs of the time are loaded with recipes? If you hear someone order a Manhattan, a Side Car, an Eye Opener or a Bronx, a quick glance at your cheat sheet (today it would be an iphone) and you've got it covered.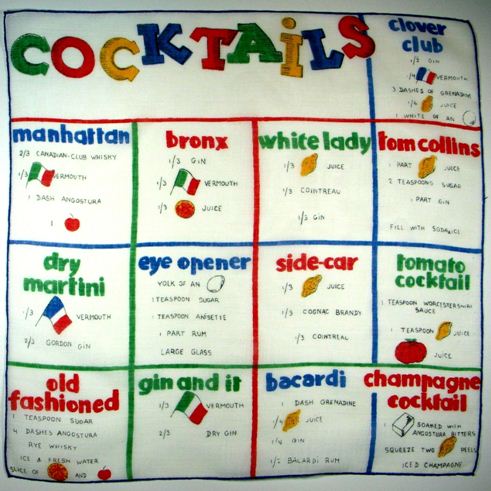 Here's a swanky hanky to dangle from your pocket, imprinted with a plethora of cocktail recipes depicted a fun circular pattern, complete with images of lemons, sugar cubes, tomatoes, peaches, cherries, etc. It's flirty and feminine. The element that keeps one guessing is the "down the drain" image anchoring the center of the circle. What exactly was the artist trying to say?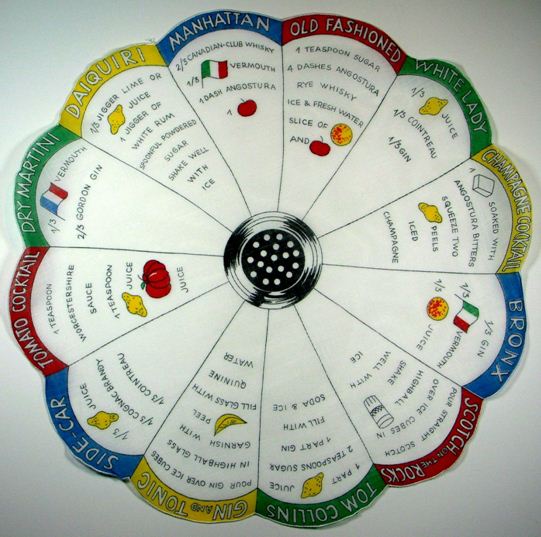 We saw this hankie in our blog on flirting, and indeed it is a fanciful feast for the eyes.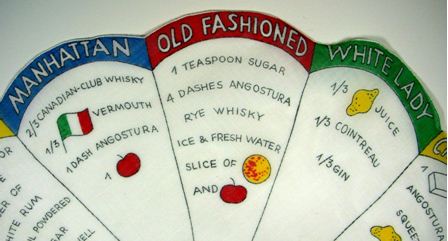 An equally colorful stunner is this bright and cheerful pinwheel of color, complete with a center loaded with bar accouterments.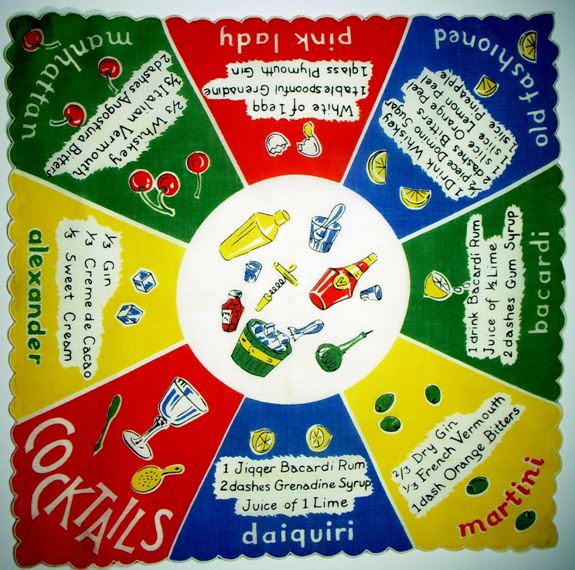 | | |
| --- | --- |
| | Perusing these recipes supports the premise that the "cocktail hour" was indeed an event. People paused to indulge in something exotic and different. In addition to the standard Scotch, Whiskey, Rum, Gin and Rye, a sophisticated bar required Crème de Cacao, Grand Marnier, Triple-sec, Cointreau, French Vermouth, Italian Vermouth, Absinthe, Anisette, Cognac, Dubonnet and dry sherry, along with Angostura bitters, Grenadine, orange bitters, tabasco, Lea & Perrins, olives, cherries, pineapple, lemons, orange juice, lemon juice, lime juice, sugar cubes and eggs. Lest we forget, bar ware includes a variety of strainers, jiggers, zesters and more. Whew! A guy or gal could work up a thirst just assembling everything for presentation. |
If you could dream it up, someone, somewhere could concoct a cocktail to depict it. Ever heard of a Gloom Chaser? Or a Broken Heart? A Maiden's Prayer? Or First Love? The damsel in the center of this hankie (who reminds one a bit of Lucille Ball with her auburn ringlets piled atop her head) is wearing a typical full skirted/wasp-waist dress of the 1950's as she nurses a Broken Heart.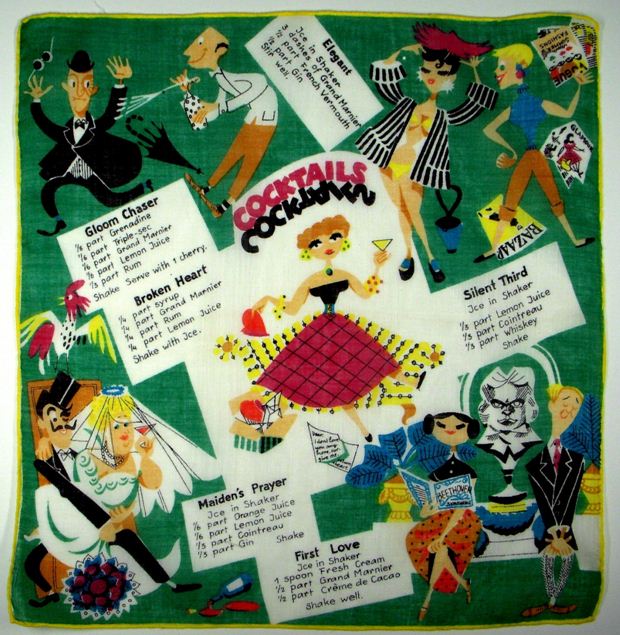 The images are lighthearted and capricious. This shy young gent is obviously smitten, but it appears her first love may be Beethoven.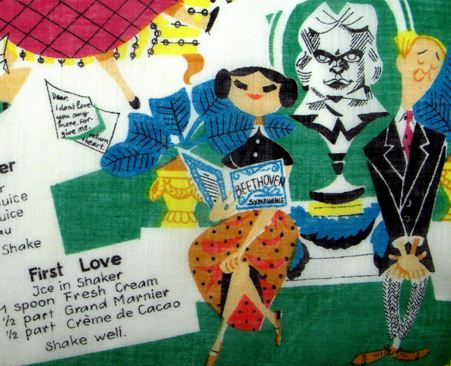 Apparently the new bride needs to fortify herself for the night ahead. While these 1950's single gals (not the swing jacket and capri pants) are busy getting "Elegant" to hunt for a groom of their own.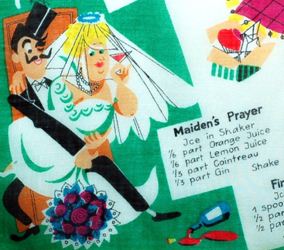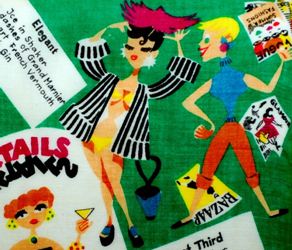 And why this dapper chap is getting the heave-ho with a seltzer bottle is anybody's guess.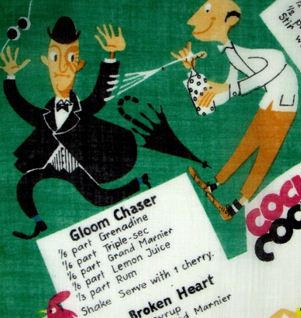 Gosh, maybe it would be easier to order a champagne cocktail and be done with it.
Um…..not so fast…. Champagne you say? Would you prefer a Champagne Cocktail? A Cobbler? A Pick-Me-Up?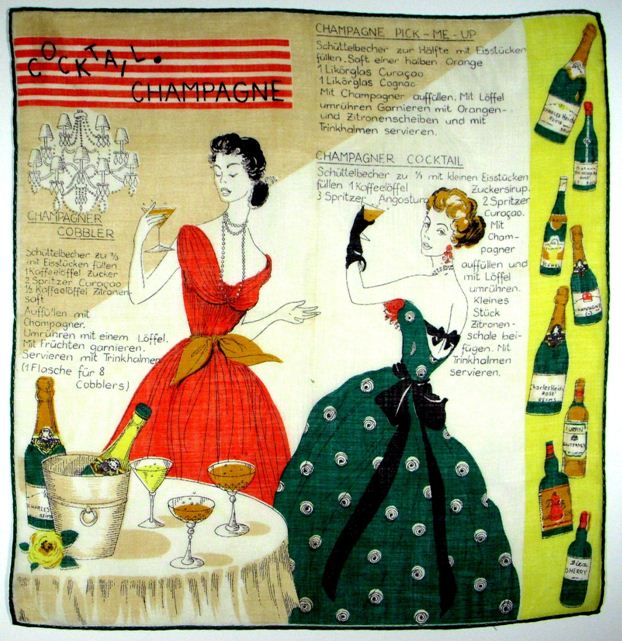 This handkerchief, written in German, has all the accoutrements of elegance – a crystal chandelier, long strand of pearls, opera gloves, strapless gown, and enough champagne to fill milady's bath. Various brands are showcased along the right hand border – Charles Heidsieck, Bouchard Père et fils, etc. The lady on the right brings to mind Hungarian actress Zsa Zsa Gabor. Note the fashion of the day. As discussed in Alter Ego, people who survived WWII were accustomed to rationing, including fabric for clothing. Dior was the first to use yards and yards of material in his post-war runway collection. The choice was deliberate. The gesture was reactionary in response to years of sacrificing. The subtext was – celebrate, revel, feast, drink champagne, and make your skirt as voluminous as you wish. Fashion is back, and in full swing.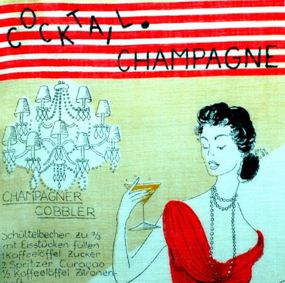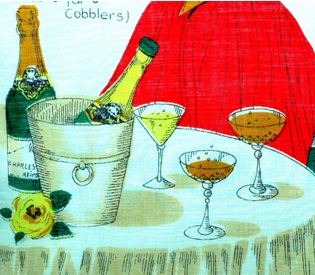 The same commercial artists who plied their skills on cocktail hankies, gave us equally fun cocktail napkins. This sextet by Tammis Keefe carries many of the traditional images – from bar butterfly to hard apple cider with the kick of a mule,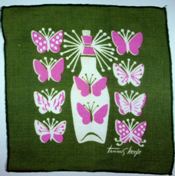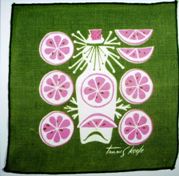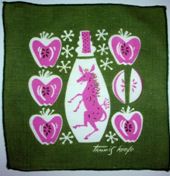 from cocktail accompaniments (pretzels, cherries, orange slices etc.) to corn liquor (moonshine) to a silly "ship in a bottle."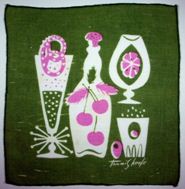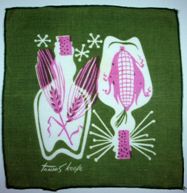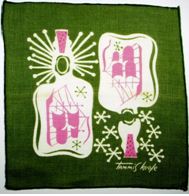 Aside: Once, at a frat party I attended in Cincinnati, they were serving beer and punch. Never having been much of a drinker, I opted for the punch. My date (bless him) grabbed the cup from me warning "Steer clear of the punch. The guys went across the state line to Kentucky and brought back 100+ proof grain alcohol. That's what's in the punch." (yikes!) There was enough pineapple juice and who knows what else to conceal the taste of the alcohol. We were in the basement rec room, which had the standard checkerboard linoleum floor. "See that huge light area over there on the floor?" he said, pointing to what looked like an enormous dry puddle. I nodded. "They dropped a bottle over there, and it took twenty years worth of wax off the floor before they could mop it up." (double yikes!) "No matter how much scrubbing they did, they couldn't get the floor to match up. The housemother said that after the party, they have to go back and buy enough moonshine to 'clean' the entire floor." Wow. Watch out for the punch ladies. It could be liquid dynamite.
If no one warned you about the punch, or even if you knew what you were doing, but imbibed one too many, there were handkerchiefs printed with antidotes to cure a throbbing head. From Prairie Oysters, to a Flippant Hen, to Moose Milk, this hankie provides the wayward drinker a road to recovery from all far corners of the globe.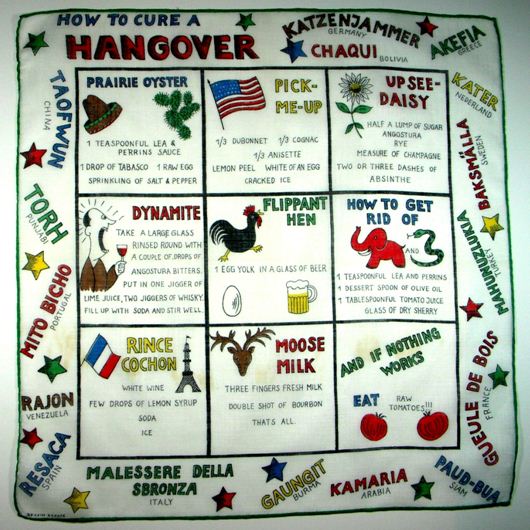 When there is actually a Hangover Handkerchief, you can be certain cocktails were a fixture in the lifestyle of that era.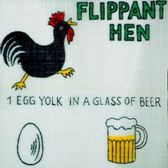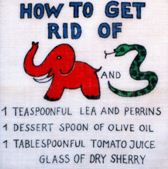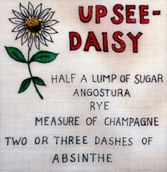 Even a lady's lipstick hankie pictures a scottie dog drinking a martini as big as he is. There was no hiding from the ubiquitous cocktail.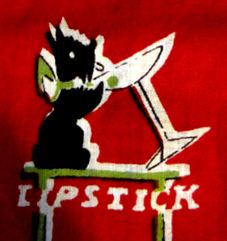 So whether you're the host or a guest, whether you're home or on the road, let's hope you choose wisely this New Year's and have no need for the cures listed below.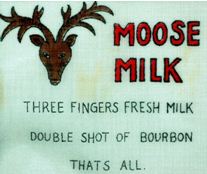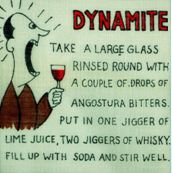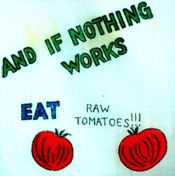 On a more serious note, I don't mean to imply that New Year's is a time for drinking to excess. I was simply looking for an occasion with which I could dovetail these cocktail hankies for your enjoyment. In all earnestness, New Year's is a time for new hopes, dreams and plans, for new beginnings. For another chance to succeed at what we failed to achieve last year. An opportunity to symbolically wipe the slate clean and start afresh, and don't we all deserve a second chance?
Someone sent me the following. I don't know the source, but thought it was worth passing along: "Before we pop the champagne and celebrate the New Year, let's reflect on the year gone by. To remember both our triumphs and our missteps – our promises made, and broken. The times we opened up to great adventures – or closed down, for fear of getting hurt. Because that's what New Year's is all about: getting another chance. A chance to forgive, to do better, to do more, to give more, to love more. To stop worrying about 'what if' and start embracing what can be. So when that ball drops at midnight, let's remember to be nice to each other, be kind to each other. And not just tonight but all year long."
Dare I say it?…. I'll drink to that!