On a par with handkerchief flirting, we present the fluttering fan.  It provides a perfect foil from whence the shy can seek shelter and the ardent arouse passion. From coquette to vixen, ingénue to vamp, a huntress skilled at the game of flirting can drop her prey with a flick of the wrist.
"The eyes are one of the most powerful tools a wom

an can have. With one look, she can relay the most intimate message. After the connection is made, words cease to exist."

Jennifer Salaiz
(The lady in gold is from a Russian website and I apologize, but I do not read Russian, so cannot give an attribution. The painting on the right, "Lady with a Fan" is by Edoardo Tofano.)
"For she had eyes and chose me."

William Shakespeare, Othello
Images of the hand fan can be found in archaeological ruins dating back to the 4th century BC in Greek, Etruscan, and Roman civilizations. Early fans were flat, and the folding fan was not introduced until the 16th or 17th century, brought to Europe by Portuguese traders from China and Japan.  Initially reserved for royalty, fans were considered a status symbol. Constructed of leaves of silk or parchment, their ribs could be made of ivory, tortoiseshell, mother of pearl or sandalwood, and often intricately carved.
Speaking of royalty, we've all encountered stories of court intrigue in our history books, and indeed, a lady's fan played a pivotal role in such intrigue, both to conceal whispering lips, as well as convey coded messages.  In Victorian times "fan talk" continued at a heated pace. The only thing that confined women more than their whalebone corsets, were restrictive rules of social decorum. To circumvent this social tethering, ladies cleverly employed fanciful fans for sending secret messages. (Stay tuned and we'll share the language of fan flirting at the end of this blog.)
This hankie depicts Marie Antoinette's fan, with intricately carved ivory ribs adorned with gold cupids.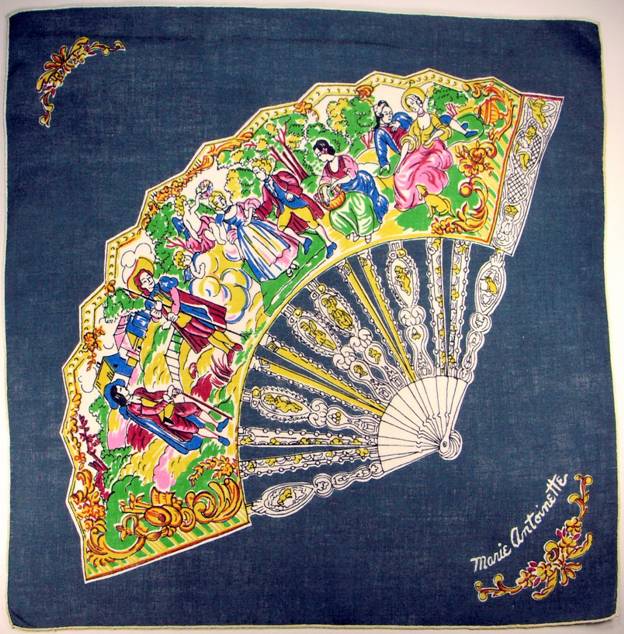 Queen Victoria's fan depicts the royal crest, the Queen, Prince Albert and seven of their nine children.  Note the child in pink on the divan holds a closed fan of her own.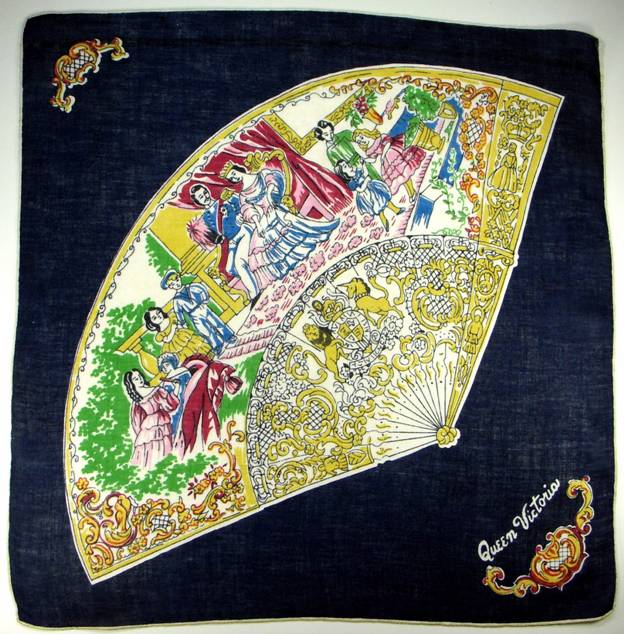 Queen Mary's fan features a pastoral festival, and once again, a lady with fan.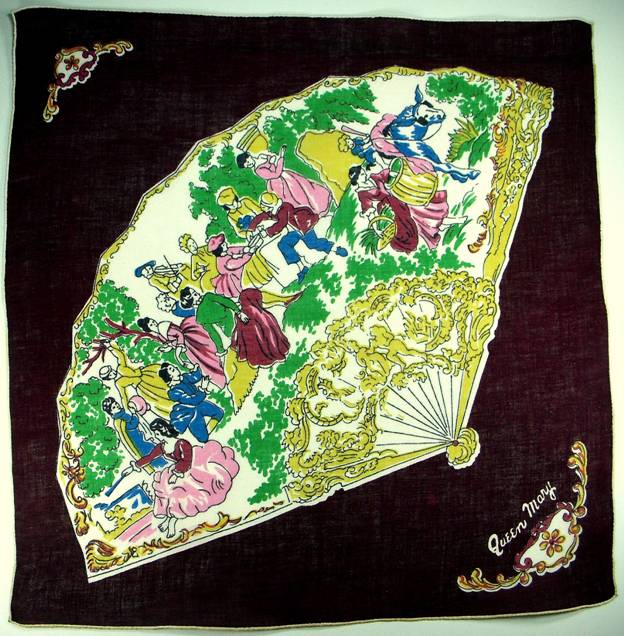 Sonia Rykiel charms and delights with this crimson bordered handkerchief aflame with fans.  Each carries its own special imagery, from toreadors to two-stepping dancers. 

"Flirting is a woman's trade, one must keep in practice."

Charlotte Bronte, Jane Eyre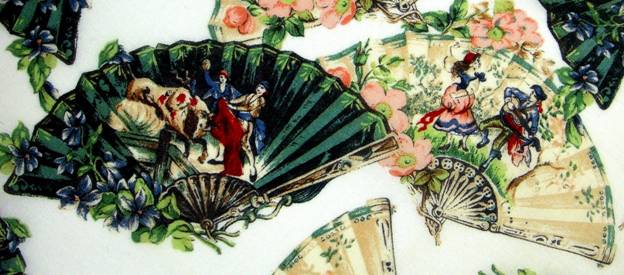 They're much more recognizable here, having been depicted both open and semi-closed. So flirtatious!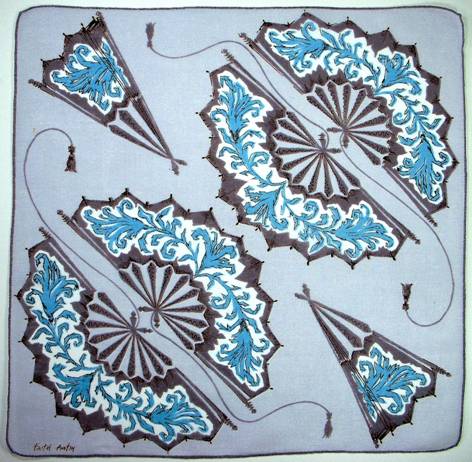 A charming souvenir hankie cleverly employs the imagery of a fan to cover lots of territory!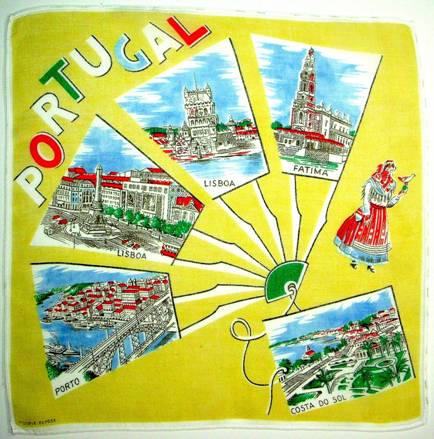 A cascade of color delights the eye in this swirl of frivolous fans. On the right, a lipstick  hankie features a lovely Señorita who signals with her fan that we are welcome to join in the dance.
A pair of lipstick hankies adorned with fancy fans. The hankie on the left reads "Luck and Happiness" or Good Luck. Perhaps there is more than one game being depicted in this little number.
You can't think of Spain, without envisioning flamenco dancers with their gorgeous tortoiseshell combs, lace mantillas, silk shawls, and of course, splendid fans. Note the flying fringe on the dancer's shawl. She's whirling up a storm with her fan unfurled. (The fact that she's a dead ringer for Gloria Swanson in Sunset Boulevard is a bit unsettling, but what the hey. I digress…) The lady on the far left also carries a fan.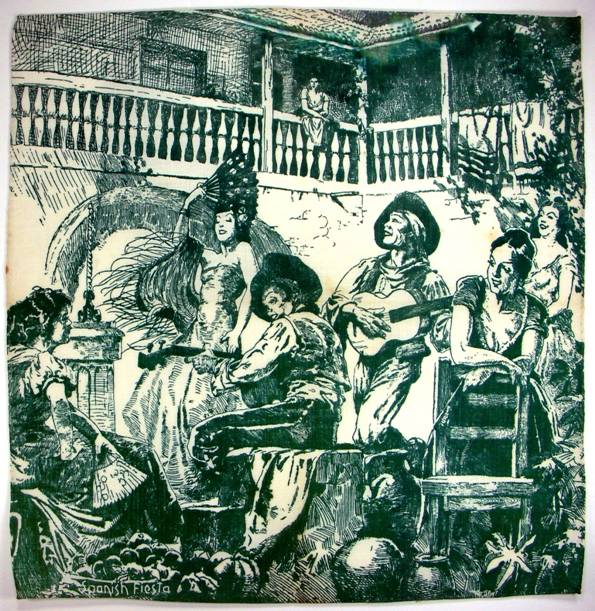 Señoritas sway around and about this crisp graphic rendition of flamenco guitars and dancers who swirl their shawls and swish their fans in frolicsome fun.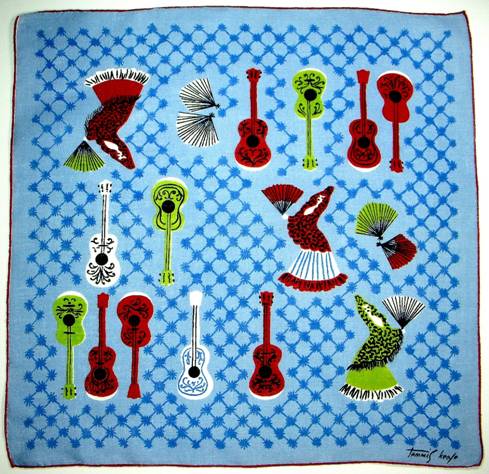 "The air is full of flying kisses sent by the people who are watching you."

Amit Kalantri, I Love You Too
This hankie has it all – gaucho hats, matador caps, tortoise shell combs, silk shawls, guitars, a seductive rose, and of course, the requisite fan. The only thing missing is the moonlight.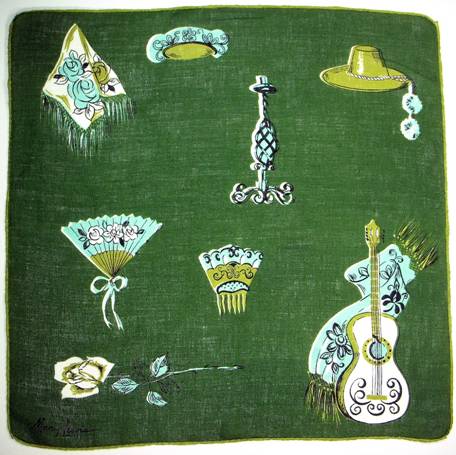 French confectioner Laudrée features a lace and beribboned fan as the centerpiece in this showcase of ladies accoutrements. Their famous macaroons float and swirl to tempt and delight, a worthy chorus to this theatrical cast of feminine frivolities.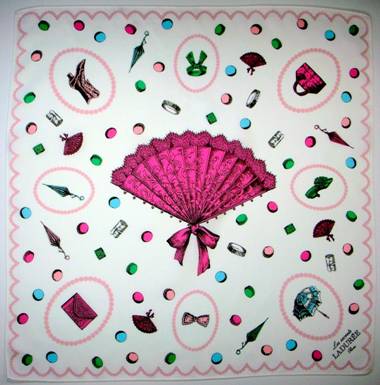 Where It All Began
Most historians attribute the origin of the fan to China, well over 3,000 years ago.  First used like an umbrella to ward off sun and rain, the large flat panels, made of resilient silk or feathers, were eventually reduced to a hand held size. The round "moon fan" was a favorite with young ladies in the Imperial palace.  Its popularity lasted for centuries, and fostered an entire new genre of art – fan painting.
Experts believe the folding fan originated in Japan, and lore has it the clever design was inspired by bat wings!  Originally fashioned by tying thin strips of cypress together with thread, the size of the fan (i.e. number of strips used) could reflect a person's rank. Fans are still used today by the Japanese Emperor and Empress during coronation and marriage ceremonies.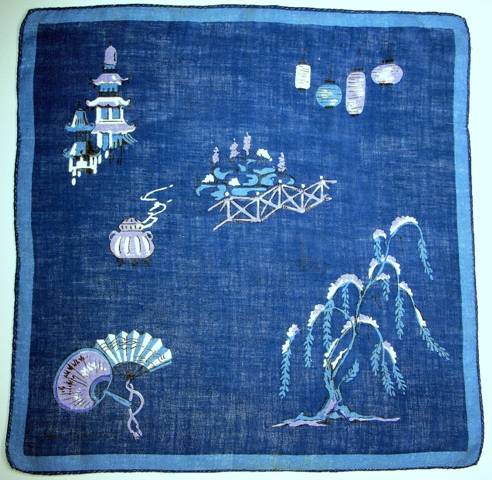 Subtle, simple, beautiful.  Asian art always seems to capture "just enough" and nothing more, leaving us with the essence of the image they wish the eye to savor, as evidenced in these next hankies which are my favorite of all the fan images.
The barely perceptible calligraphy is soft as a whisper and floats like puffs of smoke above this dancer who holds a blue fan in her right hand.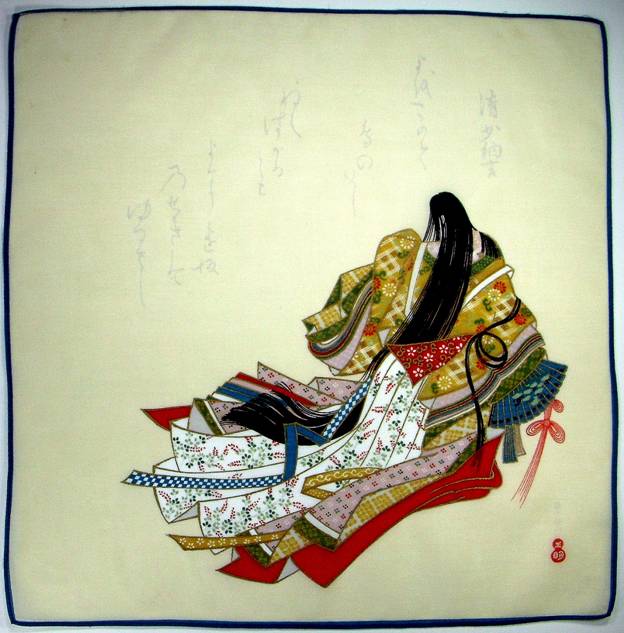 The artist achieved the perfect balance between serenity and energy, composure and arousal, in this soft lavender kimono, rolling in luxuriant ocean waves beneath a brilliant crimson sky. It provides the perfect backdrop for two enormous fans which lift and flurry a flock of golden blossoms skyward. Spectacular.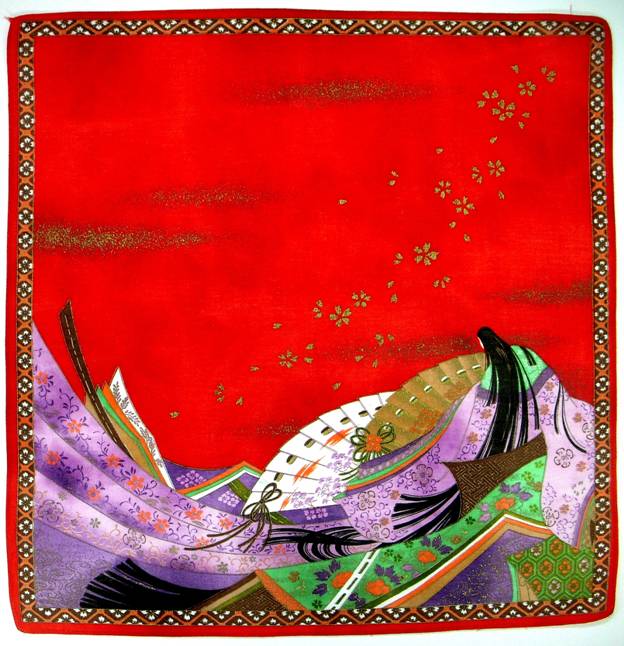 Fan Symbolism*
The Chinese character for the word "fan" has the same sound as the character for "kindness" or "good." Thus fans are viewed as good luck charms and expressions of generosity.
Round fans symbolize union or reunion and are often inscribed with romantic poems.
Folding fans have a history of symbolizing scholarship.  Traditionally men and women use different folding fans, based on the number of ribs between the folds. Women's fans must have at least 30 ribs. Men's fans can have 9, 16, 20 or 24.
In the past, Chinese fans were used to signify high social status, and were often decorated with silk tassels and jade fobs.  Today they are used to display grace in dances and personify certain traits in theatrical storytelling.
*With appreciation to cultural-china.com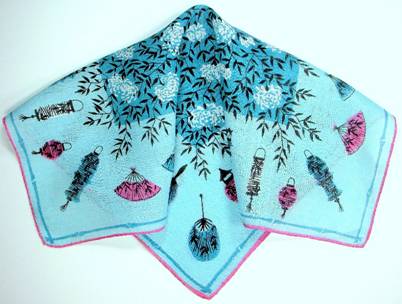 Just for Fun
"They did the whole lingering gaze thing, following it with the glancing-away, smiling-knowingly routine.  She felt vivacious a feeling she remembered; she was enjoying the self confidence, the larkiness."

Freya North, Chances