I am the New Year.

I am an unspoiled page in your book of time.

I'm your next chance at the art of living.
For many of us the thought of a new year contains the elements of both sunshine and shadow.  Most of us hope for new beginnings, but no one wants to encounter the disappointment of unmet resolutions. Certainly it's wise to take stock, but must we dwell on improving and perfecting yet again?  For the moment, let's just be grateful that we're here to turn the page, and welcome with open arms whatever adventure lies ahead.  Let's celebrate the gift of twelve months of wonder, surprises, miracles, and the good fortune to witness it all.
"The love at Christmas should be with us throughout the coming year."

Lailah Gifty Akita
These little angles march us from one season to the next with horns blaring and cymbals crashing on the front and reverse of this folded handkerchief.
It opens to reveal a Happy New Year greeting.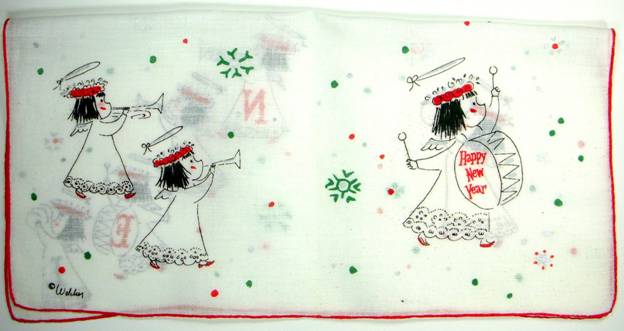 Handkerchief 'cards" were extremely popular with advertisers as well, who hoped you'd carry their good wishes in your pocket year round.  Many cards were multilingual, enabling them to send greetings to clients world wide. Note the lad toting a pig, four leaf clover, ladybug and horseshoe, all symbols of good luck.
This hankie which sends greetings round the world was a gift from Claire Maislisch.  Swiss handkerchiefs have always been the finest in craftsmanship, and, along with those of Irish linen are incomparable in quality.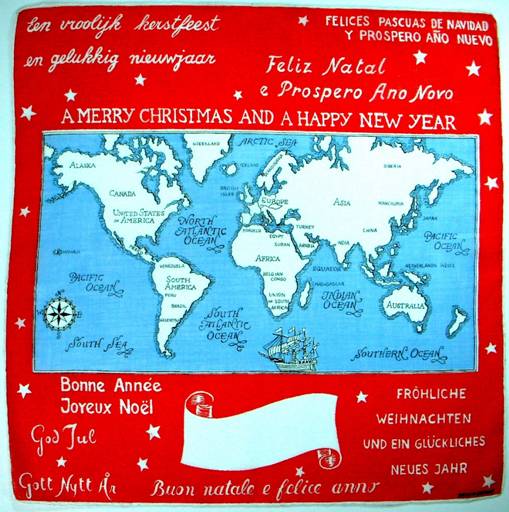 A tree laden with ornaments and small good luck presents. Absolutely charming.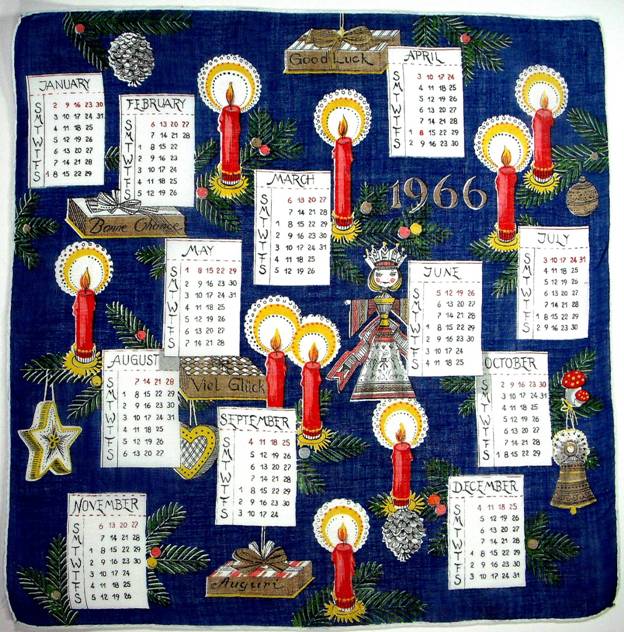 What would New Year's be without a grand soirée and souvenir hankie to mark the occasion? Streamers fly, couples waltz, and the clock strikes midnight as baby New Year welcomes 1953.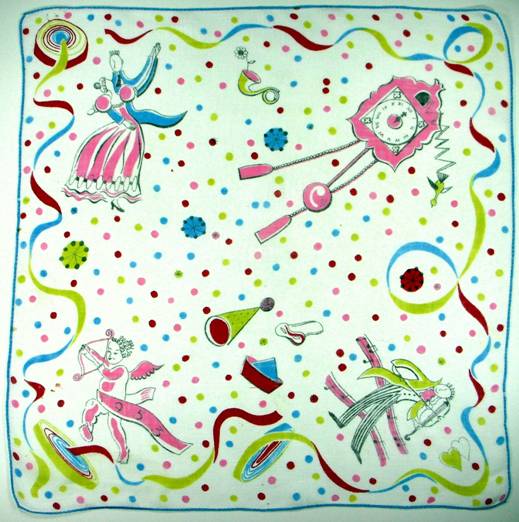 New Year's parties could be memorable in other ways, should one imbibe an excess of bubbly. When that happened, humorous thank you hankies were available to gift your hostess
In addition to more traditional thank yous seen below..  Love the bewigged couple from Louis XVI's court, with the quatrefoil hued frame enhancing their colorful costumes.
Gift envelopes often contained peek-a-boo windows to portend the surprise within. We've glimpsed Paynet's romantic couples before, floating Chagall-like over the Eiffel tower to wish us Joyeux Noel  and Valentine greetings.
"What the new year brings to you will depend a great deal  on what you bring to the new year."

Vern McLellan
Others choose to start the year on a straightforward, businesslike footing, like this sophisticated men's hankie from 1933.  Although this was the height of the Great Depression, it obviously belonged to someone who was still "in the green" – quite fashionable for its day. By 1948, with the war over, a bit of frivolity was allowed to subsume the borders of this charming lady's calendar hankie.
| | |
| --- | --- |
| By 1950, baby New Year was back in full swing,with a calendar of adventure planned round the clock. | |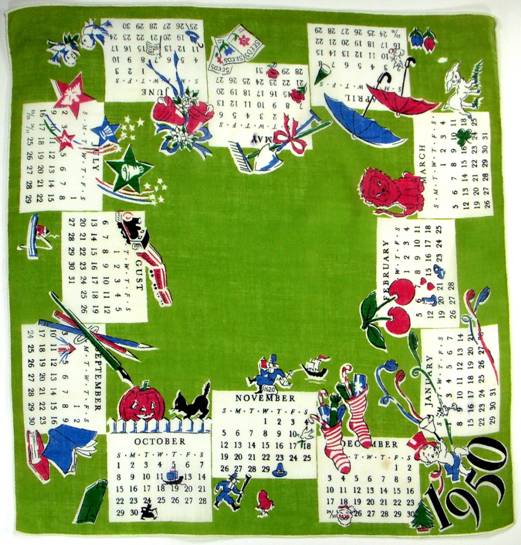 Because they were both fashionable and functional, calendar hankies were popular for several decades, and are easy to find today, often providing a starting point for new collectors.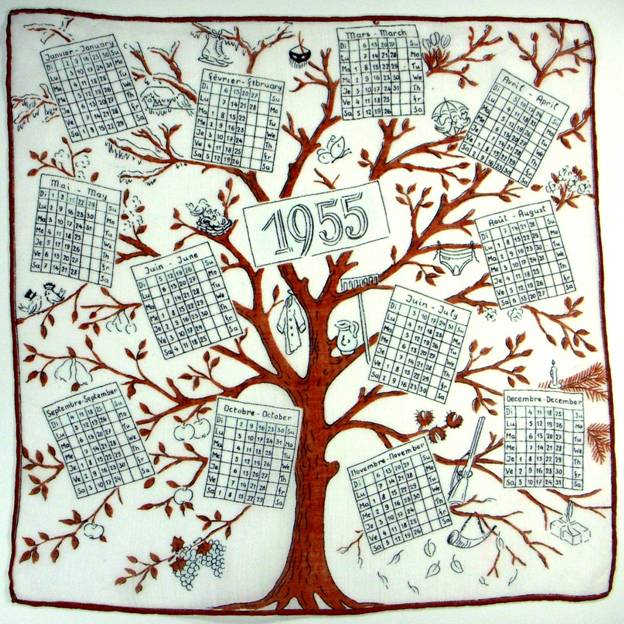 | | | |
| --- | --- | --- |
| | Here's one of my personal favorites.  Yes, it's simple, almost monochromatic, but check out the ice skates in February, the hunting horn in November, the bride and groom in June and the gardener's tools dangling from the branches. 🙂 | |
Egg yolk daisies form a fanciful '59, while formal flora adorns the border on the right.
The four seasons take center stage in this next group, whether anchoring the borders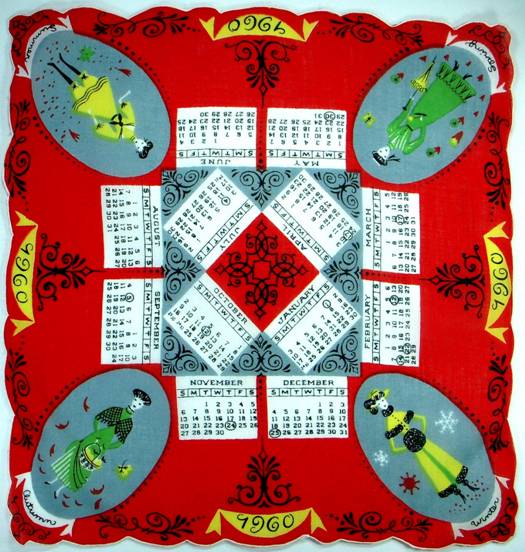 Or commanding center stage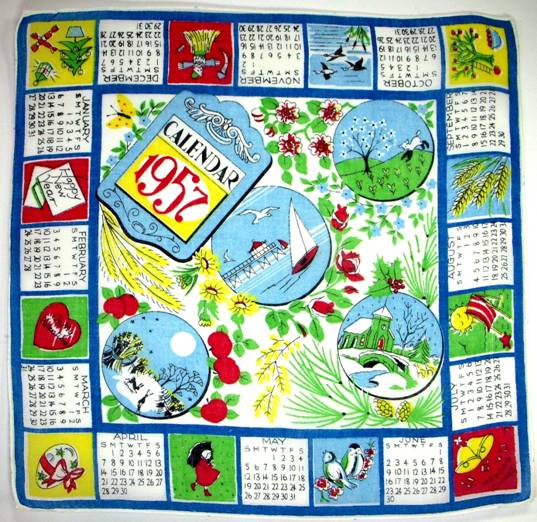 This pinwheel hankie was a perennial favorite, as the calendars were easy to read, while the center pie, sliced into four seasons, provided a plethora of charming images to enjoy. Delightful!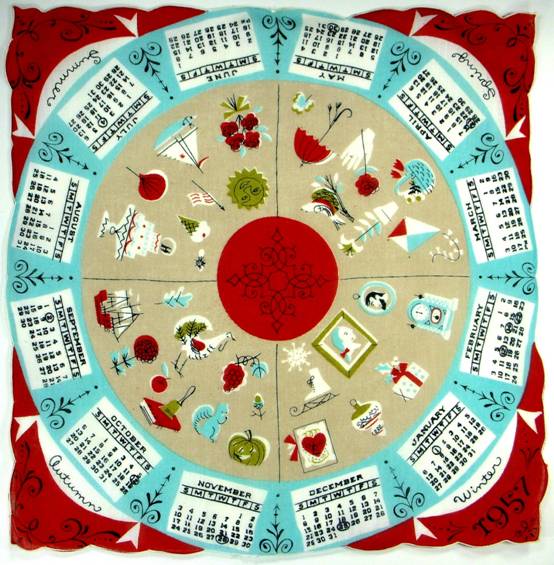 Even children's hankies featured the changing seasons, with or without a calendar. (Hey look, there's the Morton salt girl!)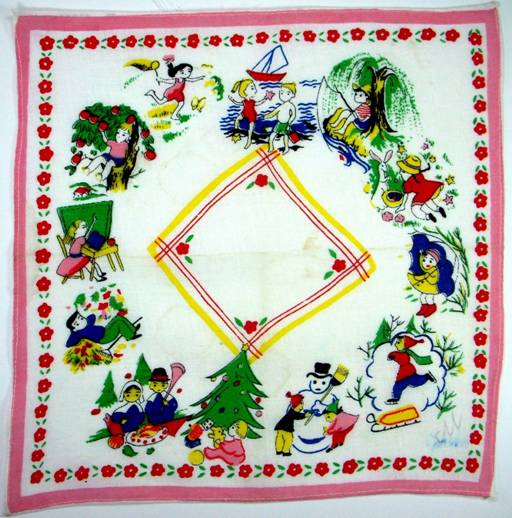 So much for play time, this busy gal has her work laid out for her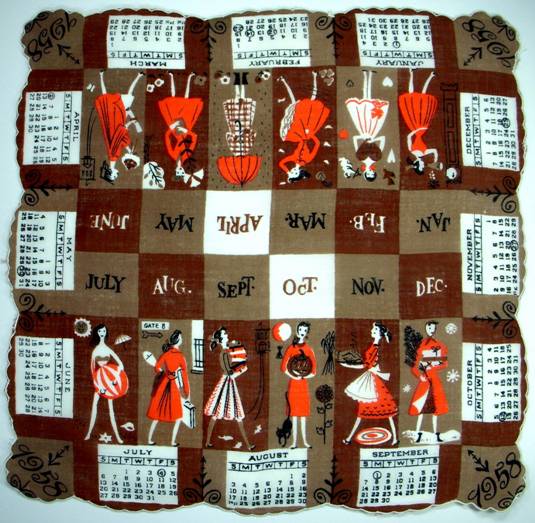 At day's end, perhaps she'll carry this stunning hankie for a night on the town.   Note the space for New Year's greeting, and the Good Luck wishes in many languages.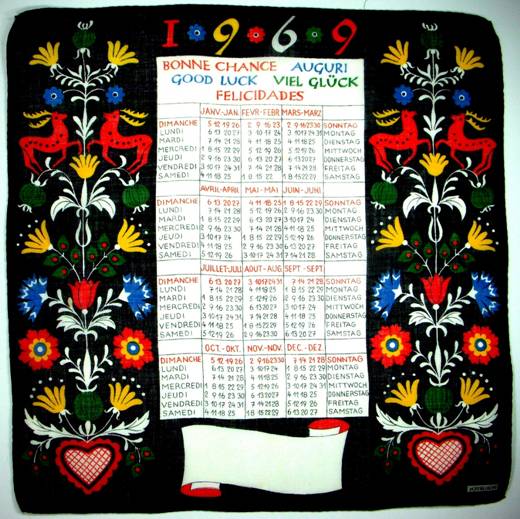 What better way to sail into the New Year than with this beauty?  Head out for adventure on the high seas and don't look back.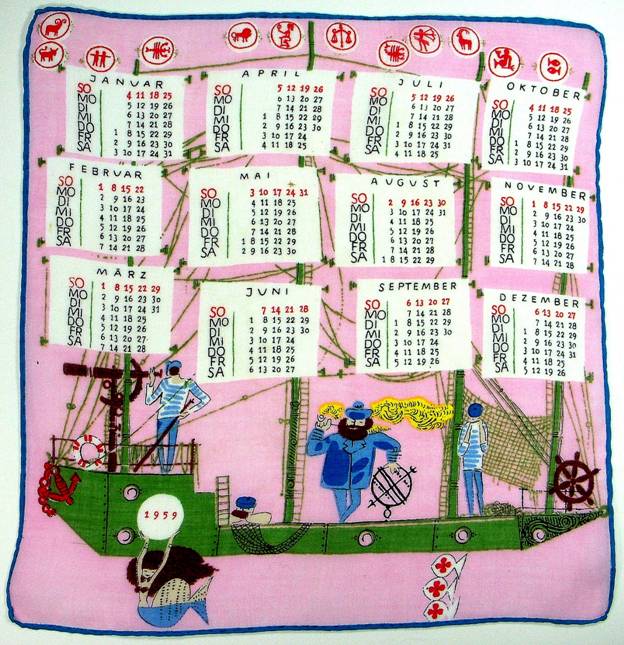 "I hope that in this year to come, you make mistakes.  Because if you're making mistakes, then you're trying new things, learning, living, pushing yourself, changing yourself, changing your world. You're Doing Something.

So that's my wish for you – Make New Mistakes. Make glorious, amazing mistakes.  Don't freeze, don't stop, don't worry that it isn't good enough, whatever it is: art, or love, or work or family or life.  Whatever it is you're scared of doing, Do it.  Make your mistakes, next year and forever."

Neil Gaiman