Children + silk = a recipe for disaster, or at the very least, an opportunity for Oxyclean. These tissue-thin gossamer gems, depicting fanciful characters and nursery rhymes, reflect a different time in history, and a different way of life – a Downton Abbey life.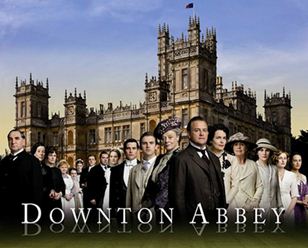 A life with an upstairs maid, downstairs maid, ladies maid, butler, footman, driver, cook, scullery maid, laundress, gardener, nanny, governess, and more. TV critics who have tried to analyze why the series took off like a rocket with U.S. audiences say it's because we all fantasize about living the type of life which is basically reserved for royalty.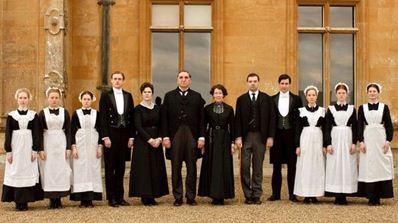 Perhaps then, it's not so surprising these storybook emissaries survived intact, many in mint condition. If soiled, one merely needed to hand the child's hankie to the upstairs maid, who would give it to the laundress to wash by hand. These hankies had plenty of caretakers, and were never meant to be utilitarian anyway.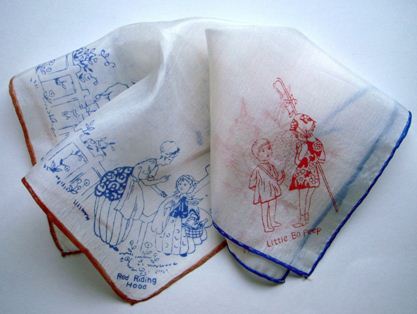 Then, as now, silk was for "fine" dressing. These hankies were amusements to be tucked into the little master's pocket, and retrieved for storytelling when he became restless. The nursemaid would recite Mother Goose rhymes, and elaborate on stories involving the characters. Today, children are given ipods, headsets, and movies to entertain distract them. They provide the same quieting effect, but the element of human interaction is gone.
I'm still astounded that such delicate silk was used for a child's hankie, rather than the more utilitarian linen or cotton. I'm thrilled to have found these and hope you'll enjoy them as well. The images are as light and fun as the fabric.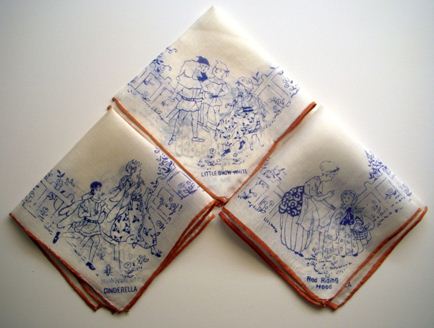 Enchanting nursery rhymes told through the ages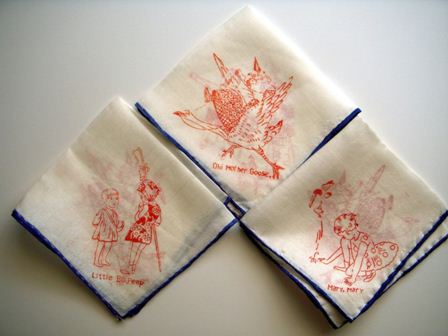 Mother Goose and her minions in splendid red.
Note the transparency of the fine silk.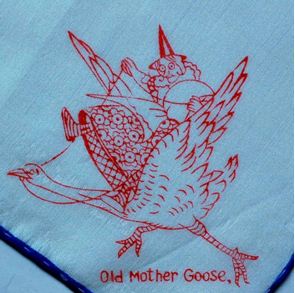 Details, details….note the criss-cross detail in the underside of her dress, and the pattern on her socks. These images were miniscule and meant for children only, yet no detail was spared. Note the hand sewn stitching on the hand rolled hem.
Sweet Mary has an elfin fairy assistant to help her garden grow.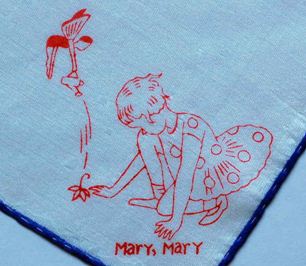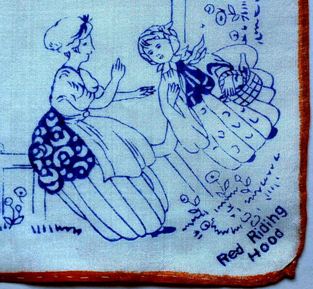 Note the detail, even on Red Riding Hood's collar, which resembles the petals of a flower. Looks like she's taking granny a bottle of wine – medicinal, I'm sure.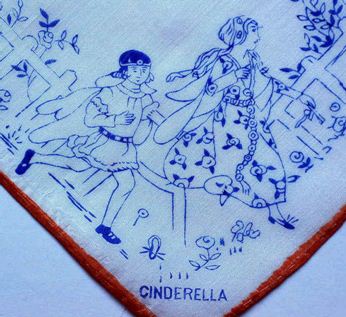 This classic Cinderella is full of detail with her woven sash and head scarf. The prince, too, has a jewel on his cap, buckles on his shoes, and the Renaissance style page boy hair. A delightful image. Again, you can easily see the hand stitched hem. (I keep pointing this out because I would rather have my hair set on fire than stich a hand rolled hem. I love the detail, but oh the work!)
As enduring as these historic handkerchiefs, the tale of Cinderella persists through the generations, right up to our modern interpretation, the movie Pretty Woman. Not all interpretations have two ugly stepsisters, but all have a handsome prince who comes to the rescue. When Richard Gere demands from Julia Roberts what more she expects from their encounter, she replies with shining eyes "I want the fairy tale."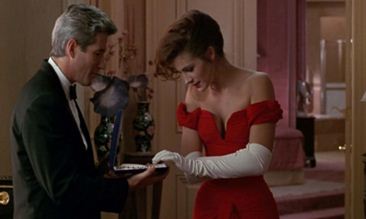 The owners of these silk hankies led a somewhat fairy tale life, I imagine. Eventually, we'll explore other children's hankies, everything from embroidered linen to utilitarian cotton, but these silk angels hold a special place in the annals of handkerchiefs, because they underscore the historical fact that hankies were indeed much more than a solution to a runny nose. They were fashionable, they were fun. They had character, they had charm. They were gentle, and silly, and frivolous. They held art, they held stories. They reflected how a certain class of children were dressed during a certain period in history.
If these hankies could talk, oh the stories they could tell.