When I spied this luscious bouquet, it stopped me in my tracks. I couldn't help but wonder if the gentleman who bestowed this on his sweetheart longed to give her live roses, but this hankie was all he could afford.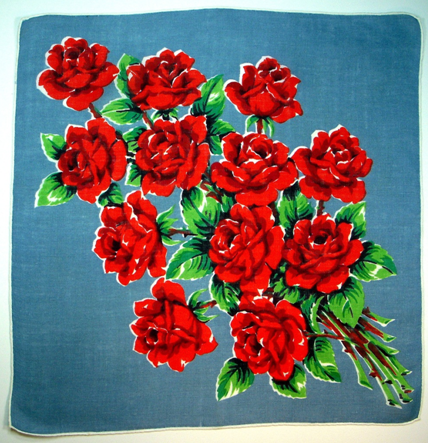 That speculation immediately brought to mind the terrific anecdote about how actress Helen Hayes first met her husband. (Hayes is one of the select few to have attained EGOT status – Emmy, Grammy, Oscar, Tony.) 
Attending a swanky soiree one evening, bored to tears, Hayes was contemplating how to gracefully exit, when she was suddenly approached by the man who would steal her heart. Charlie MacArthur, Chicago journalist and playwright, spied Helen across the room. Wasting no time, he scooped up a handful of peanuts from a nearby dish, strode across the room, grasped Helen's wrist, and filling her palm with peanuts, declared earnestly "I wish these were emeralds." Now that, ladies and gentlemen, is an opening line…
Knowing this simple bouquet has survived for decades confirms the fact that it was treasured by someone, and may have represented, in its own way, "emeralds" to its owner.
Handkerchiefs provide a wonderful venue for bestowing a token of affection much more lasting than a live bouquet. Whether it be a bountiful Miss America bouquet of two dozen long stemmed beauties…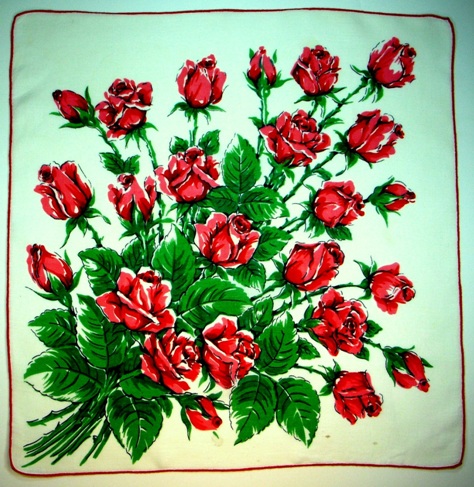 I was about half in love with her by the time we sat down. That's the thing about girls. Every time they do something pretty…you fall half in love with them, and then you never know where the heck you are.

J.D. Salinger
An upscale, classic arrangement festooned with whispers of Lily of the Valley, set against a sophisticated camel backdrop (very Grace Kelly)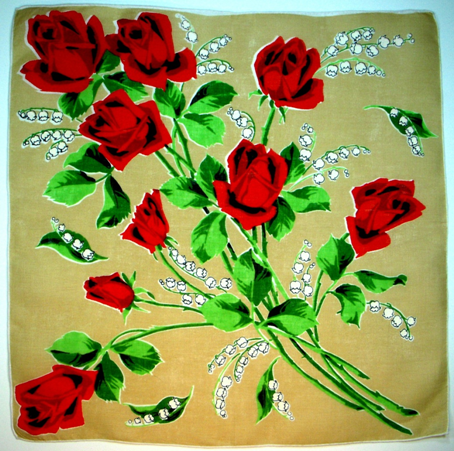 or a sunshine pop of citrus, to showcase a cascade of persimmon spiced blossoms, perfect for the redhead in your life…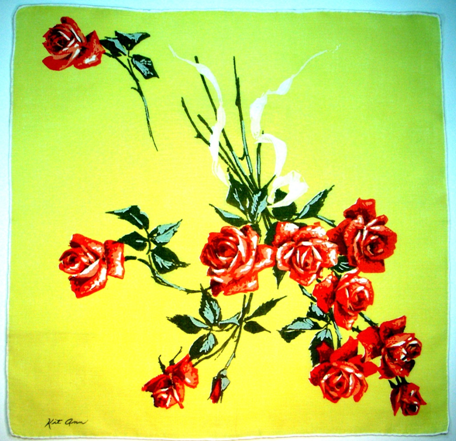 bouquets of roses in all forms were a welcome addition to any woman's handkerchief wardrobe. They conveyed an image of feminine, flirtatious and fabulous.
Won't you come into the garden? I would like my roses to see you.

Richard Brinsley Sheridan
Valentine's Day will soon be upon us, and like the ubiquitous Christmas handkerchief, Valentine hankies abound, with one big difference. People put Christmas hankies away after the holidays, while it seems Valentine hankies are carried all year round. These little messengers of affection remain tucked in pockets and purses to serve as a constant reminder that the recipient is special and loved. Many a Valentine hankie is worn almost threadbare, which I find absolutely charming.
Today, we're focusing on roses, because as everyone knows: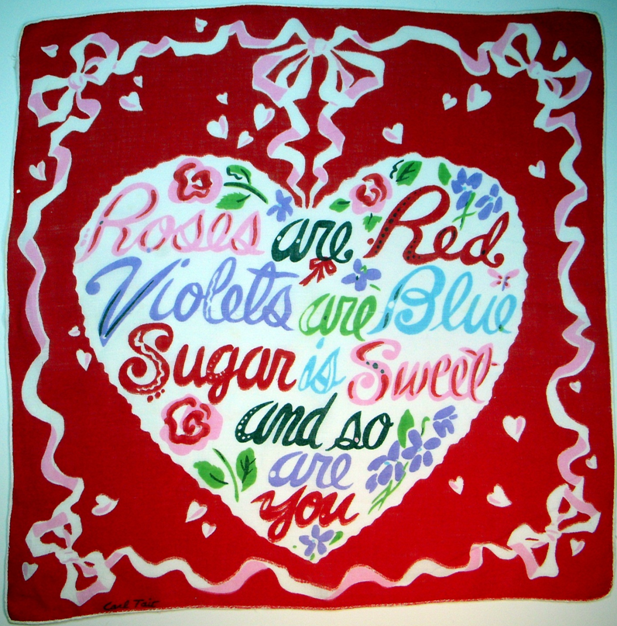 The message certainly won't get lost amidst dainty embroidered flowers. This hankie sings "You're the one for me, and I'll shout it from the rooftops."
Equally as dramatic is this burst of blossoms exploding from the center like fireworks on the Fourth of July. The suitor claimed his territory in no uncertain terms when he gifted a lady with this sensation. The silhouetted edges create a one-of-a-kind eye catching border to flutter from your pocket and announce "big love."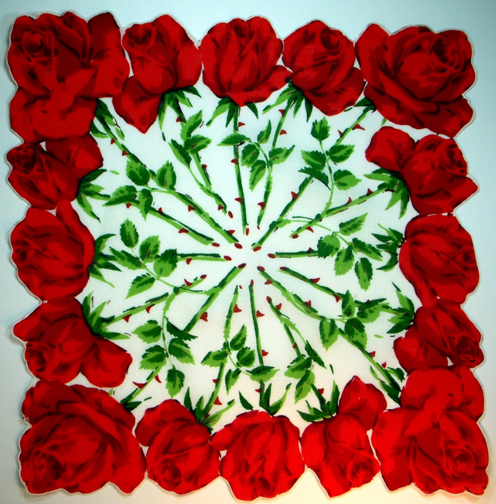 Love is an irresistible desire to be irresistibly desired.

Robert Frost
The same exuberance, now partnered with a demure, ladylike scalloped border on the following hankies sport roses that push the boundaries, while playful ribbons hold everything in check – for the girl who's passionate on the inside, but proper on the outside. The hankies are for the underground renegade, who may not break the rules, but will bend them beyond borders whenever possible. She's sweet enough to take home to mother, but strong enough to hold her own when mom starts 20 questions.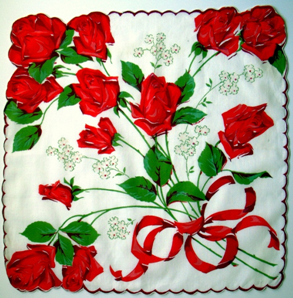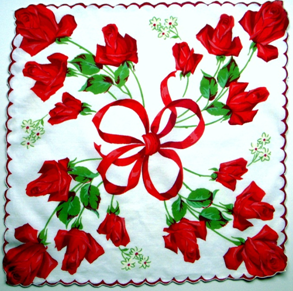 Once past the debutante phase, however, a lady wants something more. Here's a sophisticated stunner. A giant rose for a giant crush. The soft pink conveys a feeling of pure romance. When placed at a dramatic angle against a deep emerald backdrop, it reads like a beauty showcased on a magazine cover, telling us the lady is one in a million.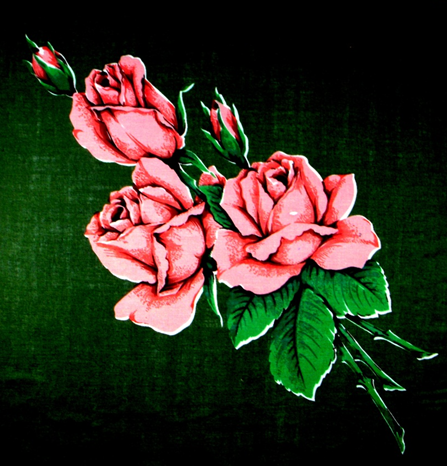 This lavish, luxuriant beauty floats in a yummy sea of enveloping warm chocolate. These hankies are pure passion.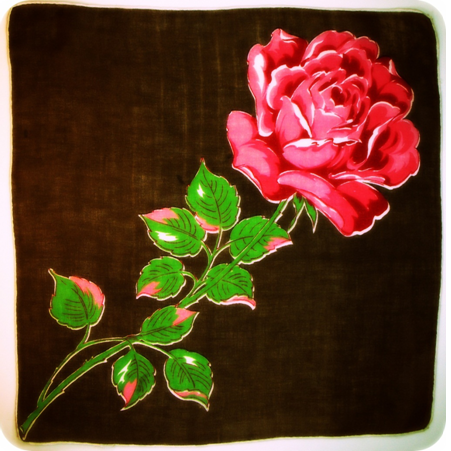 I love bringing roses to a woman when she least expects it.

Esai Morales
But what if you're at the office and need to maintain a professional image? Here's a soft dove gray hankie framed with a luscious border of delectable roses. As a friend of mine quipped "It's like when you're wearing silk lingerie. Nobody knows but you, yet you feel sexier, walk taller and smile differently" Hmmmm… Here's to the reserved romantic.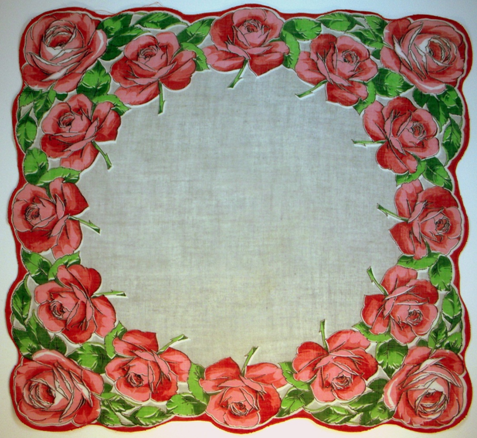 Another striking hankie that's low key on color but high on impact is this intriguing circular hankie which weds a stark graphic background to a soft, luxuriant rose. When worn with a business suit, the edges peeking from your pocket appear to be 100% conservative gray – tasteful, low key, appropriate. Only the wearer knows that hidden deep in the folds is an extravagant, exuberant token of affection. It hearkens back to our lingerie analogy. No wonder you see so many women grinning like the cat who ate the canary during Valentine's Day.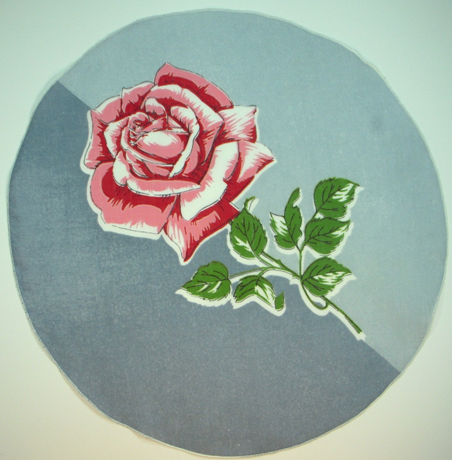 Here's a suitor so smitten with his beloved, he's floating on air. His feet don't even touch the ground, and haven't we all felt that way when in love? Note his little wings, indicating his heart has taken flight.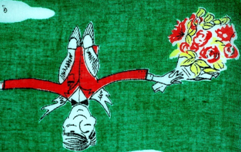 This hankie perfectly exemplifies Lerner and Loewe's song On The Street Where You Live from the Broadway hit My Fair Lady.
"Often I have walked down this street before

But the pavement always stayed beneath my feet before

All at once am I several stories high

Knowing I'm on the street where you live."
His half lidded stare confirms he's in a trance. His effort to compose a love sonnet are interrupted by daydreams of his lady love…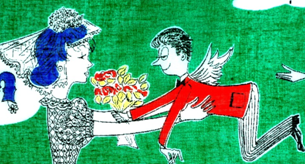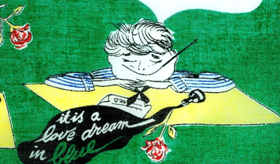 At the touch of love, everyone becomes a poet.

Plato
And here's the whole picture, he floats, spins and twirls through the air envisioning his beloved as he attempts to compose a love letter.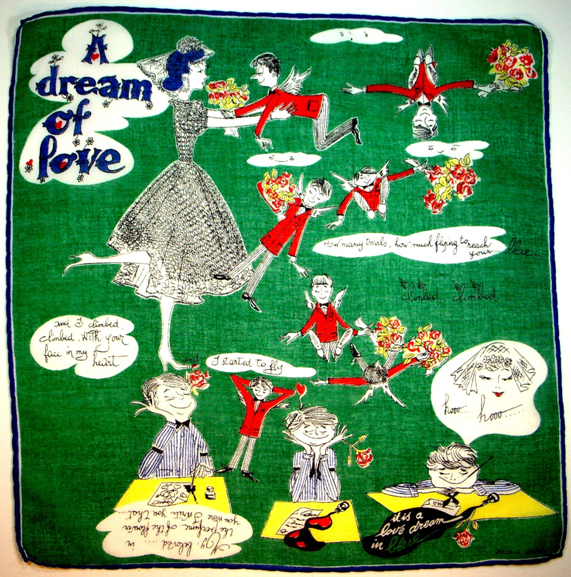 A Red, Red Rose
Romantics are well acquainted with Robert Burns' famous paean to passion. It appears on hankie after hankie. The Scottish poet is lost in reverie pining for his beloved. What girl wouldn't want to be his sweetheart?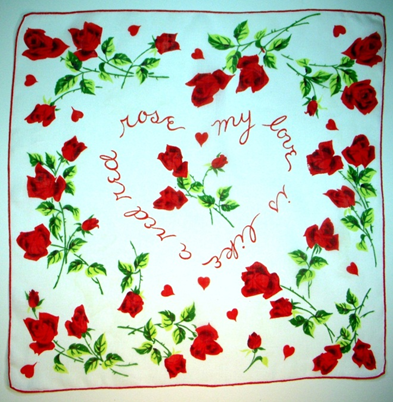 My love is like a red, red rose
That's newly sprung in June :
My love is like the melody
That's sweetly played in tune.
As fair art thou, my bonnie lass,
So deep in love am I :
And I will love thee still, my dear,
Till a' the seas gang dry.
Till a' the seas gang dry, my dear,
And the rocks melt wi' the sun :
And I will love thee still, my dear,
While the sands o' life shall run.
And fare thee weel, my only love,
And fare thee weel a while!
And I will come again, my love,
Thou' it were ten thousand mile.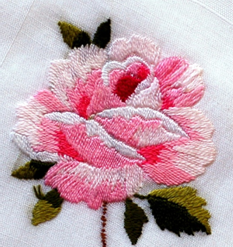 Lest we wax too poetic about the romantic rose, one can't help but chuckle at one famous First Lady's experience with the fragrant flower:
"I had a rose named after me" quipped Eleanor Roosevelt, "and I was very flattered. But I was not pleased to read the description in the catalog: 'No good in a bed, but fine against a wall.'"
Oh dear… Once again, life trumps art…
.
May you receive all the roses your heart can hold today and every day of the year.