"Jewelry is the perfect spice. It always complements what's already there."

Diane Von Furstenberg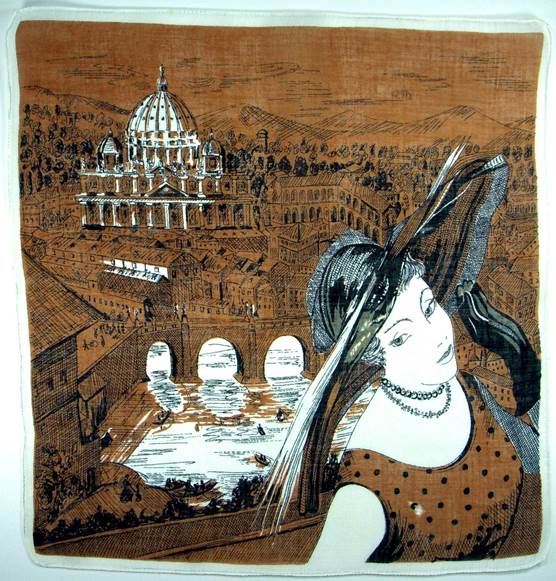 Beyond hats,  gloves, shoes , perfume, and other accessories that make a woman feel feminine, jewelry is at the apex of desired adornments. Whether a gold hammered collar inlaid with lapis found in an Egyptian tomb, or a gold filigree necklace and pearls casually tossed on the dresser of a Park Avenue maven…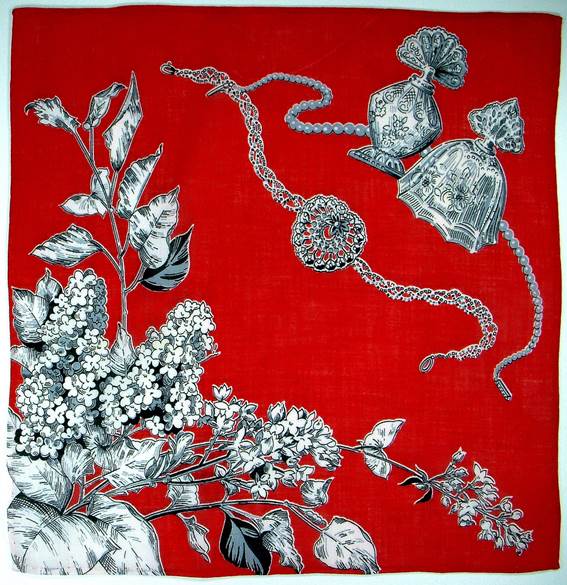 Whether simple, understated and classic…or flashy, flamboyant and wild…
| | |
| --- | --- |
| From the timeless gold chain, to over the top baubles and pendants | |
Jewels have captured the hearts and fired the imaginations of artists, poets, philosophers and of course, fashionistas since time began. Even the ancients waxed poetic about the mysterious opal:
"There is in them a softer fire than the ruby, there is the brilliant purple of the amethyst, and the sea green of the emerald – all shining together in incredible union.  Some by their splendor  rival the colors of the painters, others the flame of burning sulphur or of fire quickened by oil."

Pliny, (23 A.D. – 79 A.D.)
Endless references have been made to the hidden strength and beauty of a diamond.
"When we long for life without difficulties, remind us that oaks grow strong in contrary winds and diamonds are made under pressure."

Peter Marshall

"Many individuals have, like uncut diamonds, shining qualities beneath a rough exterior."

Juvenal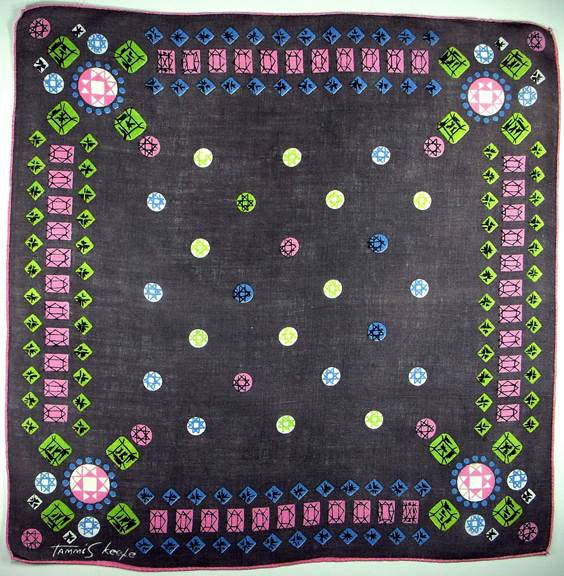 Because of their durability and beauty, diamonds have long symbolized eternal love, and are by far the most popular stone for engagement rings. To receive a diamond in any form is the ultimate compliment. Unfortunately, some gals use this to their advantage, as we learned in the 1949 movie Gentlemen Prefer Blondes, when Marilyn Monroe gushed "Diamonds Are a Girl's Best Friend."  When it comes to mining for diamonds, however, no one can top wise-cracking, tough-talking dame Mae West, as she delivers the ultimate line about diamonds in the 1932 movie Night After Night.
"Big girls need big diamonds."

Elizabeth Taylor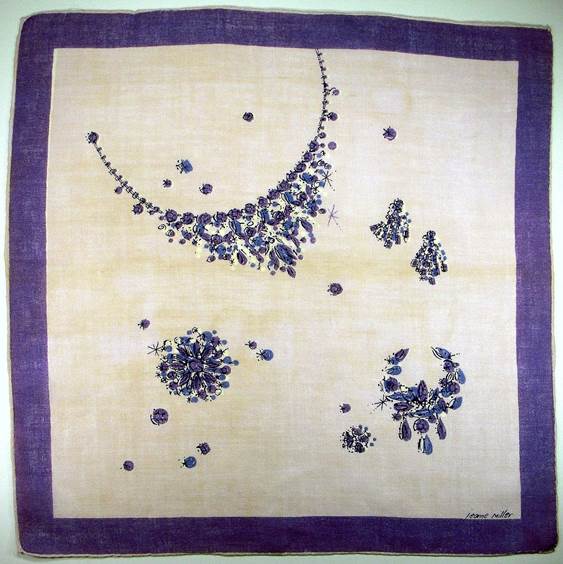 "Sometimes you just have to throw on a crown and remind them who they're dealing with."

Attributed to Marilyn Monroe
It's no surprise that we find handkerchiefs which delineate a person's birthstone. We search to find symbols to convey our personality.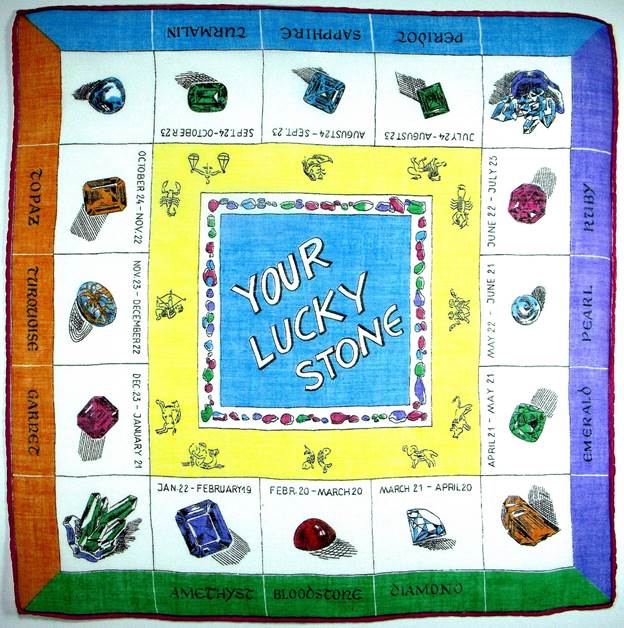 "If I had my way, I'd wear jewelry, a great pair of heels, and nothing else."

Jada Pinkett Smith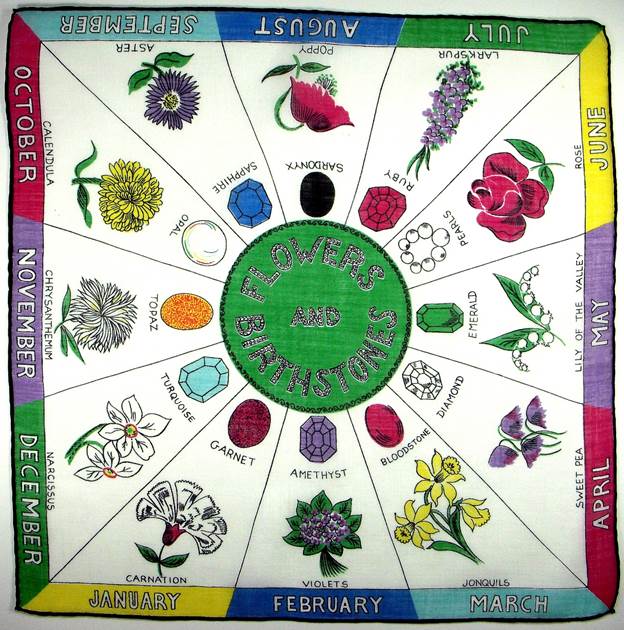 "The pearl is the queen of gems and the gem of queens."

Author unknown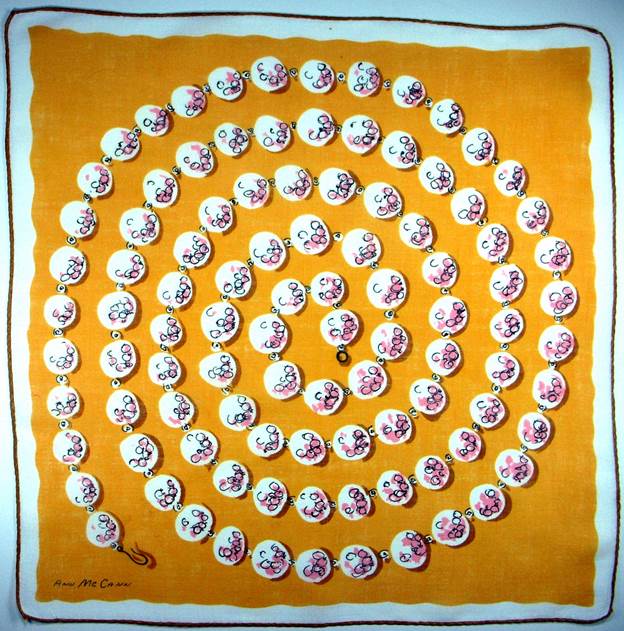 Certainly the above quote was true of Queen Mary (grandmother of Queen Elizabeth II) who favored pearls and started a trend. Pearls became the rage among the upper echelon, with women trying to outdo one another, but no one could outdo the queen. Note: as she aged, she added enormous pearl drop enhancers to each strand. Yowsa! The queen loved jewels of all kinds, and it is said she loved to visit India, where "the maharajah handed out jewels like blackberries." 1
Trading a Mansion for a Pearl Necklace
My favorite pearl story however, has to be the one involving Cartier. With Queen Mary whetting women's appetites for perfect pearls, it was inevitable that when Louis Cartier created the first double-stranded necklace of freshwater pearls in 1915, women flocked to see the $1.2 million dollar necklace ($16 million in today's dollars) on exhibit in Paris, London, and New York.
The lucky new owner, Mae "Maisie" Plant acquired the coveted necklace through a most unusual exchange. Maisie was the second wife (and thirty years his junior) of Morton F. Plant, railroad tycoon and real estate developer, who owned yachts, baseball teams, hotels and multiple homes, including an Italian Renaissance revival mansion at Fifth Avenue and 52nd street. Maisie proposed and exchange – the mansion for the necklace. Cartier shrewdly accepted. It remains Cartier's flagship store today. Unfortunately for the Plants, the rise of cultured pearls in the 1930's-40's flattened the market for natural pearls. After Maise died in 1957, her pearls were auctioned at Park Bernet for $150,000. Ouch!
 

Cartier wrapped w/a Christmas bow

Maise in her famous necklace
"The ruby encloses the brilliant red of the clouds of evening…"

Charles Blanc, Art in Ornament and Dress, 1875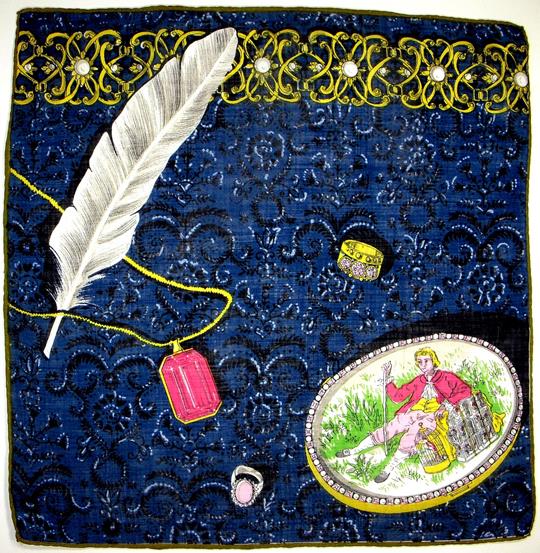 Even the enamel battersea box depicting a country gentleman w/birdcages was encircled in precious gems.
Battersea boxes, originating in the mid-18

th

 Century, were fashioned from both porcelain and enameled copper, and embellished with images of animals, flowers, sentimental sayings, portraits, and more. When snuff fell out of favor, so did the tiny boxes, but they experienced a revival in the 1950s-70's when many commemorative boxes were created. (i.e. Tiffany & Co. created a Statue of Liberty box for the 1976 bicentennial)
The treasured charm bracelet can hold dozens of memories simultaneously  – weddings, birth of a child, anniversaries, special occasions, travel, hobbies, etc. Often, after a locket, this was a young girl's first piece of jewelry. Its popularity goes in cycles, but always seems to return. I know one grandmother who uses her charm bracelet as a resource for bedtime stories for her grandchildren. Perhaps someday they'll cherish those family stories long after they've tired of nursery rhymes and fairy tales.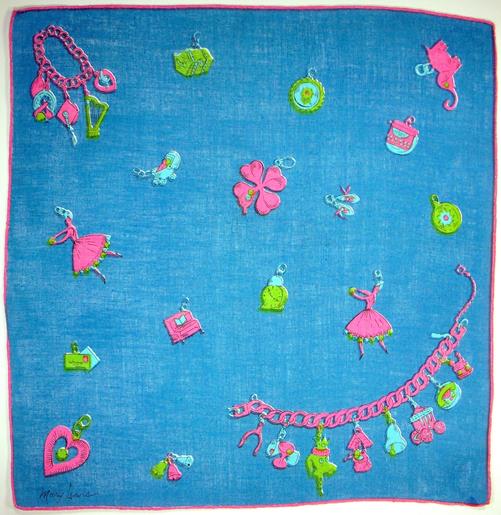 All manner of charms swirl and dance waiting to impart their stories.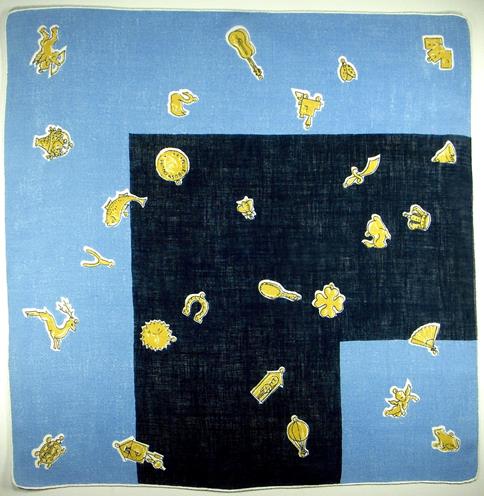 To view the master of assembling charms, visit  https://handkerchiefheroes.com/a-charmed-life/
| | |
| --- | --- |
| Jewelry can be imbued with symbolism, as American Indian pieces can attest. From bear paw to buffalo, eagle to arrowhead, feather to butterfly, each image symbolizes a specific quality or trait.  Gemstones from lapis to malachite, tiger eye to turquoise, opal to onyx, all carry individual meaning. In addition, the jewelry seems to carry the spirit of the designer, from concho belt to squash blossom necklace. I love Indian jewelry and cannot do it justice here. I was surprised to find this hankie, but have been told it was probably made for the "Trading Posts" tourist trade who vacationed via railroad to visit the west. | |
The master of sending silent signals via jewelry is former Secretary of State Madeline Albright. In her book Read My Pins: Stories from a Diplomat's Jewel Box she reveals her strategy for choosing a specific pin while in office. On good days, she wore butterflies, flowers, and balloons, on bad days she wore spiders, insects and carnivorous animals.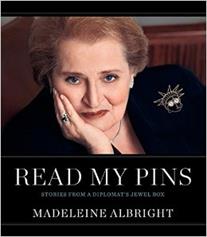 Albright's most famous gesture was wearing a snake pin to every single meeting with Iraqi officials. This was her personal response to Saddam Hussein referring to her as "an unparalleled serpent" and it signaled "I mean business." The bluebird in flight is equally famous. Albright wore it to a news conference in 1996 after the Cuban Air Force shot down two U.S. unarmed civilian planes, killing the pilots. Significantly, she wore the bird plunging downward. When meeting with Yasser Arafat, she wore a large bee, to signify he should be wary of her sting.
CBS News Sunday Morning had Katie Couric interview Albright when her collection was on display at New York City's Museum of Arts and Design. Couric observed "the real value of the pins is in the stories they tell." (We've been saying that about handkerchiefs for years.)
Producer, Jason Sacca, Editor Lauren Barnello
An article delineating Albrights pin strategy can be found in a MORE article by reporter Lesley Kennedy https://www.more.com/madeleine-albright-read-my-pins?page=4
When I was discussing Albright's book with a male attorney, he responded:
"Don't kid yourself. Guys use the same strategy."
"How so?" I asked.
"I have these gold skull cufflinks that are totally intimidating. I don't say a word. I just make sure opposing counsel gets a good looong look when I pass in front of him. He gets the message – watch out."
Who knew?
Another man opined "Men give jewelry for three reasons. One, to mark their territory. Two, to show how successful they are." Ugh. I wasn't too crazy about either reason, and was glad when he said the third reason was because "that's where they wished they could be – draped around their beloved's neck or clinging to her hand." With that in mind, we'll close with another gentleman's reason to give jewelry.
"Clasp my love around your neck,
Wear my heart on your finger.
My soul will be your pendant:
I live to adorn you-
You're the precious one."
Grey E. Livingston, Genuine Adoration
1 Brendon, Piers and Whitehead, Phillip. The Windsors: A Dynasty Revealed. (London: Hodder & Stoughton, 1994)
I heard Mae Plant's story many years ago, but gleaned many of the details shared here from the blog Two Nerdy History Girls. They in turn, learned of the story from the blog Daytonian in Manhattan. And on it goes…