Alex William's New York Times article The End of Courtship could bring the most optimistic romantic to tears. The accompanying graphic depicts 16 millennials sitting at a bar, all sending and reading texts. Eye contact between patrons is Zero. Zip. Nada. Yet the messages they're reading include "Join me for breakfast?" "Steamy spa night @ 11 p.m." and "You in? 2am my place for some hot mac and cheese." Courtship today consists of "Hey" or "Sup?" (Sounds the Fonz; yet even he knew courting required meeting the girl at her doorstep and escorting her home.) According to Williams, one woman who thought she had a date for Friday night, finally received a text at 10:30 p.m. The gist of it read:  "I'm with my buddies. Want to meet up for a drink or whatever?" The woman declined, describing the text as "one step below a date, and one step above a high-five."  Honey, that text is about ten steps below a date, and on par with a booty call. The double whammy – the woman in question is a social media and blog manager! She spends her days supporting "social" media that kicked her to the curb when it came to dating. Apparently in today's hookup culture, dinner and a date is "as archaic as a rotary phone."
Susan Rosenweig's response to the article, and what she calls "dumbed down dating" is that hiding behind texting is both lazy and cowardly. Yep. It take courage to risk rejection, and Susan admires that courage so much she'll usually accept a first date just to reward the gesture. Meanwhile, romance expert Damona Hoffman claims in today's online dating world 69% of people are unclear if they are "hanging out" or if it's an actual date."  Say what? The "invite" is so lame the recipient doesn't know if it's a date? There's no obfuscation in our romantic handkerchiefs. They literally Spell It Out, and I, for one, would welcome receiving any one of them from a suitor.
To enhance your viewing: [lyte id="wJQpUAblp2c" audio="true" /]
Beegie Adair plays As Time Goes By, written by Herman Hupfeld for the 1931 Broadway musical Everybody's Welcome, and most famously featured in the 1942 film Casablanca.
Whether fanciful and fun, or ornately Victorian
Whether a demure damsel flutters a ribbony swirl or a bold beauty declares her intent
a handkerchief adds zest to the game, and reflect a lady's style –like this sophisticated gray number covered in kisses.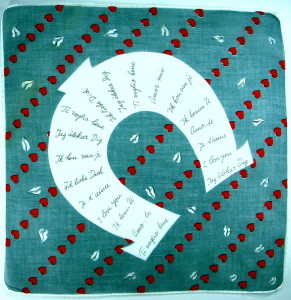 When it comes to lips and kissing, this hankie has it covered, from Shakespeare to Sheridan to Swinburne.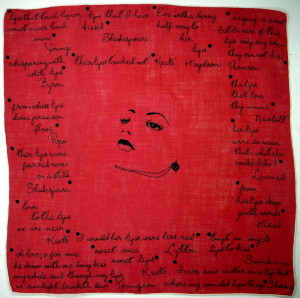 So whether you're sequestered at the school blackboard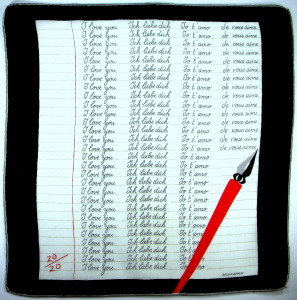 Or swinging semaphores from the yardarm, there are a million ways to Spell It Out, as these hankies attest.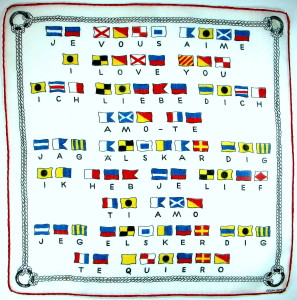 Handkerchiefs for the adventuresome traveler speak I Love You in every language.
Here's yet another way to spell it out, and these are the only "cross words" a lady ever wants to hear.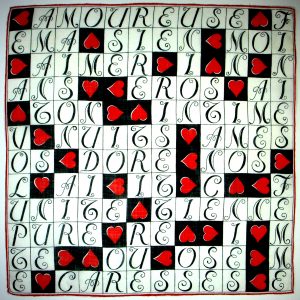 What's a gondola by moonlight without a stolen kiss? And you can fall for your ski instructor in more ways than one.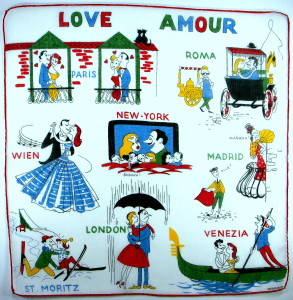 Shy and gentle or flirty and fabulous, the game of love goes on. (The love poem on the left is by Eduard Morike (1804-1875) a German Romantic poet.)
When you can't find enough superlatives, wrap her Valentine in this.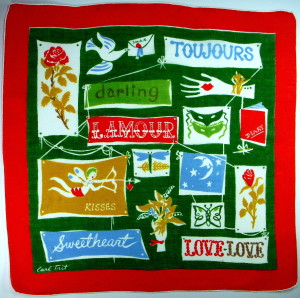 When No means No… means Maybe…means We'll see…means…Oh Nooooooo…Oh Yessssss!
"Don't kiss me like a woman if you're going to treat me like a child."

Jeaniene Frost, Halfway to the Grave
Along those lines, here's a Oui/Non, Yes/No hankie for the indecisive. (Or for sending secret signals like ladies once did with their fans.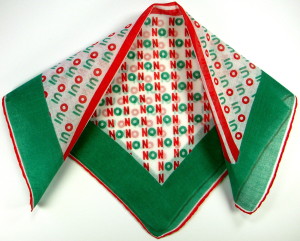 "Most virtue is a demand for greater seduction."

Natalie Barney
The artist had fun with this one. Note: "Piano for sale. In excellent condition." Right above "Jack please come home. Will never play the piano again."  Or how about the Lonely Hearts Club request to send your photo and bank statement. Fortune hunting and catfishing are nothing new…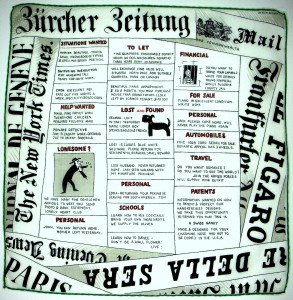 Do you suppose the lady in the polka dot pumps made her rendezvous in the park through the personals? The lovebirds billing and cooing alert us to the fact that an amorous match is underway. What a great hankie. It says just enough and nothing more, leaving the denouement to your imagination.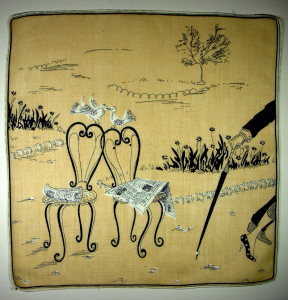 As Napoleon wisely observed, sometimes "The only victory over love is flight." Yes, even great conquerors are conquered by love. What a charming lipstick hankie.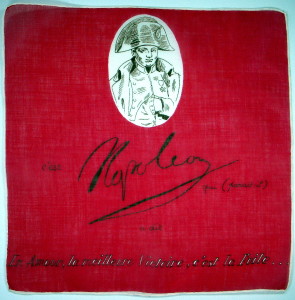 If the object of your affections does take flight, never fear, the French have a saying for every situation. In this case, it's "No Crying" and "It's Never Too Late."
So book a cruise, wave Bon Voyage and au revoir (yes, there's even a hankie for that) to the throngs on shore, and open your heart to new adventures – romantic and otherwise…
"She wanted something else, something different, something more. Passion and romance,

perhaps, or maybe quiet conversations in candlelit rooms,

or perhaps something as simple as not being second."

Nicholas Sparks, The Notebook
This blog is one in a series on romantic handkerchiefs which includes