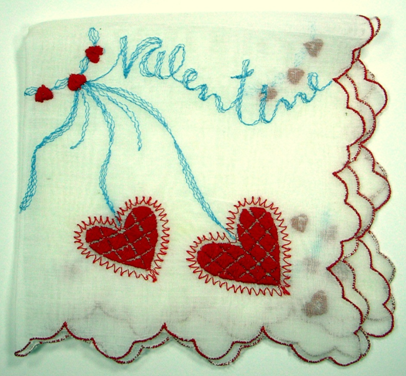 Although Valentine's Day is still a few weeks away, I'm hopping on cupid's bandwagon because in today's culture of texting and tweeting, some guys apparently need a wake-up call when it comes to romance.   A recent lead story in the New York Times decried The End of Courtship, and the details were truly disheartening.  (We touched on this trend in Flirting.)  Apparently Millennial girls are drowning in a tsunami of boys with bad manners.
The story opens with a social media manager in Philly, who thought she had a date for Friday night.  The guy finally texted her at 10:30 p.m., with this charming invitation "Hey, I'm at Pub & Kitchen, want to meet up for a drink or whatever?"   She declined this oh-so-tempting offer.   I should add, this woman isn't a starry-eyed girl of 18; she's 30.  She explains texting is "one step below a date, and one step above a high five. "  Sorry, "a drink or whatever" isn't remotely close to a date in my book.  According to the Huffington Post, another 24 year old complained her "boyfriend's idea of a date was lounging in a hotel room while he 'Lewis and Clarked' her body" then tried to stick her famous playwright father with the hotel bill.  Listen honey, if he intends to navigate your unexplored territory,  he can darn well pay for the trip.
Hookup Culture
The article claims dinner-and-a-movie has been replaced with "hanging out."  Rather than risk rejection by actually asking a girl out, guys will ping "Hey" or "sup."   Coincidently, Glamour Magazine's Word of the Month is Manswer, defined as "the classically uninformative one or two word response guys give to every question you ask."
You: How do I look?
Him: Yup!
This is communicating?   The Hookup Handbook, published in 2005 (jeesh, eight years ago? Time flies…) explains that first dates seem unnecessary when you've already researched everything about the guy on line.  You can bypass that "get to know you" phase.  Oh really?   When studies show 30% of men using dating services are married?  Phony profiles are old news, but the 'heads up' bears repeating.
Prauxfile / "Dick Richard" / Catfishing
British firm Global Personals earns 40 million pounds annually managing dating sites for other companies.  Registration is free, but registrants pay a monthly fee if they want to respond to "flirt" messages. The catch?  Thousands of profiles are bogus, with employees sending fake "flirts."  When the scam was exposed, they admitted fake profiles help generate 50% more revenue.   Swell.  Now you can "flirt" with someone who doesn't even exist.
Clueless
A generation raised on technology is clueless about how courtship works.  Single guys who 'group date'  claimed that if they took a girl to a nice restaurant or bought her jewelry, she would assume this would lead to marriage.  (Stop laughing, I'm serious.)   As for the student debt/stagnant job market excuse –  guys who dated in the heyday of handkerchiefs (1900's-50's)  were as strapped financially as guys today.  Many of them didn't even own a car, but it didn't stop them from courting.   Men who asked for a date made the effort, put themselves out there, and yes, risked rejection.  Gifting roses, even if only on a lovely linen hankie says – I'm interested.  I like you.  Please give me a chance, even if we only take a walk in the park.  Infinitely more appealing than "sup", don't you think?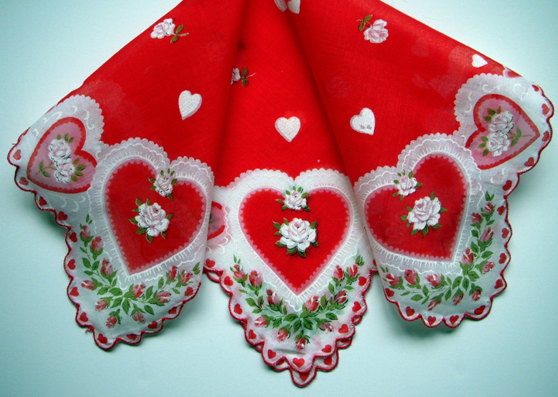 .
How adorable is this little guy surrounded by lovebirds?  His bouquet is simply charming, as is the entire image.  Notice the girl is primping and getting ready.  According to the girls I interviewed, they always make an effort to dress well and wear make-up, even when 'hanging out.'  Seems to me if they can make the effort to have a guy feel proud to be seen with them, then the guy can get it in gear and put a bit more hitch in his giddy-up.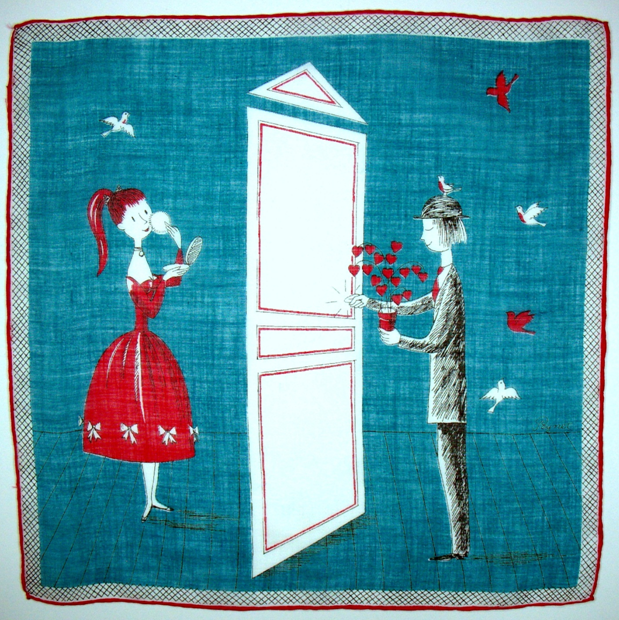 | | |
| --- | --- |
|   | This courtly, thoughtful and gentlemanly suitor deserves a good night kiss or two and we're rooting for his success. |
If not flowers, a man might bring chocolates.  Maybe guys didn't know exactly why chocolate was so appreciated, but they knew it put women in a good mood.  We now know chocolate can induce feelings of happiness because it contains phenylephylamin which is structurally similar to the hormone that is released in the brain when someone is in love.  Again, men made an effort to please women, to make them feel happy and appreciated.  What if he couldn't afford candy?  This lovely scalloped edged hankie could convey his sentiments exactly.  (Once printing processes were perfected in the 1950's, a lovely handkerchief could be purchased for as little as 15 cents.)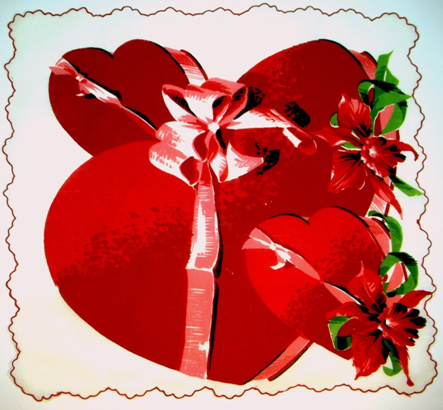 All you need is love, but a little chocolate now and then doesn't hurt.

Charles M. Schulz
The NYTimes article goes on to state dinner-and-a-movie is as obsolete as a rotary phone.  Perhaps so, but in the heyday of the handkerchief, a man called in advance to reserve your time – because it was valuable and precious, and he viewed you that way as well.  Band leader Glenn Miller even wrote a song based solely on his girlfriend's phone number (Pennsylvania 6-5000).  The simple yet sophisticated red bordered hankie below says it all in the rotary dial.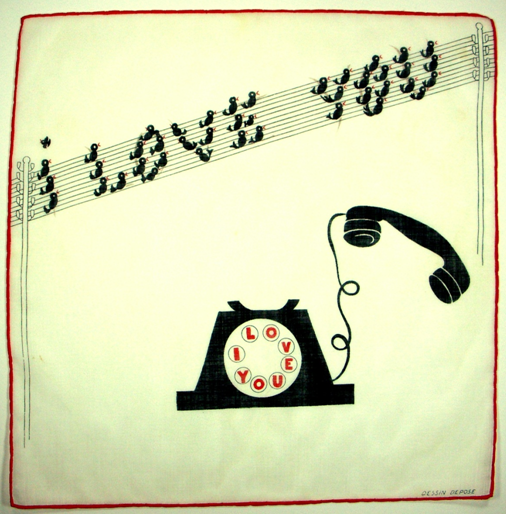 While a flock of joyful birds on the telephone wires help carry the love song to the suitor's beloved.  It doesn't get much cuter (or more direct) than this.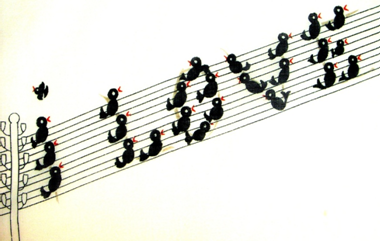 This next hankie will elicit a few groans, I'm sure, as being too over-the-top with the cupids and arrows, but if you'd been working up your courage to ask out the prettiest  girl in town, and she accepted your invitation, a young man might bring this when he came to call.  The point is, women were considered a precious commodity, and treated accordingly.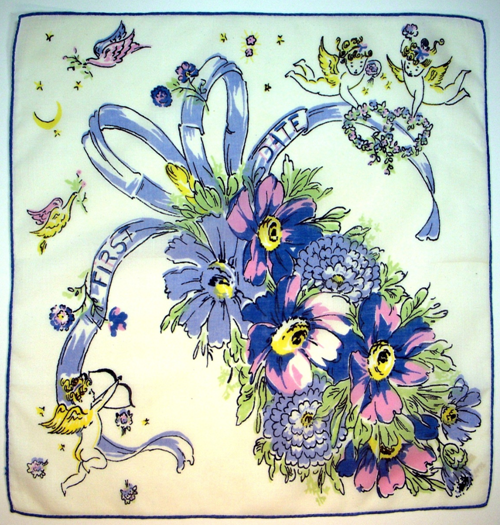 Mercifully, the article ends with a 29 year old tech entrepreneur who says she has been on numerous formal dates – to  plays, to restaurants, with some even including bouquets of roses.  Her secret?  She refuses to put up with anything less.   Her advice?  "If he really wants you, he has to put in some effort."  And isn't that true about anything we want in life – a healthy body, a great job, mastering a new skill. Why short change yourself in the romance department?
This is certainly not a dating advice blog, but when I mentioned to a friend that girls today didn't value themselves enough, her daughter, sitting nearby  (college grad, pretty, smart)  asked  "How do you get them to ask you out?  Guys don't ask girls out.  We just meet up."   "Then you have the party, and ask them," I told her.  "If they're acting  like dogs, then train them like a dog.  If it's a martini mixer, admission for the guys is a bottle of vodka or gin.  You provide the vermouth, some fabulous hors d'oeuvres, flowers, etc."   "I wonder if they'd even appreciate all the effort" she responded.  "Then start with Sunday brunch with omelets and mimosas."  I told her.  "You can afford eggs and orange juice.  Let the guys bring the champagne."  What about an easy dinner?   Who can't afford spaghetti and salad?  Let them bring the bread and the wine.  But they don't get to just show up the night of the dinner with a buddy in tow. They have to RSVP at least two days in advance.  After all you're cleaning, cooking and hosting."  And yes, a text RSVP is fine.  Donna was skeptical, but promised she'd give it a try.
At her first dinner, Tom, a guy she was interested in and invited, did not respond in advance and just showed up.  She let him stay. (for dinner)  She also invited him to the second dinner. Again, he did not RSVP, but just showed up.  This time Donna met him at the door, thanked him for coming but told him she hadn't been expecting him and said she didn't have room at the table.  He said he'd just stay for a drink.  She told him no, they were just sitting down to dinner, but she hoped she'd see him again.   She told me she never felt so rude in her life, and knew she had blown it.  Occasionally, she'd run into him after work when they were both out with friends, but that was it.  Donna said it made her sad because she really liked him, but she decided she was worth better treatment than he was willing to give.  About seven months later, she called out of the blue and said "You won't believe this. Tom just called. His parents are in town and he asked me if I would like to join them for dinner.  I said sure, and asked him what made him think of me.  He said 'You're the kind of girl I'd be proud to have meet my parents.  I know you'll make a great impression.'  Then he said 'I'll be coming straight from work.  Would you mind meeting us at the restaurant?  Of course I'll see you get home safely.'  I about keeled over.  I've never seen him treat anyone that way."   "Well" I responded, "Apparently you're not just anyone."   Donna laughed.  Her mom told me she is still seeing Tom and he asked her to co-host a brunch at his place where he invited his boss.
The Icing on the Cake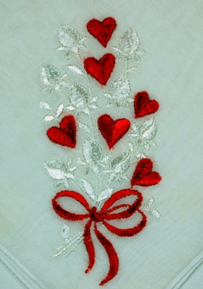 Long before Tom ever called, I had gifted Donna with a vintage embroidered handkerchief much like this beauty which features a bouquet of rosebuds and kisses and advised her to "envision romance."  She told her mother "Be sure to tell Ann Tom's mother loves handkerchiefs! I carried the one Ann gave me in my purse to the dinner.  She saw it and commented on it. Tom just grinned from ear to ear."
I have to admit, I'm feeling a little like a fairy Godmother as I write this.  Ah hankies!  They're also for tears of joy.
Love yourself first and everything else falls into line.  You really have to love yourself to get anything done in this world.

Lucille Ball
A shower of kisses cascades over two lovely Valentine handkerchiefs.  Let's hope you receive something equally as lovely this Valentine's Day.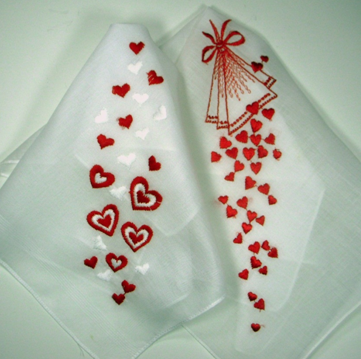 The ultimate lesson all of us have to learn is unconditional love, which includes not only others, but ourselves as well.

Elisabeth Kübler-Ross