"Once you have tasted flight, you will forever walk the earth with your eyes turned skyward, for there you have been, and there you will always long to return."

Leonardo da Vinci
As the dreary days of winter stretch ahead, nothing could be more enticing than thoughts of escaping to a tropical paradise. Spirits take flight as brochures are gathered and websites pursued. The grind of travel seems a blip on the radar as we tell ourselves we'll endure any drudgery to achieve our escape. Travel used to mean a delightful adventure from departure to destination. Polite porters transported your luggage; your airline gate was a short walk to boarding a spacious plane with ample leg room, where you nestled in to enjoy a beverage and choice of magazine before catching a catnap. 'Comfortable travel' seems an oxymoron in today's 'churn and burn' economic climate.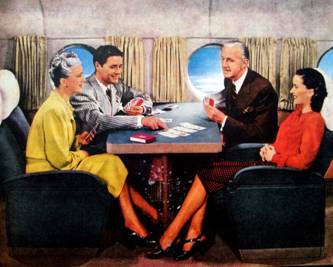 As we discovered in Bon Voyage, this is what travel looked like in 1946! This Boeing ad touts "gracious modern living" in "complete comfort" on the two-deck Statocruiser. Sigh….. Today, you need a Segway to suss out your gate buried in a labyrinthine maze of concourses. Once aboard you contort your spine into a rock hard seat with zero leg room. If you're lucky, they might toss you a thimbleful of nuts. With that in mind, let's sojourn back to gentler times when a lovely handkerchief was de rigueur as a token of appreciation for flying with an airline.
This souvenir hankie features the Zurich airport surrounded by a plethora of international airlines.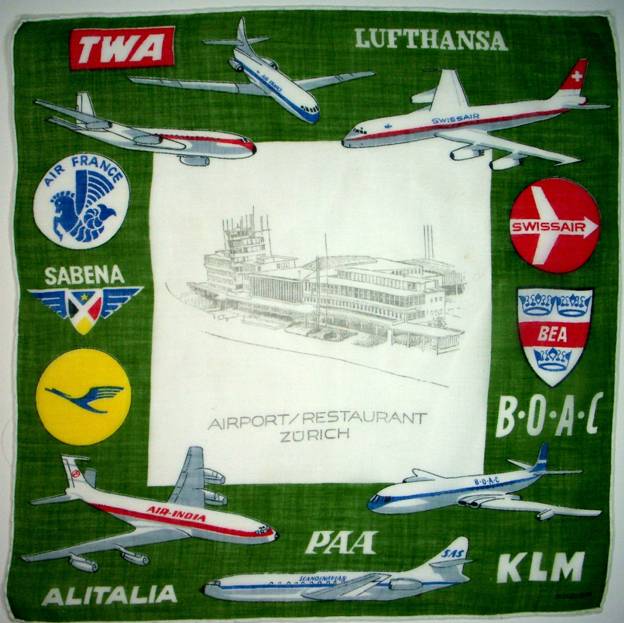 The Swiss were famous for beautiful handkerchiefs, thus it's not surprising Swissair chose hankies as the perfect token to reinforce their brand in the mind of the customer. Back 'in the day' everyone carried a handkerchief in their pocket or purse, thus Swissair had a ready-made venue to capture a client's attention and remain "first in mind" when it came to travel. Even the Swiss pavilion at the 1964 World's Fair distributed souvenir hankies imprinted with a subliminal reminder to fly Swissair.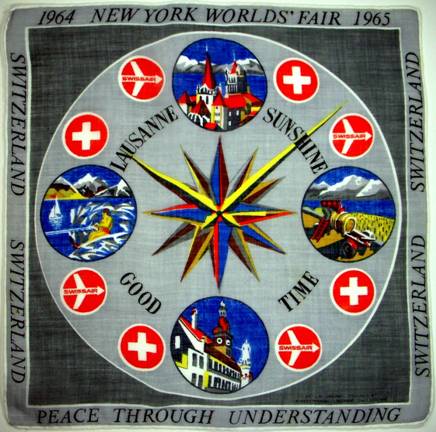 When handkerchiefs were replaced by Kleenex, advertising moved their message to the 'new' ballpoint pen (which replaced fountain pens). When handwriting was usurped by email, advertising migrated to the mouse pad. Now that were texting to the cloud, how will advertisers next capture our attention? One commercial staple that has yet to be eclipsed – the ubiquitous coffee cup – but I digress…)
In today's nomenclature, the buzzword is branding; so herewith we present a collection of vintage branding, executed with sophistication and style.
To enhance your enjoyment, an instrumental of the 1957 song Come Fly With Me written by Jimmy Van Heusen and Sammy Cahn.
httpa://www.youtube.com/watch?v=iCsv5X84LeQ
In an effort to accommodate a wide range of customers, images ran the gamut from traditional Swiss Alpine scenes to modern renditions of planes in flight.
Again, the dichotomy of modern vs. traditional – on the left a fanciful purple and persimmon ebullience of stripes and honeycombs contrasts with a serene and peaceful full moon graced with classic flowers.
Note how the logo for Swissair is discretely displayed – small and unobtrusively, sometimes only a tiny tip on the tail of a plane. The message whispers like the wait staff at a five star hotel – we're here to serve you, discretely in the background. The art director took care to ensure that design reigned supreme, while the sponsor received a tasteful footnote. The overall impression is understated and refined; so unlike the logo-screaming fashions of today where women become billboards for the designer.
| | |
| --- | --- |
| The circular blue moon handkerchief reminds one of a table setting, and indeed menus were often printed on handkerchiefs.This whimsical breakfast menu depicts the myriad adventures a Swissair traveler might soon experience. | |
"I travel not to go anywhere, but to go. I travel for travel's sake. The great affair is to move."

Robert Louis Stevenson, Travels with a Donkey in the Cevennes
This table d'hôte is worthy of the finest restaurant. The zesty citrus and rich purple frame which offsets the illustrations makes us exclaim "Yes, take me there." Many of these artist's works could be found in leading magazines of the day – Holiday, Life, Look, etc. Handkerchiefs merited as much attention as the best advertising of the era, and it shows.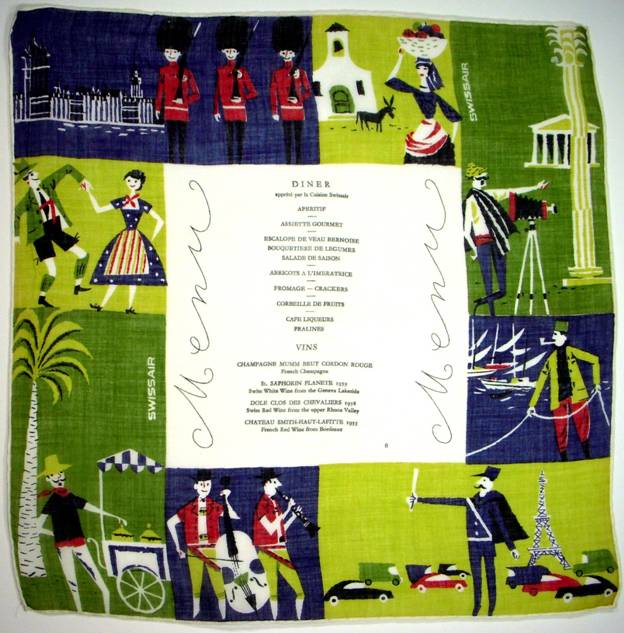 "Now more than ever do I realize that I will never be content with a sedentary life, that I will always be haunted by thoughts of a sun-drenched elsewhere."

Isabelle Eberhardt, The Nomad
Someone raided Julia Child's kitchen for these delicious dictionaries of culinary delights.
Often a single artist would execute a series of designs. I love these bright, cheerful renderings, which contain the tiniest of salutations to their patron, Swissair.
"Travel makes one modest. You see what a tiny place you occupy in the world."

Gustave Flaubert
Bold brushstrokes produce pairs of colorful companions from far flung continents. Note all play musical instruments from their native lands. Positively perfection. 🙂
"I didn't know that the world could be so mind-blowingly beautiful."

Justina Chen
More meanderings from a gimlet eyed artist. The leaves in the trees echo drifting chimney smoke to subtly signal the direction of the wind. The sparse desert landscape is a surprising cool aquamarine, while a bustling metropolis snaps in electric blue. The brilliant birds and butterflies commanding a burnt orange backdrop all make you want to smile. Traveling in this world is tasty, tantalizing and terrific.
"Not all those who wander are lost."

J.R. R. Tolkein, The Fellowship of the Ring
Another cityscape appears in this fanciful hankie which contains one of my favorite images, folks waving adieu with…what else?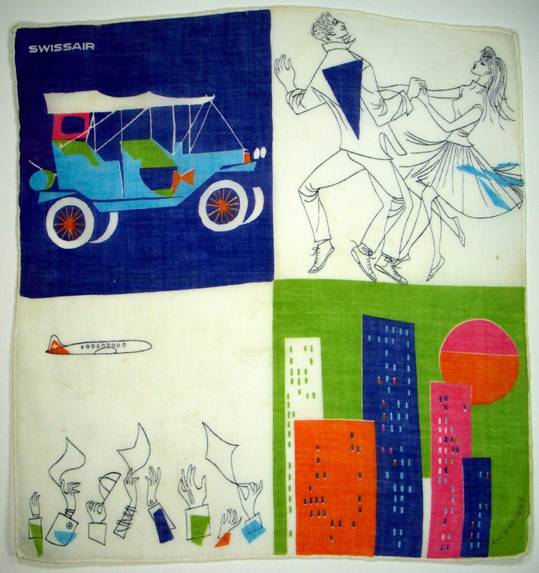 Colorful bouquets command height or breadth, depending on your floral preference. Who wouldn't be happy to awaken to something this charming and upbeat after a long flight 'across the pond'?
| | |
| --- | --- |
| | A hip rendition of 'flower power' prevalent during the Age of Aquarius 1960s – 70s. The graphics are reminiscent of Peter Max, the Beatles Yellow Submarine album cover, and posters from The Fillmore, home to San Francisco rock concerts. |
This embroidered beauty contains the Cantons of Switzerland. The needlework is minuscule, but absolute perfection. It's the only embroidered Swissair handkerchief I have found. Perhaps they were reserved for special patrons?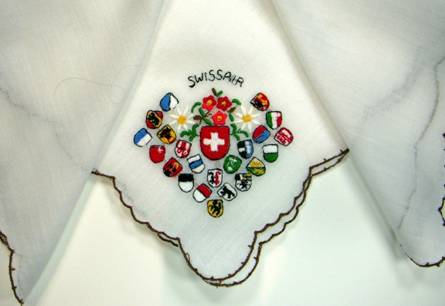 Some handkerchiefs were more literal, featuring actual airports and runways. The Zurich airport looks quite modern, with a prominent corporate logo. Perhaps we had a change of leadership in the art department? Still, travel looks like fun, with just a brisk stop at customs before grabbing a cool beverage from the vigilant hostess at the stairs. The second hankie, although quite faded, is terrific in its understatement. The only mention of Swissair is on the tail of the plane. Note the shadow in the lower right corner, a nice graphic touch.
Other airlines also offered handkerchiefs. These examples from Lufthansa run the gamut, from providing a map of the routes they serve, to a fun loving Merman. Isn't he a kick?
"There is a kind of magicness about going far away and then coming back all changed.'

Kate Douglas Wiggin New Chronicles of Rebecca
Bonus: I personally find it difficult to read while listening to music with lyrics, but I couldn't leave a blog on flight without giving you the 'real deal' – Sinatra singing Come Fly with Me
httpa://www.youtube.com/watch?v=2KEPvQMkN9s