For some, true love is their heart's desire, the prize they seek. For others, romance is merely a prelude to the main event – marriage! The ultimate, nonpareil, pinnacle of achievement. Hmmmm. With success rates hovering at 48% for first marriages, 33% for second marriages and a grim 27% for third marriages, one wonders about those convinced they can beat the odds. Perhaps they're just incurable romantics. 
These handkerchiefs reflect the era when marriage was considered the zenith, the ultimate victory in the world of love. Yet, the artists are well aware that romance, for some, is akin to stalking helpless prey, and admonish accordingly. For collectors, we're merely stalking the unusual, so do enjoy and have fun!
As Marilyn Monroe and Jane Russell sang in the 1959 comedy Some Like It Hot, "Diamonds Are A Girl's Best Friend" and in this case, the prized diamond is on a wedding band.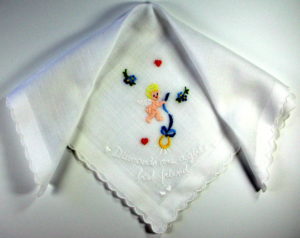 How terrific is this little number? If you don't want to mine for diamonds, pan for gold, set traps for mink, fish for caviar, or dive for pearls, then DROP YOUR LITTLE POLKA DOT HANKIE to attract a man. (Of course it helps to have legs like a Barbie doll, and she does.)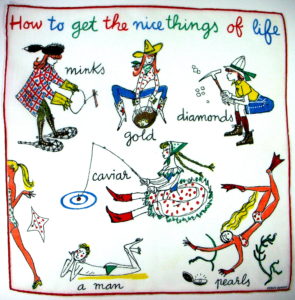 This is the hankie of a gold digger you say? Perhaps. But lighten up, it's clever and fun. If you're a feminist, prepare to have your hair burst into flames when viewing these hankies. Remember, these are from the 1950's and depict the attitude of the times. So relax and enjoy the show.
To enhance your viewing:
httpa://www.youtube.com/watch?v=05LdiCtYqJE&index=16&list=PLm7JpsjmlAvhs-1xj6s6IuX04G5f58nZ7
"Bewitched, Bothered and Bewildered" written by Richard Rodgers and Lorenz Hart in 1940 for the musical Pal Joey. Played here by Beegie Adair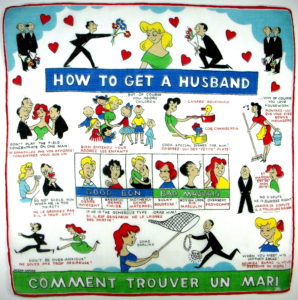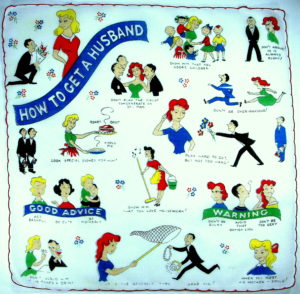 Before you chastise the gold diggers, take a gander at the male equivalent "How to Get a Maid" Yikes! And if nothing else works to capture her… marry her…. Enough said.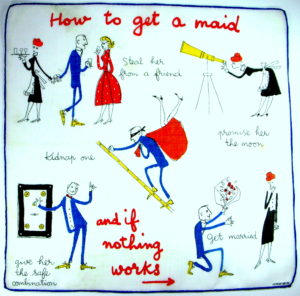 The perfect girl qualities: Loves to cook, clean, and make her own clothes. Alrighty!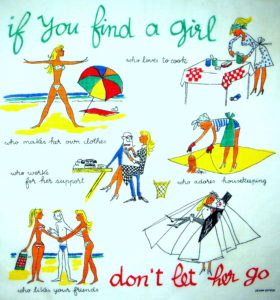 "After all these years, I see that I was mistaken about Eve in the beginning;

it is better to live outside the garden with her than inside it without her."

Mark Twain, Diaries of Adam & Eve
The ladies have their own checklist: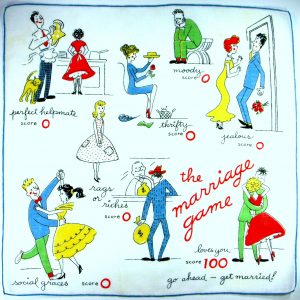 Or two…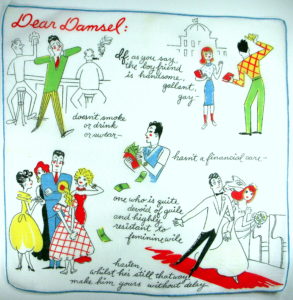 Or three…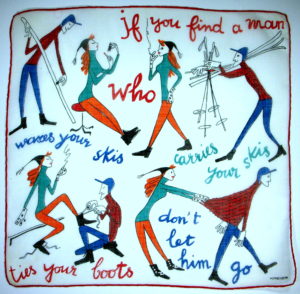 The game of love is endlessly fascinating, and this hankie has it all – a bachelor sewing his wild oats, love letters, birds and bees, the balance of power, cupid with a broken heart, love birds, etc.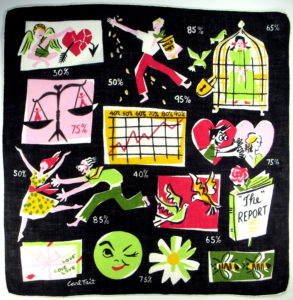 Uh-oh. Note the girl in the cage.This image makes reference to a song from 1900 by Arthur J. Lamb and Harry Von Tilzer "A Bird in a Gilded Cage". It tells of girl who married for money instead of love. It was enormously popular, selling two million copies in sheet music. We'll provide the chorus as a cautionary tale.
She's only a bird in a gilded cage,

A beautiful sight to see,

You may think she's happy and free from care,

She's not, though she seems to be,

Tis sad when you think of her wasted life,

For youth cannot mate with age,

And her beauty was sold,

For an old man's gold,

She's a bird in a gilded cage.
Hopefully most courtship is based on true affection with dreams of creating a happy life together.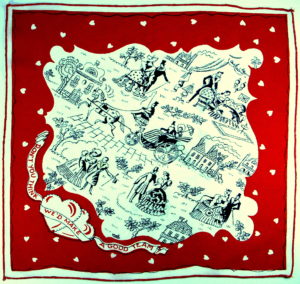 "To be fully seen by somebody, then, and be loved anyhow –

this is a human offering that can border on miraculous."

Elizabeth Gilbert, Committed: A Skeptic Makes Peace with Marriage
The hand appliqued hankie on the right shows a nervous bunny groom desperately trying not to drop the ring.
In this rabbit union the bride sneaks away for a nibble of the cake. Oh the artists knows us so well. 
Another prescient illustrator renders a May/December union. Even the bell hop senses there's trouble in paradise. The groom is over the moon, while she's already bored to tears.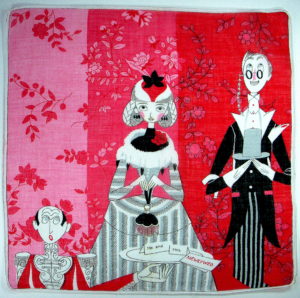 Perhaps we should supply the bride with a rule book. Apparently certain rules apply in every language.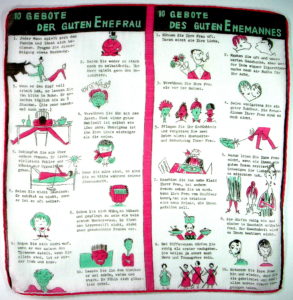 We told you how to catch him; now here's how to keep him.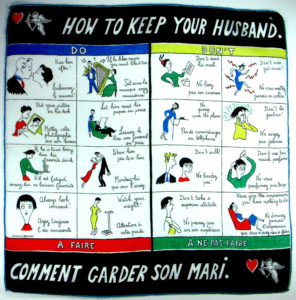 "The very first moment I beheld him, my heart was irrevocably gone."

Jane Austen, Love and Friendship
The story wouldn't be complete without a few "bloom is off the rose" hankies. Before marriage, she waits; after marriage, he waits.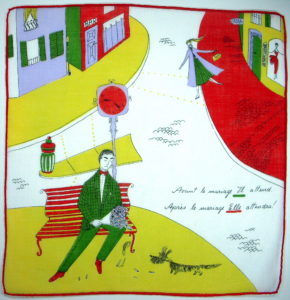 A few years in, the list of "honey dos" expands. How on earth is the poor fellow expected to write to her as well? He must be zonked by the end of the day.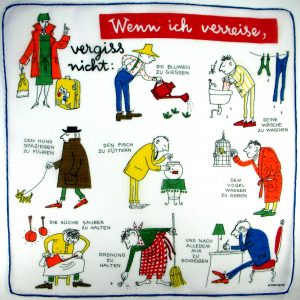 "I was married by a judge. I should have asked for a jury."

Groucho Marx
Regardless the circumstances, we wish every couple loads of good luck. This next little hankie which seems so simple, is, upon closer inspection, loaded with imagery.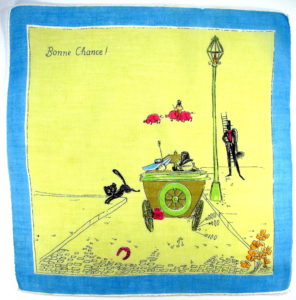 Although their tire was punctured by a nail, a black cat crossed their path, and they lost their good luck horseshoe, these newlyweds merrily roll along with good luck (Bonne Chance) on their side. Four leaf clovers even spring up through the pavement.
Note the shepherd in the background is herding pigs, not sheep. In many Teutonic nations, the pig is considered good luck. It was also a symbol of fertility and wealth. In one account, the city of Luneburg became wealthy when a pig led a hunter to a valuable source of salt. The city still thanks the pig today. In Germany, someone who has good fortune is considered a "lucky pig." One proverb says "One who wants to impress breeds horses, one who wants to become wealthy breeds pigs." And let's not forget where we first stashed our money in childhood – ye old piggy bank.
Note the chimney sweep in attendance. Sweeps purportedly bring good luck, particularly to newlyweds. One legend from the 1700s claims a chimney sweep came to the rescue of King George III, whose horse was spooked by a growling dog. The sweep subdued the horse and saved the king. Another version of the story claims British King William was rescued by a chimney sweep in 1066, when the sweep pushed him out of the path of a runaway carriage. William declared the sweep good luck, and invited him to his daughter's wedding. Henceforth, the presence of a chimney sweep at a wedding signaled good luck. In addition, the sweeps were allowed to wear tall top hats, which were previously worn only by the upper crust or gentry. Legend has it that Prince Philip, husband to Queen Elizabeth II, dashed out of Kensington Palace on his wedding day to shake the hand of a chimney sweep waiting nearby. Today, in Great Britain and Germany, chimney sweeps are often found in attendance at wedding receptions to kiss the bride, shake hands with the guests, and insure good luck to the couple. Now there's your trivia tweet for the day!
To underscore the legend, here's a lipstick hankie wishing luck and happiness.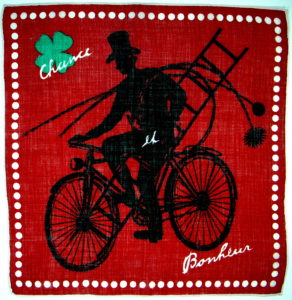 Another lipstick hankie features a "marriage carriage" and gifts which open to read "something old", "something new", "something borrowed" and "something blue."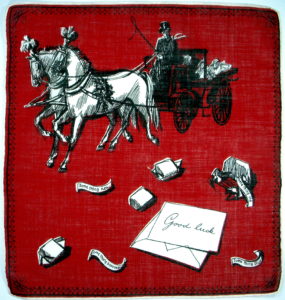 Another way to "earn" a diamond? Celebrate 75 years of marriage! Here's a helpful guide for the proper anniversary gift. Those who achieve these milestones understand the difference between a house and a home, and can be happy in the coziest of love nests, as the hankie on the right attests.
For today's texting, tweeting bride, perhaps a handkerchief with emojis is more appropriate. Can you translate these?
"Sexiness wears thin after a while and beauty fades, but to be married to a man

who makes you laugh every day, ah, now that is a treat."

Joanne Woodward, (married to Paul Newman)
Just for Fun
Although it's a well worn chestnut that girls enjoy "chick flicks" while men prefer action adventures, depending on what type of adventure he's seeking, you may be able to convince your guy to snuggle up to a romantic movie. Vanity Fair magazine's Laura Jacobs provides this Top 25 list.
You'll certainly have favorites to add, but it's a good start…
The Age of Innocence 1993
The Americanization of Emily 1964
Before Sunrise 1995
Before Sunset 2004
Before Midnight 2013
Brief Encounter 1945
Brokeback Mountain 2005
Carmen Jones 1954
Casablanca 1942
The English Patient 1996
Ghost 1990
Holiday 1938
I Know Where I'm Going 1945
It Happened One Night 1934
The Long, Hot Summer 1958
Love Affair 1939
An Affair to Remember 1957
Love Story 1970
Notorious 1946
Now Voyager 1942
(you can see a clip of it at the end of Smoking )
An Officer and a Gentleman 1982
The Remains of the Day 1993
Roman Holiday 1953
Say Anything 1989
Sense and Sensibility 1995
The Shop Around the Corner 1940
The Way We Were 1973
Working Girl 1988
"I realized I was thinking of you, and I began to wonder how long you'd been on my mind.

Then it occurred to me: Since I met you, you've never left."

Unknown
This blog is one in a series on romantic handkerchiefs which includes: