For the cynic who says love is for the birds – you're absolutely right! In this hankie everyone from the cuckoo to the dodo, the parrot to the nighthawk have something to squawk about, while an ermine robed Queen Bee holds court center stage. I doubt this hankie will satiate an endlessly inquisitive child, but then, the birds and bees chestnut has always been mostly an escape hatch for flustered parents, leaving kids more baffled and befuddled than before.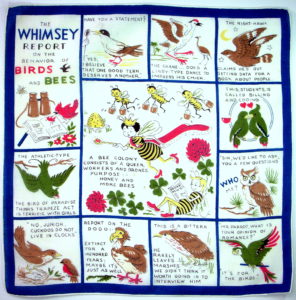 "Birds do it, bees do it, even educated fleas do it.

Let's do it; let's fall in love."

Let's Fall in Love, 1933 by Harold Arlen and Ted Koehler
Many a hankie depicts images of billing and cooing, snuggling and smooching partnering and pairing, but none so happily as this one.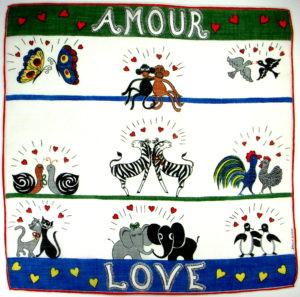 The hankie on the left serves to alert your wingman it's time to skedaddle. Although supposedly opposites attract, the couple on the right appear to be reluctant participants in a blind date gone awry.
Who can forget the winsome canine couple in the movie Lady and the Tramp? Below, an equally ambitious Romeo is out of his league, yet pulls out all the stops to impress. He's so earnest, energetic and eager, we must give a tip of the beret to this panting paramour. (If you catch a lazy date texting at the table, just lay this alongside his phone when he sets it down to signal he'd better step up his game.)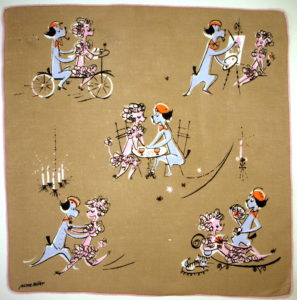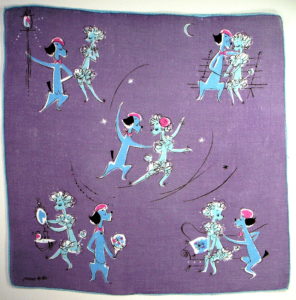 Poodle paramours parody people as they promenade the boulevards of Paris.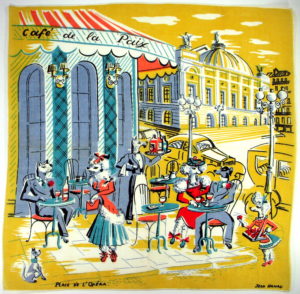 "Oh no. Don't smile. You'll kill me. I stop breathing when you smile."

Tessa Dare, A Lady of Persuasion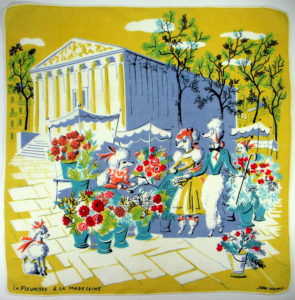 A stop at le Moulin Rouge reveals Monsieur Boogie Down (in top hat) flashing his pecs. Note the mutts and mongrels howling in the house band. Bow Wow!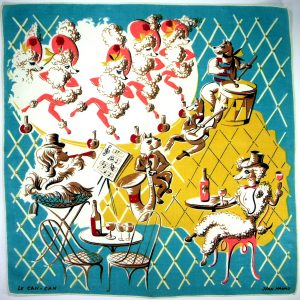 "She kind of accidentally bumped into his chest on the way out. Well, maybe not so accidentally. She saw his muscles through his shirt – they'd just needed a closer physical inspection."

Ophelia London, Making Waves
Romance wouldn't be complete without the flirtatious feline, and she's well represented in flirty handkerchiefs, form Forbidden Love on the left to Kissing Kittens on the right, apparently under the spell of a romantic movie poster.
"How delicious is the winning of a kiss at love's beginning."

Thomas Campbell
For the independent, aloof tomcat to acquiesce to any type of surrender is surprising, yet in the name of love, this cavorting Casanova is committed to circumnavigating the globe.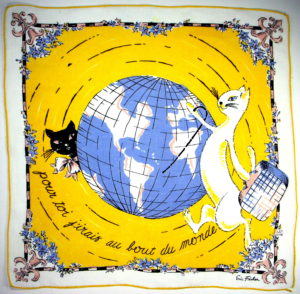 "He looked like a walking, talking billboard for deliciously irresponsible behavior

and a treasure trove of regrettable decisions."

Alexi Lawless, Complicated Creatures
Only one feline could engender such passion – the enchanting tiger cat with eyelashes aflutter. Even the rug on the floor smiles in surrender. Her tasseled, tufted, and swaged boudoir is ready for action, and needs few words.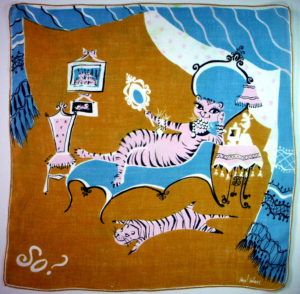 Yep, it's all about the monkey business, and every girl needs a flirtatious hankie to signal "let's play."
"You don't love someone for their looks, or their clothes, or for their fancy car,

but because they sing a song only you can hear."

Oscar Wilde
Methinks these animal hankies are perfect for the very shy (not to mention the highly skilled coquette). as they rely on subtext. If accused of romantic intent, the owner can feign ignorance, claiming they simply love animals. Enjoy!
This blog is one in a series on romantic handkerchiefs which includes