One word frees us of all the weight and pain of life: That word is love.

Sophocles
Searching for just the right Valentine can be like searching for the perfect white shirt, neighborhood that feels like home, or special pet to love. Each offers something special and unique, but only one will speak to your heart. Valentines come in every shape, size and color, with far too many styles to showcase in a single blog. I've chosen a small sampling to illustrate the variety of ways hankies can convey "I love you." Certainly there's the ubiquitous Key to My Heart message. Sometimes the message is quite literal, as seen here.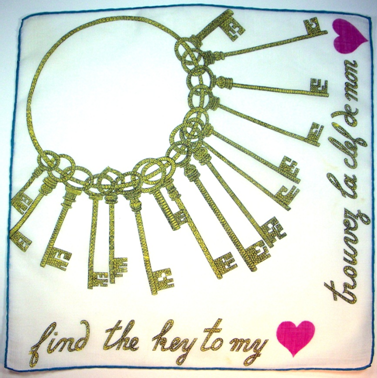 Love is the master key that opens the gates of happiness.

Oliver Wendell Holmes
Often the message is soft and romantic like this pinwheel of keys surrounding a rose window formation, anchored by fanciful, curlicue heart corners.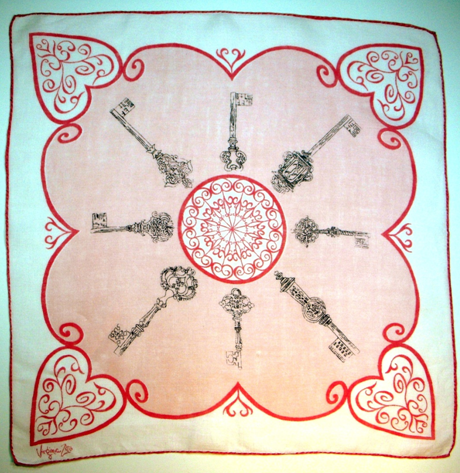 The attention to detail of the line drawing of the keys underscores the message that like people, no two keys are alike. Note the Greek god at 7:00 o'clock, the Celtic cross at 9:00, the scepter-like handle at 10:00, and the king's crown at 1:00. Surely one of them will appeal to you, and it only takes one special key (person) to unlock our heart.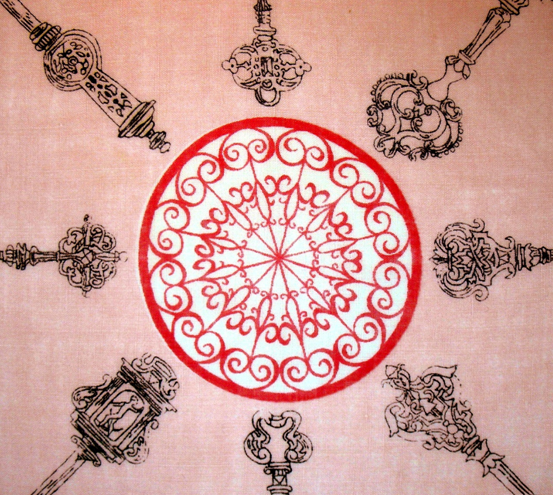 …then I did the simplest thing in the world. I leaned down…and kissed him. And the world cracked open.

Agnes de Mille
A legion of hearts locked in unison challenge us to break their regimented ranks. Are they warriors for love?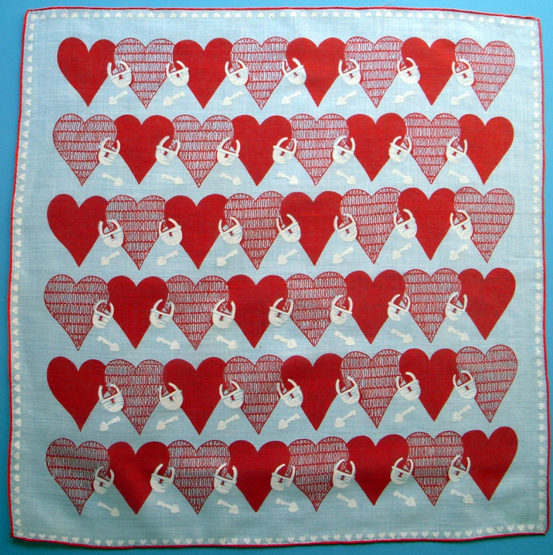 The white-on-white images of tiny keys was so transparent as to almost be invisible, so I photographed this with a color backdrop in order for you to see that indeed, each lock comes with its own key, fashioned with a heart shaped head. Crisp and clean, fun and fanciful, this overall pattern is refreshing and as contemporary as if it had been created today.

Another jangle of keys, this time embroidered in gold are sprinkled betwixt and between a shower of kisses bordering this scallop edge beauty. Who could doubt the giver entrusted the recipient of this handkerchief with the key to his heart?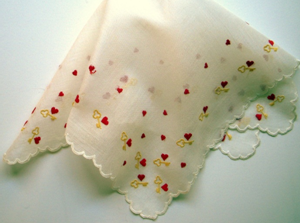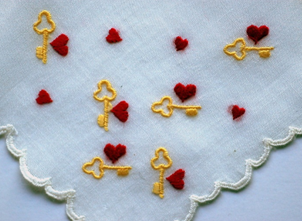 | | |
| --- | --- |
| | Here's a fanciful number with a mult-heart border sporting bold and beautiful heart shaped locks.The mask leaves us wondering – is this proclamation of passion a gift from a secret admirer? Also note the plethora of cupid's arrows in bold black and white which weave and play throughout the image. |
Love takes off masks that we fear we cannot live without and know we cannot live with.

James Baldwin
Cupid, Draw Back Your Bow
According to Roman mythology, Cupid is the god of desire, affection and erotic love. He is the son of Venus, goddess of love, sex, fertility and prosperity. Well that should pretty well cover the bases for Valentine's Day! Legend has it that a person shot by cupid's arrow is filled with uncontrollable desire. You'll find cupid's appearing in dozens of mythical stories and romantic works of art. Isidore of Seville (d.636AD) describes Cupid thusly: "Cupid is winged because lovers are flighty and like to change their minds, and boyish because love is foolish and irrational. His symbols are the arrow and torch, because love wounds and inflames the heart."
Often Cupid is depicted blindfolded. In Shakespeare's A Midsummer Night's Dream, the bard opines:
Love looks not with the eyes, but with the mind,
And therefore is winged Cupid painted blind.
Nor hath love's mind of any judgment taste;
Wings and no eyes figure unheedy haste.
And therefore is love said to be a child
Because in choice he is so oft beguiled.
Here's a risqué little cutie with a heart shaped bottom getting ready to draw his bow in the name of love. Unlike many Valentine hankies which are sugary sweet or passionately red, the artist chose to utilize a reverse line drawing against a sophisticated gray backdrop. I love gray, and it's a surprising but wonderful choice, don't you think?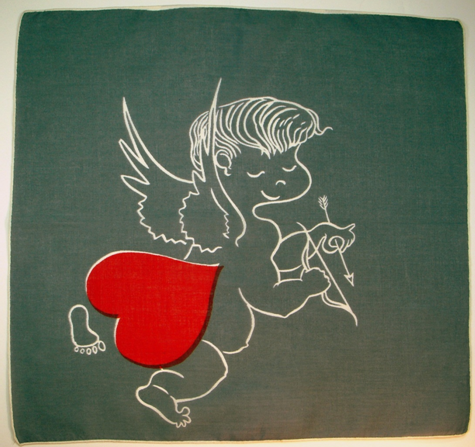 A border of passionate hearts shot straight through with crisp navy cupid arrows creates an eye-catching accessory to dangle from your suit pocket on Valentine's day. (see

Flirting

)

The design is colorful yet minimal, conveying volumes in a subtle, understated manner.
Whereas this hankie leaves no doubt that the giver's heart has succumbed to cupid's spell.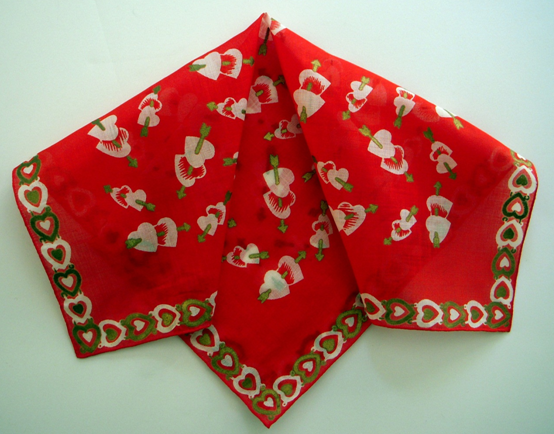 .
The square handkerchief was often employed as an actual greeting card. Here we find Cupid at the drawing board, laying plans for his conquest. His thoughts are so full of love that instead of hair, he has sprouted a head full of hearts! Below, we see the front and reverse of the card.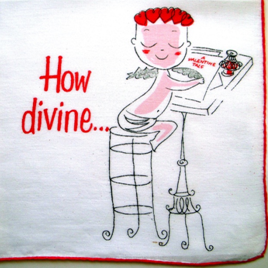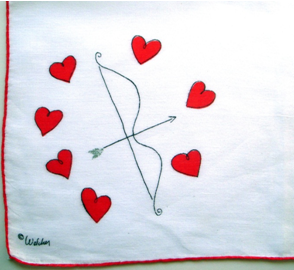 The card opens to reveal a very confident little guy who has made certain his target will not be missed!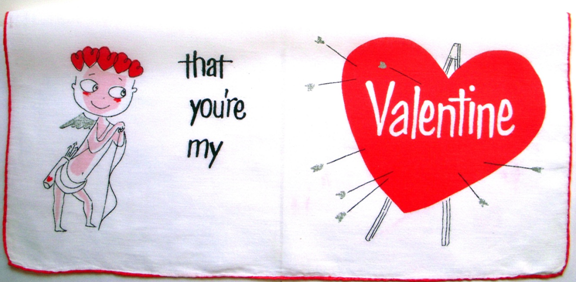 We are each of us angels with only one wing, and we can only fly by embracing one another.

Lucretius
Whether viewed from north, south, east, or west, cupid couples and bouquets of kisses say "Be Mine" – sure to win any girls heart.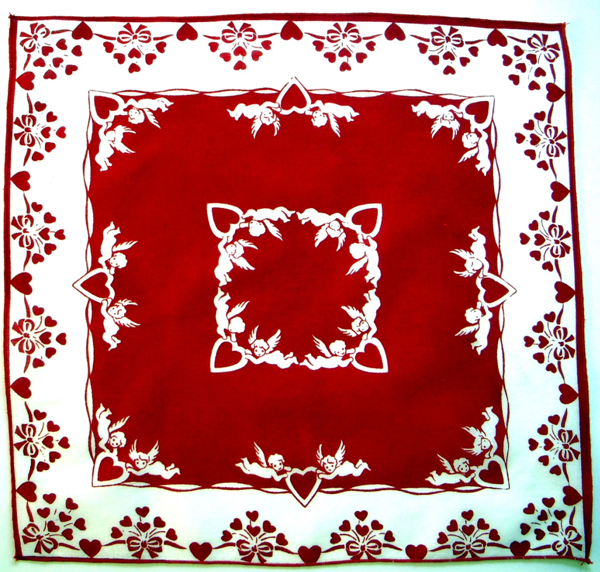 Another hankie awash with cupids is this fun and frisky harlequin print in brilliant lime green and pink.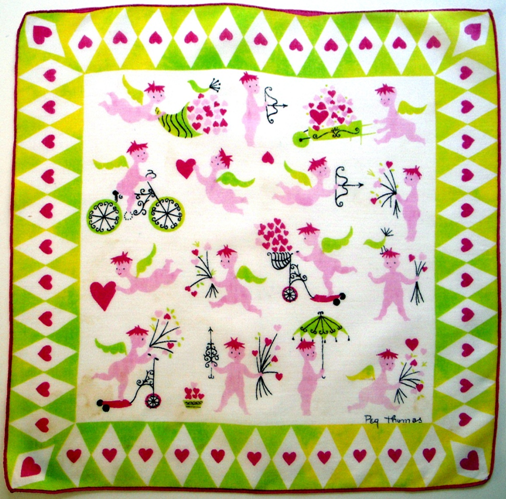 These busy little love monkeys skitter hither and yon in a flurry of romantic anticipation as they deliver bushels and boatloads of romantic greetings.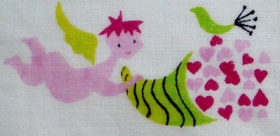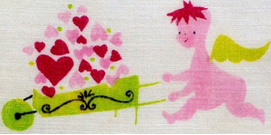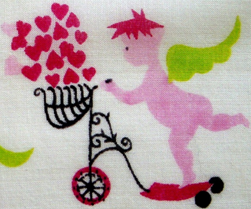 Cupid again takes center stage in this Valentine which covers everything from keys to lockets, to lovebirds, to bouquets, candy, love letters and stolen kisses. Who else could instigate and sustain all this romantic mayhem but our darling cherub tied with a big red bow?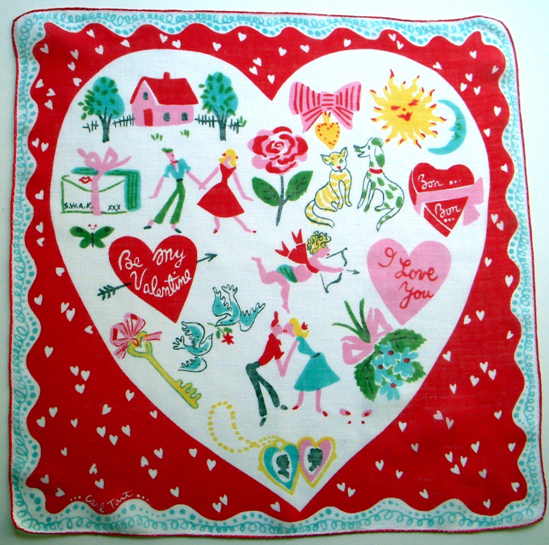 Note the lovebirds exchanging a flower, a common image to be found on Valentines Day. In this next hankie, the lovebirds jump right from courtship to marriage as they transport bridal lily-of-the-valley in their beaks for the intended recipient.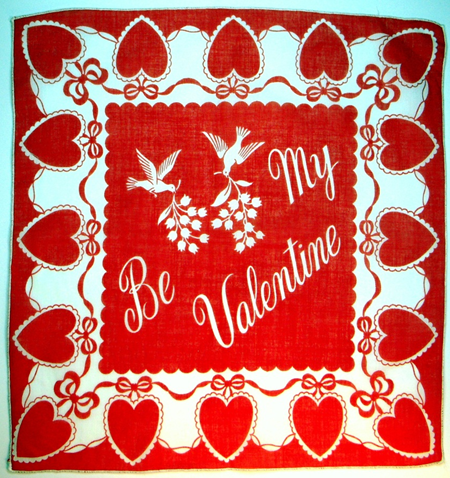 Every heart sings a song incomplete, until another heart whispers back.

Plato
The feisty gal in this theatrical number has lassoed her harlequin heartthrob in no uncertain terms. He's tied up hook, line, and sinker, as he gives away his heart. This brilliant red quatrefoil beauty could double as a lipstick hankie to remove evidence of a peck or two on the cheek. 🙂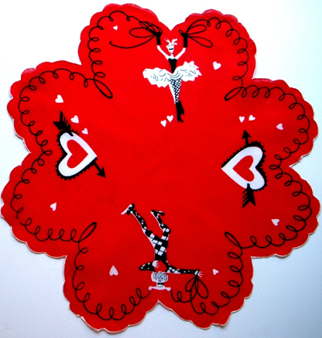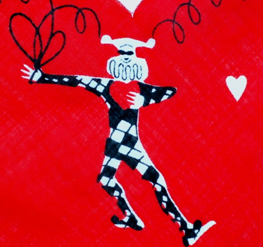 Here's an ad from the February 1949 issue of Mademoiselle showcasing "hand-rolled, fine, sheer pima cotton for fifty cents each". These designs by textile designer Tammis Keefe resemble old fashioned lace edged hankies and carry simple phrases of love. They're great because you can have the colorful lacey borders peeking from your pocket while the message of love remains hidden deep in the folds.
There were even Valentine handkerchiefs for children. Here we find a well-known beloved rhyme. The hankie is well worn, even stained in places, but so charming, I thought you'd enjoy it nonetheless. Plus all that wear and tear indicates that someone loved it very much. (see

Wabi Sabi

)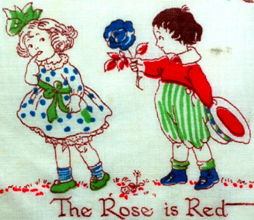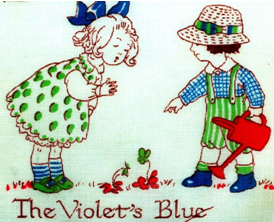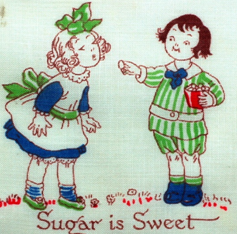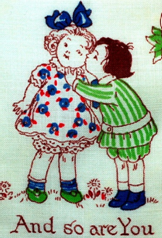 It is only with the heart that one can see rightly; what is essential is invisible to the eye.

Antoine de Saint-Exupery
This beautiful pastoral handkerchief, though possibly not considered strictly a Valentine, could even be gifted to a man to wear as a dress handkerchief in his suit pocket. The detail is truly wonderful, particularly for anyone who loves agriculture or nature. Certainly it could be framed to be studied and enjoyed.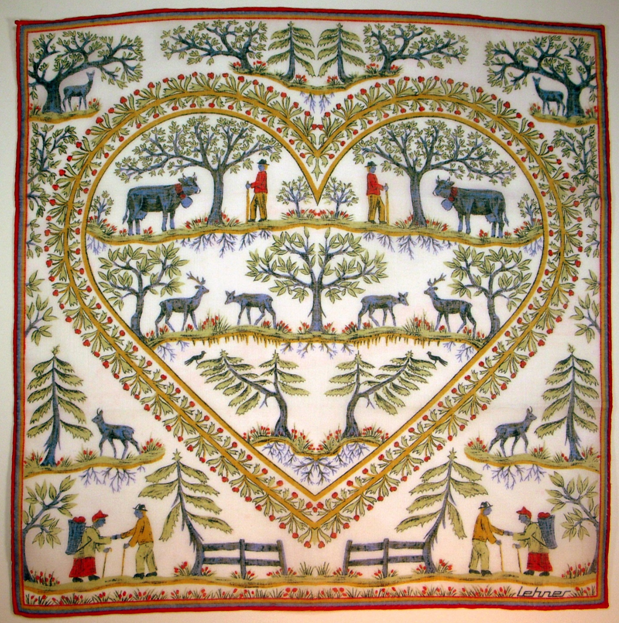 The moment you have in your heart this extraordinary thing called love and feel the depth, the delight, the ecstasy of it, you will discover that for you the world is transformed.

Jiddu Kirshnamurti
Whatever your style, my wish for you is that you receive all the valentines your heart can hold.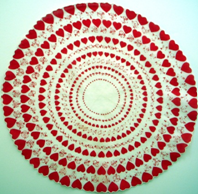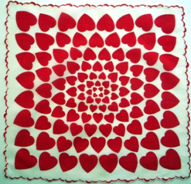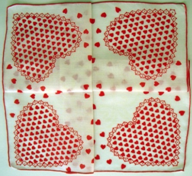 A heart is not judged by how much you love, but by how much you are loved by others.

Frank Morgan
There is no end to the variety of permutations you can find when it comes to Valentines. I do hope you'll consider gifting one to someone you love. I think you'd be surprised to know how many of them are cherished and carried daily as a talisman of affection.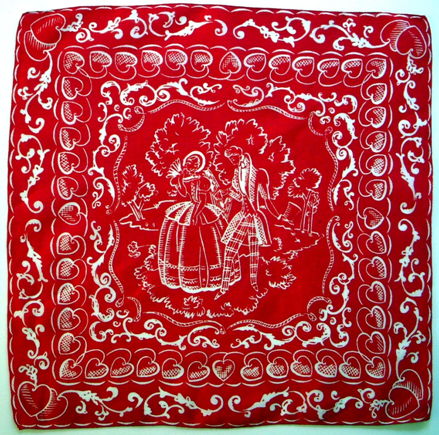 If we've put you in the mood for a bit of cupid hunting, here's a link to Sam Cooke's 1961 hit Cupid, along with the lyrics.
httpa://www.youtube.com/watch?v=S28tILqie1o
Cupid, draw back your bow and let your arrow go
Straight to my lover's heart for me, for me
Cupid, please hear my cry and let your arrow fly
Straight to my lover's heart for me

Now, I don't mean to bother you but I'm in distress
There's danger of me losin' all of my happiness
For I love a girl who doesn't know I exist
And this you can fix

Chorus
Now, Cupid if your arrow makes a love storm for me
I promise I will love her until eternity
I know between the two of us her heart we can steal
Help me if you will

Chorus
Now, Cupid, don't you hear me
Callin' you, I need you
Cupid, help me