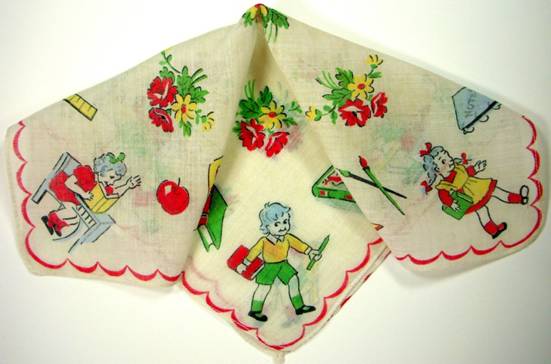 Before I started college, my dad told me to pick classes based on the teacher whenever you can, not the subject….his point was that good teachers are priceless.  They inspire you, they entertain you, and you end up learning a ton even when you don't know it.

Nicholas Sparks, Dear John
It seems every retail outlet is running specials on back to school supplies and clothing, as moms gratefully and children grudgingly prepare for the fall semester.  One wardrobe staple in days past was a supply of fresh handkerchiefs.   As far back as the late 1800's children were required to bring a fresh hankie to school.   Helen Gustafson in her delightful book Hanky Panky reminds us it was no easy feat to send a troop of children out the door spick and span every single day.  Enterprising moms devised a sleight-of-hand solution = "Show and Blow."   A child carried two handkerchiefs – a clean one to 'show' the teacher, and a utilitarian one for actual use ('blow').  Isn't that a kick?
Just for fun: "School Days"written in 1907 by Will Cobb and Gus Edwards.
httpa://www.youtube.com/watch?v=AnFARtoXWvM
.
| | |
| --- | --- |
|   | By the 1930's, sets of "Day of the Week" hankies became popular, and were often gift boxed for Christmas, birthdays, and Back to School. |
The box above housed these beautifully embroidered pastel linen handkerchiefs.  The craftsmanship is as professionally executed as any to be found on a man's dress handkerchief.  Lucky the child who was received these.   Sadly, she may have been instructed to save them for 'special' occasions, as they were never removed from the box.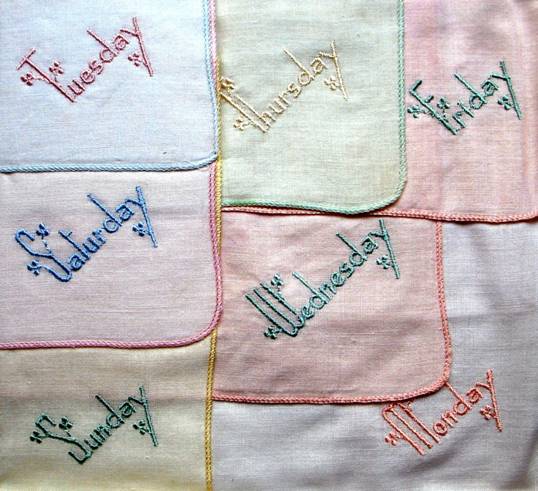 .
A set of School Days Handkerchiefs embroidered with farm animals and flowers.
.
A set of handkerchiefs for a young boy shows animals hunting, fishing, driving, playing soccer, and more.  Great care was taken to create these small wardrobe accessories, and helped convey a sense of self- worth and pride in appearance.  Children often heard  "When you're grown you'll have nice things of your own."  "When you're an adult, you'll appreciate it." These hankies instead convey the message "You're special, and valued, and deserve nice things now as you journey through childhood." (Wise moms and nannies also knew that hankie images could serve as catalysts for stories to entertain a restless or overtired child.)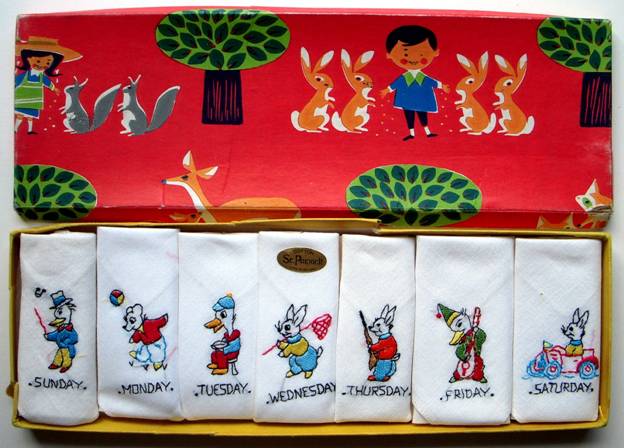 .
Brilliant bursts of color take flight on these papillons en françis.  I'd like to have these in adult size.  Wouldn't carrying these make any girl feel like a lady?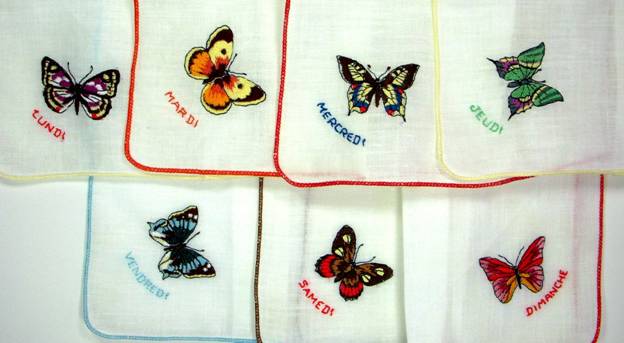 .
Sweet animals adorn another set en français.  My guess is, much like our children's silk handkerchiefs delicately embroidered sets like these may have belonged to children whose family had staff.  They were certainly lovingly cared for and are in wonderful condition over half a century later.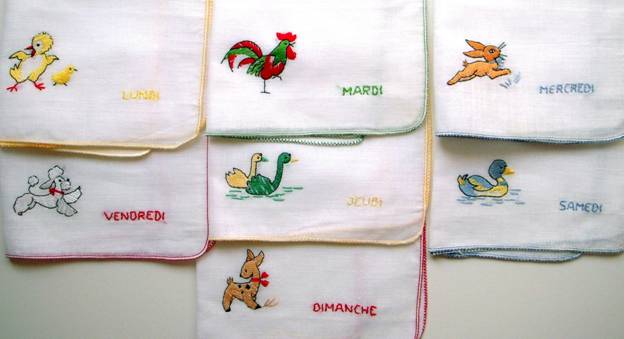 .
More French Day-of-the-Week handkerchiefs in pristine condition.  Note the puddle duck with her umbrella, the bear in vest and pipe, the bunny with her bunny doll, and the pup in pink bowtie, as well as the lovely contrasting borders.  Such detail.  Aren't they delightful?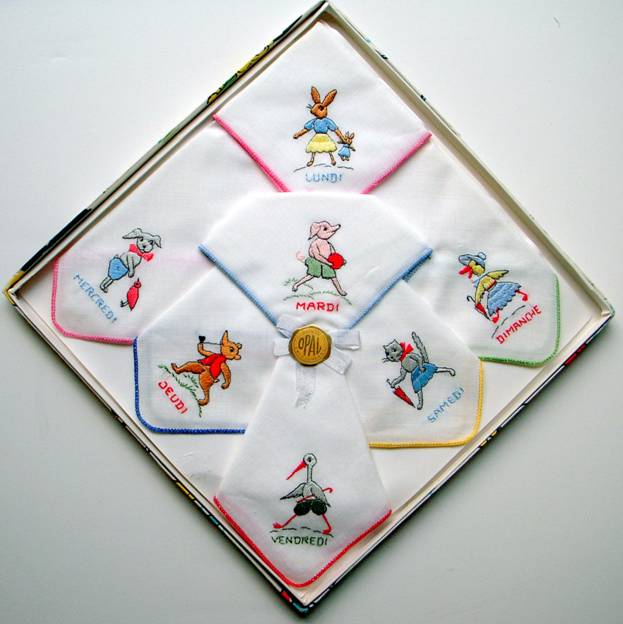 .
| | |
| --- | --- |
| The definitive back to school story of course is Mary Had A Little Lamb.  In this pop-up version of a one room school house, we find the poem, and hankies for Monday through Saturday.  The images are color stamped on cotton, so were more durable than the delicately embroidered hankies above.  What a great antidote to the back-to-school doldrums.  Housed in a simple cardboard box, these were probably within the budget of most families.  (A designer hankie at Lord & Taylor at this time was 25 cents.  This entire box might have cost the same.) |   |
"The women I know with strong personalities, the ones who might have become generals or the heads of companies if they were men, become teachers.  Teaching is a calling, too.   And I've always thought that teachers in their way are holy–angles leading their flocks out of the darkness."

Jeannette Walls, Half Broke Horses
Colorful pañuelos en español run the gamut from art to music to play to math to running late for class, with a single hankie doing double duty for the weekend.   The delightful images not only provide help with days of the week and spelling, they're tactile, not electronic, and a welcome change from endless video games.
"I am indebted to my father for living, but to my teacher for living well."

Alexander the Great
The heroes of Back to School are of course the teachers who sacrifice time and again for the children of others.   It was a delight to find this set of teacher handkerchiefs, as most 7-Day  handkerchiefs  focus on women in the home.  Gloria Steinem would approve, I'm sure, as these women take the helm in everything from biology and chemistry to art and color theory
"The mediocre teacher tells.  The good teacher explains.

The superior teacher demonstrates.

The great teacher inspires."

William Arthur Ward
From history to geography
To working at the library
 

"The real heroes are the librarians and teachers who at no small risk to themselves refuse to lie down and play dead for censors."

Bruce Coville
On the weekends, she takes the opportunity to relax and to worship.
The subject matter on these hankies is in sharp contrast to the generally accepted images of women in the 1950s.  The Friday girl below, bow in hair and gift in hand, surrounded by swirling flowers is more in keeping with how women were portrayed.  Perhaps it's because this particular set of hankies focuses specifically on teachers that we see this range of interests, I really don't know.
I've yet to find another 7-Day set of hankies that depict women working outside the home.




.

 
"I have read like a man on fire my whole life because the genius of English teachers touched me with the dazzling beauty of language. Because of them I rode with Don Quixote and danced with Anna Karenina at a ball in St. Petersburg and lassoed a steer in "Lonesome Dove" and had nightmares about slavery in "Beloved" and walked the streets of Dublin in "Ulysses" and made up a hundred stories in the Arabian nights and saw my mother killed by a baseball in "A Prayer for Owen Meany." I've been in ten thousand cities and have introduced myself to a hundred thousand strangers.

in my exuberant reading career, all because I listened to my fabulous English teachers and soaked up every single thing those magnificent men and women had to give. I cherish and praise them and thank them for finding me when I was a boy and presenting me with the precious gift of the English language. "      Pat Conroy