"There are few hours in life more agreeable than the hour dedicated to the ceremony known as afternoon tea."

Henry James The Portrait of a Lady
Brrrrrrrrrrrrrrrrrrrrrrrrrrrrrrrrrrrrrrr. Sleet and snow, blizzards and cloudbursts envelope and surround us.  Yet the flip side to winter's frosty coin always lands happily heads up when we can take a moment for a cup of tea.  It's the perfect prelude for a snuggle or siesta, a game of backgammon or chess, or burrowing with a best seller by a blazing fire.  Perhaps most comforting of all, it's an elixir for every hour – from purple pre-dawns, through shimmering afternoons, into indigo evenings; the gift of tea soothes and satisfies, calms and consoles the spirit.
 "You'll never find a cup of tea big enough or a book long enough to suit me."

C. S. Lewis
With today's culinary tastes leaning toward lattés, it's gratifying for the lone tea lover to learn that tea has claimed legions of enthusiasts through the centuries, from poets to philosophers, artists to attorneys,  generals to grannies.   Although tea conjures memories of merry old England, the brew commands a place in American history as well.  Some consider tea the tinder which ignited the American Revolution. The Tea Act of 1773 gave The British East India Tea Company a monopoly on sales in the American colonies, with accompanying hefty taxes.  To retaliate, colonists, disguised as Indians, threw literally tons of tea into Boston harbor, with the cry 'No taxation without representation."
This hankie includes an image of The Boston Tea Party right alongside Patrick Henry's famous pronouncement "Give me liberty or give me death."
A costly commodity, owners kept it under lock and key, housed in caddies commensurate with its stature.  Boxes inlaid with tortoise shell, ebony, ivory, and precious woods were displayed on sideboards with pride. (Note the George III carved shell tea scoop.)
"Some people will tell you there is a great deal of poetry and fine sentiment in a chest of tea."

Ralph Waldo Emerson, Letters and Social Aims
To invite a guest for tea was a gesture of hospitality, welcome, and perhaps even honor, and was matched, whenever possible, with a repast comparable to the occasion.  Much like assessing a gentlemen's personal property or dress, the tea ceremony was an opportunity to display wealth, from mahogany tea tables with pierced galleys, to a finely engraved silver tea service.
 "Tea would arrive, the cakes squatting on cushions of cream, toast in a melting shawl of butter, cups agleam and a faint wisp of steam rising from the teapot shawl."

Gerald Durrell, My Family and Other Animals
Ah, but we're not here to impress, we're here to enjoy and have fun.  The nursery rhyme Polly Put the Kettle On (also printed Molly Put the Kettle On) dates from 1790 and was even mentioned in Charles Dickens' Barnaby Rudge.  This child's hankie echoes the era of Jane Austen (1775-1817) as we easily recognize in the manner of dress and fancy bonnets.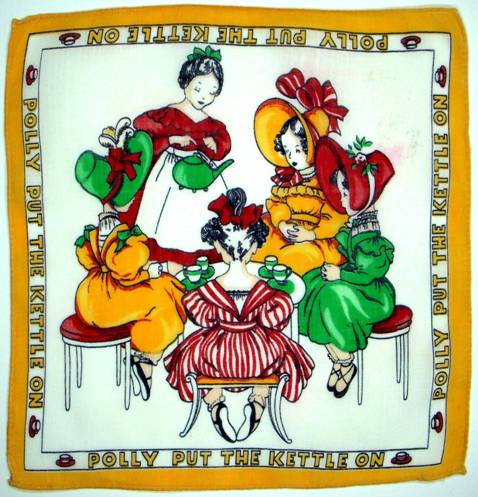 Since women did not venture outside the home alone in this era, tea provided a means for socializing and sharing gossip.  Should a gentleman join them, he brought with him an opportunity for flirting.  At tea, a lady could subtly exhibit her skills as a hostess (i.e. future wife), chatelaine, confidant, and more.
"While her lips talked culture, her heart was planning to invite him to tea."

E. M. Forster, Howards End
"Love and scandal are the best sweeteners of tea."

Henry Fielding
Teapots of every permutation adorn the border of this little gem.

"Wouldn't it be dreadful to live in a country where they didn't have tea?"Noel Coward
Are you a Miffy or a Tiffy? (answer found below in Just for Fun)
A sweet child's lap cloth for a tiny celebration – tea for one.The Tea Party  I had a little tea party
This afternoon at three.
'Twas very small-
Three guest in all-
Just I, myself and me. Myself ate all the sandwiches, While I drank up the tea;Twas also I who ate the pie,  And passed the cake to me."Jessica Nelson North  
Legend has it that actress Katharine Hepburn had a clause in her contracts stipulating that she break daily for tea.  Whenever possible, she included cast and crew, key grips, cameramen, etc. explaining everyone needs a civilized break to rest and restore their energy.  There was even a one-woman play written about Hepburn by Matthew Lombardo titled Tea at Five.
| | |
| --- | --- |
| | A medieval castle filled with jousters and knights discover the secret to dousing a dragon's fiery flames – a wee cup of tea. 🙂 |
The spirit of the tea beverage is one of peace, comfort and refinement."
Arthur Gray, Little Tea Book
When it comes to courting, what could be more civilized than meeting for tea?  Today, meeting for a beverage consists of a double mocha non-fat latte, complete with requisite 'rescue call' from a buddy to help extricate yourself if the date is less than stellar. Hmmmmmm.  Perhaps if we took those few extra moments while the tea was steeping to actually get to know someone, more friendships, possibly even romances might brew to become as warm and satisfying as the tea.
Tea For Two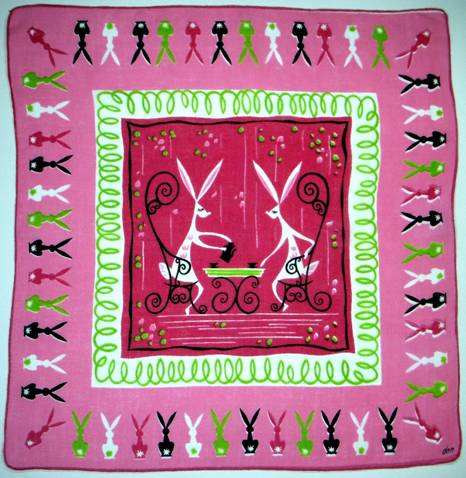 On the left, a lipstick hankie sets a bistro table for two center stage while lovebirds look on.  Stage right, a cheerful artist's rendering dazzles with T 4 2 in shorthand.
Tea to the English is really a picnic indoors."

Alice Walker, The Color Purple
When you think 'tea party' who immediately comes to mind?  Why Alice in Wonderland, the Mad Hatter and the White Rabbit of course.  A fun and fanciful child's hankie sports a googly-eyed white rabbit, running late as usual.  Meanwhile, a calm, cool and exquisitely embroidered Alice enjoys a soothing cup of tea.
A lovely Edwardian rendering finds our rabbit in a golden waistcoat, sporting a bumbershoot, and kerchief dangling from his pocket.   Note the two departing rabbits also have red hankies dangling from their pockets.  Delightful.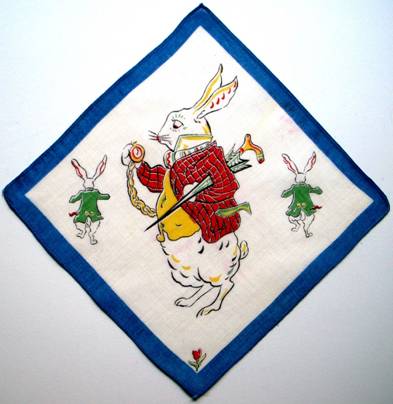 Curious Alice tumbles down the rabbit hole, surrounded by a swirl of adventures she'll soon encounter. What a wonderful contemporary rendition of the classic tale.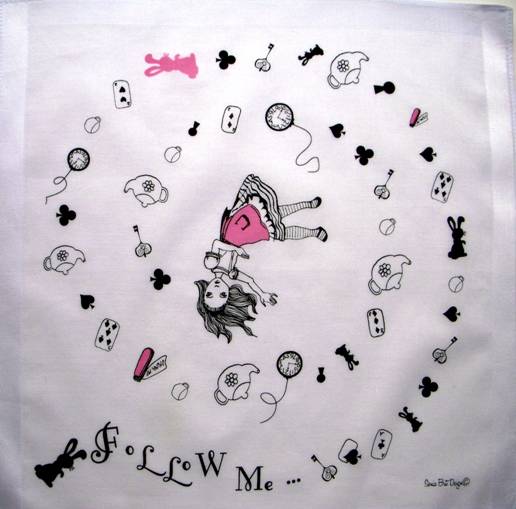 A subtle gray charmer has our heroine dining à trois under a fanciful, frivolous bower.  The perfect combination of sophistication and girly-girl.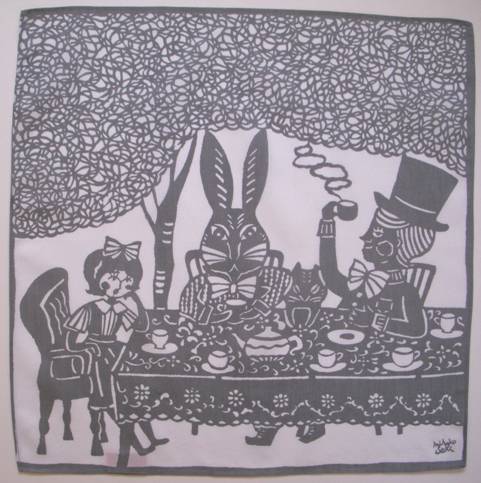 Let's be honest, sometimes we hop aboard the tea trolley merely to roll down the road to pick-me-ups of petits fours and pound cake. Yummmmmm.
| | |
| --- | --- |
| | All manner of confections tempt and delight as we twirl our tines in sweet anticipation. |
This modern rendition of Alice eschews tea altogether.  From the sultry eye shadow to the ruby lips, methinks milady may prefer a Cosmo in her cup?   Check out the damsel in Goth boots and midriff baring top perched on granny's tea pot.  You just know tea with her would be an enriching adventure.  Who says tea is passé?
It's as modern as you make it, and as timeless as tradition. Tea clears the space for contemplation, then renews the spirit for creativity.  An interlude with a perfect cup of tea can stop the frenzy and set everything right in the world again.  My wish for you is that you'll find the brew that envelops you like the softest of flannel shirts and sends the message "You're home.  You're safe.  Relax."
"Tea is the elixir of life."

Eisai Yojoki , How to Stay Healthy by Drinking Tea
Just For Fun
Tea for Two
The song Tea for Two has been sung everywhere from the Newport Jazz Festival to The Muppets.  Thelonious Monk recorded it be-bop style, while Tommy Dorsey created the cha-cha version.  Whenever one of Johnny Carson's jokes bombed on The Tonight Show, he'd do a soft shoe dance to Tea for Two to make the audience smile again.  The song was written for the 1924 musical No, No, Nanette, music by Vincent Youmans, lyrics by Irving Caesar.  Below is a 1950 rendition by Doris Day, so you can enjoy the lyrics.  If you want to experience some amazing keyboarding, you should check out Art Tatum's 1933 version.
httpa://youtu.be/D0MtzQDltr0?t=18s
Miffy or Tiffy? 
According to the British, those of the Miffy persuasion prefer to put milk in the cup first, followed by tea. A Tiffy prefers  tea first, followed by milk. (There's your next tweet, and you can direct them here to find the answer 🙂 )
Oh those Yorkshire Lads……
Yorkshire Tea has produced some great, fun commercials.
Everything Stops for Tea
Topless Tea
Thought that would get your attention.  If you've read this far, you deserve this story. What brought it to mind was the following quote:
The general rule is that the earlier tea is served, the lighter the refreshments. At three, tea is usually a snack — dainty finger sandwiches, petits fours, fresh strawberries; at six, it can be a meal — or "high" tea — with sausage rolls, salads, and trifle."

Angela Hynes, The Pleasures of Afternoon Tea
In years past, my work took me to New York perhaps twice annually.  Although for many the Big Apple conjures visions of endless shopping or gourmet dining, for me, it's always been the theatre.  Broadway, off Broadway, one man shows, I love it all. The dilemma? Trying to dine pre-show and make the curtain, had you gulping your meal and feeling like a blowfish.  Waiting to dine post-show left you ravenous by Act II, or falling asleep in your soup, post performance.
The solution – afternoon tea, a quick nap, and off to the show.  Over the years, I'd tried tea at The Plaza, The Waldorf, the Algonquin, and others.  Tea at the Helmsley Palace, however, was over the top, with endless servings of tiny cucumber, watercress or salmon sandwiches, cream puff carved swans, petits fours of every shape and color, scones with clotted cream and raspberry puree, succulent strawberries, along with every imaginable manner of tea, while a harpist plucked away on the balcony. You actually needed a nap after tea at The Helmsley.  Years later, with the hotel under new ownership, I stopped by to make a reservation, only to sadly discover not only had tea been moved from the gold room, but as the maître'd  explained, it was now Topless Tea.
"Excuse me?"
"Yes" he explained, it had been changed because "the men preferred something more substantial."  Ahem… I see… Alrighty then…I stood there speechless while he continued.
"Would you like to see where tea is now held?"
"Um…Certainly." (you bet your buttons!)
Meanwhile I'm thinking to myself "What on earth….?"   We went around the corner to a nice, but very OPEN area that was utilized as a coffee shop for breakfast.  Huh?  How was this possible?
He then asked "Would you like to see the menu?"
Well, jeez, I'd come this far.  "Yes, thank you," I replied.
I then had one of those slap your forehead moments when I read the menu title: TAPAS TEA. Ohhhh kaaaaay.  Let's chalk this one up to jet lag.  Relieved and chagrined, I decided to move along, searching for a new favorite spot for tea.
.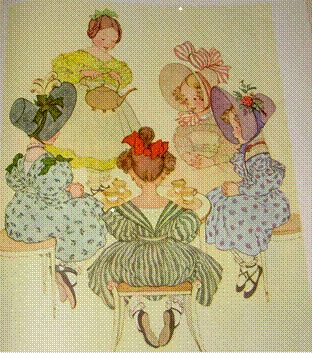 Polly Put the Kettle On
Sing Mother Goose Illustrated by Marjorie Torrey 1945