"Flirting is a woman's trade. One must keep in practice."
Jane Eyre, by Charlotte Brontë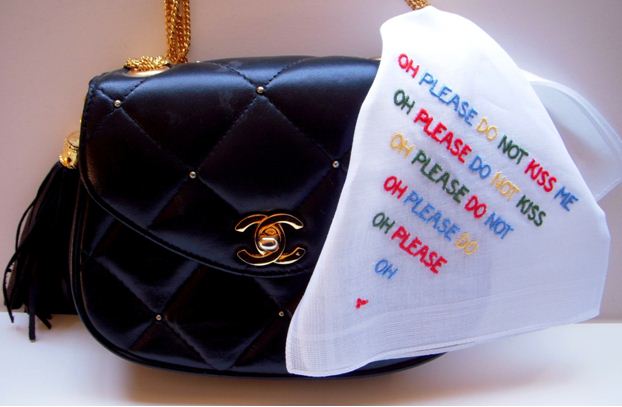 Recently, I attended a graduation at Stanford as a guest, and found myself immersed in a throng of families, friends and parents of graduates at a reception. Many were alumni, and related tales of "when I went here…" or bemoaned the changes that inevitably come with time.  One remark that caught my attention came from a grandfather with whom I'd been speaking earlier.
Apparently he had met his sweetheart at college and later proposed at a landmark on the campus. "Kids today" he sighed, "have lost the art of romance."  My granddaughter went to prom with a group of girls from her sorority. She had a 'date', but he texted her where to 'meet up'. At least he gave her a ride home. In my day, I picked up the girl, brought a corsage, and, if I could afford it, took her to dinner before the dance, and saw her safely home. Is that too much to ask?" "My granddaughter says her guy is a 'real catch'. I hope he catches some manners before too long."
Suddenly he turned to me and said to the group "Now this lady knows how to flirt." What? I had done no such thing! I swear. Or so I thought…. When we met, grandpa had noticed the handkerchief dangling from my purse. It was a Tammis Keefe adorned with a veritable kennel of dogs.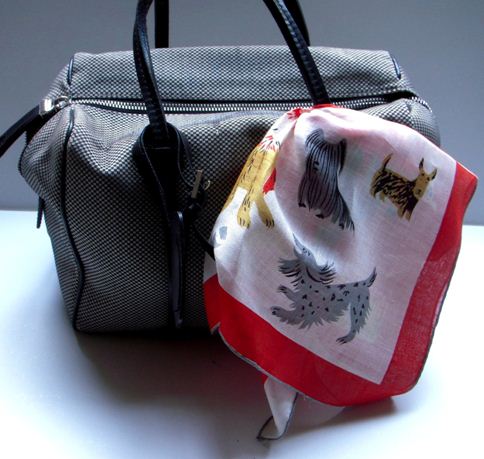 "Dog lover?" he inquired. "Absolutely," I assured him, and we had a great, albeit brief, conversation about pets. That's as far as it went. "Your hankie is a 'flirt' you know," he now said, smiling.  "It's a conversation starter.  I remember when a gal always carried a handkerchief. If she didn't have a pocket, she might ask me to carry her hankie and lipstick in my pocket.  Whenever that happened, I was over the moon!  The hankie always had a little perfume on it, which was the frosting on the cake. It may sound silly, but to me, it made her more feminine, and me feel like a man."  Almost immediately, other men chimed in with their own handkerchief stories – 'date hankies' lost in the back seat of a car 🙂 , a girl's hankie used to bandage a cut received when her beau was fending off a dog, a hankie used to mop up coke spilled on a shirt at the movies. Each and every man said they had kept the handkerchief, some for years, and it always reminded them of the girl.  Hmmm.  Now they had my attention…
Grandpa elaborated. "Oh, they knew what they were doing alright. I can remember during WWII, even though I was just a kid, it always seemed like the girls with the best legs would ask a fella  to check to make sure the seam in their stockings was straight. Yes mam!  It gave me a chance to stare at some great gams without getting slapped."  In addition, he assured us, a 'dropped' hankie was de rigueur, and guys loved it! It was a subtle way to say "You're my target sweetie. Are you game?"
"And I highly recommend for all the women in the world, even if they're 71, you can never take for granted that he loves you. It's always good to flirt with him.

It's a great sport."
Salma Hayek
The handkerchief has been used as a means to flirt for ages.  As far back as 1880, there was a system in place to signal a suitor. Below, a brief table on The Language of Flirting:
Drawing Across the Lips – Desirous of an Acquaintance

Drawing Across the Eyes – I Am Sorry

Drawing Across the Cheek – I Love You

Drawing Through the Hand – I Hate You

Twirling in Both Hands – Indifference

Holding by the Center – You Are Too Willing

Resting on the Right Cheek – Yes

Resting on the Left Cheek – No

Twisting in Right Hand – I Love Another

Twisting in Left Hand – I Wish to be Rid of You

Folding It – I Wish to Speak With You

Over the Shoulder – Follow Me

Opposite Corners in Both Hands – Wait For Me

Drawing Across the Forehead – We Are Watched

Placing on the Right Eye – You Have Changed

Letting it Remain on the Eyes – You Are Cruel

Winding Around the Forefinger – I Am Engaged

Winding Around the Third Finger – I Am Married

Dropping – We Shall be Friends

Putting in the Pocket – No More at Present
Admittedly, some of these machinations might require the assistance of a fainting couch – letting it remain on the eyes? Seriously? Gratefully, we don't live in Victorian times when a single woman couldn't be seen alone speaking to a man, much less express herself in public. Yet… one wonders… in today's world of texting and tweeting …have we lost the art of flirting?  A guy thumb-punching ILY to his girlfriend, can't possibly create the same response as showing up unexpectedly with flowers.
If your romance consists of keyboard clicks, how do you convey the subtleties of romance between the lines?  Sorry guys, it's neither flattering nor romantic to receive URH or worse, BTYCL on your screen. If you always resort to the quick & easy (i.e. fast & lazy) keyboard, your communication skills will die like an uncharged phone.  Recently I attended a cocktail party where a couple in the same room were texting each other about where to go for dinner that night. Seriously? Walk ten steps, put your arm around her and ask where she'd like to have dinner.  How hard is that?
Just as LOL , BG or G can't replace the joyful sound of giggles and guffaws, texting is a poor substitute for someone grabbing you by the hand to drag into a dark corner, or flashing you the flutter of a sexy hankie.
"Texting is not flirting, if you don't care about me enough to say the words than that's not love.  I don't like it!"
Lauren Graham
Today, people think of hankies as something utilitarian, but they were first and foremost a fashion accessory (see history) . Handkerchiefs made of silk and lace were definitely fashioned for flirting, as were the large florals of the 1930's.  Had my intention been to flirt, I probably would have used a different dog hankie, perhaps one with these French poodles dining and dancing.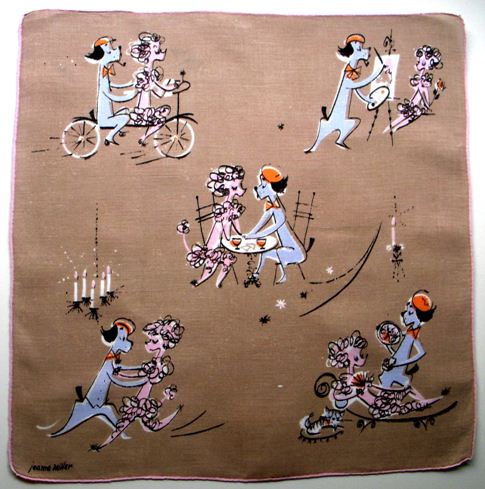 Note the jaunty angle of his beret,  and the pom-poms on her toes.  🙂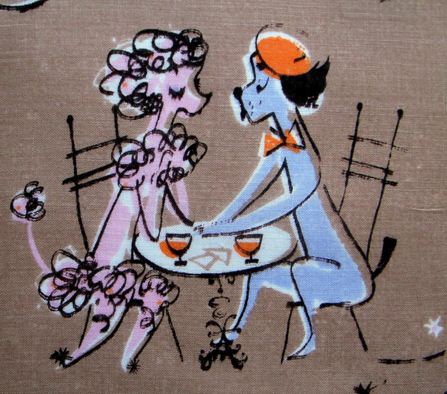 "She learned to say things with her eyes that others waste time putting into words."
Corey Ford
EYE CATCHERS
These hankies were intended to grab attention. This silly and frivolous hankie (a friend calls it "oak leaves on steroids") is obviously meant for flirting and nothing more.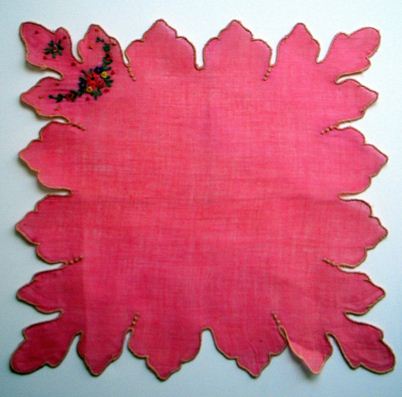 Whether you leave this hankie sedately peeking from your pocket while engaged in a high level executive board meeting,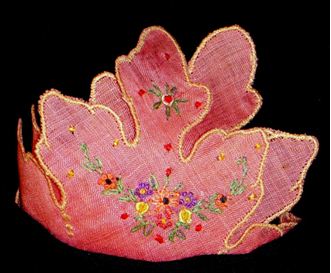 or you let your hair down and allow this little number lead the conga line after work, the delicate tiny embroidered flowers rein in the wild border to say – yes, I like to have fun, but first and foremost, I'm a lady.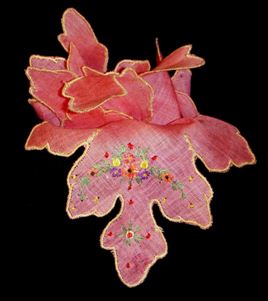 The citrusy yellow background behind these luscious plump cherries almost makes your mouth pucker into a little kiss,  n'est-ce pas?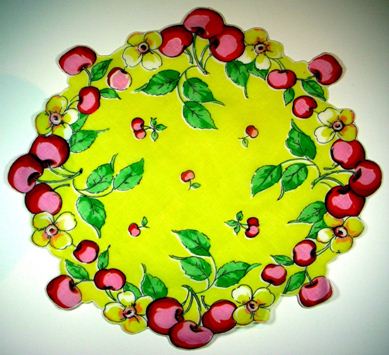 Here, it peeks provocatively from a black 'all business' suit to say "Let's play!"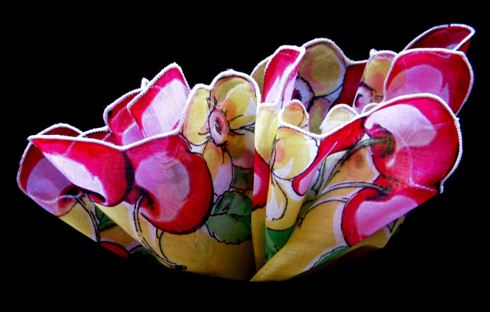 So too, these bold roses leave little doubt that the wearer is not afraid to make a statement.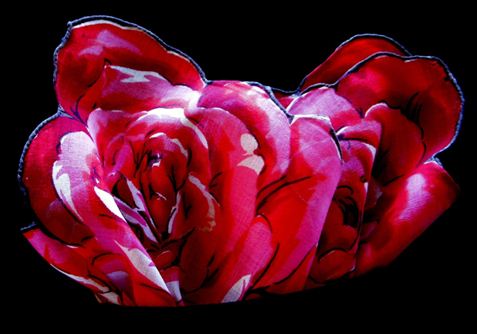 If there were ever a doubt in your mind handkerchiefs are for flirting, take a gander at this little gem. Tiny silk three-dimensional cherries sprout from every corner, affixed to delicate embroidered stems and leaves. Let this mini-orchard dangle gaily from your pocket and you're bound to catch someone's attentive eye.
The gossamer thin leaf is also partly detached, allowing it to move with a passing breeze.The lady who wears this says "I'm a little adventurous with my fashion and I'm fun. I don't take myself too seriously, so don't be afraid to approach me and say hi."  It's an eye catcher for certain, and that's exactly what it was intended to be.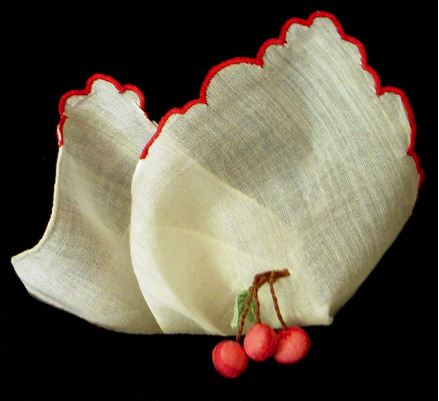 "Some women flirt more with what they say, and some with what they do."
Anna Held
CONVERSATION STARTERS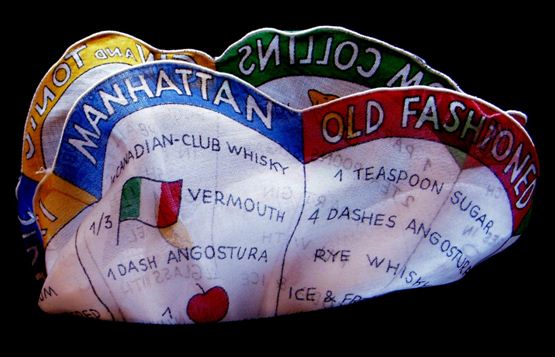 The cocktail hankie is an easy conversation opener. In fact, you can make of game of it to see who knows what ingredients are in a Manhattan, a Tom Collins, etc. I'm not sure if that "down the drain" image in the middle is a double entendre from the artist, or simply a design element.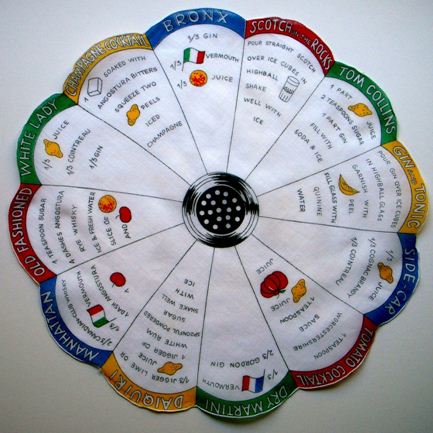 "Fortunately, the girls are a lot braver then the guys, they flirt all the time."
Gwen Stefani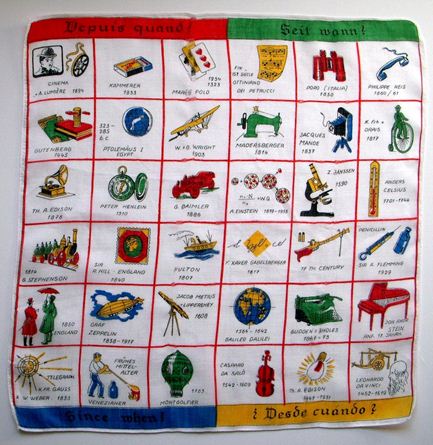 Here's a fun multi-lingual hankie that lets you guess what year certain things were invented.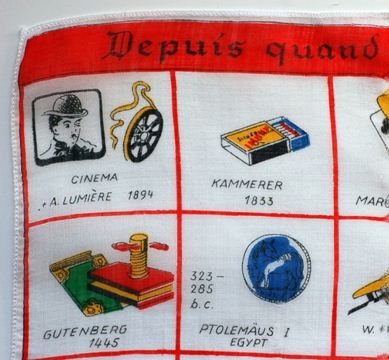 You can always have fun reading life and love lines in someone's palm…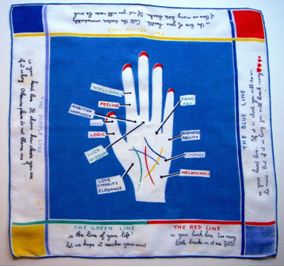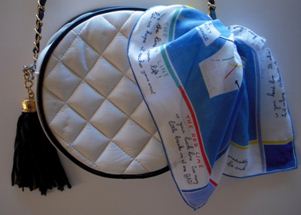 Or, dare we say it, sport the ubiquitous "What is your sign?"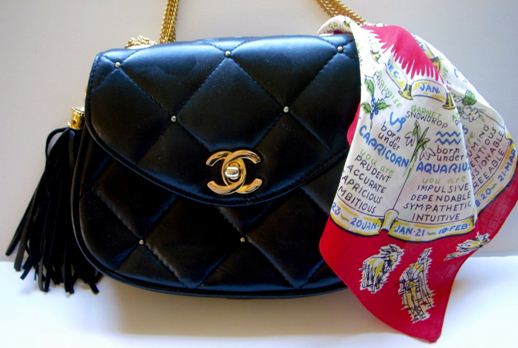 "I love the feeling that you get when you can really laugh with a man and be natural and not always think that there's a sexual element going on.  For me,  flirting with a man means making fun of myself and trying to open myself and be very unpretentious."
Cameron Diaz
Perhaps you'll discover who has a way with proverbs…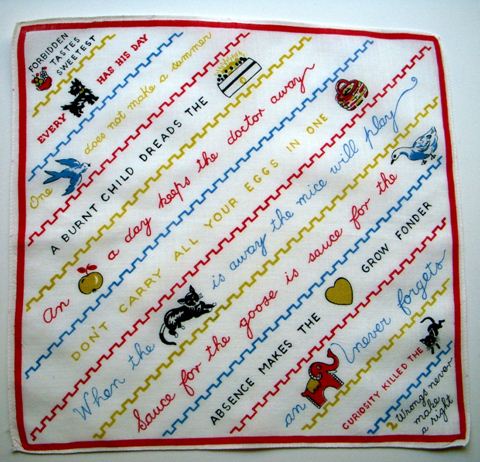 This hankie folds up perfectly to carry an introductory flirting phrase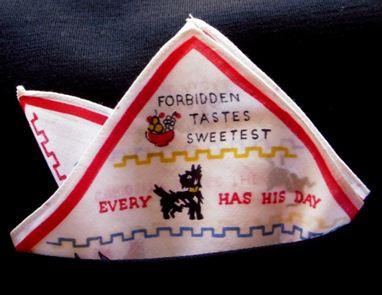 Too shy for a bold move? Let your background, hobbies and interests lead the way.
THE MINI BIOGRAPHY
Where you're from…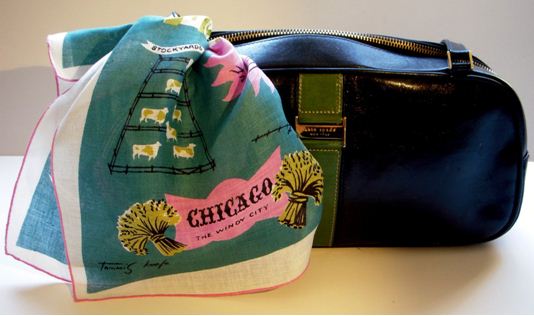 If you love to travel …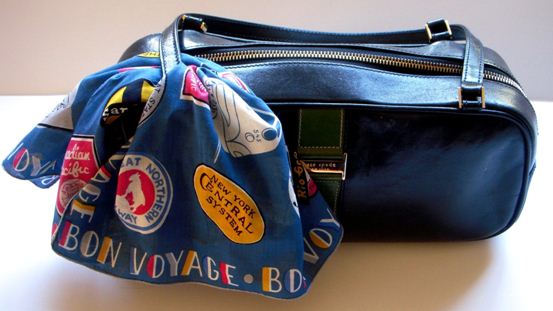 Or adore Paris…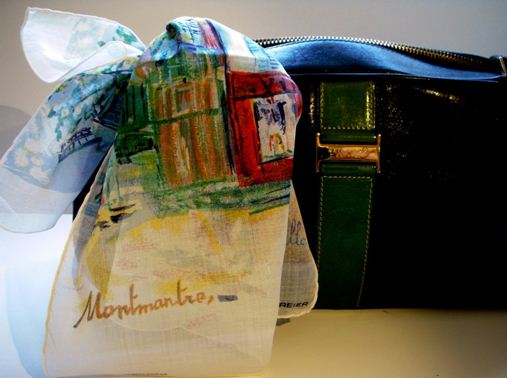 Perhaps you love to haunt antique shops…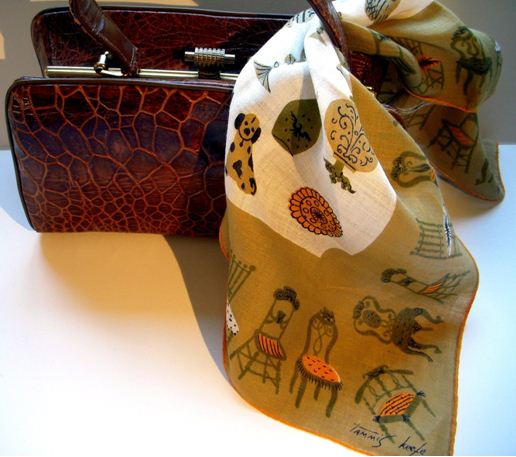 Or watch a heart stopping thundering polo match…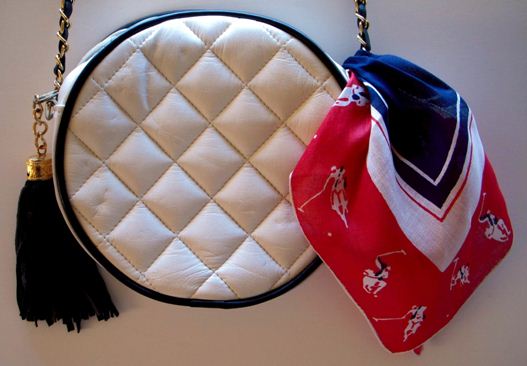 Maybe the game of baseball is more your style…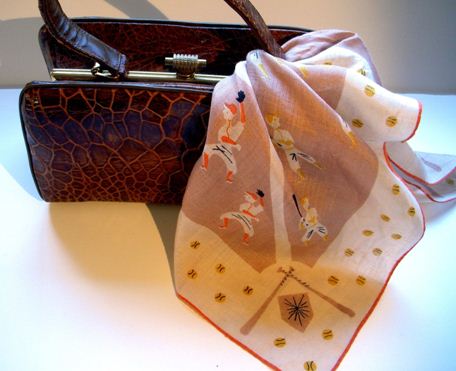 Do you have a love all things nautical? (This is one of my all-time favorite hankies.)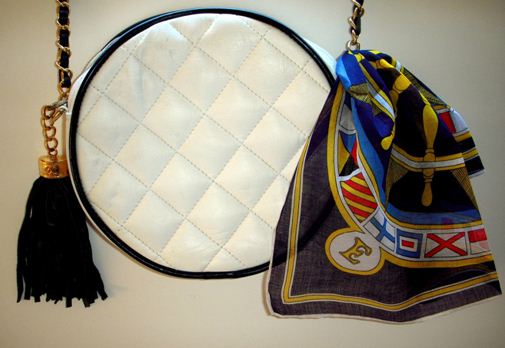 SUBTLE INTRODUCTION
In years past, women often had their name embroidered on their handkerchiefs. Is using a name too revealing? Perhaps just a monogram or single initial can start a conversation.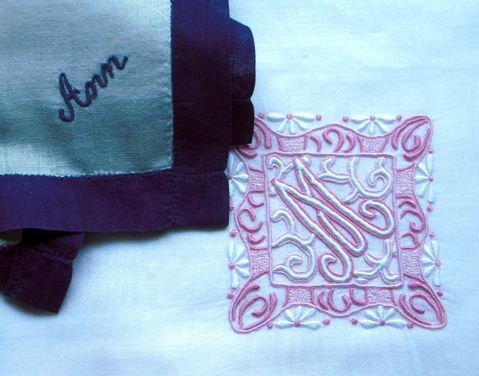 "I'm famously a good flirt!  That's a Scottish thing: the Celtic Charm.  I can put on a big smile and say the right things, but I'm also a warm heart. I like to make people feel good."
Gerard Butler
SEND A MESSAGE
Let's review, we've seen Eye Catchers, Conversation Starters, and Subtle Introductions. What's left? Hmmmmm – The Bold and the Beautiful.
"Yes I flirt. I'm not blind and I'm not dead."
Dolly Parton
Whether you're using this fire-engine red cutie as a lipstick hankie for blotting, or just having fun, there isn't a guy around who won't be thinking about a kiss, when he spots this stunner springing from your pocket.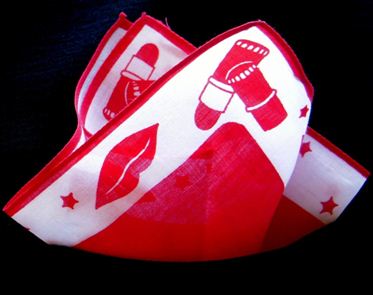 If I give you a kiss and you don't like it, you can always return it.
Anonymous
Perhaps you just need a bit of tutoring with your languages?  Here's a line right out of James Bond.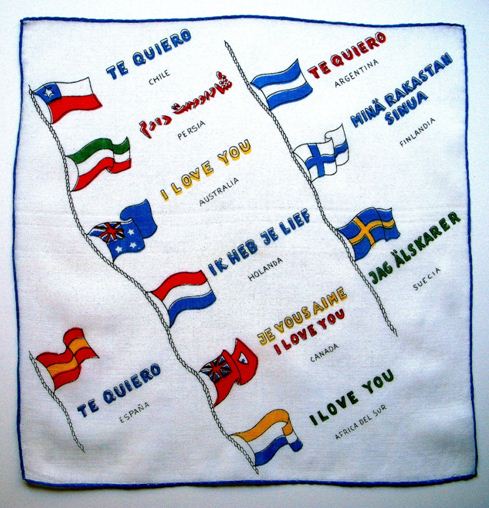 And of course, some hankies, like some ladies, need no introduction….
Me Thinks the Lady Doth Protest Too Much…..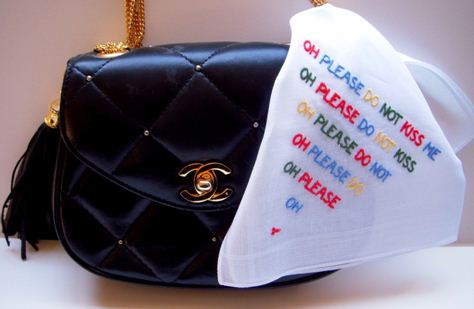 Sam: "You—you greatly overestimate my self-control."
Grace: "I'm not looking for self-control."
from Shiver, by Maggie Stiefvater
When only a plain white hanky will do…..
"There are times not to flirt. When you're sick.When you're with children. When you're on the witness stand."
Joyce Jillson
Other than that, all bets are off. The handkerchief is a wonderful prop for the shy as well as the bold, the lady as well as the vixen, the young, the mature, the playful, the cautious, the artist, the executive, and on it goes. Trust this collector, there is a handkerchief for every personality type.  The fun is in finding what calls out to you.  Most of us have a variety of moods, and just like the clothes in our closet, we'll need a wardrobe of hankies to suit the occasion.  The hunt is half the fun, so enjoy what we've shared here, realizing they're only the tip of the iceberg.  Innumerable handkerchiefs address the subject of romance, so please visit us again.
"Do you believe in love at first sight or should I walk by again?"