"Nothing will ever equal that moment of joyous excitement which filled my whole being when I felt myself flying away from the earth. It was not mere pleasure; it was perfect bliss."
Jacques Charles
(Said after making man's first ascent by hydrogen balloon in 1783)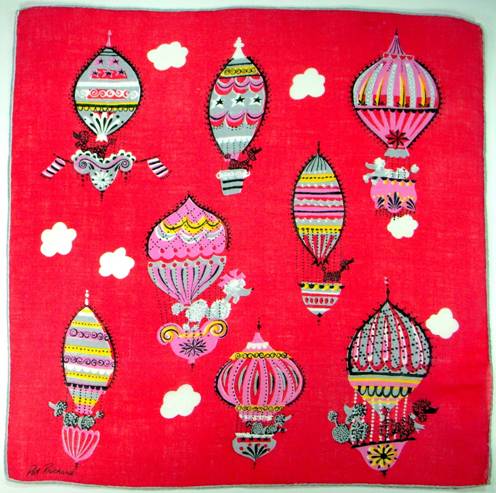 These delightful dirigibles evoke the action adventure movie Around the World in 80 Days. Winning five Academy Awards, including Best Picture, it piqued the imagination of all who have ever dreamt of flying. In the film, Londoner Pileas Fogg wagers £20,000 (£1.6 million today) that he can circumnavigate the world in eighty days. We join in the wild ride, experiencing adventures in Spain, India, Hong Kong, Japan, San Francisco, the Wild West and more…. There have been remakes, but treat yourself to the original 1956 version.*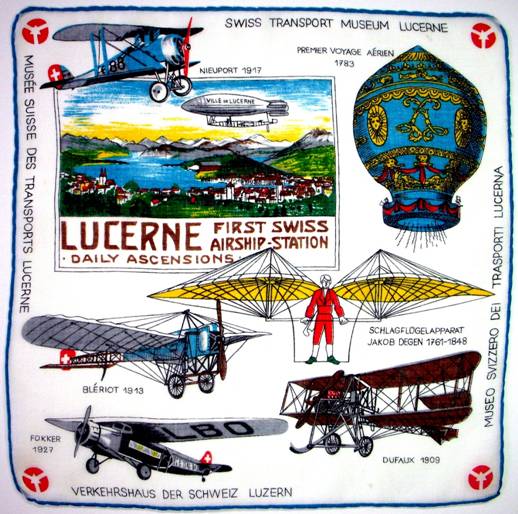 "Sometimes all I want is two armfuls of air, a fistful of sky."

Nina Kiriki Hoffman, A Fistful of Sky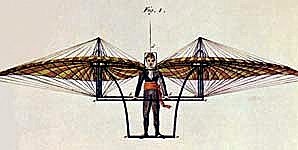 Who among us wouldn't like to meet adventuresome Jacob Degen whose flying machine is pictured in the museum handkerchief above?
The U.S. had her own entrepreneurial aviators in the personage of Wilbur and Orville Wright.Certainly this Dayton hankie has many things of which to boast, but what captures center stage is the accomplishments of the intrepid Wright brothers, So iconic is their stature in the history of flight, their names needn't even be mentioned, the identification is so complete.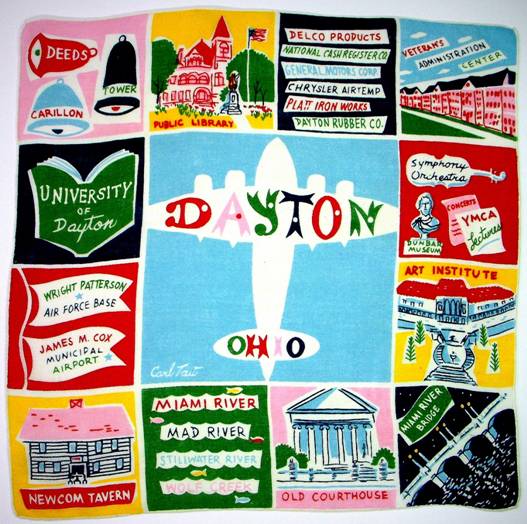 "If I were giving a young man advice as to how to succeed in life, I would say

pick out a good father and mother and begin life in Ohio."

Wilbur Wright
A Curious Mind Gives Birth to Flight
Brian Grazer, in his book A Curious Mind, mourns the fact that we worship innovation and creativity, while giving barely a nod to the gift of curiosity. Truth be told, how many of us are destined to birth a revolutionary concept? Silicon Valley is littered with the detritus of half-baked ideas – yet we can all practice curiosity every single day. (And in fact, curiosity is the fuel that drives the engine of innovation. Start with a thirst for why, and the how will often reveal itself.) Grazer cites a Harvard Business Review article about Procter and Gamble where the word "innovation" appears sixty-five times. The word curiosity: not once.
I heartily agree with Grazer and thus was doubly delighted to find that curiosity is mentioned repeatedly in David McCullough's The Wright Brothers, The Story of Wilbur and Orville Wright, whose unquenchable curiosity led them to develop the first successful flying machine. Their inquisitiveness was piqued in childhood when their father gave them a toy helicopter propelled by rubber bands, and the rest is history. (According to his teacher Ida Palmer, Orville could be found at his desk in the first grade attempting to build a flying machine!) Interestingly, Alexander Graham Bell, Thomas Edison, and others also tried their hand at perfecting flight. They may have failed in that arena, but their unquenchable curiosity led them to achievements in other fields. There is just no satiating a curious mind. Another current bestseller, Paula McLain's Circling the Sun, about aviatrix Beryl Markham, the first woman to fly solo across the Atlantic east to west, also emphasizes her insatiable curiosity. The life-changing innovation of flight was preceded by curious minds who wondered how birds stayed aloft.
"No bird soars in a calm."

Wilbur Wright
Great care went into this hand appliqued lady's hankie, perhaps influenced by the derring-do of Beryl Markham or Amelia Earhart. Note the tiny bi-planes in the background. Was a progressive mother sewing dreams for her daughter, or is this the handiwork of a future aviatrix?  I guess we'll never know, but I'm so glad someone saved it.

"Never interrupt someone doing what you said couldn't be done."

Ameila Earhart
To enhance your viewing:
Come Fly With Me, 1957, composed by Jimmy Van Heusen, lyrics by Sammy Cahn
A charming trio of embroidered children's handkerchiefs depicting pups and propellers…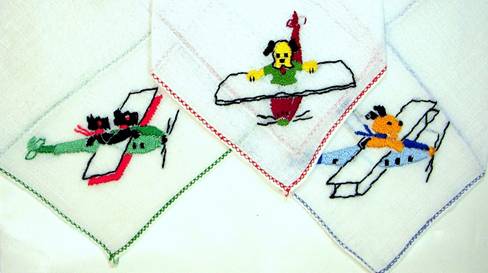 From helicopters to hot air balloons, this duet has it covered. Note a girl does all the flying on the left, while the silly parachutist on the right forms a fanciful border from tip to toe. The artist had fun with this one.
The plane-bordered hankie on the left features – surprise! a hankie within a hankie. Note the girl on the ground waving Bon Voyage with a fluttering blue handkerchief. The sophisticated graphics on the right attest that this bold bi-plane is for an older child. Terrific!
Many handkerchiefs depict the role flight played in the war effort – from their nascent appearance in WWI (This handkerchief details the dropping of vital messages from the air. Note the ribbon wrapped missives adorning the border.)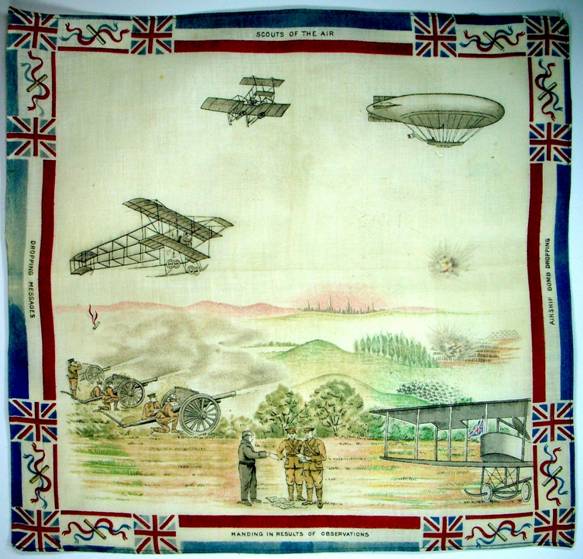 To a star spangled swirl of stars in WWII and beyond…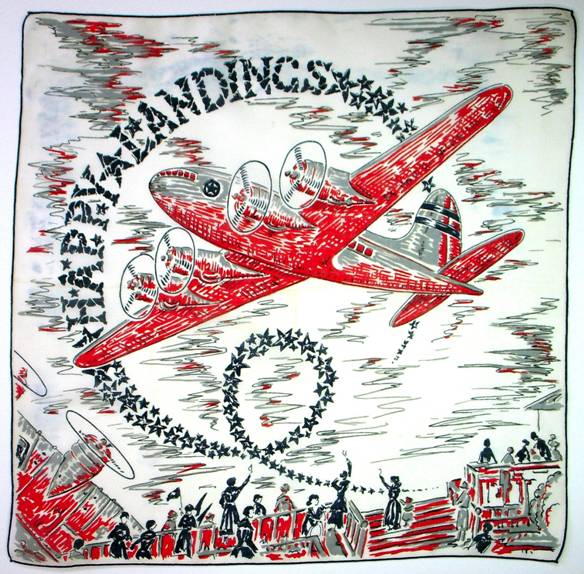 Crisp, fresh graphics embolden this duo. One the left, a sky swirling with spitfires is framed by allied flags, on the right, we pay tribute to the Army Air Corps. They make you want to salute with pride.
Children's hankies from WWII are equally as captivating, depicting heroic aviators, soldiers and sailors. Note the flight suit and leather helmets with ear flaps.
This young scout scans the skies for enemy aircraft. His hankie helps him identify friend from foe, Sabre-jet from Tornado. Note the lovingly handstitched border.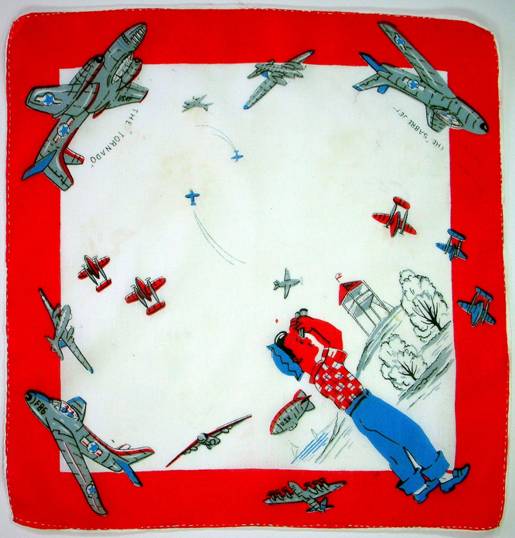 Dutiful junior mechanics repair (note Air Corps logo on the border) while skilled junior craftsman assemble and paint new models for the fleet (note the tiny airplane shadow silhouettes in the border). Whether gifted from mothers to sons whose fathers were overseas, or bestowed by dad himself before he left for war, these hankies are amazing testament to the times, with literally every man, woman and child supporting the war effort.
Post-war peace and prosperity of the 1950's ushered in a focus on flight as an adventure. Planes resumed their position as toys in handkerchief images, from pre-teens to tiny tots.
A desire for worldwide travel exploded, and a plethora of planes was at the ready to accommodate the new thirst for adventure.  On the left, children play at being airline ambassadors, on the right Zurich International Airport is framed by a dozen different air carriers. (This hankie is paper thin and must have been carried by an intrepid traveler.) Airlines often gave handkerchiefs as gifts to passengers, some even printed with menus. You'll find over two dozen examples from Swiss Air alone at Air Travel
The graphics on this next pair of handkerchiefs are smart, sophisticated and just plain swell. The criss- cross of runways on the Swiss Air hankie on the left even includes a shadow of the departing jet in the lower right hand corner. The fleet of flyers on the right is fabuloso – no two are alike. Fun, frivolous, fantastic!
"Flying might not be all plain sailing, but the fun of it is worth the price."

Ameila Earhart, The Fun of It (b. 1897)
The translucent layers add a touch of sophistication to this sweeping airship. From Paris to Athens, Stockholm to Tel Aviv, we're ready to soar and climb. Please, take us with you!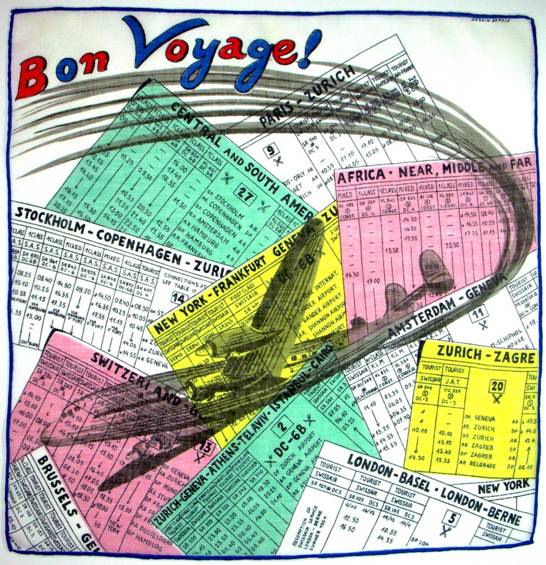 Our horizons expand from Cape Town to Cairo, Shanghai to Sydney, Bucharest to Bombay – travel is the ultimate adventure, thrill, escapade. But you can't drag a label-encrusted steamer trunk through Le Café des Artistes, Harry Cipriani's, or Rick's in Casablanca, thus a fluttering hankie must serve as substitute to signal fellow travelers you're a member of the wanderlust tribe, as you trade tips on the best hidden jewels, from casbahs to speakeasys.
"It's the greatest shot of adrenaline…you almost feel like you could fly without a plane."

Charles Lindbergh
Travel requires packing a wardrobe of handkerchiefs, including one for the grand Bon Voyage wave. Below, a scattering of champagne bottles underscore the notion a celebratory journey is about to commence (honeymoon?), while travelers en route wave au revoir and adiós with hankie held high!
So whether you embrace the wild blue yonder from the air or the ground, we hope you find the perfect hankie to help your spirit take flight.
*Around the World in 80 Days
For film fans – this was the first "make work" film, employing dozens of formerly famous (i.e. "fading) actors for cameo appearances. Keep your eyes peeled for a wink from Marlene Dietrich, Buster Keaton, Cesar Romero, José Greco, Charles Boyer, Sir John Gielgud, Peter Lorre, Hermione Gingold and more.
By the time the film was ready to edit, producer Mike Todd was deeply in debt. The footage was edited under the watchful eyes of his creditors (!!), and returned to a vault each evening. Luckily for everyone, the film was a huge success, grossing over $33 million (in 1956 dollars).
Come Fly With Me
No one swings the original better than Sinatra. The era of the song, 1957, epitomizes how people felt about the new adventure of taking to the skies.