Summer spells surrender – to long sultry days, balmy twilights and star studded evenings. It's a time to indulge not only in the pleasure of being outdoors, but perhaps even delight in the brilliance of a Shakespearean play. It's gratifying to see people lining up for Shakespeare in the Park tickets before Central Park opens at 6:00 a.m. People know a good thing when they see it!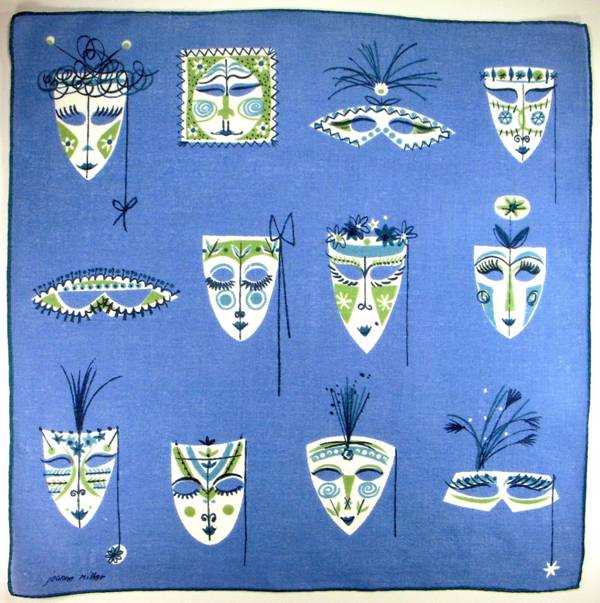 From comedy to tragedy, to history, it's all there for the taking.
Comedy
Tragedy
History
All's Well That Ends Well

As You Like It

Comedy of Errors

Love's Labour's Lost

Measure for Measure

Merchant of Venice

Merry Wives of Windsor

Midsummer's Night's Dream

Much Ado About Nothing

Taming of the Shrew

The Tempest

Twelfth Night

Two Gentlemen of Verona

Winter's Tale

Antony and Cleopatra

Coriolanus

Cymbeline

Hamlet

Julius Caesar

King Lear

Macbeth

Othello

Romeo and Juliet

Timon of Athens

Titus Andronicus

Troilus and Cressida

Henry IV, Part 1

Henry IV, Part II

Henry V

Henry VI, Part I

Henry VI, Part II

Henry VI, Part III

Henry VIII

King John

Pericles

Richard II

Richard III
Early travelling shows, tent shows, and even vaudeville often included at least one Shakespeare soliloquy. Whether performed by a legitimate stock company, or delivered from the back of a gypsy van, the inclusion of a sonnet or two could elevate the performance to "professional." Note the bust of The Bard next to the drug store Indian and beneath the circus calliope.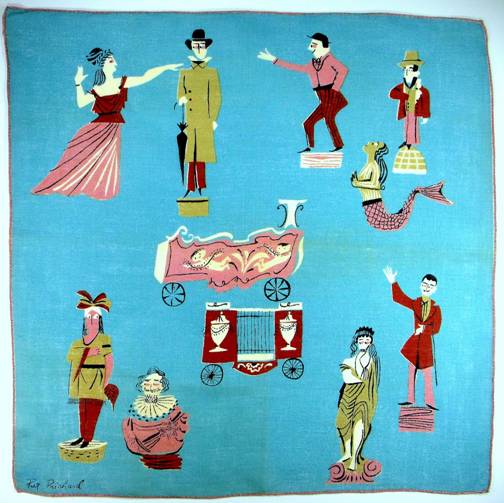 An unusual circular handkerchief featuring Shakespeare's birthplace includes several well-known works adorning the border. Born in 1564, William Shakespeare was the son of an in illiterate glover, (his mother, Mary Arden, came from a wealthy farming family). Although his father went bankrupt, it appears Shakespeare received a grammar school education, including Latin and rhetoric. At eighteen, he married twenty six year old Anne Hathaway and started a family. He eventually left to work in London (his family remained in Stratford-on-Avon) where he acted, directed, wrote plays and eventual acquired a share in the Globe Theater. Through the ages his work influenced writer such as James Joyce, Dostoyevsky, Victor Hugo and Charles Dickens, and continues to inspire us today.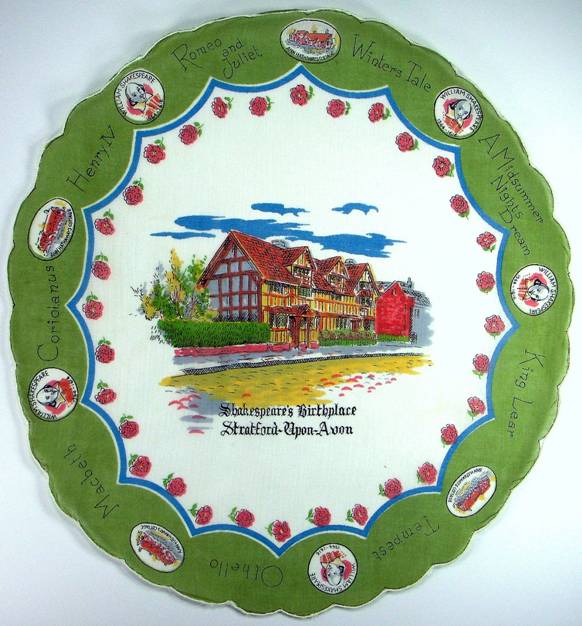 A silk crepe souvenir from London touts "This lovely land that Shakespeare praised so well." Also note the partial quote from King Richard II, Act II, Scene I:
"This blessed plot, this earth, this realm, this England."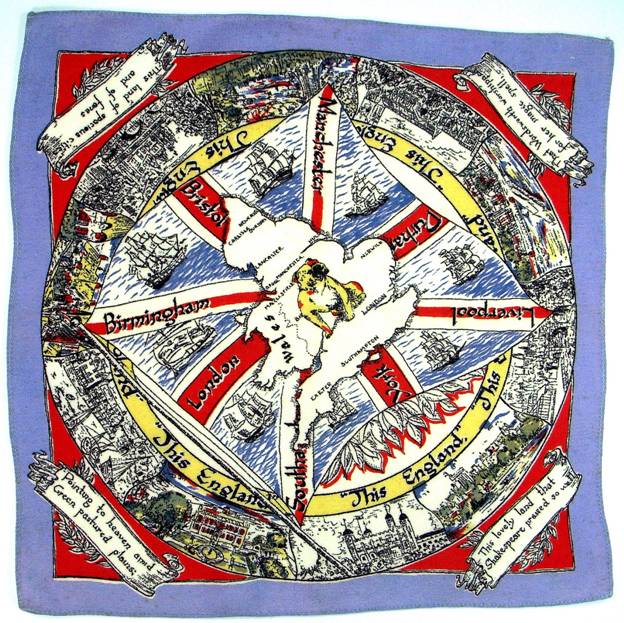 When compiling a list of famous love stories, it's almost de rigueur to include characters from Shakespeare; certainly Romeo and Juliet top the list.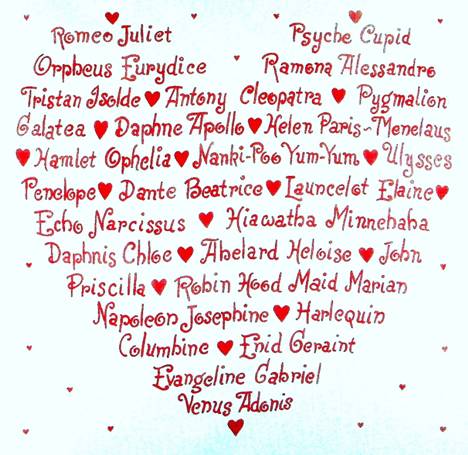 Most high school thespians tackle Shakespeare at some juncture. Romeo and Juliet, A Midsummer Night's Dream and You Can't Take It With You rank among the top three plays performed by aspiring young actors.  Below, we find a delicate and traditional rendition of Romeo and Juliet, yet the surrounding graphics are up to the minute hip.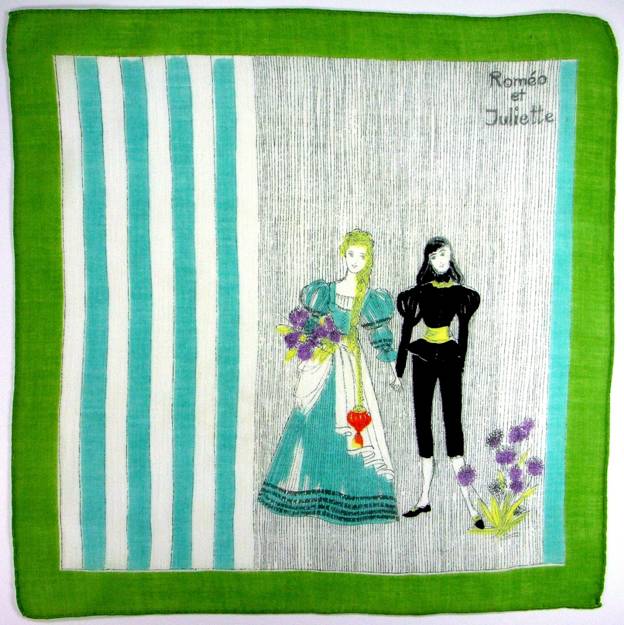 This scene from Hamlet, also containing a fun and fanciful border, may have been rendered by the same artist. Certainly both men have dramatically corseted waists!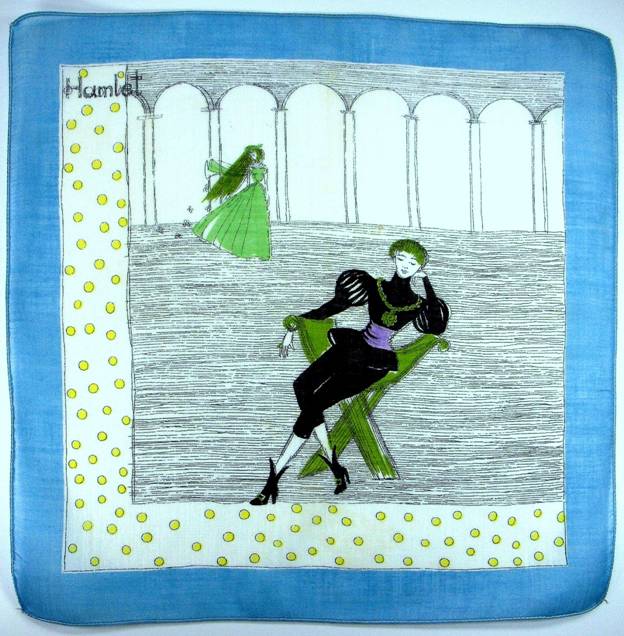 This delightful hankie features Act IV, Scene I from Measure for Measure where a suitor proclaims his love for sweet Mariana.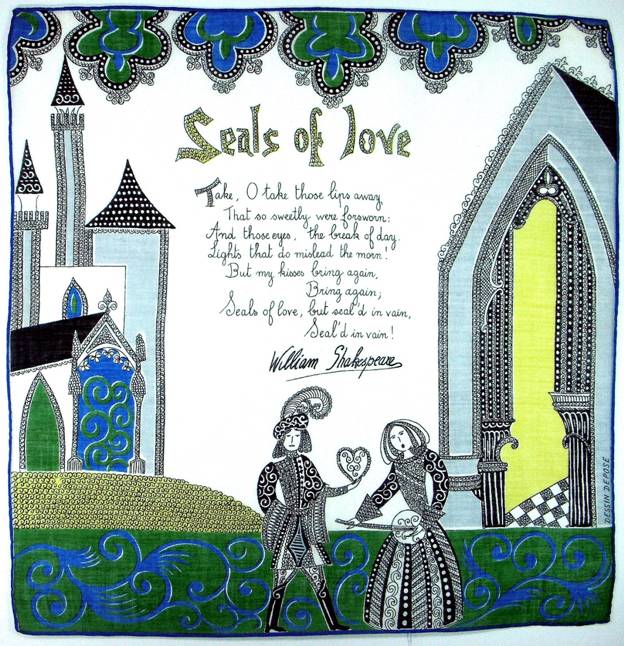 The detail work is divine, from the swain's curly locks, to the fiddle fern feather in his cap, to her scrolled skirt suggesting fine brocade. The overall restraint reflected in the subtle golds, greys and greens is pierced with a perfect pop of royal blue. By keeping the couple in black and white, we can readily see the detail devoted to their costumes.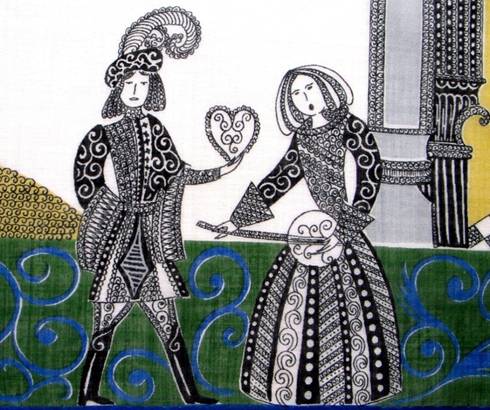 Were a tongue tied suitor ever at a loss for words, he could always rely on the hankie below to provide the perfect line. What girl wouldn't want to receive this handkerchief from a gentleman? (even if the quote isn't exactly spot on)  From Romeo and Juliet, Act II, Scene II, the actual line is:
"This bud of love by summer's ripening breath may prove a beauteous flower."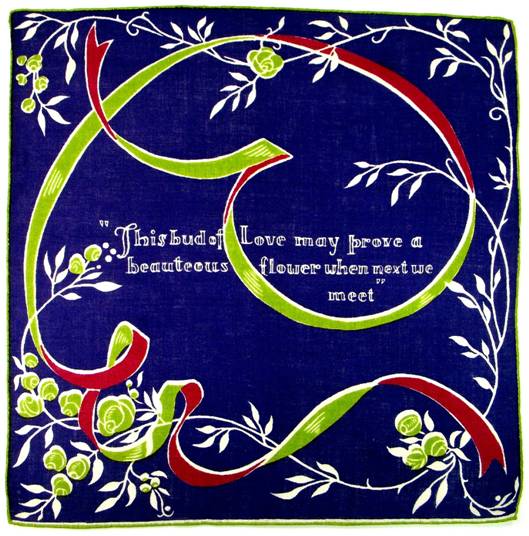 Juliet chids Romeo to slow down in his proclamations of affection. It's too sudden. Let love ripen in its own time and blossom slowly. Although, one could surmise, were a lady to leave this hankie behind, she is certainly sending a hopeful message that indeed,their affection will ripen and bloom. Act II Scene II was replete with words of love; here's another lovely quote:
"How silver sweet sound lovers' tongues by night,

Like softest music to attending ears!"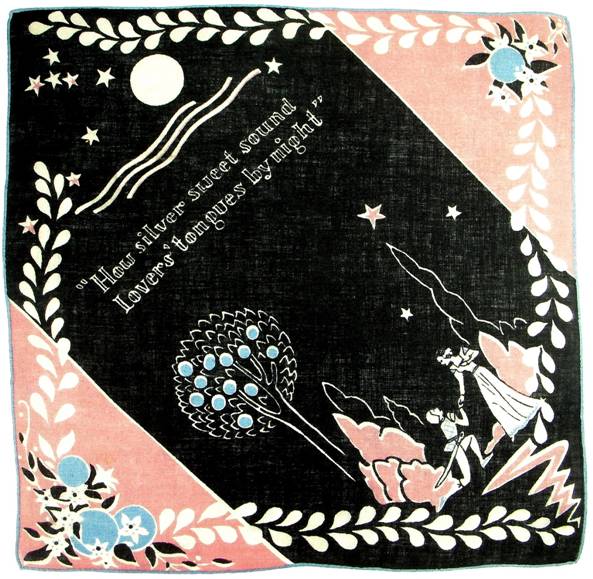 Perhaps the best known from Romeo and Juliet, Act II, Scene II
"Good night, good night! Parting is such sweet sorrow.

That I shall say good night 'til it be morrow."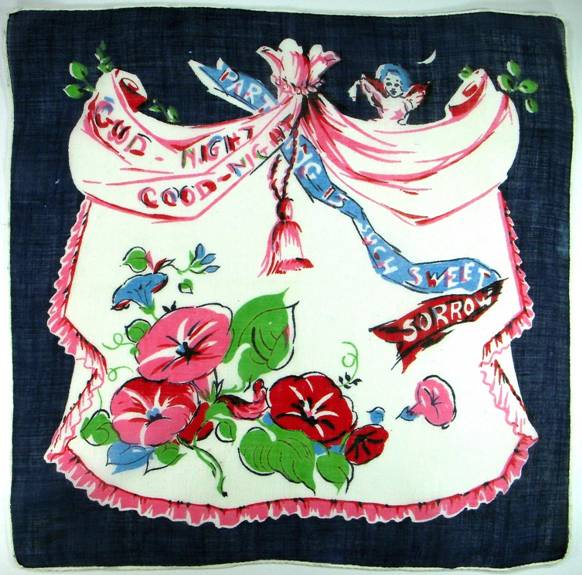 A bit less romantic visually, but still great fun, are these contemporary musicians playing up a storm: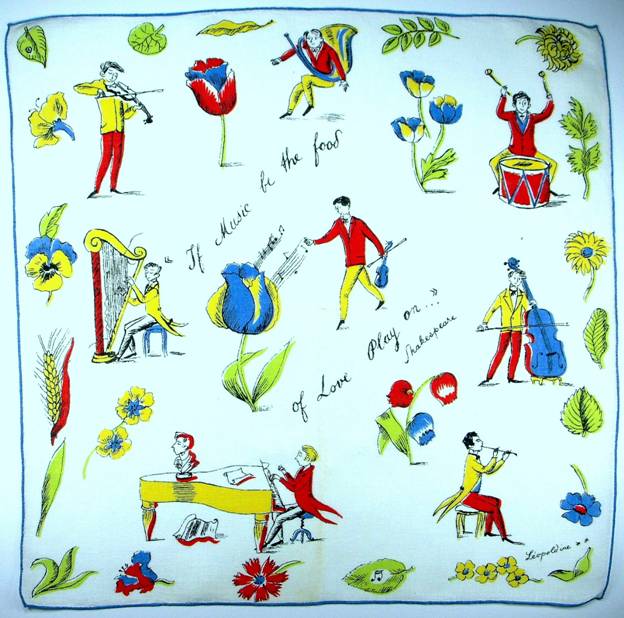 Truth be told, when you consider the entire quote, it's not quite so joyful. Orsinio, obsessed with Countess Olivia, longs to forget her. He hopes to flood his senses with music in order to numb his feelings. Just as an overabundance of food kills the appetite, he hopes a surfeit of music will quell his longing for her. Yeah, good luck with that, Orsinio.
"If music be the food of love play on,
Give me excess of it; that surfeiting,
The appetite may sicken, and so die."

Twelfth Night, Act I, Scene I
Gilding the Lily
From saffron to speargrass, rosemary to rhubarb, woodbine to wormwood, a plethora of plants and flowers are woven throughout Shakespeare's works. It's quite possible Shakespeare consulted John Gerard's The Herball or Generall Historie of Plants (London 1597), as all plants referenced in King Lear can be found in this book, including fumier and furrow-weeds, burdock, hemlock, nettles, cuckoo-flowers, samphire and salsify. (a mind bending list of plants and flowers mentioned in Shakespeare can be glimpsed here.)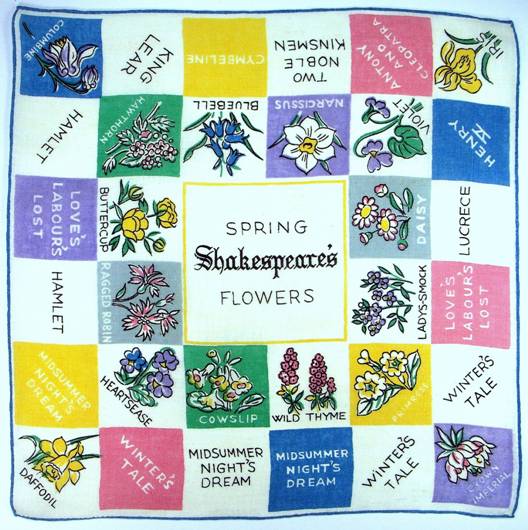 Purportedly, these hankies depict Spring and Summer flowers found in Shakespeare, but some were never actually mentioned by the Bard, while others do not correlate with the plays. No matter – they're colorful, charming and fun to carry.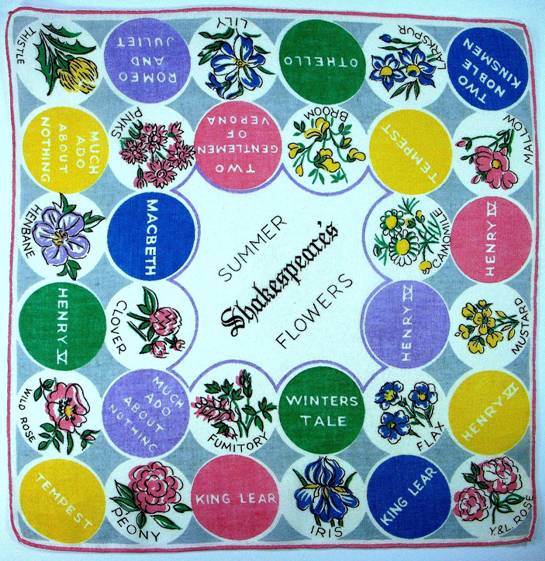 Herbs and flowers were often used in love potions, as in Midsummer Night's Dream (Act II, Scene I) when Oberon tells Robin:
"Fetch me that flower. The herb I showed thee once.
The juice of it on sleeping eyelids laid
Will make man or woman madly dote
Upon the next live creature that it sees."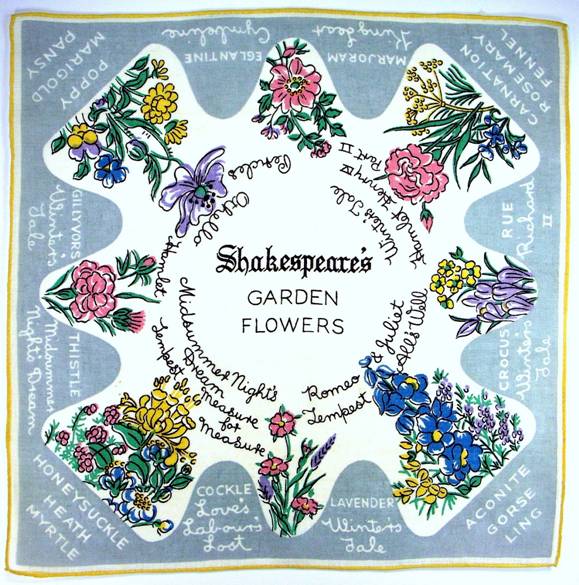 Quick – when you think of a handkerchief embroidered with strawberries, what comes to mind?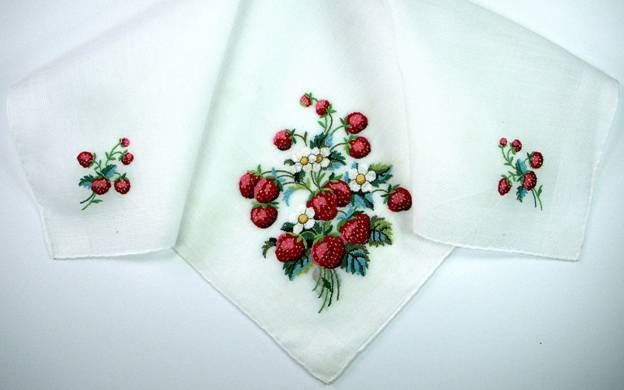 Okay, after shortcake…. Correct – Othello. The strawberry adorned handkerchief is mentioned over thirty times in the play. Originally a gift from Othello's father to his mother, it was later the first gift Othello presented to Desdemona as a token of their fidelity, thus Shakespeare let us know how significant this talisman was to the Moorish Prince.  When the evil Iago discovers the importance of the handkerchief to Othello, he conspires to have it found at the home of his rival, Lieutenant Cassio. Hoping to enrage Othello, Iago hints there must be a romantic relationship between Cassio and Desdemona. With no proof other than the handkerchief, and without waiting for an explanation, Othello assumes his wife has been unfaithful and murders her. (The moral of this story girls is – hang on to your hankie!)
The Master Wordsmith
According to some sources, Shakespeare didn't actually coin the above term 'gild the lily' but he came darn close in King John, Act IV, Scene II. The quote has to do with the king being crowned a second time which his courtiers feel is a bit excessive. (source: phrases.org.uk)
"Therefore, to be possess'd with double pomp,
To guard a title that was rich before,
To gild refined gold, to paint the lily,
To throw a perfume on the violet,
To smooth the ice, or add another hue
Unto the rainbow, or with taper-light
To seek the beauteous eye of heaven to garnish,
Is wasteful and ridiculous excess."
Historians claim Shakespeare created 1,700 new words, and you can find them in plentiful abundance on the internet. Wonderful words like swagger, scuffle, pageantry, bedazzle, new-fangled, multitudinous, arch-villain, radiance, courtship, zany, frugal, and so many more… Oh the magic he could muster from 26 little letters.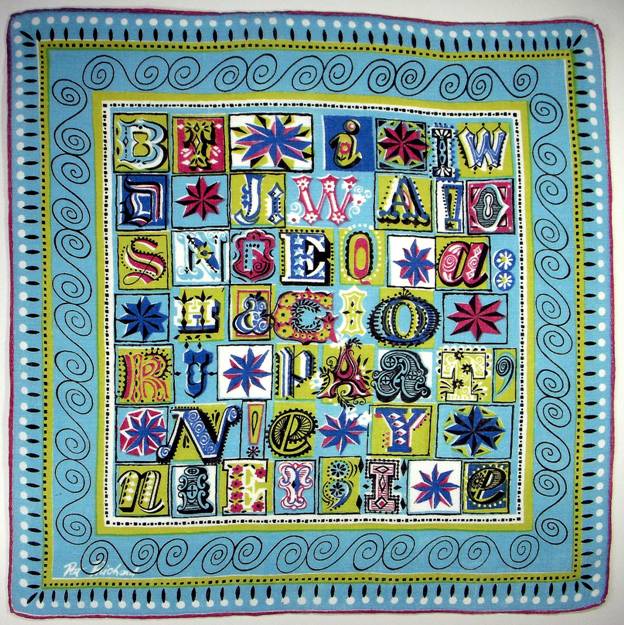 Personally, I'm partial to his phrasing, so shall include several (okay, more than you want or need) at the end of this blog. If you haven't uttered these yourself, you've heard them fall from the lips of a grandparent, parent, teacher or mentor.
Bringing It All Home
Today, comparisons to Shakespeare are being bestowed on Lin-Manuel Miranda, author, composer, and star of the Broadway megahit Hamilton. According Oskar Eustis, director of Public Theater, "Lin does exactly what Shakespeare does. He takes the language of the people, and heightens it by making it verse. It both ennobles the language and the people saying the language. That's precisely what Shakespeare did in all of his work, particularly in his history plays. He tells the foundational myths of his country. By doing that, he makes the country the possession of everybody."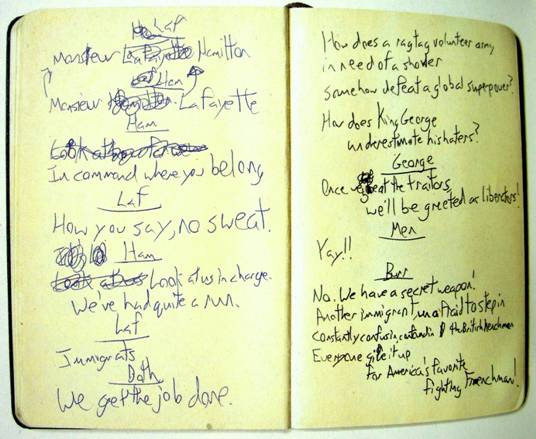 (image from one of Lin-Manuel Miranda's notebooks)
For some songs, Manuel spent over a year reworking and perfecting, finding just the right word or phrase. The complete libretto is beautifully explained in the book Hamilton the Revolution, by Lin-Manuel Miranda and Jeremy McCarter, "with an account of its creation, remarks on hip-hop, the power of stories, and the new America." You gain a new appreciation for enormous challenge of both playwriting and production, of how one tiny word, one breathless pause, the cock of an eyebrow, or flutter of a handkerchief can command the stage and turn the story.
The book goes on to explain an amazing paradox of Hamilton: "Half a century after verse storytelling – the technique that worked so well in Medea [Euripides] Tartuffe [Molière] and Othello [Shakespeare] – was declared dead on the American stage; it has been revived by someone who learned it not in a textbook or in a drama school, but from listening endlessly to 'Friend, or Foe,' [t.A.T.u.] 'Everything is Fair,' [A Tribe Called Quest] and the first album by The Pharcyde." So yes, hip-hop Hamilton is indeed the Shakespeare of our day, and its author most deserving of the title MacArthur Fellow. (known as the "genius grant")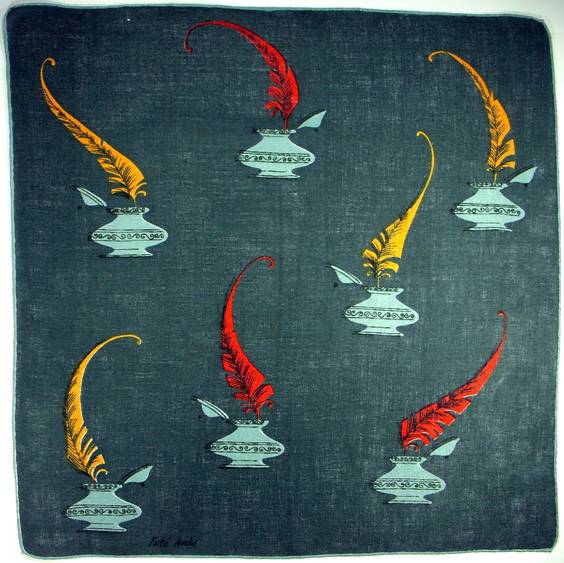 Just for Fun
Shakespeare's remarkable talent commands such admiring respect that I hesitate to diminish that image, but… uh-oh, here goes… This happened many years ago, yet whenever I see a lad in tights, it all comes flooding back. At one time, I was a volunteer usher for our local American Conservatory Theatre. I love live theatre, and any slot we could fill will volunteers helped save revenue needed to secure great actors. (ACT alumni include Annette Bening, Denzel Washington, Benjamin Bratt, Danny Glover, Nicholas Cage, Wynona Ryder and others.) For several years, opening night would feature a Shakespearean play.
One opening night, after a long day at work, followed by an evening on my feet showing people to their seats, I suddenly developed an excruciating headache. A real zinger. I felt too sick to drive home, so I retreated to the ladies room and collapsed on the couch, hoping I'd feel better by the end of the performance. An extra dose of Tylenol, and I was soon fast asleep.
I was wakened from this numbing slumber by the scuffle and shuffle of several people descending upon the aforementioned ladies room. Opening my eyes, I saw at least a dozen men in multicolored tights, standing over me, (some sitting on me!) busily changing their costumes.  Yikes! I thought I was dreaming, so I plopped my head back down on the pillow and shut my eyes, but they didn't go away. Clothes were flying everywhere. By the time they left, I had at least three outfits draped over me.
Apparently, for tonight's opening, the director decided several cast members would enter and exit a certain scene by rushing up and down the aisles. My men in tights had to zip up the aisle, change clothes in the lobby, (i.e. ladies & men's rooms) then storm the stage in manly valor. Alrighty! For many, Shakespeare brings to mind a lovely sonnet, for others, a school play, for me, I heed the warning from Macbeth  – "Me thought I heard a voice cry 'Sleep no more!"  Indeed… Who knows what you may find when you awake!
More Fun
A great "play book" for speaking like Shakespeare is Thou Spleeny Swag-Bellied Miscreant, Create Your Own Shakespearean Insults by Sarah Royal and Jillian Hofer. The spiral bound book consists of a trio of flip cards which can be combined in all manner of flap-mouthed silliness. Never let it be said you can't learn something new from a study of Shakespeare, regardless of which end of the spectrum (high or low) you favor.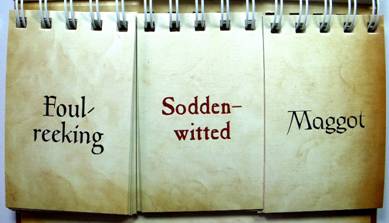 Fabulous phrasing from The Bard*
All that glitters is not gold (The Merchant of Venice)
As good luck would have it (The Merry Wives of Windsor)
As merry as the day is long (Much Ado About Nothing / King John)
Bated breath (The Merchant of Venice)
Bag and baggage (As You Like It / Winter's Tale)
Be-all and the end-all (Macbeth)
Neither a borrower nor a lender be (Hamlet)
Brave new world (The Tempest)
Break the ice (The Taming of the Shrew)
Breathed his last (3 Henry VI)
Brevity is the soul of wit (Hamlet)
Refuse to budge an inch (Measure for Measure / Taming of the Shrew)
Cold comfort (The Taming of the Shrew / King John)
Conscience does make cowards of us all (Hamlet)
Come what come may ("come what may") (Macbeth)
Dead as a doornail (2 Henry VI)
A dish fit for the gods (Julius Caesar)
Dog will have his day (Hamlet; quoted earlier by Erasmus and Queen Elizabeth)
Devil incarnate (Titus Andronicus / Henry V)
Eaten me out of house and home (2 Henry IV)
Faint hearted (I Henry VI)
Fancy-free (Midsummer Night's Dream)
Fight till the last gasp (I Henry VI)
Flaming youth (Hamlet)
Forever and a day (As You Like It)
For goodness' sake (Henry VIII)
Foregone conclusion (Othello)
Full circle (King Lear)
The game is afoot (I Henry IV)
The game is up (Cymbeline)
Give the devil his due (I Henry IV)
Good riddance (Troilus and Cressida)
Jealousy is the green-eyed monster (Othello)
It was Greek to me (Julius Caesar)
Heart of gold (Henry V)
Her infinite variety (Antony and Cleopatra)
'Tis high time (The Comedy of Errors)
Hoist with his own petard (Hamlet)
Ill wind which blows no man to good (2 Henry IV)
In a pickle (The Tempest)
In my heart of hearts (Hamlet)
In my mind's eye (Hamlet)
It is but so-so(As You Like It)
It smells to heaven (Hamlet)
Kill with kindness (Taming of the Shrew)
Killing frost (Henry VIII)
Knit brow (The Rape of Lucrece)
Knock knock! Who's there? (Macbeth)
Laid on with a trowel (As You Like It)
Laughing stock (The Merry Wives of Windsor)
Laugh yourself into stitches (Twelfth Night)
Lean and hungry look (Julius Caesar)
Lie low (Much Ado about Nothing)
Live long day (Julius Caesar)
Love is blind (Merchant of Venice)
Men's evil manners live in brass; their virtues we write in water (Henry VIII)
Melted into thin air (The Tempest)
Though this be madness, yet there is method in it ("There's a method to my madness") (Hamlet)
Make a virtue of necessity (The Two Gentlemen of Verona)
Milk of human kindness (Macbeth)
Ministering angel (Hamlet)
Misery acquaints a man with strange bedfellows (The Tempest)
More honored in the breach than in the observance (Hamlet)
More in sorrow than in anger (Hamlet)
More sinned against than sinning (King Lear)
Much Ado About Nothing (title)
Murder most foul (Hamlet)
Naked truth (Love's Labours Lost)
Neither rhyme nor reason (As You Like It)
Not slept one wink (Cymbeline)
Nothing in his life became him like the leaving it (Macbeth)
[Obvious] as a nose on a man's face (The Two Gentlemen of Verona)
Once more into the breach (Henry V)
One fell swoop (Macbeth)
One that loved not wisely but too well (Othello)
Time is out of joint (Hamlet)
Out of the jaws of death (Twelfth Night)
Own flesh and blood (Hamlet)
Star-crossed lovers (Romeo and Juliet)
Parting is such sweet sorrow (Romeo and Juliet)
What's past is prologue (The Tempest)
[What] a piece of work [is man] (Hamlet)
Pitched battle (Taming of the Shrew)
A plague on both your houses (Romeo and Juliet)
Play fast and loose (King John)
Pomp and circumstance (Othello)
Pound of flesh (The Merchant of Venice)
Primrose path (Hamlet)
Quality of mercy is not strained (The Merchant of Venice)
Salad days (Antony and Cleopatra)
Sea change (The Tempest)
Send packing (I Henry IV)
How sharper than the serpent's tooth it is to have a thankless child (King Lear)
Shall I compare thee to a summer's day (Sonnets)
Make short shrift (Richard III)
Sick at heart (Hamlet)
Snail paced (Troilus and Cressida)
Something in the wind (The Comedy of Errors)
Something wicked this way comes (Macbeth)
A sorry sight (Macbeth)
Sound and fury (Macbeth)
Spotless reputation (Richard II)
Stony hearted (I Henry IV)
Such stuff as dreams are made on (The Tempest)
Smooth runs the water where the brook is deep ("Still waters run deep") (2 Henry VI)
The short and the long of it (The Merry Wives of Windsor)
Sweets to the sweet (Hamlet)
Set my teeth on edge (I Henry IV)
There's the rub (Hamlet)
To gild refined gold, to paint the lily ("to gild the lily") (King John)
To thine own self be true (Hamlet)
Too much of a good thing (As You Like It)
Tower of strength (Richard III)
Trippingly on the tongue (Hamlet)
Truth will out (The Merchant of Venice)
Wear my heart upon my sleeve (Othello)
What the dickens (The Merry Wives of Windsor)
What's done is done (Macbeth)
What's in a name? A rose by any other name would smell as sweet. (Romeo and Juliet)
What fools these mortals be (A Midsummer Night's Dream)
Wild-goose chase (Romeo and Juliet)
Witching time of night (Hamlet)
Working-day world (As You Like It)
The world's my oyster (Merry Wives of Windsor)
*courtesy of pathguy.com