"Lunch kills half of Paris, supper the other half."

Charles de Montesquieu
A three hour lunch in Paris is not out of the ordinary. Perhaps not every day, but more often than you might expect. No, people don't eat for hours.  They commiserate, laugh, discuss, pontificate, negotiate, argue, teach, reflect, flirt, cajole, tease, write and read.  They refresh, restore, renew, and enjoy themselves.  Not once in the time I spent in Paris did I see a single individual eating 'on the go' as has become the standard practice in the U.S.  Even when folks grabbed a croque monsieur and Orangina from a take away stand they strolled to the Luxembourg Gardens, a bench near the Quai d'Orsay, or a quiet square with a trickling fountain to rest and enjoy their repast.

Master chefs worldwide, gourmands, epicures, oenophiles, directors of cooking schools, serious wine & food club enthusiasts and all manner of cognoscenti recognize France  for its superlative cuisine.  Indeed, as this regional map confirms, France is the "country of eating well", and with this little gem tucked in your pocket you'll know whether to order bouillabaisse or brochet au safran, truffles or pate de perdreaux, depending on which of the 26 regions you're visiting.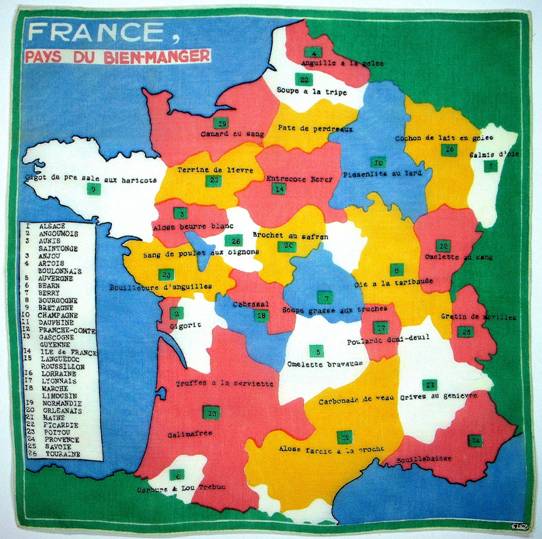 "You cannot get an influence from the cuisine of a country I you don't understand it. You've got to study it."

Chef Ferran Adria 
Ah, but which bistro, café, or restaurant to patronize? Which chef de cuisine?  For which meal?  un petit-déjeuner, déjeuner, dîner, or perhaps juste un goûter.  Truth be told, you'll need to schedule equal time for frequent walk and naps if your trip is heavily laden (pun intended) with gourmet delights.  You'd need a year to visit all these places, and your cholesterol would need another year to catch up.  But oh, what a year it would be.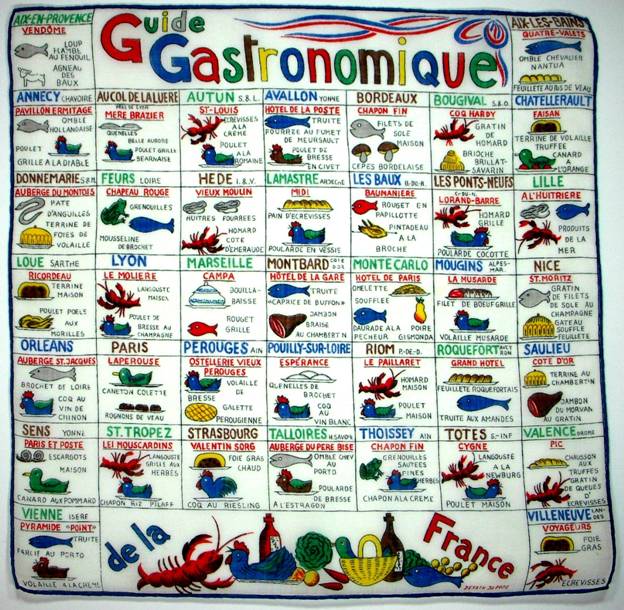 If you chose to focus on Paris alone, there are enough options to keep you occupied for yet another year.  This hankie is quite worn. I wonder if the original owner actually travelled the circuit of gastronomic delights.  It's interesting to note which proprietors are still in business decades later.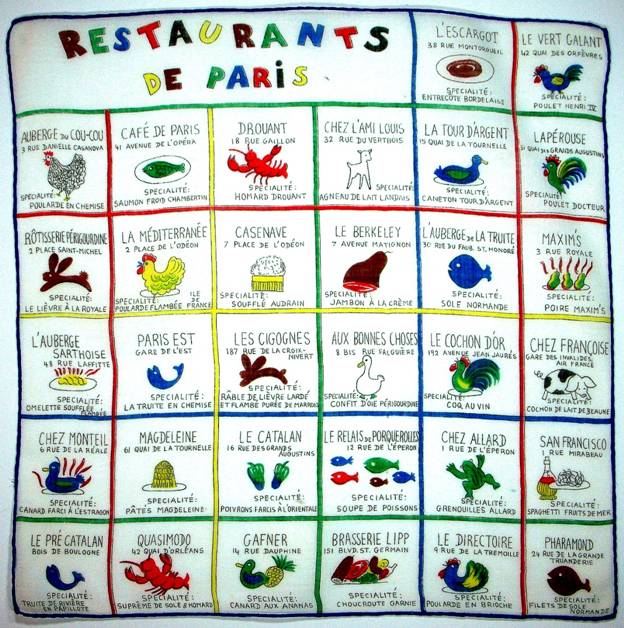 Some will want to visit the classics, like La Tour d'Argent which claims to have been founded in 1582, or Maxim's founded in 1893.  Maxim's has been patronized by everyone from Edward VIII and Marcel Proust to Jean Cocteau, Aristotle Onasis, Maria Callas, The Duke of Windsor, Wallis Simpson, Barbara Hutton, Brigitte Bardot, Barbra Streissand and more.  An interesting anecdote, which may be urban legend, claims when the restaurant was renovated at the end of the 1950's workmen found  a "treasure trove" of lost coins and jewelry which had fallen from the pockets of the wealthy and become trapped in the cushions of the banquettes.
This hankie replicates a menu from 1899. (and contains my favorite flower le muguet.)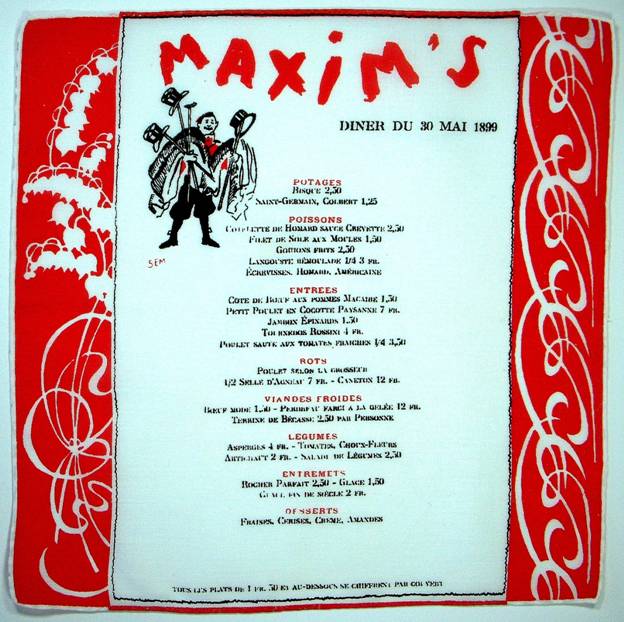 Even more fun is this petit VIP invitation.  Was it delivered to your hotel pre-dining? Or presented to you at the restaurant at the end of your evening?  Loosely translated, it states you have been promoted to a Gourmet of Honor and you are now entitled to enter the circle of friends at Maxim's.  They will be happy to receive you in their restaurant and you will be treated kindly in the true tradition of the Belle Epoque in the most elegant atmosphere of all Paris.  It's smaller than a handkerchief, about the size of a cocktail napkin, and a charming little souvenir, n'est-ce pas?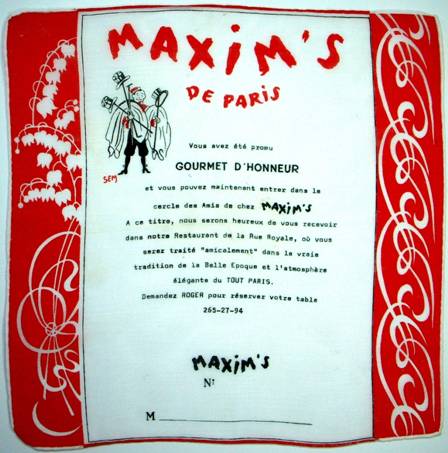 We could certainly envision James Bond as a Gourmet d'Honneur, and indeed, Maxim's is mentioned in Ian Fleming's From A View to Kill and The Man with the Golden Gun, as well as several Sidney Sheldon mysteries.  More recently, characters from Quentin Tarantino's Inglourious Basterds and Woody Allen's Midnight in Paris have been depicted at Maxim's.
Perhaps you prefer a romantic dinner cruise on the Seine (one always envisions Audrey Hepburn and Cary Grant in Charade).  This hankie indicates where to board (note the teensy red flag at his feet) along with menu selections.  A charming memento of a memorable evening.  Or perhaps you'll send this hankie in advance, as an invitation.  Often the enjoyment of an event (anniversary dinner, surprise party, marriage proposal) derives as much pleasure from the anticipation as from the event itself.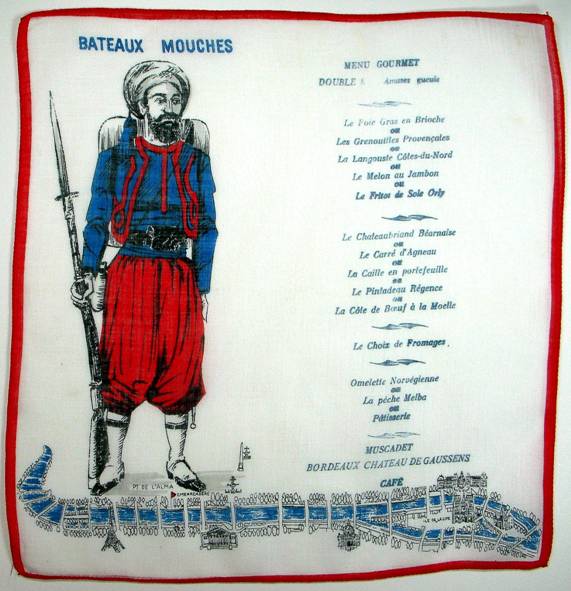 Souvenir recipe handkerchiefs abound, and many deserve their own blog, but for now, here's a brief overview of several.  If you only have one hankie de cuisine, methinks you need the basic sauces. (Incidentally, whether you cook or not, Julia Child's My Life in France is a terrific read.  Arriving with no knowledge of the language and minimal cooking skills, her story brims with love, humor, tenacity, and an indefatigable spirit to seize the day and embrace every experience.  If you haven't yet chosen your summer read……)
"Life itself is the proper binge."

Julia Child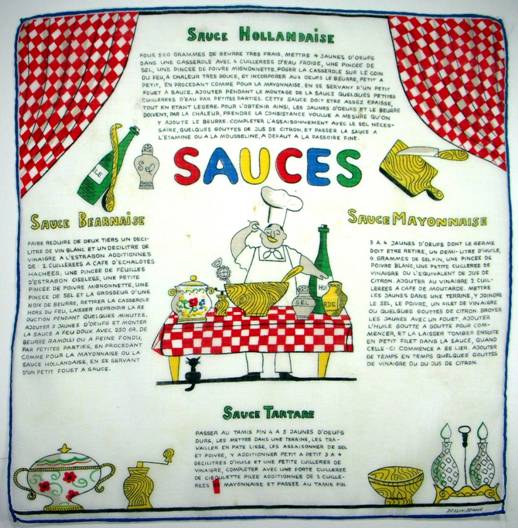 Originally a Swiss invention (so I'm told) French Fondue hankies abound, so I'm including them here. LOVE the primitive country border on the left.
The face of this sweetly attired date reminds me of a Bjorn Winblad or Peynet character right down to her tiny pink shoes.  Note how delicately she dips her fondue fork.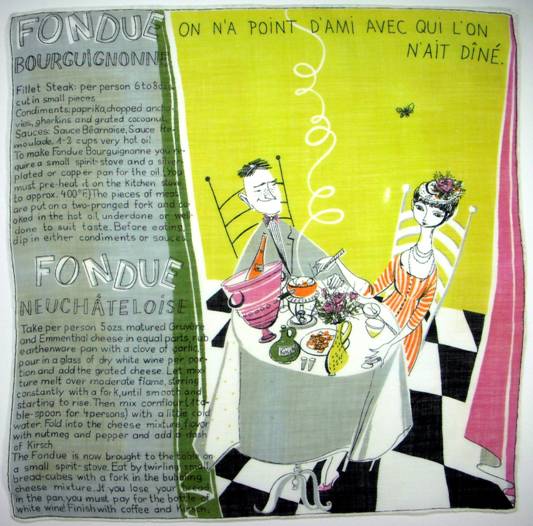 "Seize the moment! Remember all those women on the Titanic who waived off the dessert cart."

Erma Bombeck
These handsome nautical recipes are as bracing, briny and bold as a day at sea.
Spoiler alert for you vegans and vegetarian – skip the next few hankies.  Below, chefs hunt an unsuspecting calf, while a young chef beckons a brilliantly hued duck to come hither. Yikes. Yes, it's a Swiss flag, but the hankie is written in Swiss French.
We encountered this little guy once before trying to save his tail in The Randy Rooster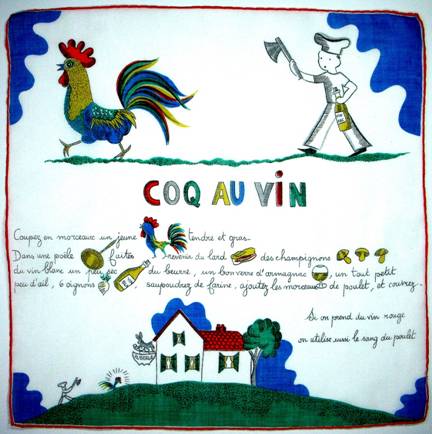 Cooking with alcohol and/or flames always adds a touch of flair (and the possibility of singed eyebrows….)
Undoubtedly, there are times when accessing the web beats consulting a hankie to avert culinary mishaps.  I recall one instance where my friend Mary Helen sat in a Paris bistro racking her brain to recall her high school French.  Unsuccessful, yet hopeful, she ordered 'le viande du cheval.'  Sadly, her 'ah-ha' moment arrived before her meal did.  Hmmm. "The meat of the horse" resembled a burger, so she soldiered on, saying it was "not that bad if you're really hungry."  Regrettably this hankie would have been of little help, since cheval is not listed. Ah well…. I love it anyway. The knife and fork sport tiny toques, the eggs are smiling, and all is right with the world……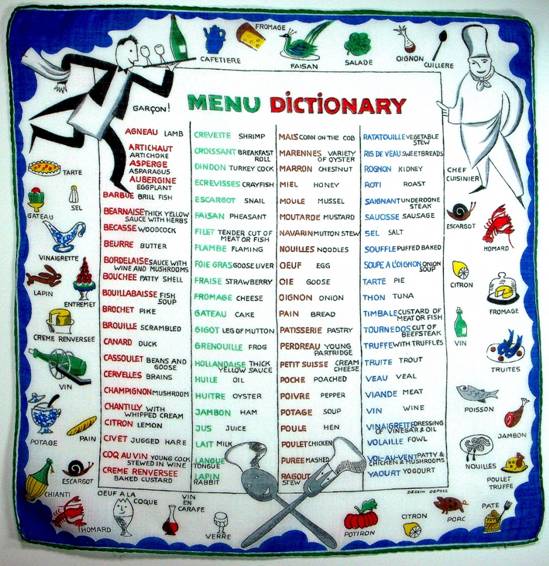 .
Handkerchief Pasta
| | |
| --- | --- |
| | Admittedly, this dish is Italian, but we can't discuss food in a handkerchief blog without a twirl of the tines to Fazzoletto, or handkerchief pasta!   How gorgeous is this creation filled with fresh herbs? Photo – Alan Tardi,  Fine Cooking, Issue 13, February/March 1996  |
Just For Fun
Although we're focused on cuisine, in Paris, fine dining and a night on the town often go hand in hand, so let's indulge in one last hankie, and throw in some can-can girls for good measure.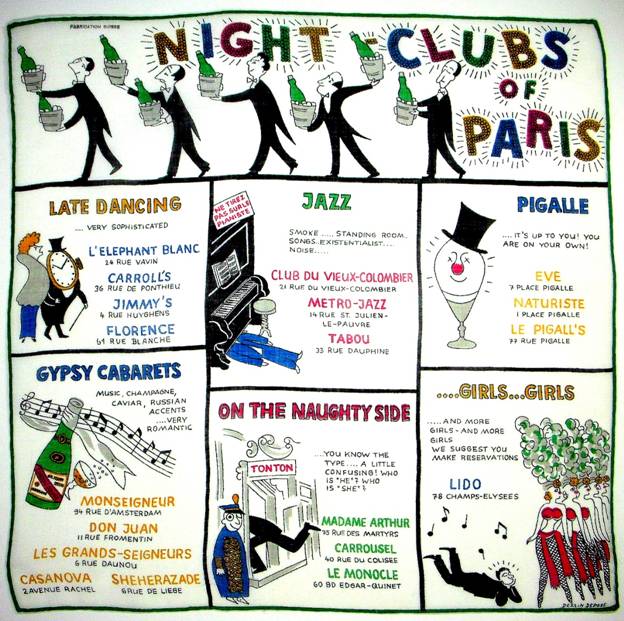 No doubt this broadly winking doorman could retire on the tips he's received to be très discret!
"Pull up a chair.  Take a taste. Come join us. Life is so endlessly delicious."

Ruth Reichel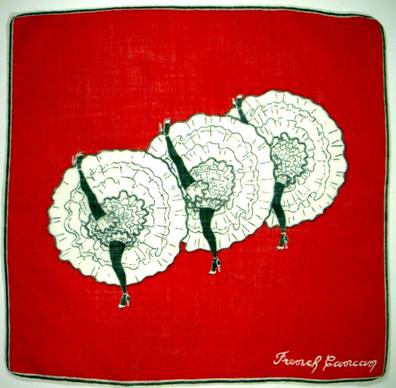 "Artichokes used to annoy me, until I started thinking of their leaves as petticoats."

Oliver Wendell Holmes
Un bon sejour and bon appétit!