"April hath put a spirit of youth in everything."

William Shakespeare
Much like the colorful eggs showcased in Easter Eggs, the rabbit too, symbolizes fertility and renewal.  Hares and rabbits were deemed prolific procreators, thus an apt representation of rebirth, spring and the Easter season. Some believe the custom of the Easter Rabbit originated in Germany, where mention is found in literature as far back as the 1500s. German settlers, arriving in Pennsylvania in the 1700's, brought with them their tradition of an egg-laying hare called "Osterhase" or "Oschter Haws."  Children would line their caps and bonnets with straw and hide them in sheltered places for the hare to find and "nest" his eggs.  It was believed if they were good, the hare would leave them colored eggs. The tradition expanded in the 1800's to include sugar rabbits, chocolate eggs and candy. Children would leave carrots for the bunny to fortify him on his travels. The use of elaborate baskets came later, as the tradition spread across the country.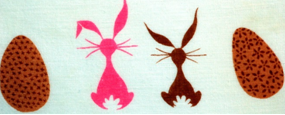 Chocolate Eggs – Yum!
Here's a hankie that's fun and fanciful, yet elegant in its simplicity. The curlicue border mimics the delicate graphics on the chocolate eggs, while the silhouetted rabbits with their beautifully expressive ears and long silky whiskers hop to and fro in their signature zig zag pattern betwixt and between eggs in lovely hues of mahogany, cocoa, café au lait and buff. It's warm, inviting and delicious!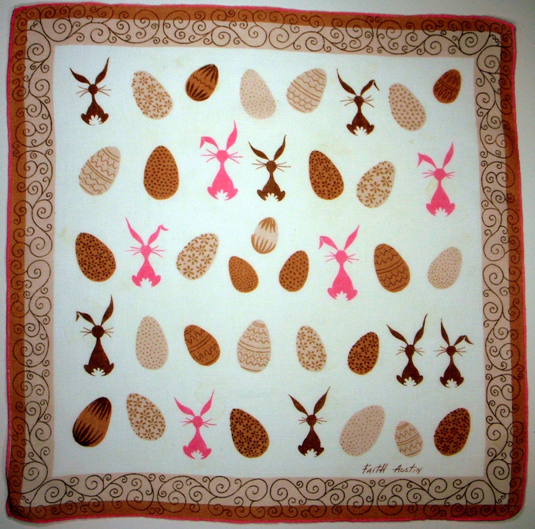 .
A colorful stunner in shades of deep raspberry and pink, this spectacular Tea for Two number shows oh-so-proper cottontails formally seated, as they nibble and sip in the height of fashion.  Celebratory bubbles fill the backdrop, while the border is anchored by a rabbit regiment lined up like pieces on a chessboard. The brilliant lime green and sexy ebony add snap and sizzle to this snazzy soirée.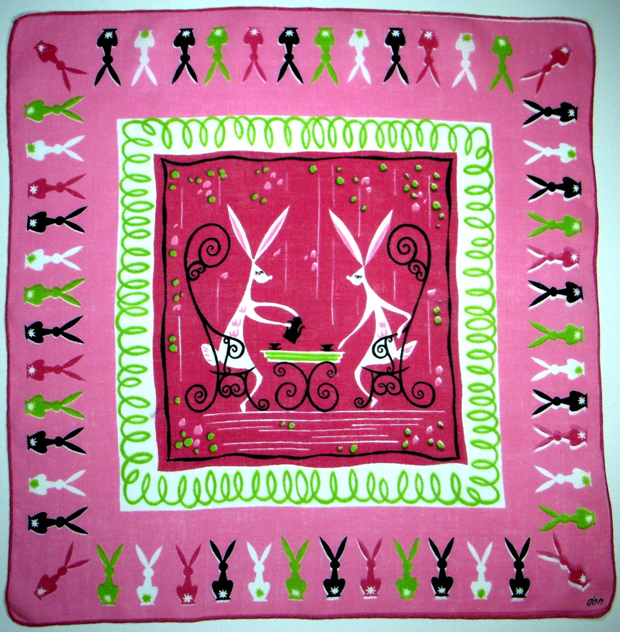 Ideas are like rabbits. You get a couple and learn how to handle them, and pretty soon you have a dozen.

John Steinbeck
In our next hankie, the rabbits are not quite as disciplined.  In fact, they can barely contain themselves.

Brilliant spring green surrounds this dancing herd as they swing, jump and jive in joyful celebration of winter's end.  Their 'kick up your heels' stance confirms they're bursting with excitement and we want to join in the revelry.  What a delightful gift to receive and carry in your pocket on a bright Easter morning.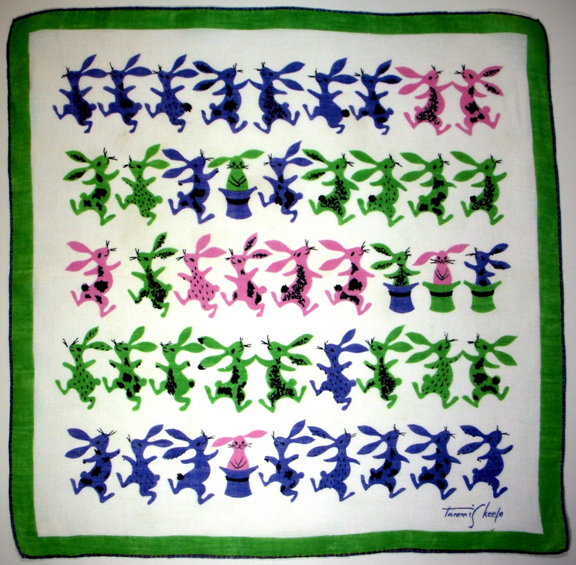 Because they're soft, silent, and offer little resistance to handling by man, magicians have employed rabbits for decades in their arsenal of magic tricks. The phrase to "pull a rabbit out of a hat" indicates a person has literally done something magical to achieve unexpected results.  Indeed, the artist pays homage on three occasions in this hankie to the well-known adage.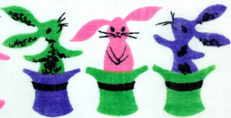 Docile rabbit characters we love and cherish include Thumper, companion to Bambi; Harvey, companion to Jimmy Stewart in a movie by the same name; and The Velveteen Rabbit, a stuffed toy that becomes real when loved by its owner.
The flip side to the cuddly bunny is the canny, cunning rabbit. Because he's quick as lightening, it's assumed he's mercurial both mentally and physically. In the wily hutch we find cartoon characters Roger Rabbit, as well as Bugs Bunny, foiling Elmer Fudd.  (Bugs actually has a star on the Hollywood walk of fame.) Br'er Rabbit, the ultimate trickster, and Peter Rabbit, thief in Mr. McGregor's garden, also fall into this category. Aesop's Fable The Tortoise and the Hare, reminds us you can be too smart for your own good, and provides lessons in the consequences of narcissism and haste.
The beautiful white rabbit on this children's handkerchief from Lewis Carroll's Alice in Wonderland sports and elegant high collar and waistcoat, umbrella and pocket watch, with – what's this? a handkerchief dangling from his pocket!    Note the tiny red handkerchief dangling from the pocket of the rabbit in the green coat as he hurries away.  No well-dressed man/hare would be without a hankie.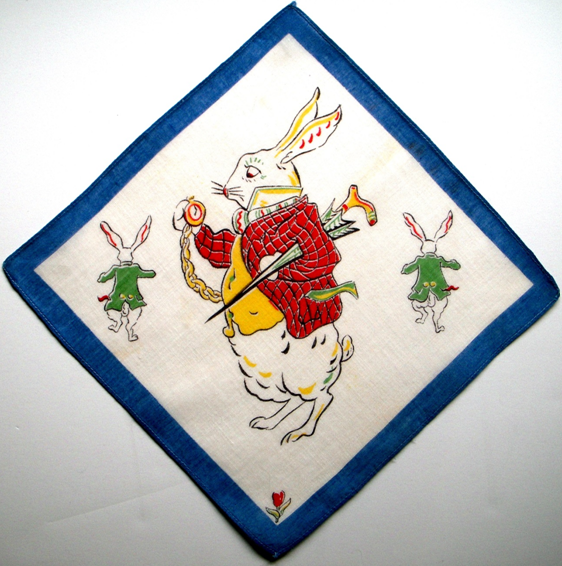 .
caught in the act, hoe in hand,  

in Mr. McGregor's garden!

1930's sophisticated graphics  of a rabbit blowing bubbles

charming bunnies gardening on a little girl's hankie

 
 
 
.
When a rabbit falls short in the 'wily and clever' department, a bit of tutoring may be in order.  Here a poor bunny, eyes downcast, get s a lesson in counting carrots. Note the dapper dress of the professor. Easter colors all the way.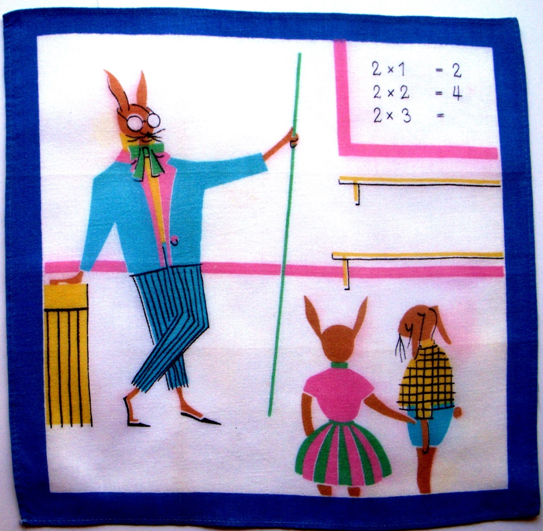 .
Beautiful embroidery was not limited to adult handkerchiefs. Note the delicate ombre shading of thread in this French child's day-of-the-week hankie. In this instance it's Wednesday, and who better to get you over 'hump day' then a hopping bunny? Equally adorable is the tiny charmer in the pink coat happily scampering through the meadow to bring his beloved a just picked bouquet of posies.
I know I've said it before, but  I love the fact that such care was taken to adorn something as simple and utilitarian as a child's handkerchief.  Do remember, however, these were considered fashion accoutrements (see Children's Silk Handkerchiefs) as well as canvases for stories and lessons.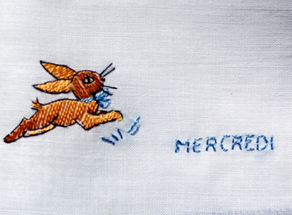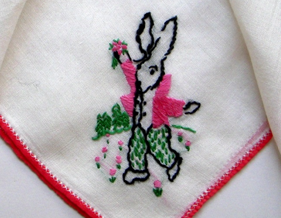 For you vintage lovers, our bouquet bunny comes from Uncle Bunk's Trunk, a fabulous repository of antique tablecloths, aprons, tea towels, etc. A great place to browse, even if you're not a collector. I don't know if Hollywood stylists or Martha Stewart know Uncle Bunk, but they should.
.
Easter Bonnets
What would Easter be without a new bonnet? Here, a band of merrymakers parade around and around so the ladies can showcase their outrageous chapeaus.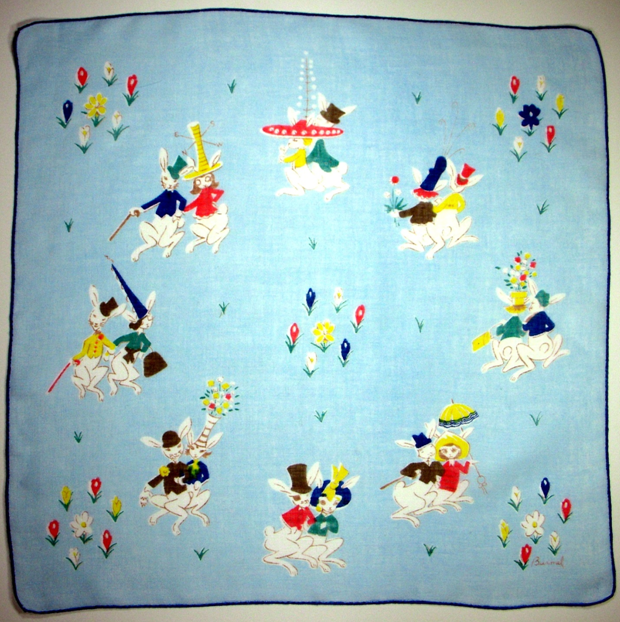 Some bonnets are sedate, stylish and formal. Others appear to have been fashioned by Dr. Seuss. As Bob Dylan sang in Subterranean Homesick Blues "You don't need a weatherman to know which way the wind blows."  Well, certainly not, if your hat itself is a weathervane!
| | | |
| --- | --- | --- |
| weathervane hat | sputnik tower | monolith in bloom |
| | | |
.
Easter Parade
The tradition of the Easter Parade began in New York City in the 1800's when society's upper crust would attend church services on Fifth Avenue, then stroll along the sidewalks afterward to display their new outfits. Crowds of onlookers would gather to watch the spectacle.  In 1948, the film Easter Parade was released staring Judy Garland and Fred Astaire, with music and lyrics by Irving Berlin.  The tradition continues today with Fifth Avenue from 49th Street to 57th Street closed off to traffic on Easter Sunday. Some swells still appear attired in fabulous hats and outfits for onlookers to admire.
A Bonus for your Easter Basket
Judy Garland serenades Fred Astaire as they stroll down 5th Avenue in the Easter Parade
Movie trivia: Gene Kelly was cast in the role, but broke his ankle three days before shooting began. Astaire came out of retirement to play the part – as always, a polished, professional pro…
Never saw you look quite so pretty before.
Never saw you dressed quite so handsome, what's more…
I could hardly wait to keep our date this lovely Easter morning
And my heart beat fast as I came through the door, for…
In your Easter bonnet, with all the frills upon it
You'll be the grandest lady in the Easter parade.
I'll be all in clover and when they look you over
I'll be the proudest fellow in the Easter parade.
On the Avenue, Fifth Avenue, the photographers will snap us
And you'll find that you're in the rotogravure.
Oh, I could write a sonnet about your Easter bonnet
And of the girl I'm taking to the Easter parade.
Here's hoping you find something luscious and colorful in your Easter basket. 🙂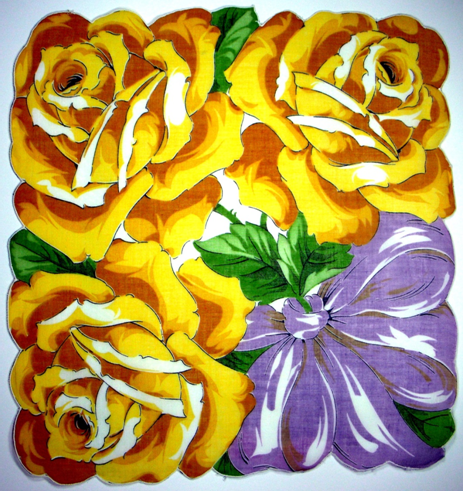 "When spring knocks at your door, regardless of the time of year or season of our lives, run, do not walk to that door, throw it open with wild abandon, and say, "Yes! Yes, come in!  Do me, and do me big!"

―Jeffrey R. Anderson, The Nature of Things