"Some hats can only be worn if you're willing to be jaunty, to set them at an angle and to walk beneath them with a spring in your stride as if you're only a step away from dancing. They demand a lot of you."

Neil Gaiman, Anansi Boys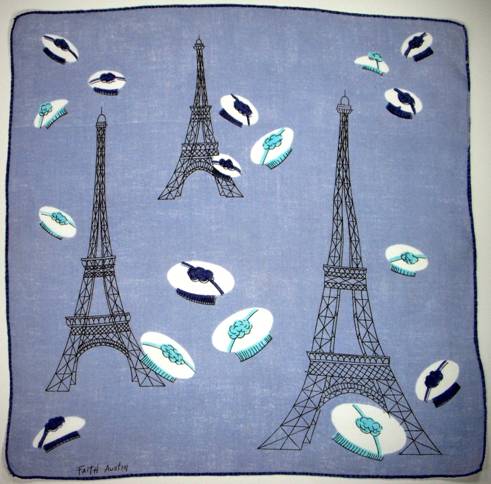 And who wears a jaunty beret better than the French?  For some reason this confetti toss of chapeaus hearkens back to Mary Richards from the Mary Tyler Moore Show.  Whether you're tossing your hat in the ring or straight up in the air like a graduation mortar bard, the message is clear –  "Game On.  Count Me In. I'm going for it!"
"A politician should have three hats. One for throwing into the ring, one for talking through, and one for pulling rabbits out of if elected."

Carl Sandburg
It's Easter bonnet time, and here's a delectable plethora from which to choose.  From beribboned straw boaters to wide brimmed sun shades to pert pillboxes  to snappy little veiled  numbers sporting nests of birds, we want to try them all!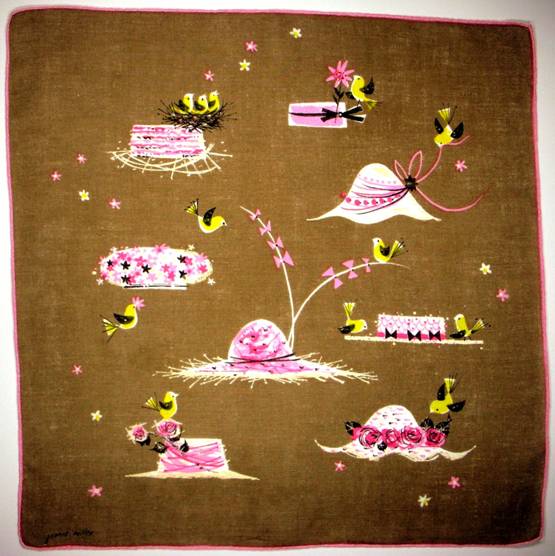 "Few women have ever been able to resist the temptation to try on a hat and discover  in the mirror a person they never suspected was there.  A hat alters the image  we have of ourselves, and the images others see as well.

 For the hours we wear it, it brings out different dimensions in our personality,  much as a costume aids an actress in her role."

Unknown
Speaking of mirrors, a profusion of hall mirrors and hat racks adorn these next hankies. The first is framed in a swirl of spring ribbons.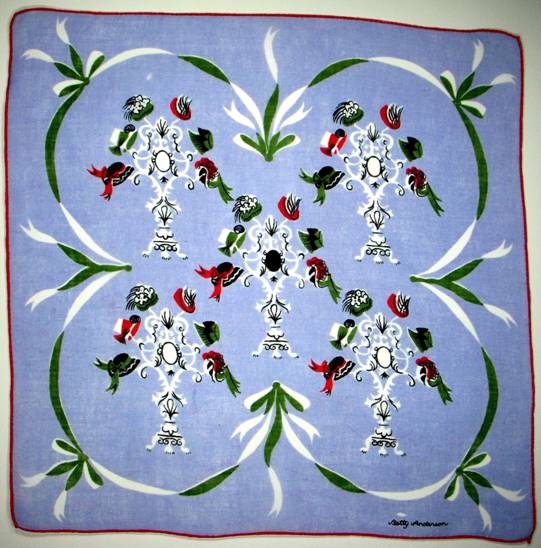 This one bordered in hatboxes is a delicious as a tea tray of petit fours. Note the bouquets  in the corners as well as springs of lily of the valley.  Perhaps this hankie was gifted to a bride shopping for her trousseau.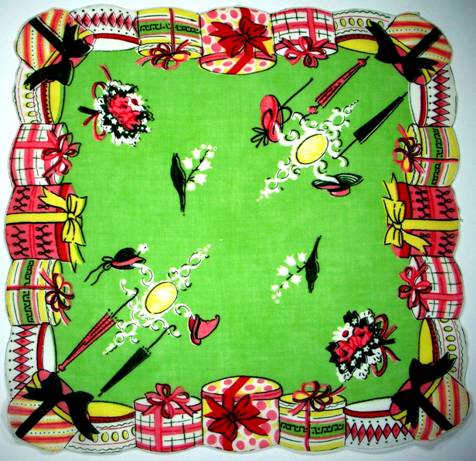 Additional hatbox-bordered hankies allow us to indulge our fetish for fashion and frivolous fun. On the left, mannequins showcase styles from all four corners of the globe. On the right, a tornado of toppers swirl like shooting stars in a universe of fashion.  The soft gray blue and yellow in contrast to the burnt orange 'sky' is a surprising choice and adds a little tang and zest to the shopping expedition.
This next hankie reminds me of a favorite book from my childhood.
In an old house in Paris that was covered with vines, lived twelve little girls in two straight lines….They left the house at half past nine, in two straight lines in rain or shine – the smallest one was Madeline.
These hankies give a tip of the toque to accoutrements, accessories, and adornment – roses, orchids, violets, netting, and satin ribbons galore. All manner of confection may be found on a lady's hat and is only limited by the imagination of the artist.
"A veil can bring on more shenanigans than forgetting your silk underpants."

Unknown
The ultimate treat was to have a hat custom made to flatter your hair, skin, eyes, and the shape of your face.  The cool blue gray and sophisticated olive underscore the atelier's message "Master at Work."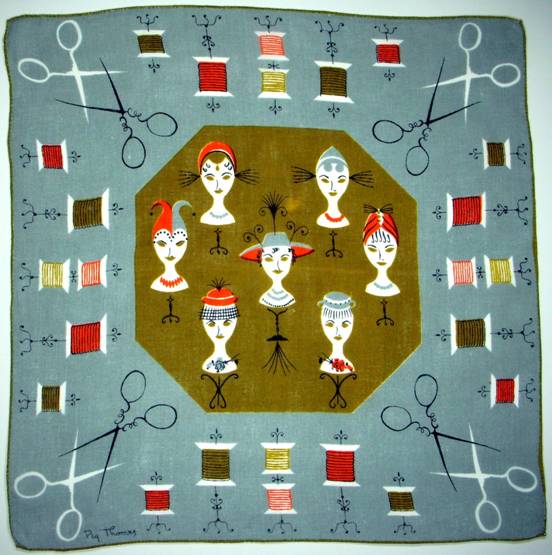 An afternoon at the milliner's can lift the spirit, enrich the soul, and restore the smile to an overworked mom or shop girl.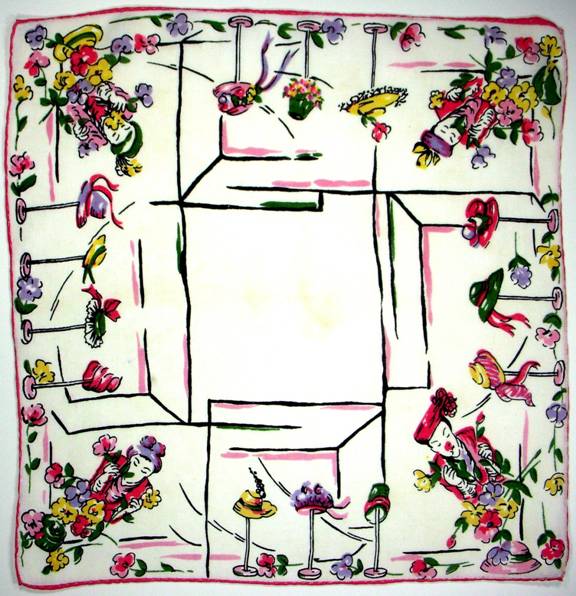 "When you wear a hat, it's like medicine for the soul.  The hat is the expression of who you are as a woman in every moment.  The hat is your dream of who you can be. With the wave of a hat, voila!  You are mysterious…no, you are sexy… now proper…now playful."

Unknown
The hat completes the haute couture ensemble.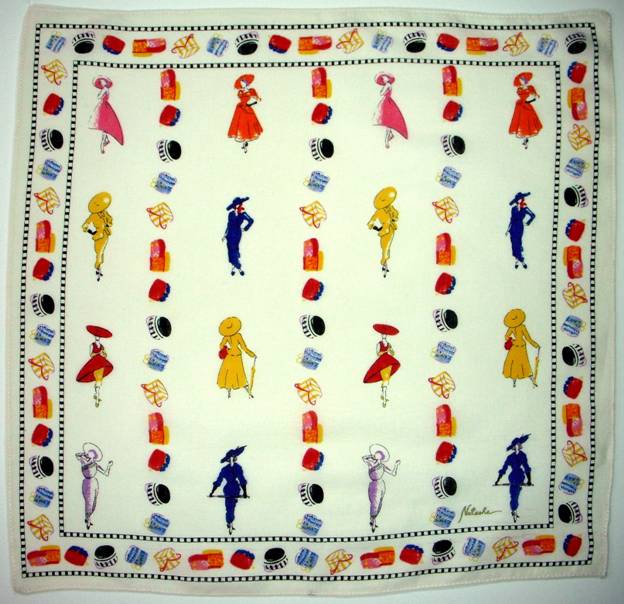 "A hat is the difference between being dressed and being dressed up; it's the difference between looking adequate and looking your best.  A hat is to be stylish in,  to glow under, to flirt beneath, to make all other feel seem jealous over, and to make all men feel masculine about.  A piece of magic is a hat."

Martha Sliter
"We just know inside we're queens,  and these are the crowns we wear."

Felicia McMillan

There's a hat for every mood, and a hat to put you in any mood, whether it be Gigi sauntering down the Champs Elyse, or Holly Golightly sipping  Breakfast at Tiffanys.
"There's just something special about a woman in a hat."

Betmar Philosophy
| | |
| --- | --- |
| Even Jane Austen knew better than to send Elizabeth Bennet or her sister Jane, Emma Woodhouse or Fanny Price out into the world without a bonnet to protect their complexions.  Ah, but must those bonnets sport such elaborate feathers and bows,  as depicted on the embroidered hankie shown here?  Heavens yes!In a culture of timid curtsies and lowered glances, a girl required more than a fluttering fan to attract the eye of her intended. A flounce of the feathered cap, a sweeping gesture when loosening the bow beneath her chin was certainly in order. The ribbons of course complimented her eyes. Otherwise, why bother with the hat? | |
An entire tributary of the fashion industry was devoted to hatpins.  No silly adornment they; these "swords of virtue" could lance a lothario whose bold advances crossed over the line. A brisk jab with the lethal spike (up to 8" in length!) would put a wayward hand back where it belonged.  Adorned with all manner of filigree, engraving and gems, the hatpin was a work of art and status symbol on its own.
Burmel created series of handkerchiefs, one of which was devoted to images of dogs.
The lady on the left, sunbrim afurl appears almost dismissive. You feel as though she just finished phoning Fido to admonish "quit slobbering in your water bowl and scamper over to the Palm Court to help me snarf treats from the tea tray." Naturellement, a Madame this silky warrants a chapeau this spectacular.  Is there any doubt that's mama on the right, pompadoured in peach and pearls, looking dismissively through her lorgnette at those less fashionably attired?
Animals were often employed anthropomorphically to illustrate the whims and vagaries of man, and this cadre of fashionable felines is no exception.  Everything from sweet to sexy to sultry is showcased.  Dig that sloe eyed vixen dead center sipping her cocktail!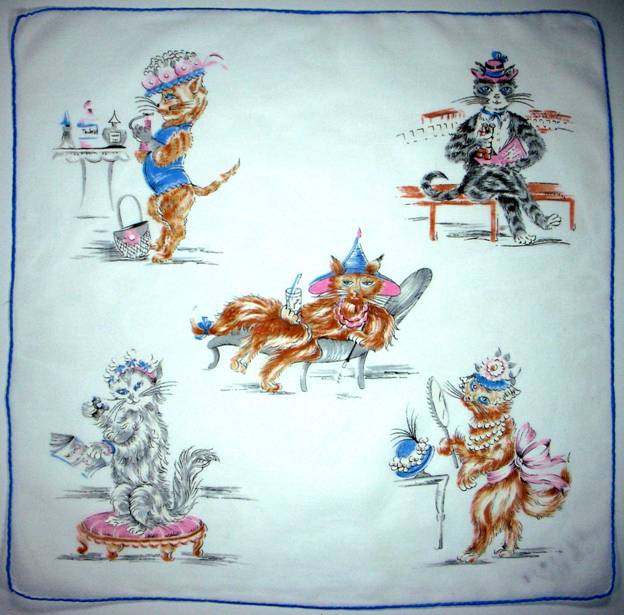 Admittedly, few of us could pull off the Philip Treacy shown here, but we've all entertained the fantasy of doing exactly that. Hats lift us above the ordinary, even if only for an afternoon, and we're grateful for every curved brim, demure veil, and flirty ribbon!  To milliners everywhere, a tip of the toque to you. 🙂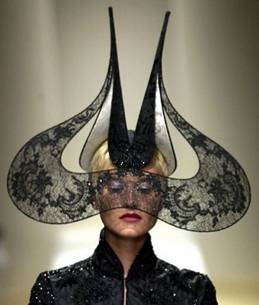 "Fantasy hats give you the possibility to dream."
Philip Treacy
"Leave everyone wondering which is the more interesting piece of work…

you or your hat."

Unknown