Happy Easter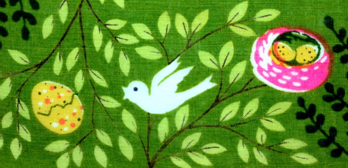 As with many long standing traditions or holidays, many groups claim Easter for their own. Early beliefs espouse Easter to be derived from the word Eostre, the Greek goddess of Spring. Legend has it Eostre returned each year after the long cold winter to bring light and warmth to the earth. Grand festivals were held to herald her return. Frankly, since she always returned at the vernal Equinox (March 21st) it was a pretty safe bet winter was winding down. Still, any excuse to celebrate, I suppose, and revelers "partied hearty" in the name of rebirth, rejuvenation, and the onset of spring.
Christians changed the festival from a celebration of spring to a celebration of the resurrection of Jesus. Others link Easter to Jewish Passover. Early Christians who were raised as Jews considered the resurrection and Easter a new part of pasch. (or pascha in the Eastern Orthodox tradition) Apparently one and all feel a kinship with this holiday and honor it in their own special way.
The Big Bang or The Big Egg?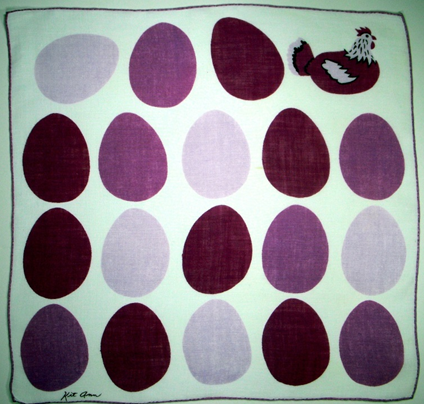 Historians say Ancient Egyptians, Persians, Phoenicians and Hindus all believed the word began as an enormous egg. Eggs as a symbol for new life stretch far back in time, long pre-dating Christian traditions. Ostrich eggs with engraved decorations 60,000 years old have been found in Africa. Eggs decorated with gold and silver were placed in graves of Sumerians and Egyptians 5,000 years ago. Edward I of England was known to have had 450 eggs gold leafed and colored for Easter gifts. When decorating eggs, you're following some very long standing traditions.
.
A Tisket a Tasket
Carrying this rich gold beribboned and scalloped prize would make any girl feel as though she had an entire Easter basket in her pocket. Note the intricate decorations, as well as the sophisticated mix of gray, coral and gold, offset by the traditional sky blue and grass green.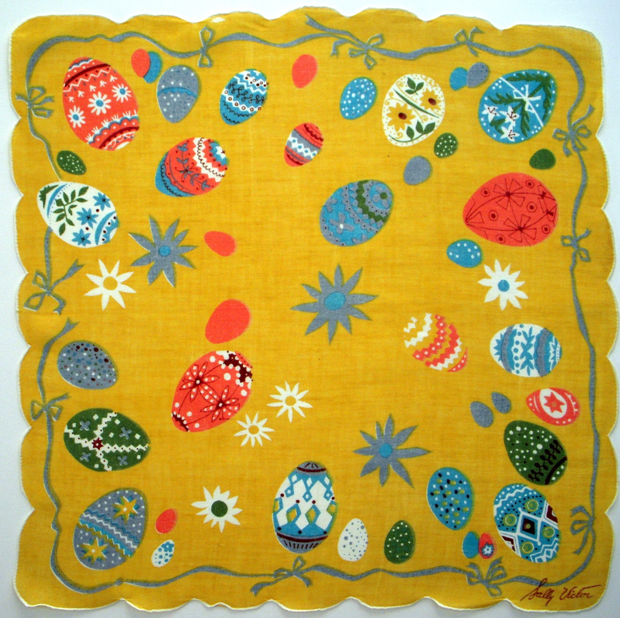 .
Money Doesn't Grow on Trees, but Eggs?
The aforementioned hankie brings to mind a magical tree in Volker Craft's garden in Saalfeld, Germany. When he began adorning his apple sapling in 1965, Craft used just 18 eggs. As the tree grew, so did the collection, which now numbers 10,000, which Craft claims is his limit, due to lack of storage! (reminds me of a handkerchief collector I know….)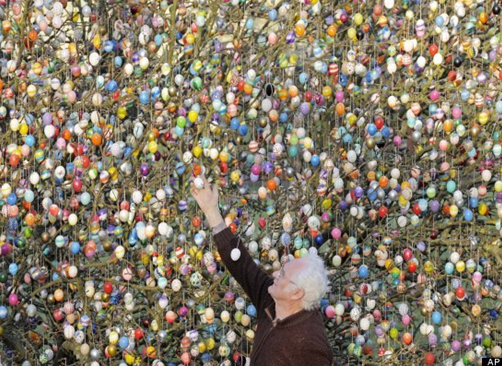 | | |
| --- | --- |
| Bird's Eye View | Masterful Craftsmanship |
| | |
Step Into My Garden
A rich, luxuriant spring garden burst to life with hot pink, sunshine yellow and snow white birds, eggs, nests and baby chicks, symbolizing rebirth. The artist took care to delineate new growth by utilizing that brilliant light green you only find in new buds. So charming.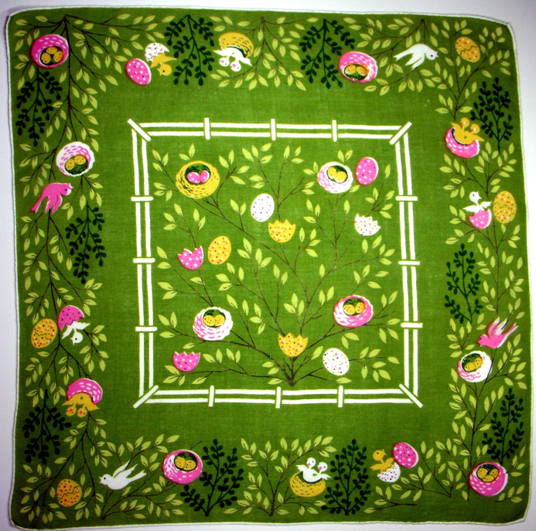 "The world is exploding in emerald, sage, and lusty chartreuse – neon green with so much yellow in it. It is an explosive green that, if one could watch it moment by moment throughout the day, would grow in every dimension." Amy Seidl, Early Spring
Here's another rendition of an Easter tree laden with eggs galore. All these hues of green add a fresh and satisfying zing to these crisp linen creations.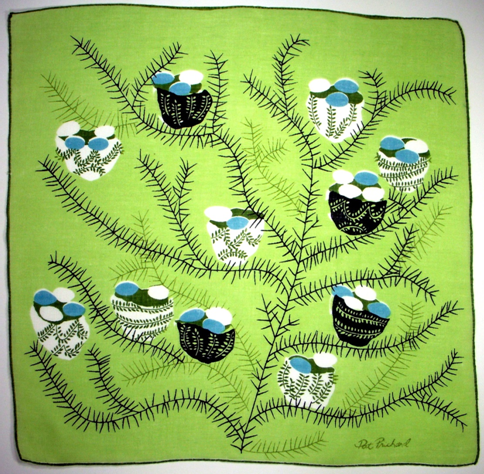 "When Springtime came, red Robin built a nest,
And trilled a lover's song in sheer delight."

Christina Rossetti
Which Came First? The chicken or ……
A cocky rooster struts his stuff while his progeny pop from egg after egg! The artist achieved maximum impact with minimal detail. Bright white eggs provide a fresh backdrop for the lime green birds, while their scalloped feathers echo the feeling of crisp, simple and fresh.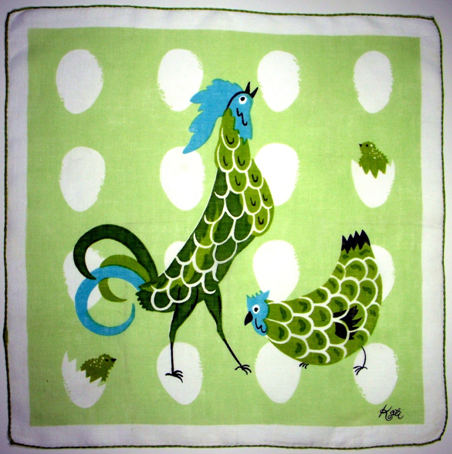 Chick, Chick, ………. Duck???
We interrupt this reverie of spring and green to bring you – a red hot tomato. Wow! It's simply terrific. Mama hen bores a "google" eye at a wandering interloper whose blue webbed feet make her mighty suspicious. The adorable duck shines a sparkly rhinestone eye in her direction, hoping to woo her with his childlike charm – and it seems to be working. So much detail and humor expressed in something as simple as a child's handkerchief is a delight to find in today's machine stamped, mass produced world.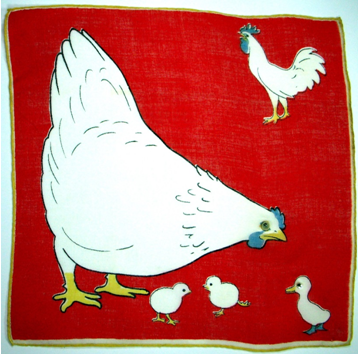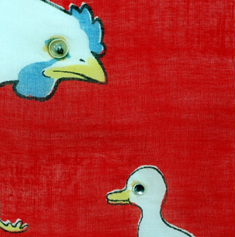 Inside every egg, a surprise….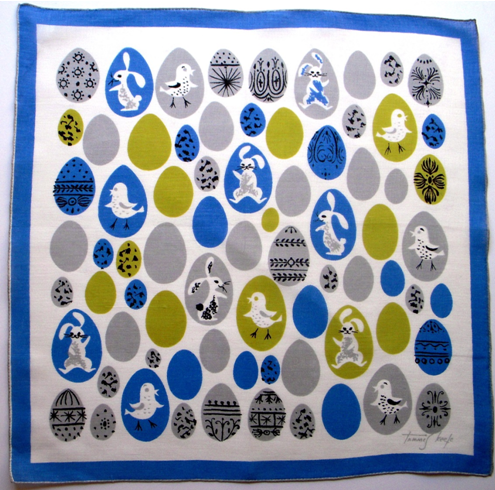 .
Sophisticated gray and sassy chartreuse anchored by a brilliant royal blue border spell a hip and happening holiday. Some eggs hide chicks, others sequester silly rabbits. As always, artist Tammis Keefe manages to meld just the right blend of detail and restraint, allowing our eye to wander hither and yon, around and about, betwixt and between, as though we were on an actual egg hunt.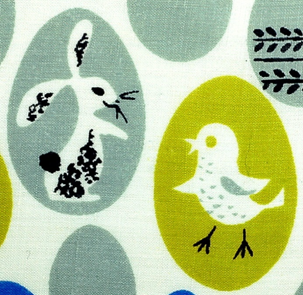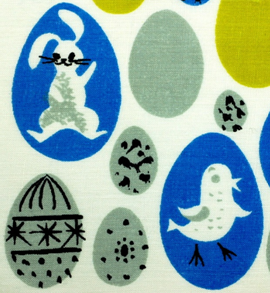 .
We're well aware that some Easter eggs are fashioned from mind-bendingly wonderful chocolate, and we'll encounter those when we visit the Easter Bunny in our next blog.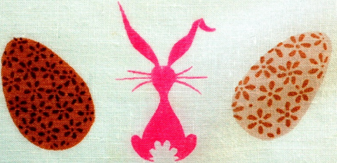 For now, we'll bid adieu and wish you Happy Easter, hoping your special holiday is filled with a celebration to warm your heart – be it a worshipful service in your chosen faith, a welcoming dinner with family and friends, or a Sherlock sleuthing through tall grasses to capture sugary surprises.
"Despite the forecast, live like it's spring."

Lilly Pulitzer
Bonus for your Easter Basket: A heartwarming story about some very lucky ducklings.