"You know you're in love when you can't fall asleep

because reality is finally better than your dreams."

Dr. Seuss
Since handkerchiefs have long been a vehicle for flirting,  it's no surprise to find dozens of hankies adorned with images of amour.  From richly embroidered roses to images of turtledoves and throbbing hearts, a hankie is the quintessential fashion accessory when it comes to romance. The variety of images is as vast as the legion of lovers of Catherine the Great.
Today our tuning forks are trained on a single note – the reluctant ingénue – as we follow her glissando to surrender.  Whether adagio or allegro, each lady plays the concerto of courtship in her own unique style. These little gems prove there's a perfect note for every love song.
For the subtle flirt, here's a tiny bullfighter's cape for the lady matador to swirl about while blotting her lipstick.  Ah… she's caught his eye.  He enters the bull ring.  Game on.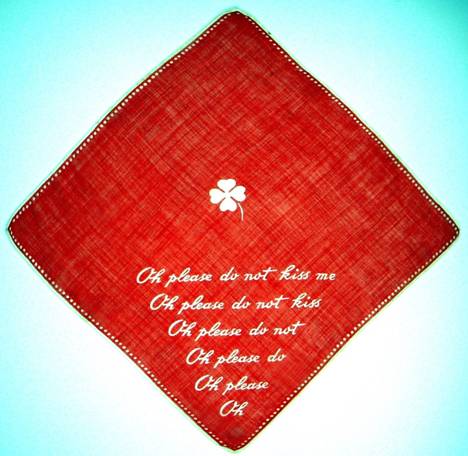 "There is never a time or place for true love.  It happens accidentally, In a heartbeat, in a single flashing, throbbing moment."

Sarah Dessen, The Truth About Forever
For the subtle sophisticate, the message is executed on fine linen.  The girl who chooses embroidery values something that lasts through the ages, an heirloom to treasure.  A declaration that once made, remains permanent.  Yet the colors are so fanciful and fun, she must be a romantic with a sense of humor and play.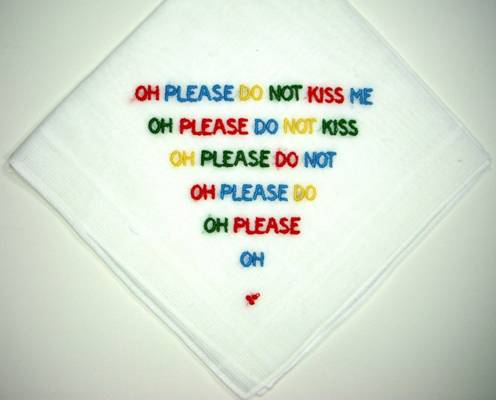 "A lady's imagination is very rapid; it jumps from admiration to love, from love to matrimony in a moment."

Jane Austen, Pride and Prejudice
 Then there's the young miss who may be new to love's journey, but once she's on board, it's full steam ahead.  Yowsa.  Perhaps it's true what they say about ginger tresses.  She's a fireball.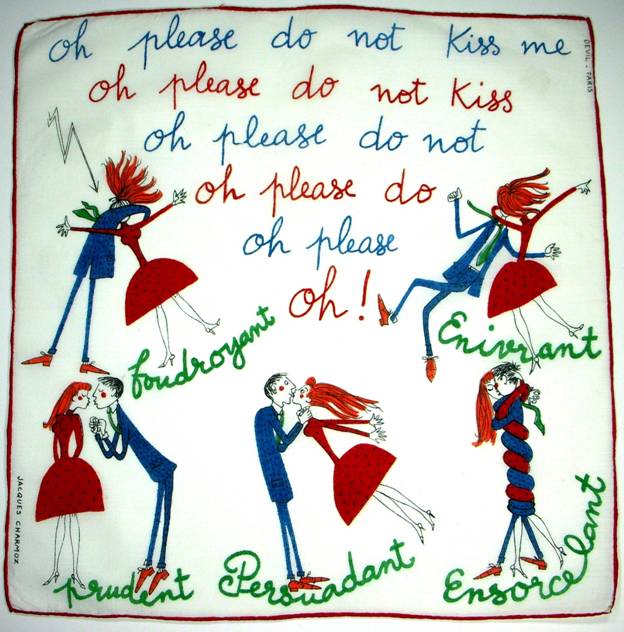 | | | |
| --- | --- | --- |
| He advances | She responds | Oh my |
| | | |
You only need one man to love you. But him to love you free like a wildfire, crazy like the moon, always like tomorrow, sudden like an inhale and overcoming like the tides.  Only one man and all of this."

C. Joy Bell
So whatever hankie you choose to flutter this Valentine's Day, be sure to select one that reflects the inner romantic you.  Here's hoping cupid's arrow strikes home on your intended target.
Just For Fun
For more valentine handkerchiefs, please visit