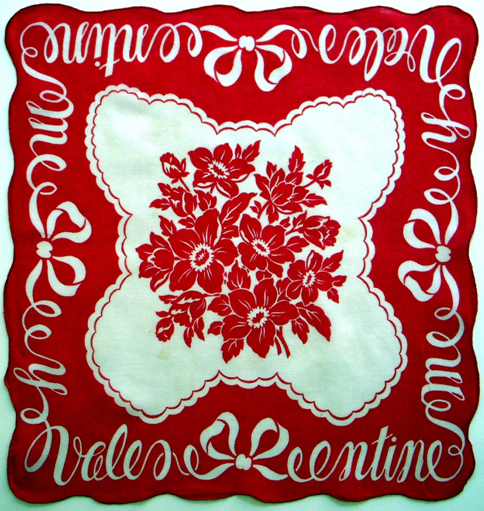 .
These "Secret Valentines" are not only great fun, they're the perfect images to exemplify Valentine's Day.  Why? Because St.Valentine represents forbidden love.   Stories about St. Valentine abound, but the one I favor is the legend about a priest name Valentinus or Valentine who lived during the third century in Rome. The reigning emperor at that time, Claudius II, decided that single men would make better soldiers than those who had wives, thus soldiers were forbidden to marry.
The soldiers sought aid from Valentine, who married couples in secret, in violation of the law.  When his treason was discovered, Claudius II ordered Valentine beheaded.  (Talk about losing your head for love!)  While in jail awaiting execution, Valentine performed miracles, in one instance restoring the sight and hearing to the daughter of his jailer Asterius.  Legend has it that before his death he wrote a farewell to her signed "from your Valentine."  Grateful soldiers built altars to honor Valentine after his death.  His feast day became associated with romantic love, particularly during the time of Chaucer in the Middle Ages, when he became one of the most important saints in France and England.
Other historians claim the Christian Church decided to celebrate the feast of St. Valentine in February to Christianize the pagan celebration of Lupercalia, a fertility festival dedicated to Faunus, the Roman god of agriculture.   Since agriculture is associated with fertility, rituals of fertility along with marriages were performed during this season.  Whether Pagan or Christian, this season in February was all about love, and by the mid eighteenth century, lovers began to exchange small presents and love notes on this special day, a practice we continue today.
Open, the handkerchief resembles a bouquet surrounded by a border of ribbon flourishes. Folded, the secret message appears.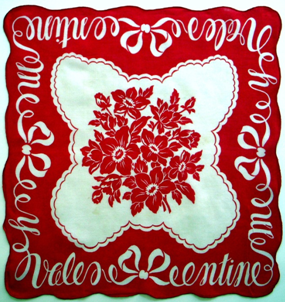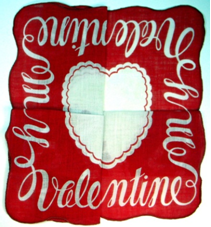 .
Here's another beauty with a beribboned border whose secret message surfaces  loud and clear, once the hankie is folded correctly.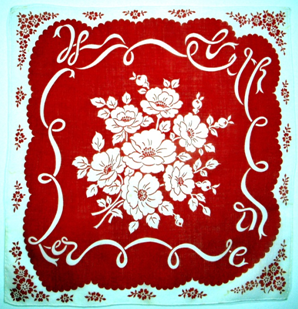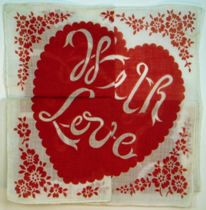 The one thing we never give enough of is love.

Henry Miller
A charming scalloped edged border surrounds a series of leaded glass windows, while a frivolous, fanciful tree of love climbs the wall.  Follow the wings of the lovebird as he leads us toward the tiniest window.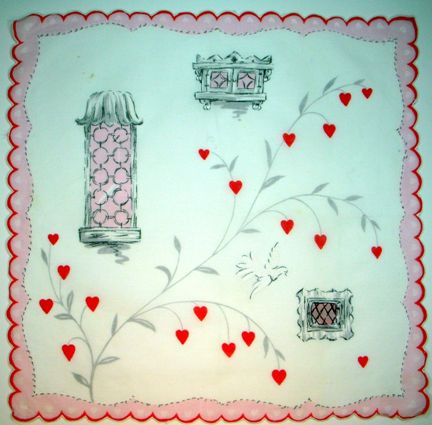 It opens! to reveal the secret message:  Valentine Thoughts.  It's delightful  and unexpected.  The recipient of this hankie knows she's special.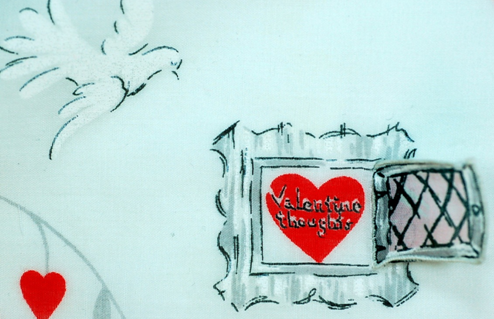 I like not only to be loved, but to be told that I am loved.

George Eliot
This full page ad from a 1947 issue of Charm Magazine uses winsome cherubs to unfold the secret hankies so we can see what the magic is all about.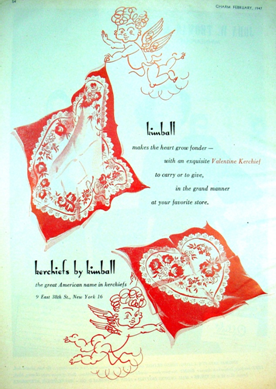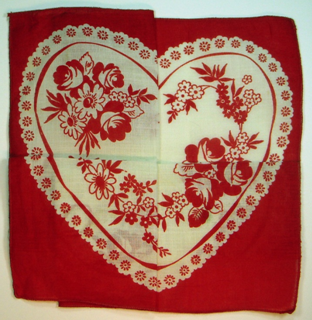 Here's the hankie again, folded and unfolded.  When open, it appears to be a lace-bordered doily with tendrils of forget-me-nots, along with bouquets of roses and daisies. But like St. Valentine and his secret marriages, we know there's more to this hankie than meets the eye.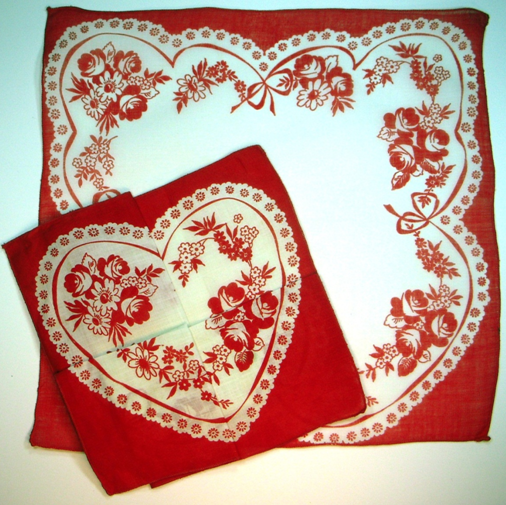 Affection is responsible for nine-tenths of whatever solid and durable happiness there is in our lives.

C.S. Lewis
Another heart, tied with a bow, lurks in this secret message hankie.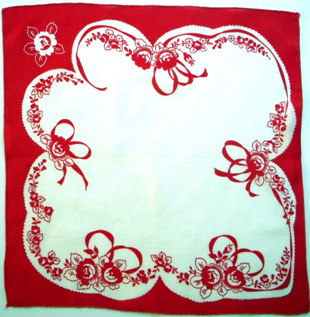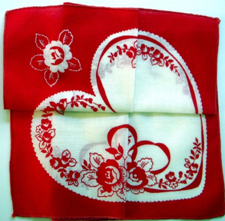 .
Who could guess that cupid lurks among this quatrefoil of flora floating on a soft edged cloud of white?  Once you're aware of the message sequestered within, you can see his curly head and tiny wing in the northwest corner and his little legs kicking in the north east corner of the hankie.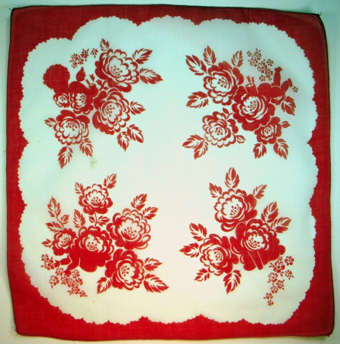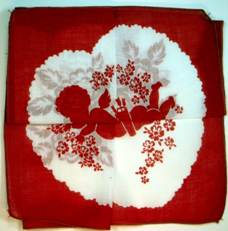 This ad from a 1949 issue of Mademoiselle assures us he's gift boxed and ready to fly into the arms of your secret crush.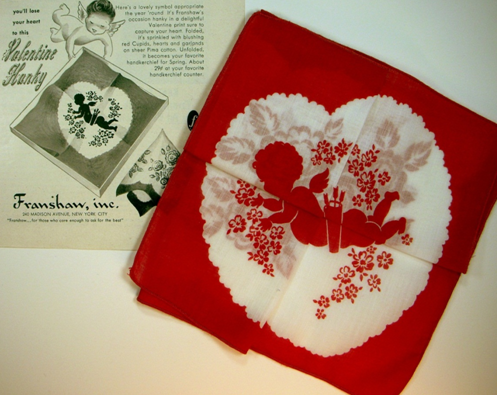 If you live to be a hundred, I want to live to be a hundred minus one day so I never have to live without you.

A. A.  Milne
Perhaps you prefer a more traditional love note in lace, like those shown below which hide the clandestine promise of passion protectively in their folds.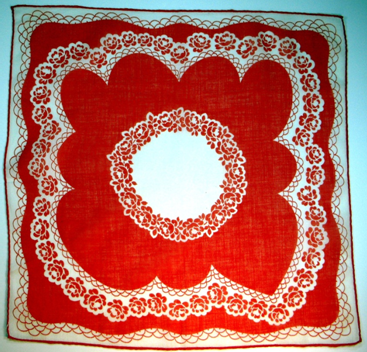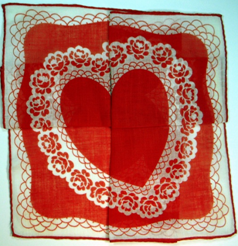 Love is a Valentine with lace all around the edges.

Charles Schulz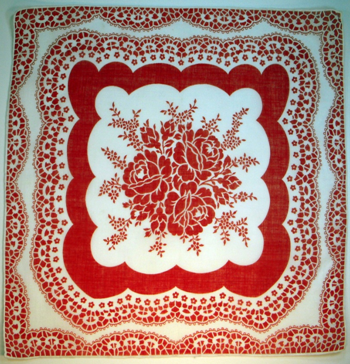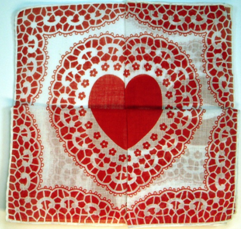 The most beautiful things in the world cannot be seen or even touched; they must be felt with the heart.

Helen Keller
For those bold enough to just spell it out, here's a warm and wonderful alternative.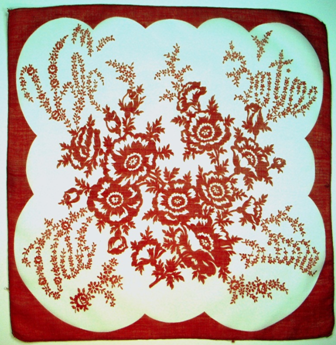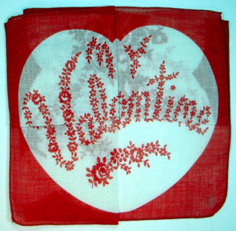 It's so well executed, the letters themselves remind one of asparagus fern, baby's breath, or one of the many floral sprays used to enhance an arrangement.  What's the trick to finding these love notes?  The borders will usually give the secret away.  Note how they're not symmetrical, but form the outline of a heart or two.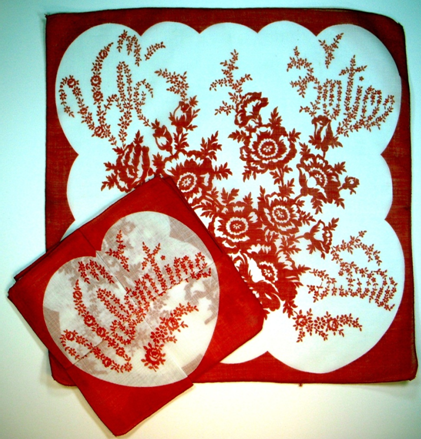 If it were not for hopes, the heart would break.

Thomas Fuller
Now that you're on to the trick, it's easy to surmise that this next hankie holds the promise of more to come, and indeed, it doesn't disappoint.   Actually, it's quite wonderful just the way it is, but once folded, it reveals a romantic basket of flowers all tied up with a sweet red ribbon.  It's so fresh and innocent, it would be appropriate for a  teacher, daughter, or granddaughter in addition to a lady love.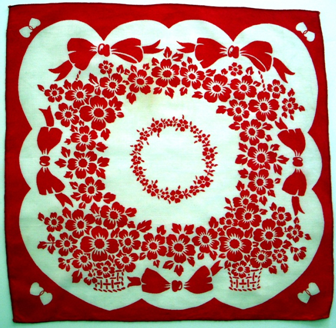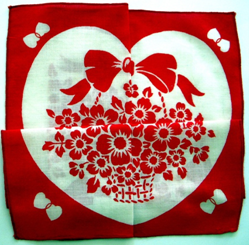 .
Another secret love message reveals teddy bears embracing and kissing.  They are so well camouflaged amidst the flowers, I honestly did not see this one coming!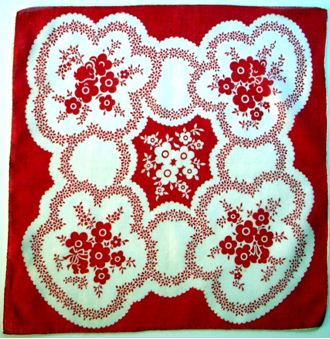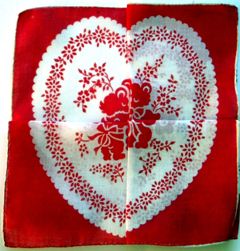 .
Here we find the reverse when it comes to surprises.  Your  hankie arrives folded in a lovely gift box, only to be unfolded to reveal –    ta-da! quadruple the love.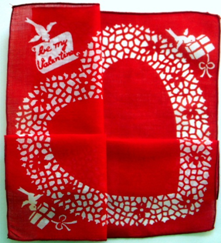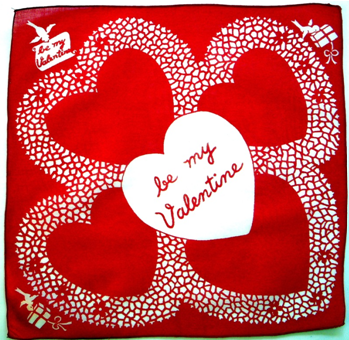 Another reverse hankie with a curlicue Be My Valentine border surrounds a pillow full of hearts. It opens to reveal hearts full of love bursting out toward all four corners. The hand rolled hem is worn and frayed, and the fabric thin, so my guess is this hankie was cherished and carried for years.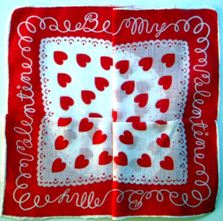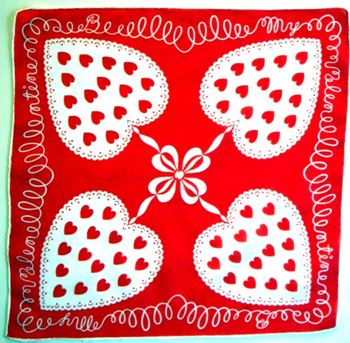 Here's a lovely Secret Love missive that, when closed creates a wonderfully symmetrical image of hearts and bows.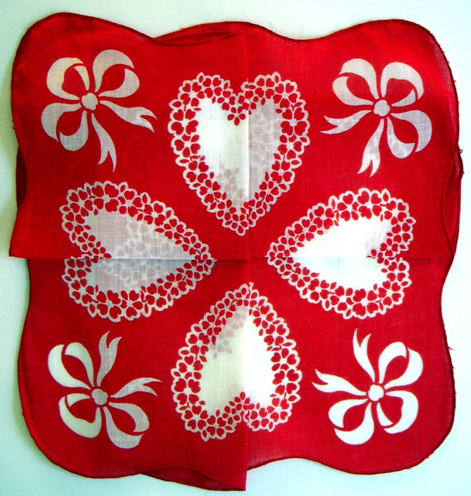 The artist focused so much on the closed image however, I think he failed to realize that once the hankie was unfolded, it would create an oddly distorted and catywompus design. It brings to mind a Valentine Picasso might have fashioned for his inamorata Dora Mar.  One thing is certain, it's a tip-off there's more to come once the hankie is folded, and we eagerly anticipate finding the secret image.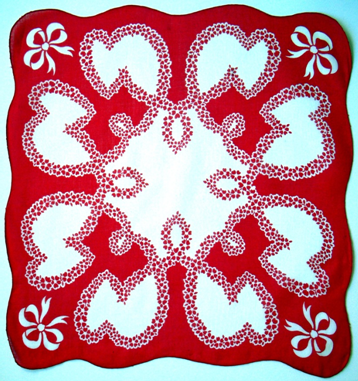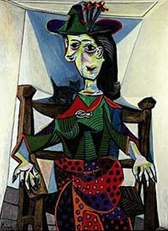 These next brightly hued hankies break the irregular border rule.  They're wild, colorful, original, fanciful and fun.  The tip-off that these hankies contain a secret message is the rather obvious letters dancing around their borders.  Of course one must parler en Français to understand  the first woven heart outline folds in on itself to say "Mon Coeur de Tout" or "All My Heart."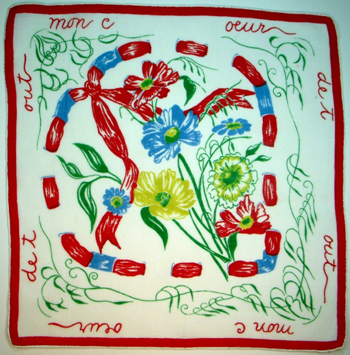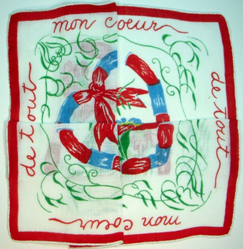 This swirl of dancing red hearts is simply divine just the way it is. They almost appear to have been fashioned from thick red yarn.  Folded, it reads "Dearest, always in my heart."
.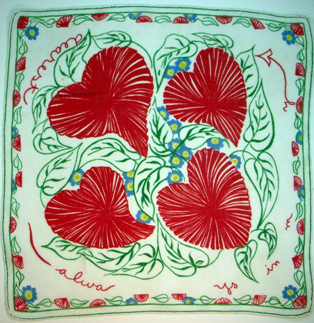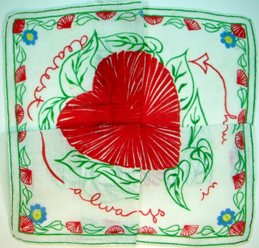 If you find it in your heart to care for somebody else, you will have succeeded.

Maya Angelou
From a distance, this hankie appears to be one large heart set against a patterned backdrop. On closer inspection we see that the backdrop reads Be My Valentine, Be My Valentine, and swirls around and around a heart filed with love, love, and more love.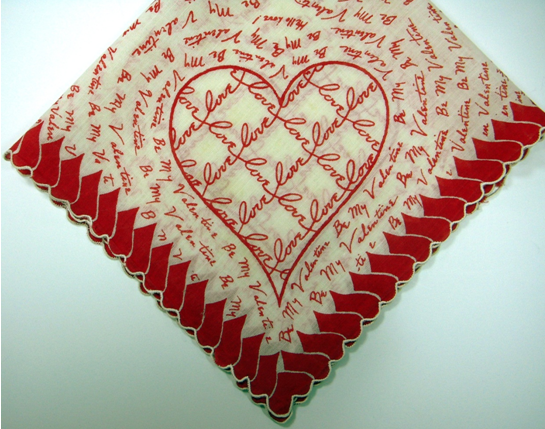 .
The glorious embroidered handkerchief below may not strictly hold a secret message, but it certainly could.  Much like our "window" hankie, these delicate organdy hearts are gently attached in one corner, but otherwise left to flutter at the touch of a gentle breeze.  They are large enough for a resourceful suitor to easily sequester something underneath.  Perhaps he could pen a tiny love note, or even pin an engagement ring beneath one of these beating hearts.  The cherubs lips are sealed, so we'll never know for certain.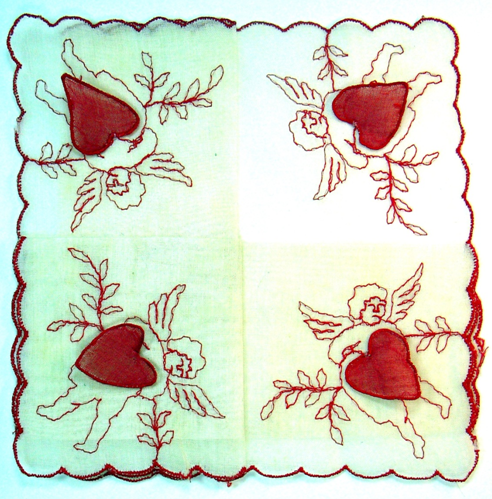 Being deeply loved by someone gives you strength, while loving someone deeply gives you courage.

Lao Tzu
There is even a song called Secret Love, written by Sammy Fain and Paul-Francis Webster, and performed by Doris Day in the 1953 movie Calamity Jane.
httpa://www.youtube.com/watch?v=fU8tQpCZEzg
Once I had a secret love

That lived within the heart of me

All too soon my secret love

Became impatient to be free

So I told a friendly star

The way that dreamers often do

Just how wonderful you are

And why I'm so in love with you

Now I shout it from the highest hills

Even told the golden daffodils

At last my heart's an open door

And my secret love's no secret anymore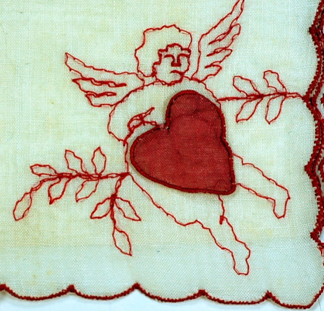 Faith means living with uncertainty – feeling your way through life, letting your heart guide you like a lantern in the dark.

Dan Millman