Ah, the ubiquitous umbrella – from British Bumbershoot to Parisian Parasol – one shelters from the rain; one shields from the sun. We reviewed their rainy day renditions in April Showers. It's now time for the sunny side of summer with its plethora of parasols. Rather than ducking and dodging sleet and showers, we flirt and flutter with carousels of color. Just being in the sun evokes smiles and happiness. A parasol seems less of a shield, and more of a sidekick, protecting us while joining in the fun. The Latin word umbra means "shade" and historians claim the cooling canopy formed by shade trees was its original inspiration.
In fact, the first umbrellas were fashioned from tree branches like eucalyptus and palm. Images of umbrellas can be found in Egypt, Assyria and China over 4,000 years ago. Their use has been recorded in Greece, Ancient Rome, Siam (Thailand) India, the Aztec culture, the South Pacific, and more.
| | |
| --- | --- |
| Terra cotta Army carriage with umbrella from Qun Shihuang tomb 201 B.C.  Alongside, a handkerchief depicts an Asian woman at rest beneath a fanciful umbrella. |     |
Marchesa Elena Grimaldi

by Anthonis van Dyck, (1623)

The umbrella was often reserved for royalty or high ranking religious officials, and was a staple in Papal benedictions, state ceremonies, royal coronations, parades and tournaments. Eventually trickling down to the upper class, it became a fashion statement, with parasols created to accessorize every ensemble. Some had staff to carry their parasols for them.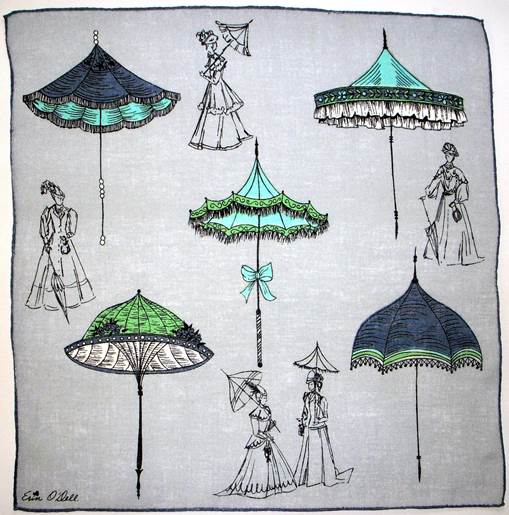 There was a time when a silk parasol was the ultimate accessory for flirting. A lady who knew how to twirl hers 'just so' could capture the eye of a suitor a quarter mile down the boulevard.  Watch the classic 1958 movie GiGi to discover how ladies strolling in the Bois de Boulogne were never strolling alone for long.  Along with the fan, gloves, and handkerchief, parasols were far more than simple accessories, when employed by a savvy woman.
 "Have a ray of sunshine and light with you everywhere you go."

Lailah Gifty Akita
   
Morning Walk,
by John Singer Sargent
(1888)
Audrey Hepburn
in Lerner & Loewe's
My Fair Lady
Often exquisitely embroidered,
A perennial bridal shower favor
Handkerchiefs were often fashioned into parasols and provided as favors for  birthday parties, bridal showers and ladies' luncheons. Evidence of the custom has been found from the 1800's right through to the 1970's (particularly in the south).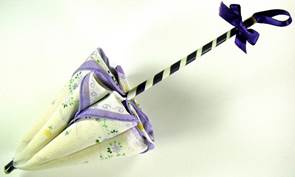 The hankie on the left illustrates proper attire in the 1800's when invited out for sassafras or a cherry soda – a parasol, gloves, tiny purse and beribboned hat. Alongside, a twenty-first century mademoiselle's hankie carries a reminder to have a wide assortment of accoutrement, including bags for evening, day or sport, and to sometimes match the hat and gloves. (Plus ça change, la plus c'est la même chose…)
Because, as this lipstick hankie reminds us, "One must suffer for beauty." Well, yes, in a bustle and corset perhaps, but today's woman can saunter out with a jaunty chapeau and sprightly umbrella just for fun.
In this pair of lipstick handkerchiefs, ladies employ their figures (check out those wasp waists!), sexy shoes, sweet parasols, fluffy poodles and whatever else it takes to attract a nearby gentleman.
Hair-dos of the era often required elaborate tousling, tucking and tending. Note the roiling ocean of curls topped by a sea faring schooner in the bottom row – yowsa! An accompanying parasol – polka dot, zig-zag, fringed or striped, could provide a fashionable windbreak.  The adjacent hankie hosts hot pink parasols dancing amidst hatboxes which contain Easter bonnets adorned with nesting birds ready to greet the spring.
Caged birds balance precipitously in tumbling towers of chairs, umbrellas, and turbaned men who bring all manner of enticements to the summer marketplace. The brilliant pops of chartreuse and magenta sing "It's summer. Celebrate. Embrace the sunshine."
| | |
| --- | --- |
| | Pablo Picasso shelters love Françoise Gilot via fringed beach umbrella as they joyfully relish a sunny summer day. |
For many, a summer umbrella spells "beach" – a snooze in the shade, a sip of lemonade, spoonfuls of ice cream, sandcastles, seashells, sinking into the sand, and a sappy romance novel.
Surely French confectioner Laudrée understands this all too well, as evidenced by their hankie with  Sunbrellas subsuming center stage. Whether the Côte d'Azur, the Copacabana, or the Canary Islands – let's go!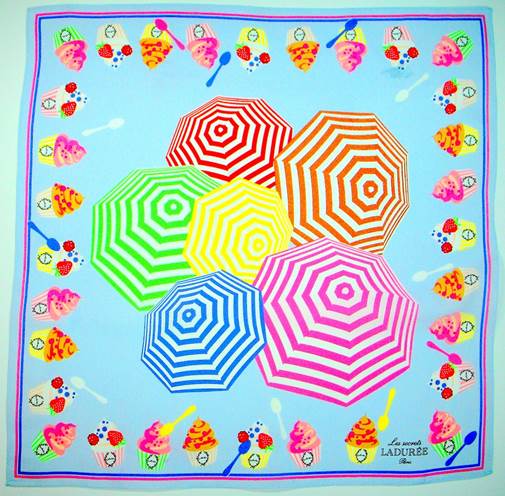 "Made a decision.  I will never let the sun happen without me again.

Darkness is almost always guaranteed unless some strange things happens.

But the sun…? Go get some!"

Robin Caldwell
For your enjoyment, piano rendition by Xianning of the 1939 song "You Are My Sunshine," by Jimmie Davis and Charles Mitchell.
Note the little man in the lower right hand corner with his requisite ice cream. 🙂 Umbrellas and cabanas encircle the bathers on this terrific Tammis Keefe handkerchief. The wonderful wavy center recalls both reflections off the water, and refractions off hot surfaces, such as sand and highways in the summer.
Maximum detail is executed with minimal graphics which draw you into a summer scene simultaneously simmering and refreshing.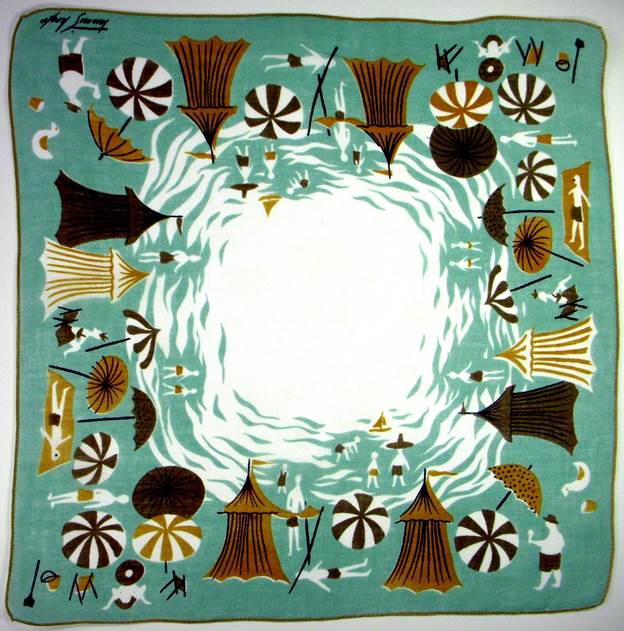 Beach umbrellas bring an instant smile to the lips, for kids of all ages. You can almost feel the sand between your toes. They conjure images of rest, relaxation, and respite, of fun and frivolity, holidays and happiness.  The umbrellas on the left resemble children's lollipops, and all manner of candy swirls, while the tasseled and floral beauties on the right bespeak subdued luncheons in the shade.
As we see with the parasols above, color can influence our mood and response, so it's interesting to experience how hues can relax or energize the same image. Below, a school of parasol toting mermaids glides quietly along in cool turquoise waters. Their counterparts seem to dance with lively abandon in a spicy paprika sea.
Lulled into lethargy by the hypnotic surf, this vacationer literally missed the boat, as we see her cruise ship sailing off in the distance. Uh-oh. (The phrase "pour vos levres/for your lips" Indicates this too is a lipstick hankie, used for blotting those ruby reds.)  Never fear, she's in a resort town filled with umbrella sprinkled bistros, featured alongside. Certainly some maître'd'hōtel, concierge, or friendly local will come to her rescue.
There's nothing so relaxing as dining al fresco under a sunny umbrella, as this canopied cantina attests. Even more enchanting is this city walkway transformed into a rainbow hued runway with a ceiling of happy-hued parasols. So simple. So spectacular.
This tiny lady's pocket square with a wide harlequin border displays a compass rose of umbrellas. It brings to mind the harlequin clad acrobats in Tammis Keefe's circus handkerchief.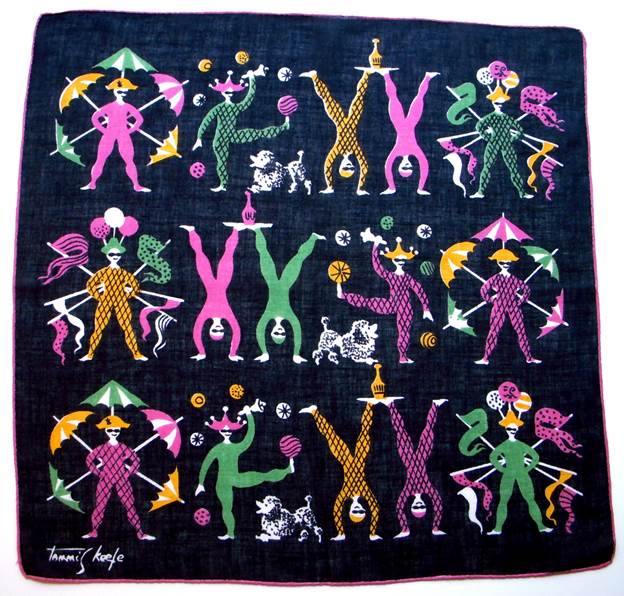 Although you'll find tigers in the circus, you can also find them high in exposed mountaintops,  so it's no surprise even tigers might seek shelter from the sun with a tiny umbrella. Love this silly hankie with its fiery tiger border. 🙂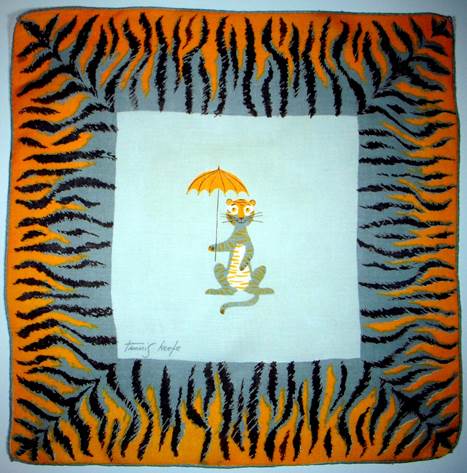 Surely all cats, wild or domesticated, appreciate a parasol. Here un charmant chat sports a striped parapluie to match her ensemble, and perhaps protect from the shower of sugary pastries descending from the sky.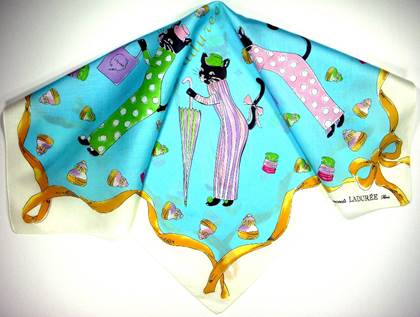 Although we featured rain umbrellas in another blog, there are certain showers which might require a happy parasol, such as…when it's raining pennies from heaven…or raining kisses xoxoxoxoxo. Flip those parasols upside down and catch all you can!
The best way to keep parasols handy? An umbrella stand of course. This beribboned border, coupled with formal urns and fanciful stands brings to mind a genteel ladies club, quaint B&B or cozy country inn. A handkerchief devoted to umbrella stands? As we've said before, collect long enough, and you're bound to find one of everything…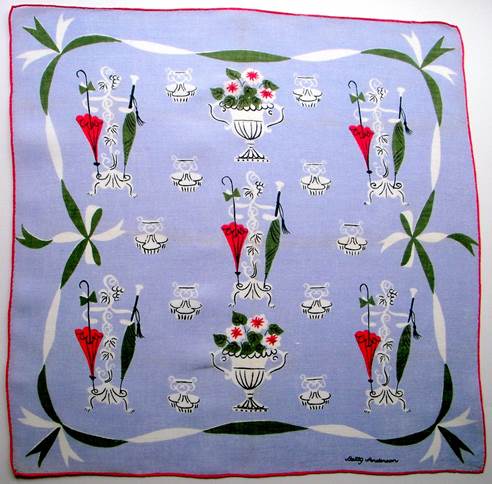 This delightful spring green hankie displays a charming wall rack with mirror for hats and umbrellas above a festive border festooned with fanciful hat boxes. It's feminine, fetching, and fabulous.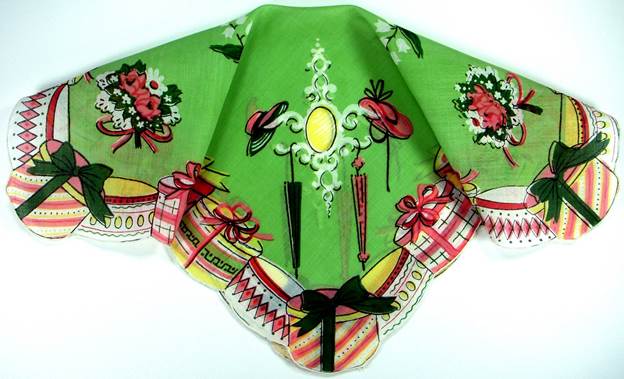 "I love when the sun plays hide-n-seek for a few days
because its invisibility often goes unnoticed…

But as soon as that brilliant sun jumps into the
open sky once again―shining in full splendor―

our closed eyes automatically turn toward it,
and we bask beneath a warm and tender touch,

grateful all the more that our glorious sun exists."

Richelle E. Goodrich
So get out there and grab some sunshine. Twirl your umbrella and get your boogie on.  If Gene Kelly can frolic in the rain, you can certainly shimmy in the sun.