What do Queen Elizabeth II, First Ladies Eleanor Roosevelt, Bess Truman, and Mamie Eisenhower, Hollywood's Judy Garland and Elizabeth Taylor, Broadway's Helen Hayes, and even the Gabor sisters all have in common?  They all were crowned in hats designed by Sally Victor.  That's quite an entourage to count among your stable of admirers.
Included among luminaries Lilly Daché and Mr. John, as one of America's leading millinery designers, The New Yorker magazine (1954) described Victor as "a magnificent sculptress of straws and felts."  She was actually credited with reviving the Ecuadorean economy by making Panama straw hats the "it" accessory, even with young women in the 1960s, who famously went bareheaded much of the time.  It's not surprising then, to find a fanciful straw bonnet commanding center stage in one of Victor's handkerchief designs.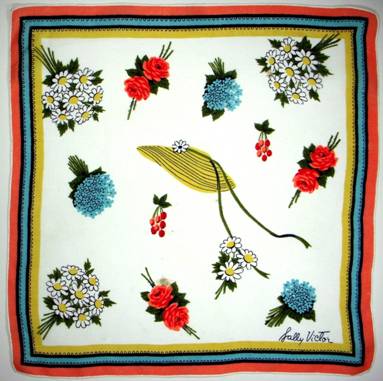 Born Sally Josephs in Scranton, PA in 1905, she was one of six sisters who were taught, in her words "to sew, and sew well."  As the daughter of an inventor, entrepreneurship was in her blood, and Victor began designing her own hats and outfits by age 14, then boldly left home at 17  to study painting for two years in Paris. (This was at a time when many women still did not have the right to vote!)
"If you want to establish an international presence, you can't do so from New York. You need the consecration of Paris."

Oscar de la Renta
When she returned from abroad, Victor went to work for Macy's in millinery, and was hired away by L. Bamberger & Co. In 1927 she married hat manufacturer Sergiu Victor, who so admired her taste and style that in 1934 he gave Sally $10,000 to set up her own shop.  (To put things in perspective, an average house in 1934 cost $6,140, the equivalent of $100,000 today.  The average car cost $624, the equivalent today: $10,213.)  According to Sally, she went through the $10,000 in the first month!  Not to worry, women flocked to her new establishment, which became an instant success. Within five years her husband had closed his operations and joined her.
For those who credit today's designers with the notion of ready to wear, know that Victor embraced the concept in the 1930's.  With her hats costing $35-$99 (up to $1000 with fur or jewelry) her styles were 'knocked off" overnight and sold at bargain prices. To limit cannibalization of her designs, Victor created "Sally V" to bring moderately priced hats ($15-$35) to women.  Soon, Sally V accounted for 50% of her revenue. (Victor regularly sold $500,000 in hats annually.)
Historical Conundrum
Speaking of knock offs, here's an almost exact copy (with scalloped edges added) of Victor's design, but unsigned, next to the original.
| | |
| --- | --- |
| | |
I've asked numerous collectors over the years and have yet to receive a definitive answer to this mystery.   It's not uncommon to find designer images both signed and unsigned, but why?  Some artists had exclusives with stores like Lord & Taylor and Neiman Marcus, who purchased specific images for a season or run.  When the exclusive expired, the images could be sold elsewhere.  But why sell the image unsigned?   Most designers were so well known (Victor, Keefe, Tait, Kompa, Miller, Prichard) I can't imagine them risking a contract by selling unsigned items out the back door.  One expert who has spent his entire career in retail claims it's not uncommon for certain manufacturers to sell 'under the table' without the artist's knowledge, and indeed "knock offs" are still big business today, particularly in handbags.  It certainly happened with Victor hats. Is this what we're witnessing with the hankies above?  I welcome input from anyone knowledgeable in this area.
A Prolific Designer
Victor didn't sketch, but instead worked directly with hat forms and materials.  She could spend as long as a week to create a single hat, yet under pressure could create up to 30 styles in a day, and more than 2,000 styles a year.  According to Victor, inspiration was everywhere.  In 1952 she did a series commemorating Marco Polo's birth based on Asian themes using shapes inspired by fans, lanterns and pinwheels.  The inspiration for her 1940s Flemish Sailor hat came from a 15th century painting by Roger van der Weyden.  She designed a line of 'chessmen' hats after admiring a show of antique chessmen at the Met.  She derived yellow bonnets from Van Gogh, beige pillboxes set with seashells from Gauguin, and bold geometrics from Mondrian. Some of her best known works were the collapsible straw hat, the war worker's turban and the air wave or pie crust hat.  She was the only milliner to win the coveted Coty Fashion Critics Award (1944, 1956.)
| | | |
| --- | --- | --- |
| | | |
| A stunning straw topper swirls to perfection.Can't you see this on Myrna Loy in The Thin Man? | Sally Victor hard at work creating a new hat on a model (photo Life Magazine) | Felt 'pie crust' hat worn by First Lady Mamie Eisenhower. Note the peeps of burgundy from the underside. |
"I can wear a hat or take it off, but either way it's a conversation piece."

Hedda Hopper
Casting a Wide Net
With many designers, you can become so attuned to their style, you can spot their creations instantly, but with Victor, her sources of inspiration were so vast,  you're never quite sure what you'll discover in her designs.
Here we witness her workroom inspiration boards for both spring and fall.
Once she's 'pinned' her ideas in her imagination, can a full blown execution of the seasons be far behind?
| | |
| --- | --- |
| Spring erupts in all its glory with a garden bursting with bountiful blooms. You can       almost hear the birds chirping. | While fall snuggles at the hearth with chocolatey cocoa and spicy cider. So rich, so classic, so Sally. |
| | |
Who wouldn't love to carry this beribboned beauty on Easter morning? What a perfect accompaniment to a Sally

 Victor Easter Bonnet.
| | |
| --- | --- |
| | A bridal bouquet as delicate and ethereal  as a bride's veil. Perfection. |
The  Bigger Picture
| | |
| --- | --- |
| A wonderful fall fern hankie shown alongside six uncut signed handkerchiefs ready to be separated & finished.  Note there are 2 variations in design. | |
| | |
| --- | --- |
| Who besides Victor would adorn a hat with a fully decorated Christmas tree?  It reminds me of the time Rosalind Russell as Auntie Mame plucked a bird ornament from her holiday tree, affixed it jauntily to her hat,  and headed out the door to party on!  Victor understood the dynamics of advertising & sponsorship. The tagline reads: "Christmas hat created by Sally Victor especially for Pepsi." (Woman's Day 1958) Indeed, who besides Victor could encircle a silk turban in a satellite of sable? | |
Although the floral and net hankie in the middle cannot be attributed to Sally Victor (or can it?) the feel is pure Sally – feminine and fabulous.  Who else could command magazine covers from 1941 to 1965 and beyond, showcasing something as simple as a hat?
"When you wear a hat, you become the dream that started when the hat was conceived. The original energy that was put into the hat doesn't die; it only changes form and owner. The dream doesn't die; it is passed on, sometimes from generation to generation."

Unknown
 Victor Dictums
"A woman does not need a hat for each season or outfit.  A good hat can be worn any time" declared Victor.  "You can wear a black velvet hat in June or a white hat in November if the hat looks well." (Take That Joan Rangers.)  My mother told me that women would save for months to buy 'one spectacular hat.'
"As for husbands" Victor opined, "they should remember their wives are hatting themselves for compliments.  Criticizing a hat", she claimed, "is a husband's psychological outlet, his way of letting off steam.  What he feels about his wife he says about her hat.  If a girl's husband criticizes her new hat, she shouldn't blame the designer, she should consult a lawyer."   (Time Magazine, March 30, 1954)
Say what???  Run that by me again… If your husband criticizes your hat, it's not the hat that's at fault; it's your marriage that's in trouble.  Whooeee. Victor missed her calling.  She could have taught marketing to Harvard MBAs, or PR to Madison Avenue honchos!   No wonder her son became an attorney.   I'm sure he learned at her knee that to plead your case with mom, you'd need the skills of a savvy litigator.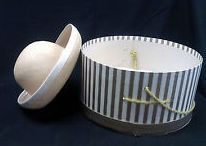 In 1997, the Brooklyn Museum of Art's costume and textile collection curated Sally Victor: Mad Hatter showcasing twenty-five theme hats, including a series influenced by Picasso, Braque, Gaugin, Mondrian, and an Ethnographic series inspired by the African and Peruvian collections of the Brooklyn Museum.  Included were the snood, the hood, the bonnet, and versions of folk headwear. Let's face it, we're all inspired by what we see in our environment, but Victor (along with Yves St. Laurent) was not hesitant to credit the source of her inspiration, which I find refreshing.
When a woman feels beautiful, she carries herself differently.  When gifted with a fabulous hat, which she knows is an adornment, not a necessity, the message conveyed is "this beautiful painting deserves an equally stunning frame" to showcase the wearer's beauty.  As we saw with the 2011 royal nuptials, great care was taken, from Victoria Beckham on down, to find the perfect chapeau, to call attention without uttering a word, to set off the jawline, to flirt. Hats, like hankies, are the perfect accouterment to attract attention, and arn't we lucky Sally Victor provided us with terrific examples from both fashion venues?