"The circus had been unlike anything I could ever imagine and I could not walk away.    I wanted to be a part of the magic, create it and wield it with such skill that it looked effortless. I wanted to fly."
From P. T. Barnum in the 1800's right up to today's spectacular Cirque de Soleil, the circus has always stood for spectacle, awe, and magic. The costumes, calliopes, and clowns, the trainers, technicians and tightrope walkers, the animals, acrobats and atmosphere transport us to a realm of wonder and escape. As one young father taking his son to the circus for the first time told me "Who hasn't wanted to run away with the circus at least once in their lifetime, whether they were 7 or 47? Who hasn't dreamed of being the ringmaster?"
Not too surprising then, that we find images of the circus on hankies for both children and adults. Let's begin with children's hankies, and their call to adventure. The blue bordered hankie shows a tiny ringmaster dead center, whose presence is far outweighed by the charming lion tamer anchoring the corner, who couldn't be more than 5 yrs old, yet he's definitely running the show. His fearsome lions look mighty cuddly, so there's no real cause for alarm. Likewise the silly mustachioed maestro in pink holds sway over a menagerie of bunnies and teddies, perfect for a child's circus.
| | |
| --- | --- |
|   |   |
The little pigtailed miss standing too close for comfort to the caged tiger might be cause for alarm, save for the message which reads "This fearsome beast just had a feast." (Let's hope it wasn't her little brother….just kidding.) The soft blue scalloped frame transforms "fearsome" to "friendly" and the tiger looks more like Tony of Frosted Flakes fame. Any little girl would love to have this fiery red souvenir from her day at the circus.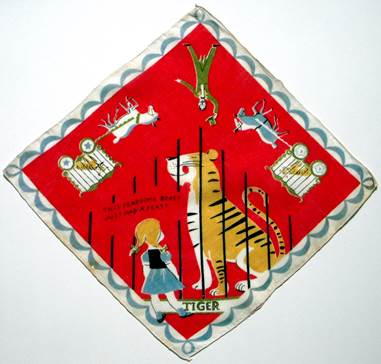 Ah, but the ringmaster of the 1930's children's handkerchief is the "real deal" – quintessentially P.T Barnum, this powerful marshal in shiny boots is twice the size of the elephants!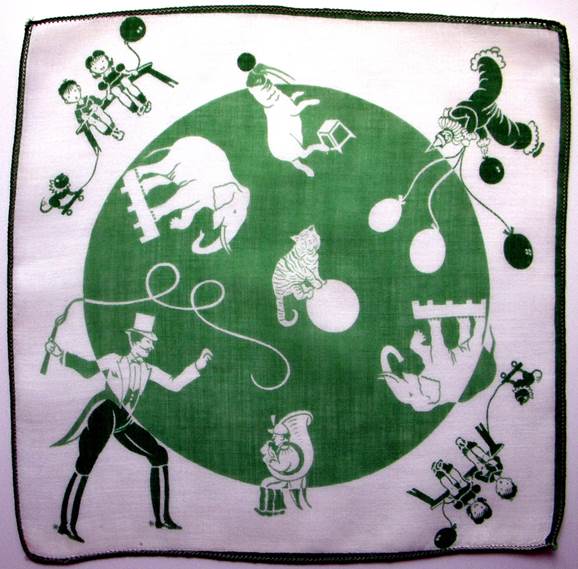 Barnum's spectacle of thrills was grossing $400,000 a year in 1870! By 1872, his "Traveling World's Fair, Great Roman Hippodrome and Greatest Show on Earth" could seat 10,000 customers. Who says people don't yearn to escape reality? Like the maestro on this hankie, Barnum excelled at portraying himself larger than life. His elephant Jumbo was dubbed "The Towering Monarch of His Mighty Race, Whose Like the World Will Never See Again. (Top that, you barons of branding!)
There's no proof Barnum ever said "there's a sucker born every minute." He did, however, opine "Every crowd has a silver lining." 🙂 He gave the people what they wanted, and they came in droves. His maxim holds true for successful corporations today. As speaker and author Scott McKain wisely observes "All business is show business." You have to capture your customer's mind and heart before you can capture his business.
That being said, let's throw in a little showmanship for you – Entry of The Gladiators, composed in 1897 by Czech composer by Julius Fučik, it was often used at circuses to introduce the clowns.
httpa://www.youtube.com/watch?v=_B0CyOAO8y0
The next circus hankie has it all – side shows, clowns, silly monkeys, caged tigers, and trained seals executed in fresh, friendly colors. It's totally entertaining and we want to join in the fun. The topsy turvy layout forces your eye to roam about, much like you would at the circus.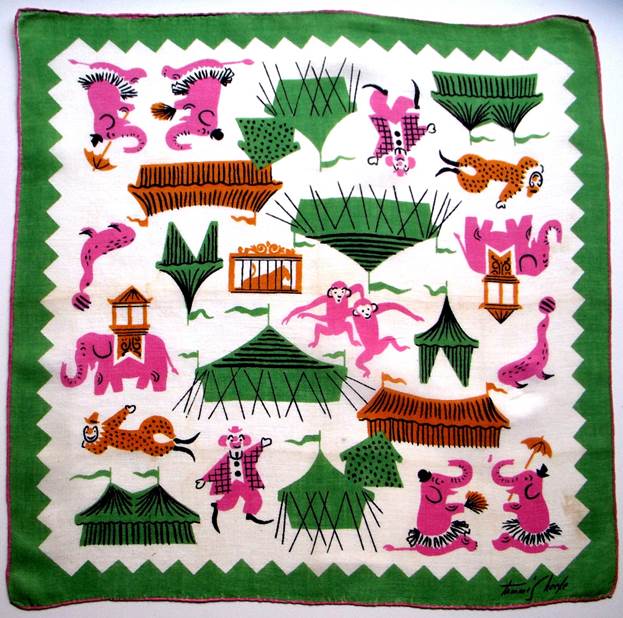 | | |
| --- | --- |
| | Note the punctilious pachyderms in top hats and tutus sporting fans and umbrellas to ward off the heat. As always, artist Tammis Keefe manages to pack maximum punch in minimum space. |
Let's trek beneath the Big Top and catch the show.  Frankly this juicy pink leaves one's jaws jonesin' for a beehive of cotton candy, no? Paired with chocolate (as in covered peanuts?) and olive, the color palette is sophisticated and fun. Proportions are fanciful, like those in our dreams, and we even spy a peripatetic penguin sauntering through the scene. (Did you find him?)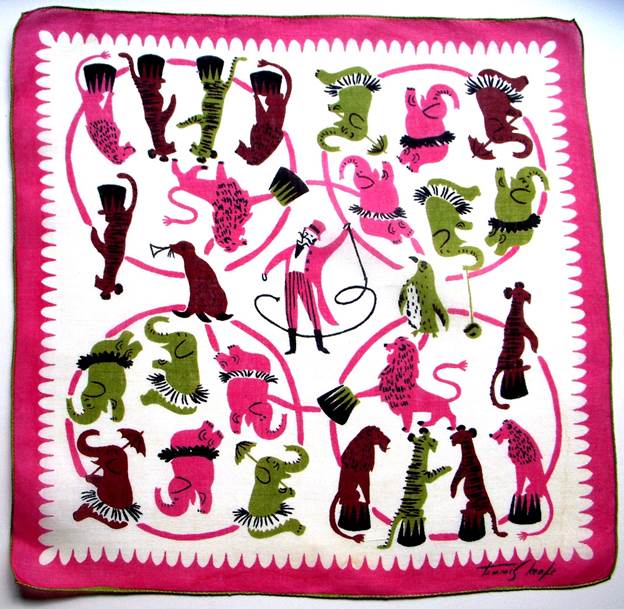 | | |
| --- | --- |
|   | Check out the ring with the big cats. We could be back at the watering hole on the savanna (or at the local singles bar for that matter) as the King of Beasts struts his stuff before a pair of admiring tigers. The gals smile and wave in approval, while his wing men eavesdrop to discern what the ladies find most enticing about the show. Some things never change…. |
How terrific is this tenacious he-man? The brilliant shades of gold, orange and sunshine yellow are so merry you can't help but smile. It reminds me of something Guy Laliberte said when describing his magnificent Cirque du Soleil. "The sun stands for energy and youth, which is what I thought the Circus should be about."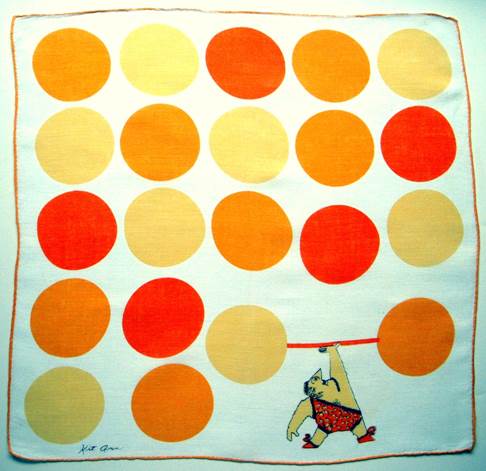 Starting in Montreal as a street performer, accordion player, stilt walker and fire-eater, Laliberte co-founded Cirque du Soleil with Gilles Ste-Croix (who once walked 56 miles on stilts to earn an art grant from the government of Quebec.)
"I believe in nurturing creativity and offering a haven for creators, enabling them to develop their ideas to the fullest. With more and more talented creators being drawn to Cirque in an environment that fulfills them, these are ideal to continue developing great new shows."

Guy Laliberte
Here's a perfect harlequin hankie for Guy, with a radiant Soleil shining from every corner.  Zip. Zap. Zing. Pop. Pow!!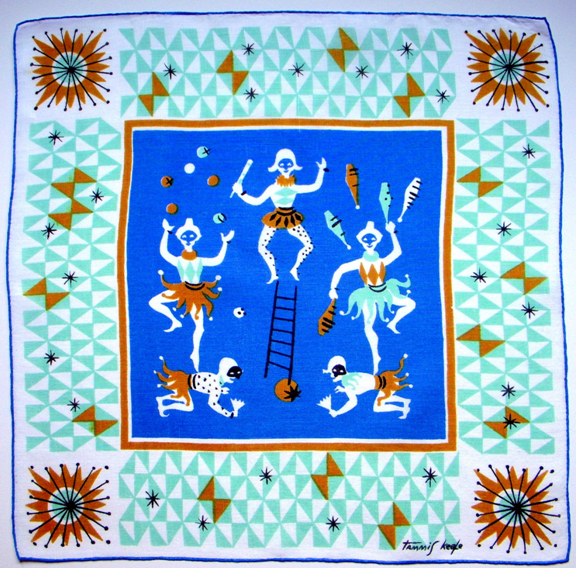 .
Because Cirque does not use animals, I've saved these delightful images to both complement and compliment the work of this outstanding company. (Admittedly, you'll find a poodle or two scampering about, but there are no animals chained or caged.) The artist does such an outstanding job conveying exuberance, there is little else to say except "Enjoy!"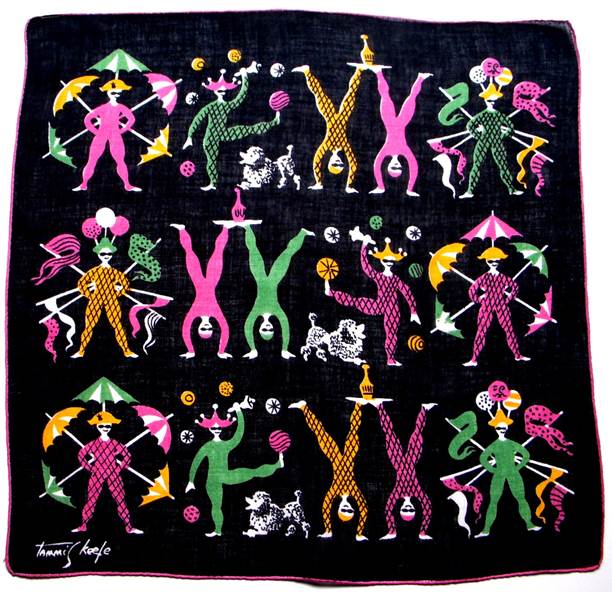 Forget Pilates, aerobics and Jane Fonda, "Hie thee to the circus!" What better workout is there?  Love the deep gray, ice blue and gold which make the fiery orange POP!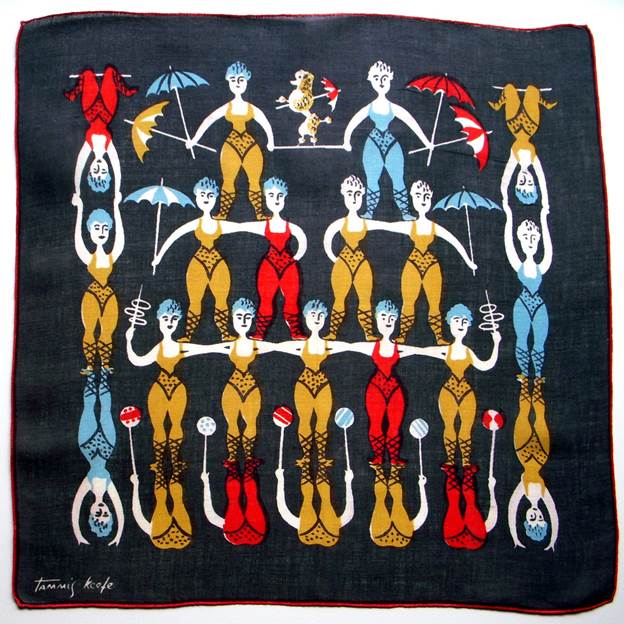 This hankie combines magic with juggling and all manner of eye-catching special effects.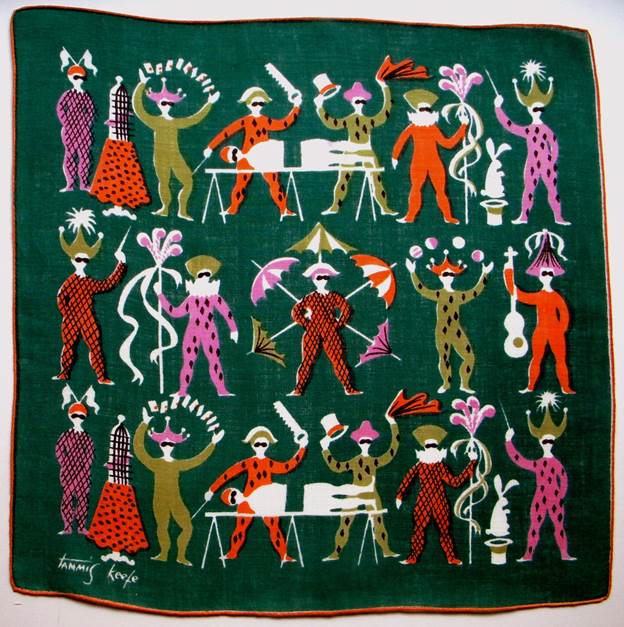 | | |
| --- | --- |
|   | The plumed staffs with streaming ribbons, held by masked harlequins in fanciful hats, evoke images of a Venetian Masquerade Ball. Showmanship at its finest, and we want to join in the adventure. Yes, yes, yes! |
Speaking of adventure, in 2009 Laliberte became the first Canadian civilian guest to travel into space. I read he undertook the flight the raise awareness about water issues on the plant. Apparently he spoke to Bono at a U2 concert live from space and yes, wore a red clown nose. In case you think he was simply clowning around, in 2007, Laliberte founded the "One Drop" foundation, dedicated to giving poor people access to cIean water, and funded it with $100 million of his own money. Yes, you can live your dream and have fun too.
"I am blessed for what I have, but I believed in it from the beginning. Today, the dream is the same: I still want to travel, I still want to entertain, and I most certainly still want to have fun."

Guy Laliberte
Joy & magic, risk taking & adventure, it's all there for you at the circus. Perhaps that's why the men of Monty Python called their group the Flying Circus. More than pals simply fooling around, two are Oxford University graduates, and three attended Cambridge. Their comedy references philosophers as well as literary figures, and they brilliantly skewer politicians. Incisive at their craft, they knew their audiences could swallow sometimes bitter pills if coated with humor. In fact, many in show business describe their profession as being like a circus.
"Nobody should try to play comedy unless they have a circus going on inside."

Ernest Lubitsch

.

"I remember in the circus learning that the clown was the prince, the high prince. I always thought that the high prince was the lion or the magician, but the clown is the most important."

Roberto Benigni, Academy Award winner, Life is Beautiful
Dani Dipierro of Positively Present, shares lessons she has learned from the circus.
1. Be the ringmaster. It's your life.
(Don't let someone else call the shots for you.)
2. You're on a tightrope. Keep your balance.
(Don't let one area of your life take over.)
3. Toss your hat in the ring. Get involved.
(Push your boundaries. Take a risk. Don't be just a spectator.)
4. Set up a sturdy net. You will need back-up.
(Have a network that will catch you when you fall.)
5. Clown around. Life's too short to be serious.
"Keep the circus going inside you, keep it going, don't take anything too seriously,

It'll all work out in the end".

David Niven
So many of us have attended the circus at some point in our lives, if you have a story or comment to share, we'd love to hear from you. 🙂
To view our circus hankies in video format, please visit us HERE.