I love the rain. I want the feeling of it on my face.

Katherine Mansfield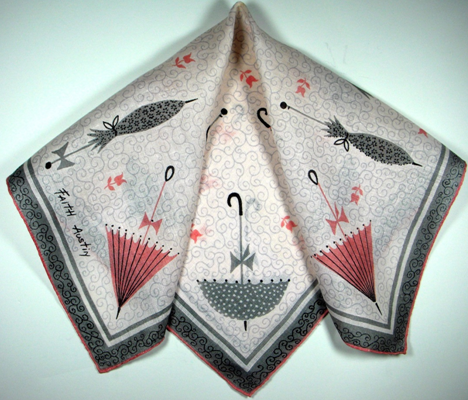 The first umbrellas were actually fashioned for protection from the sun.  The Latin word umbra means "shade" and historians claim the idea for the umbrella was inspired by the canopy of a tree, which offered relief from the sizzling heat.  Originally, umbrellas were probably fashioned from tree branches covered with cloth.  Although many attribute the umbrella's origin to China in the 11th century B.C., there is evidence of umbrellas being used during the same time period in India.
I guess I'm putting the cart before the horse when featuring handkerchiefs adorned with rain umbrellas, since we should probably be starting with sun umbrellas, but it's April, and it's raining, so here we go… Around 1700 the idea of waterproofing umbrellas to protect folks from the rain caught on – no surprise – in England.  Umbrellas were kept in inns and coffee houses to use to shelter ladies walking to their carriages. The first man to regularly carry and umbrella, rain or shine was Jonas Hanway, claiming it protected his clothing from both sun and rain.  The fashion caught on and umbrellas were sometimes known as Hanways.  By the 20th Century, the use of the "sun parasol" faded from fashion and umbrellas were viewed as strictly utilitarian, as protection from the rain.  (Never fear, we'll cover the fashion aspect of the parasol – and indeed it was major fashion accessory, in a future blog.)
"Is the spring coming?" he said. "What is it like?"…

"It is the sun shining on the rain and the rain falling on the sunshine…"

Frances Hodgson Burnett, The Secret Garden
Joyful pink, magenta, turquoise and sunshine yellow make this hankie a terrific antidote to a dull gray day.  The storm is a deluge, a downpour, but the driving sheets of rain seem to shimmer and glisten, bouncing off the bustling bumbershoots.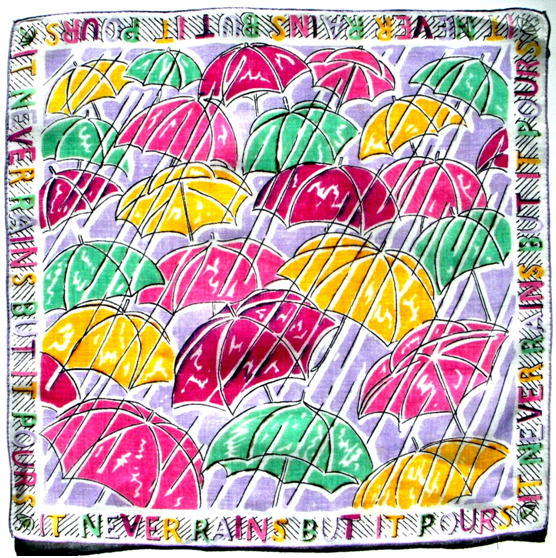 .
The background of soft gray in this hankie is the exact color of an overcast sky, and could set the mood for your entire day, if you're not careful.  Luckily the mist is parted by a flock of wacky, silly, foolish ducks livin' it up. Rain! Hooray! Let's go out and dance.  Many resemble the bright yellow slickers worn by both children and adults, not only to heighten their visibility to motorists in the grim drizzle, but to perk up spirits, and make it A-OK to splash in a puddle now and again.  The artist has taken great care to add charming detail depicting the feathers on this shower of sky fowl.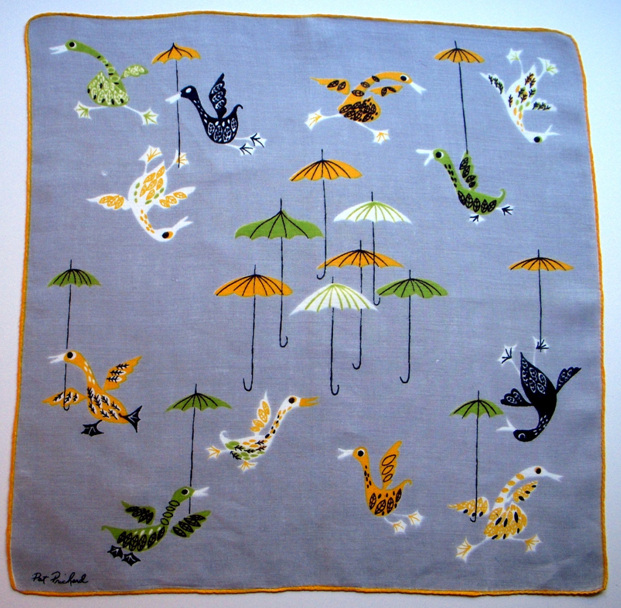 And when it rains on your parade, look up rather than down. Without the rain, there would be no rainbow.

Gilbert K. Chesterton
Admittedly, there are days when you'd give anything to escape the storm's fury. This brilliant kelly green silk scarf with pedestrians silhouetted in black perfectly portrays the fearsome feeling of being buffeted by freezing sleet, and feeling chilled to the bone.

.

.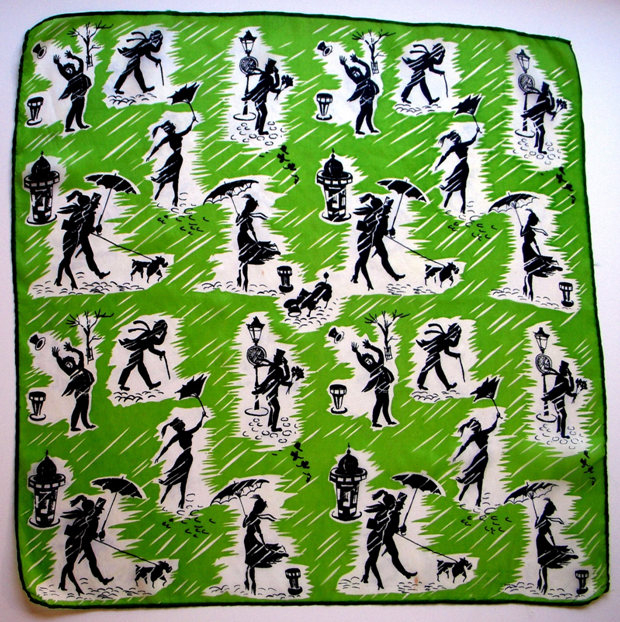 .
Which is why we employ the popular chant: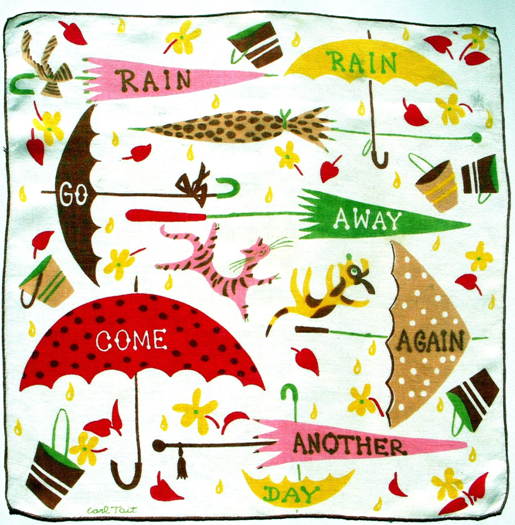 Note it's raining cats and dogs. It's raining buckets. It's raining every cliché and metaphor we've ever employed for a torrential downpour.  Carl Tait illustrates our frustration in such a delightful way, we know we'll eventually laugh at our own grumpiness.  No ice blue or gray in sight, everything is chocolaty brown, sunny yellow or fire engine red to evoke a feeling of warm and cozy.
Many a man curses the rain that falls upon his head, and knows not that it brings abundance to drive away the hunger.

Saint Basil
Rain is grace; rain is the sky descending to the earth; without rain, there would be no life.

John Updike
| | |
| --- | --- |
| Certainly we've all been taught the wise adage to "save for a rainy day."  When it's raining tiny pennies from heaven against a hot pink sky, it's not such a sacrifice to practice practicality and parsimony. |   |
.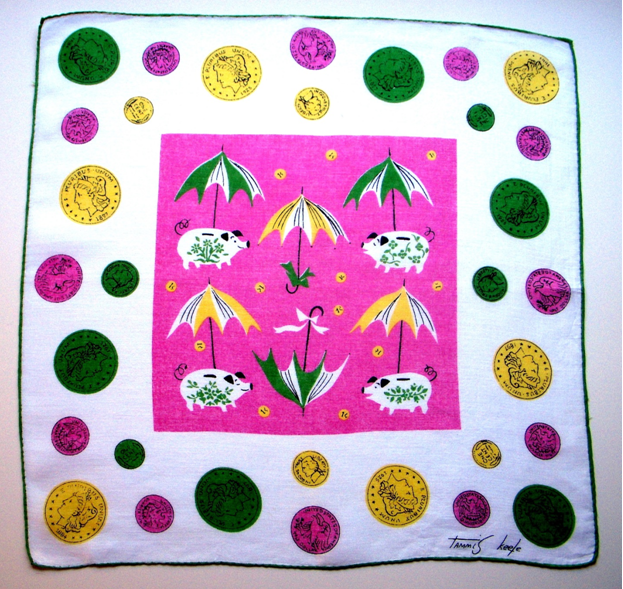 The shortest period of time lies between the minute you put some money away for a rainy day and the unexpected arrival of rain.

Jane Bryant Quinn
Regardless of the season, an umbrella can always come in handy, as this child's hankie so aptly illustrates.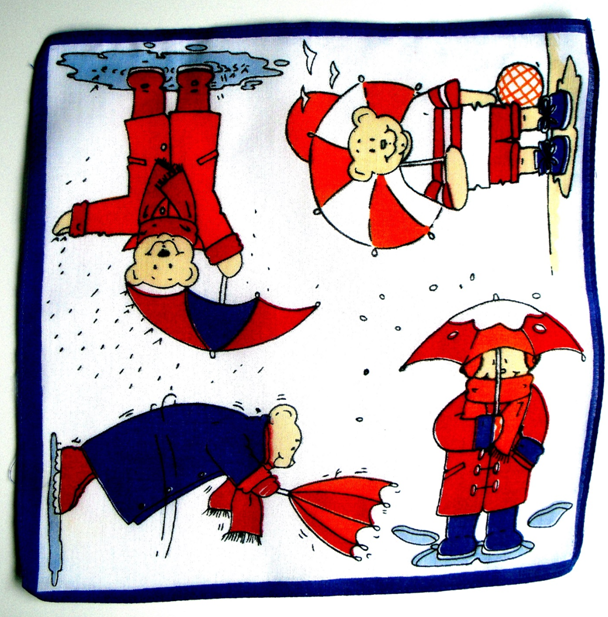 Thy fate is the common fate of all; into each life some rain must fall.

Henry Wadsworth Longfellow
And let's not forget the opportunity for romance when getting caught in the rain.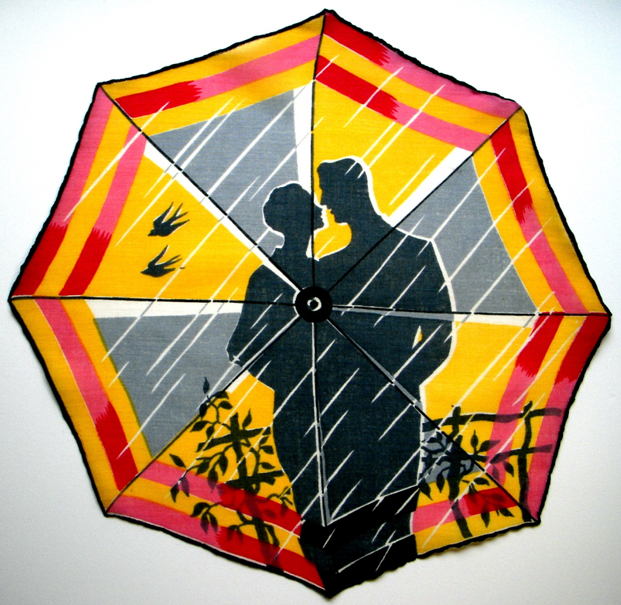 Save a boyfriend for a rainy day – and another, in case it doesn't rain.

Mae West
So pull on your rain boots, pop in a pocket square, and get splashing.  This tiny hankie was fashioned for frivolity. Peeping from the pocket of a vintage 1970's Louis Féraud silk blouse, the bold geometric border is up-to-the-minute hip and retro chic.
This hankie feels more like fall to me with its rainbow hued foliage, but the colors are so cheerful and the couple so sunny, I decided to include it here. With her Doris Day hairdo and his lime green pants, they're 1970's all the way.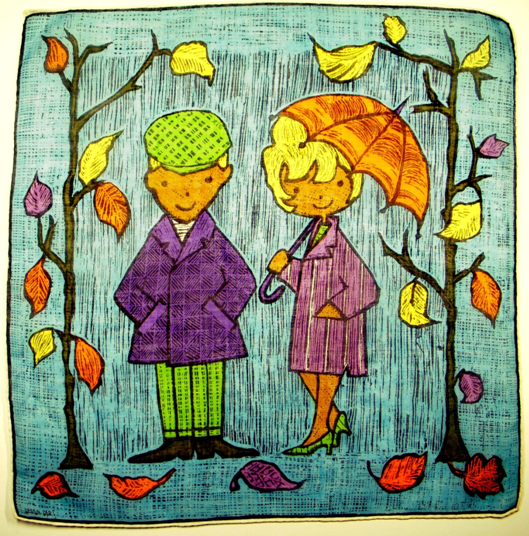 .
To lift your spirits on a rainy day, we've included a few well known paeans to the puddle maker.  I found over fifty songs about the rain without trying, most with evocative and soulful lyrics.  Is it because we ourselves are comprised of over 50% water that we so identify with the rain? Or because it mimics the act of shedding tears?  I made sure to include some fun and happy songs, so…Enjoy!
No one did it better than the marvelous Gene Kelley in Singin' in the Rain (lyrics by Arthur Freed and music by Nacio Herb Brown, published in 1929.)   He was in love and who cared if it was pouring. A deluge can't dampen a warm heart.
For the do-wop generation, Rhythm of the Rain by The Cascades  (written by John Claude Gummoe. Released in1962.)
httpa://www.youtube.com/watch?v=gmF_bG5IVnM
.
Last, but never least,  April Showers  (music by Louis Silvers, lyrics by B. G. De Sylva, published  in 1921) Made famous by Al Jolsen in the movie Bombo, April Showers has been sung by everyone from Bing Crosby to Cab Calloway. Here's a jazzy little version by Mel Torme (whose voice was dubbed The Velvet Fog)
Let the rain kiss you. Let the rain beat upon your head with silver liquid drops. Let the rain sing you a lullaby.

Langston Hughes