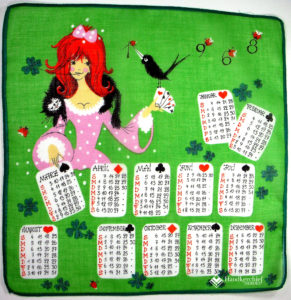 "Luck is a strong horse; it can carry a man to very distant places!"

Mehmet Murat Ildan
Is luck in the cards for you this year? In handkerchief's heyday, a favorite Christmas stocking stuffer was a calendar hankie proffering best wishes and good luck. The Swiss German handkerchief above abounds with four leaf clovers and ladybugs. The comely miss needn't fear having a black cat draped across her shoulders as the cards  she's holding are all Aces! Note how the months cleverly mimic playing cards. Note fashion hankies were still popular in 1968. Fanciful hankies were a go-to wingman for conversation starters and flirting. Here's a cherry red hankie loaded with good luck to carry in your purse all year long.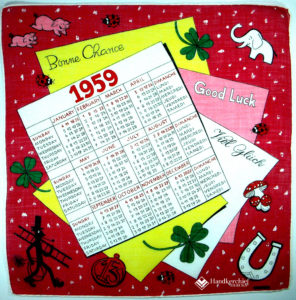 More calendar hankies filled to the brim with good luck. Do you recognize all the symbols?
Who's the funny little guy with a ladder? One friend said he thought it was the groom using a ladder to help his lover elope!  Yet in the hankie below we find our mystery man alone on the street, while the bride and groom motor off on their honeymoon. You first met this couple in our Love & Marriage blog. In case you missed or forgot the symbolism, here's a quick review: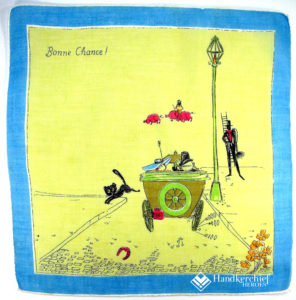 The honeymooner's tire has been punctured by a plethora of nails, a black cat just crossed their path, and they lost their good luck horseshoe, yet they merrily roll along with luck on their side. Four leaf clovers literally spring from the pavement, while a shepherd guides his herd of pigs. Yes, pigs. In Teutonic nations the pig is considered good luck, as well as a symbol of fertility and wealth. The chimney sweep (our mystery man) also brings good luck. Legend has it when Prince Philip married Queen Elizabeth II, he dashed out of Kensington Palace to shake the hand of a chimney sweep waiting nearby for good luck. Chimney sweeps are routinely in attendance at wedding receptions to insure good luck to the couple. (You can learn why at Love and Marriage.)
"Luck came to those who left a space for it."

Terry Pratchett
These lipstick hankies feature a chimney sweep bringing "Chance et Bonheur" or "Luck & Happiness". On the right, an envelope spills forth with time worn bridal traditions (something old, something new, something borrowed, something blue, and a sixpence in her shoe) as the happy couple depart on their honeymoon.
A charming image of voyaging lovers, whose friends wish them well with the wave of a hankie. Mais oui, bien sur!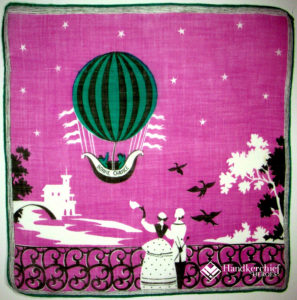 Sweet little girls carry bouquets of good wishes, while the crowned frog clutching a four leaf clover hopes for a kiss to complete his transformation into a handsome prince. He's such a cutie, we're certain he'll succeed.
Although this hankie is yellowed at the folds from having been stored away for so long, I had to share it as it abounds with symbols of good luck, including tiny sprigs of lily of the valley, a favorite floral for bridal bouquets. According to The Language of Flowers, it signifies a "return to happiness."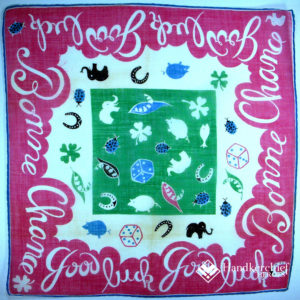 The hankie below harkens back to our blog on gambling reiterating the superstition "Lucky in Cards, Unlucky in Love."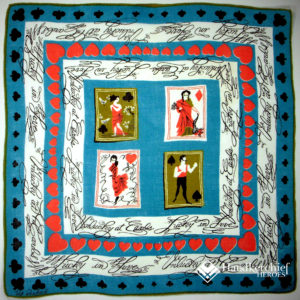 For those who easily succumb to superstition's spell, we're here to silence your doubts and dispel your fears with endless images of good luck. Four-leaf clovers abound on this little gem, and indeed make you want to smile, which may in turn attract good luck.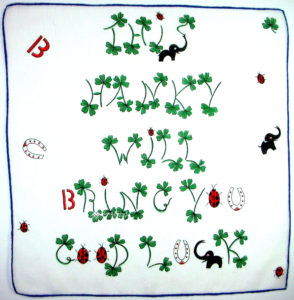 So what's with all the elephants? Some cultures consider them good luck. The Chinese view them a symbol of strength, wisdom, fertility and longevity. Feng-Shui practitioners claim a decorative elephant should face the front door of the home, allowing good luck to enter. Its trunk should be lifted skyward. Ganesh, the elephant-headed god revered by Hindus and Buddhists is considered the Lord of Good Fortune who provides prosperity and success. He is the remover of obstacles, as well as patron of the arts and sciences, learning and wisdom. Buddha used the white elephant as one of his incarnations, making it a symbol of blessing.
"In every day waits fortune like a seed to sprout."

Sharon Duerst
What about those bright red ladybugs we see zipping about hither and yon?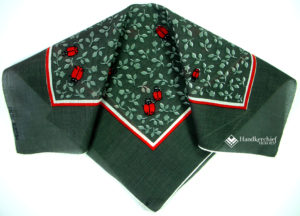 Legend has it that farmers whose crops were being destroyed by aphids prayed to the Virgin Mary for help. Soon thousands of ladybugs appeared and the crops were saved. Henceforth they were referred to as "Beetles of Our Lady" which evolved into "ladybugs." The ladybug is still considered good luck for protection against all harm; some say if a ladybug lands on you, it's a sign you'll succeed in love, have financial success or receive some other desired wish. Visually, they're the perfect accent for this gray and moss green hankie.
"I'm looking over a four leaf clover that I overlooked before."

1927 song, lyrics by Mort Dixon, music by Harry M. Woods
Couple ladybugs with four-leaf clovers and you double your luck! These hankies are deliciously delightful!
Irish legend claims St. Patrick utilized the three leaf clover to teach about the Holy Trinity; but what about the four-leaf clover? Some believe it represents faith, hope, love and luck. Just to find one would be seem a stroke of luck, since there are approximately 10,000 three-leaf clovers for every "lucky" four-leaf clover. In addition, there are purportedly more four-leaf clovers in Ireland than anywhere else on earth, thus giving rise to the phrase "the luck of the Irish".
Hazel:  "Listen babe you have to search for your luck. It's nice if it just falls in your lap but I look for my lucky pennies…"

Maggie:  "What do you do with all your pennies?"

Hazel:  "I give them away. It's good to spread your luck around and it always comes back to you."

Fannie Flagg, I Still Dream About You
This little charmer (pun intended) seems to have it all. The lucky pig even holds a lucky penny in his mouth. We've all heard the adage "Find a penny, pick it up; all day long you'll have good luck."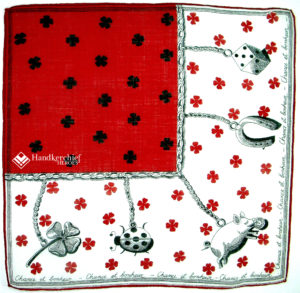 "Nearly only counts in horseshoes and hand grenades."

Neil Gaiman, The Graveyard Book
Horseshoes were originally made of iron, a metal believed to ward off evil spirits, and they were nailed in place with seven nails, seven being a lucky number. The religious twist to this legend involves the 10th century saint Dunstan, who worked as a blacksmith before he became Archbishop of Canterbury.  Legend has it one day the devil entered Dunstan's shop and asked him to shoe his horse. Recognizing it was the devil, Dunstan swiftly the nailed the shoe to Satan's foot, rather than the horse, causing great pain. Dunstan agreed to remove the shoe only if Satan promised he would never enter a home where a horseshoe was displayed. Normally the shoe is placed either on or over the front door. Some believe the ends of the shoe must point upward, allowing the shoe to catch luck in its bowl; others claim the ends should point downward, so the luck will pour out upon those entering the home.
Methinks this pair of Irish pigs must bring good luck. What an engaging example of folk art. Carry the handsome hankie on the right in your pocket and you're sure to have a lucky day.
And the rabbit's foot? Superstition dictates the lucky charm must come from the left hind foot of the rabbit. Although some historians claim the rabbit amulet exists in cultures from Europe, China, Africa and both North and South America, in the U.S. it is believed to have its origins in hoodoo from the south. This intricately fashioned Victorian charm certainly supports belief in such a talisman.

"For luck you carried a horse chestnut and a rabbit's foot in your right pocket."

Ernest Hemingway, A Moveable Feast
What about the wishbone? Supposedly, the tradition of breaking a wishbone dates back over 2,400 years. Etruscans believed that fowl could predict the future. (hey, that's why they call it superstition…) Whenever a chicken was slaughtered, the furcular or collarbone was thought to be sacred and was left to dry in the sun. Villagers would later stroke the bone while making a wish. When the Romans embraced the Etruscan custom, fowl were scarce, and in scuffling over the lucky bone, it often broke. The person holding the larger portion was considered lucky, thus the origin of the phrase "getting a lucky break." Who knew?
"Beginner's luck is great for beginners."

Robert Fripp
This urbane hankie is up-to-the-minute hip, showcasing good luck charms against a citified backdrop of gray, plum and chartreuse. The owner of this hankie is both superstitious and one cool cat.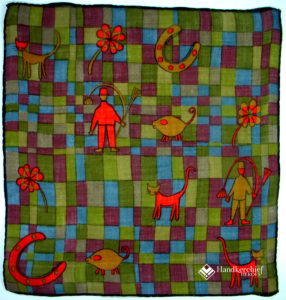 Speaking of cats, this dusky sweetheart is as feminine and feline as Audrey Hepburn, but we know to beware. Superstition associates black cats with witches, thus we're grateful for the neutralizing clovers, horseshoes and border of good wishes in numerous languages. What a great hankie for flirting!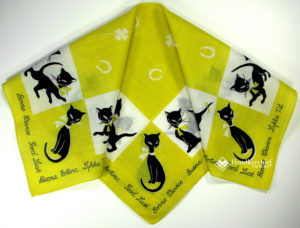 It's impossible to remember all these superstitions, so here's a summary of sayings to keep us on our toes.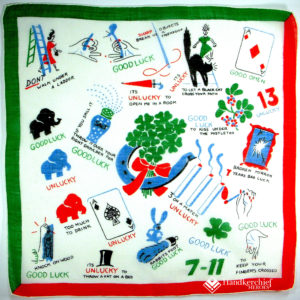 Superstition hankies were great conversation starters and frankly just plain fun, thus many were saved and can still be found today.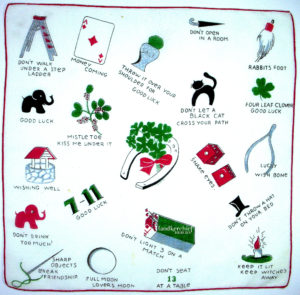 "The best luck always happens to people who don't need it."

Robert Penn Warren, All the King's Men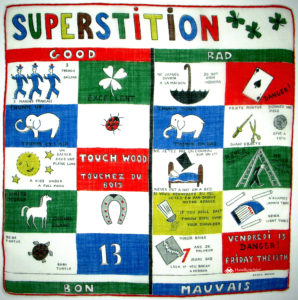 While we're on the subject of luck, we decided to include some imagery on palmistry and horoscopes. This is not to imply one way or the other we consider these arts to be superstitious. Rather, we are considering them under the all-inclusive umbrella of luck, i.e. there's the old saying of being born "under a lucky star" etc. In fact, astrology is a popular subject for handkerchiefs. Not only do some folks rely on these tools to take the temperature of their luck, they're clever and colorful images and we thought this would be a good place to share them.
To enhance your viewing, You Are My Lucky Star, written for the movie Broadway Melody of 1936, lyrics by Arthur Freed, music by Nacio Herb Brown. (You may recall the version from the 1952 movie Singin' In the Rain.)
httpa://www.youtube.com/watch?v=3bgBmFm5zzk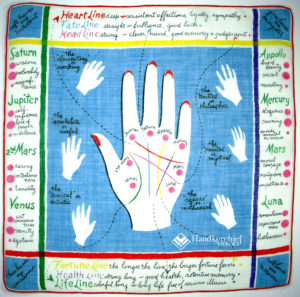 "When ill luck begins, it does not come in sprinkles, but in showers."

Mark Twain, Pudd'nhead Wilson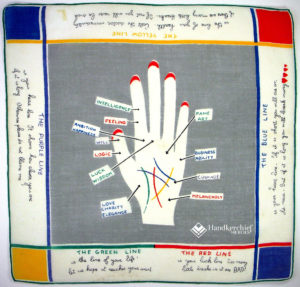 "It is not very often that an opportunity comes knocking. But when it does,

you better be bathed and dressed and ready to answer its call." 

Jyoti Arora, Dream's Sake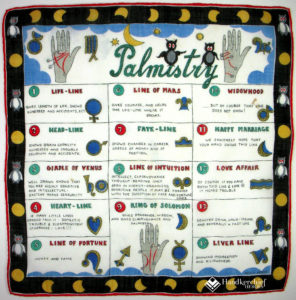 "You know Hobbes, some days even my lucky rocket ship underpants don't help."

Bill Watterson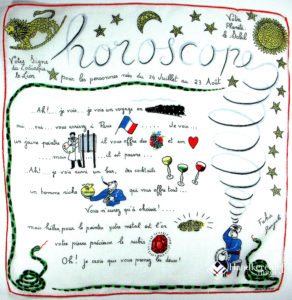 Whatever route you choose, we simply want to wish you loads of good luck in the year ahead, with ease and joy, and wonderful surprises along the way.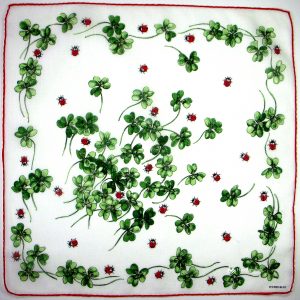 Just for Fun
On this website under The Accidental Collector tab you'll find stories of other collectors, including talented jewelry designer Coreen Cordova. Her offerings include a bracelet loaded with good luck charms (note the elephant, ladybug, four-leaf clover and more). When I spied this hankie, it seemed custom made for her, so I sent it along. She responded with this image of her bracelet resting on the hankie. It translates: "I'm not superstitious but….."  So whether you boldly walk under ladders or cautiously throw salt over your shoulder…make this the best year yet!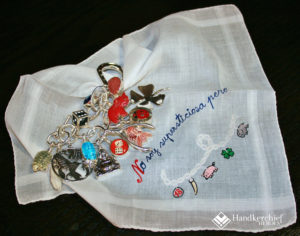 For purists, we must include the oh so wonderful Louis Armstrong rendition of You Are My Lucky Star
https://greatamericansongbook.net/pages/songs/x-y-z/you_are_my_lucky_star_p.html
And a few songs about luck:
Good Luck, Bad Luck – Lynyrd Skynyrd
Love and Luck – Jimmy Buffett
The Luck of the Irish – John Lennon
I'm Looking Over a Four Leaf Clover – Art Mooney
Touch A Four Leaf Clover – Atlantic Starr
Lucky Man – Emerson, Lake & Palmer
My Lucky Day – Bruce Springsteen
Fortune Teller – Robert Plant and Alison Krauss
Bad Luck Soul – B.B. King
Lucky – Radiohead
Lucky Lips – Ruth Brown
Luck Be A Lady Tonight – Frank Sinatra
Hard Luck Stories – Neil Young
With A Little Luck – Paul McCartney & Wings
Superstition – Stevie Wonder
Lucky Lucky Me – Marvin Gaye
Some Guys Have All the Luck – Rod Stewart
Lucky Ones – Loverboy
Lucky Guy – Todd Rundgren
If I'm Lucky – Zoot Sims
I Feel Lucky – Mary Chapin Carpenter
Lady Luck Blues – Bessie Smith
Luck In My Eyes – k.d. Lang
The Lucky One – Faith Hill
Good Run of Bad Luck – Clint Black
Old Mr. Bad Luck – Earl King
Lucky – Britney Spears
The Luckiest – Ben Folds
I Got Lucky – Elvis Presley
You Are My Lucky Star – Petula Clarke
Lucky Me – Chiffons
Good Luck – Mirsa
We Are the Lucky Ones – Charmed
Down on Your Luck – Thin Lizzy
Sister Luck – The Black Crowes
Lucky You – Lightning Seeds
Lucky – Jason Mraz
Trying Your Luck – The Strokes
Good Luck Charm – Jagged Edge
Lucky Star – Madonna
Lucky Song – Dean Martin
I Should Be So Lucky – Kylie Miogue
Lucky Ladybug – The 4 Seasons
Piece of My Luck – Sam Brown
Lucky Number – Lene Lovich
If I Get Lucky – Arthur Crudup
The Luck of the Draw – Pete Atkin
I'm A Bad Luck Woman – Memphis Minnie
Lucky One – Alison Krauss