Creation begins with inspiration, with a kernel of an idea, but in order to execute your concept, you need a plan, a blueprint.  The same holds true in the world fashion.  Even when couturiers claim they work freeform, and simply drape fabric as they're inspired, (as did Christian Dior) in order for a seamstress to replicate that creation, she'll need a roadmap.
The fresh, crisp image below depicts the trade of the tailor and represents the roadmap.  Whenever we examine the underlying structure of a garment, we view with the eye of an architect – studying the master patterns, the foundation of clothing.  The tailor is truly the architect of fashion.
"Fashion is architecture; it is a matter of proportions."

Coco Chanel
"Building a proper wardrobe is like building a home.  Indeed, you should think of it like a home because it is something you are going to live in. It must be comfortable and suit all your needs."

Edith Head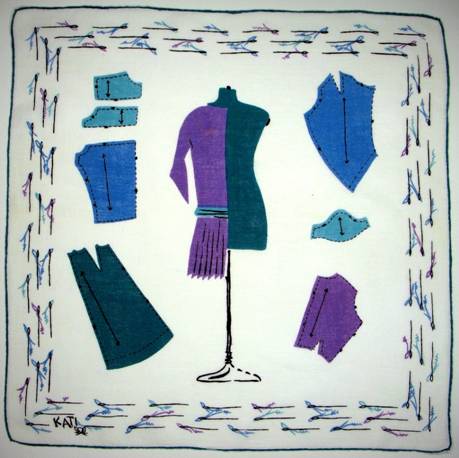 As with architecture, no matter how many gargoyles, fancy pediments, or Corinthian columns you add, if the proportions are off, if the underlying line isn't pleasing to the eye, then the "masterpiece" is a total miss.
"Simplicity is the keynote of all true elegance."

Coco Chanel
I love the flirt and flow of the tape measure and flouncy fabric that beckon the eye round and round in this delightful hankie.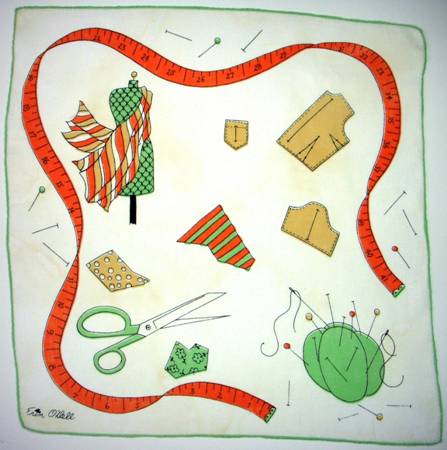 Regardless of the creations seemingly whipped up overnight on Project Runway, sewing is a time consuming endeavor.  With a vocabulary all its own – dart, facing, drape, gather, miter, lining, press, tack, embroider, seam, stitch, thimble, awl, button, pin, spool, bias, etc. the practitioner must master a most demanding trade.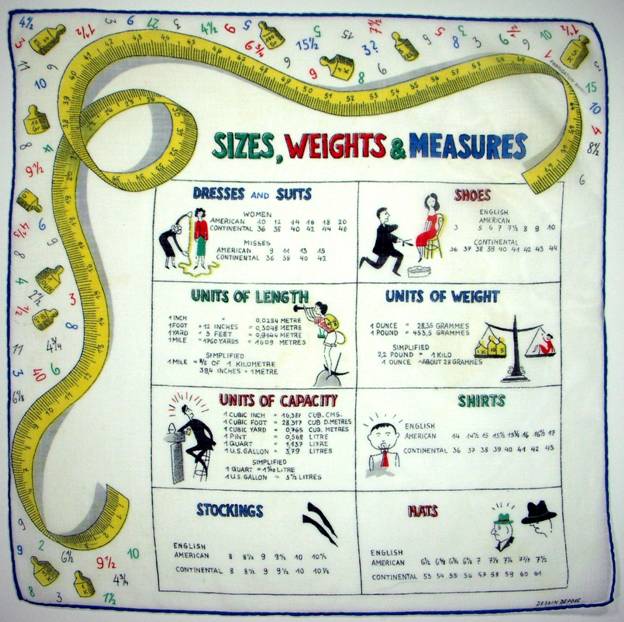 "Measure twice, cut once."

Wise advice for any endeavor.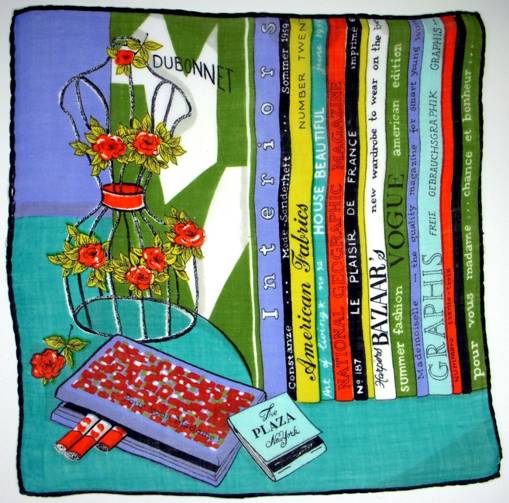 An entire novella in a single scene – m'lady  arrives from Dallas (or San Francisco, Chicago, Atlanta, etc.) to view the latest spring creations at fashion week.  She awaits her appointed fitting with le couturier in a suite at The Plaza while slowly sipping her Dubonnet aperitif and perusing publications on fashion, fabrics, interior and graphic design.  Slowly inhaling her custom red tipped (to hide lipstick) unfiltered cigarette, her thoughts wander to her upcoming cruise on le Côte d'Azure, where she'll  model her new wardrobe.  You can almost catch a whif of Joy, polished leather luggage, and tuberose and lily floral bouquets in the stateroom of her ocean liner.  Sigh…. Perhaps I can tag along to walk her French poodle.  Or perchance it's the reverse – scamp Eloise holds down the fort at the Plaza while maman selects this season's creations in Paris, where they keep her custom mannequin.  (either way I'll be walking the dog…)
Tools of the Trade A trio of terrific hankies is ingeniously bordered with tape measures printed to scale, providing the seamstress with a back-up ruler at her fingertips.Everything from embroidery hoops to thimbles, pincushions to fabric bolts, sewing kits to mannequins, coal fueled irons to hand cranked sewing machines are featured.

"I have all the fabric I need."

said no seamstress ever.
"What works with your skin and eyes? Use that to zero in on your wardrobe."

Tom Ford
Tweet for the day 
What do you call the golden orb adorned with ribbons and roses in the hankie above?  Some guessed a hairbrush, others a mirror.  When I explain it's a darning egg, I'm greeted with a quizzical "What's that?"  Back in the day, folks were much more attuned to mending clothing, rather than replacing it at the first sign of wear.  A sock with a hole in it was stretched over a darning egg to emphasize the area that needed mending.  The egg was part and parcel of every woman's sewing basket.  At vintage auctions, you may occasionally find amber glass eggs like the one pictured here.
Some darning eggs held sewing kits or needles and thimbles.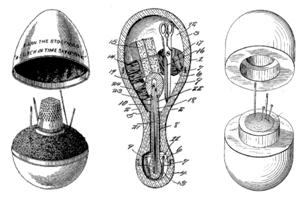 Trivia Redux
This next hankie holds yet another sewing staple of the tailor. Can you spot it?  Buttons aplenty float among thimbles and thread on a hankie that's fresh as a spring bouquet.  Dedicated to the home seamstress who dutifully follows a Vogue pattern to create her personal version of couture, it's more fanciful than our architect's blueprint.  The citrusy chartreuse and snappy red scissors add just the right zing.  Even the dressmaker's form flaunts pearls, corsage and a sweeping sash at the waist.  You know her creation will be au courant.  Every detail is delineated, right down to the strawberry alongside the tomato pincushion.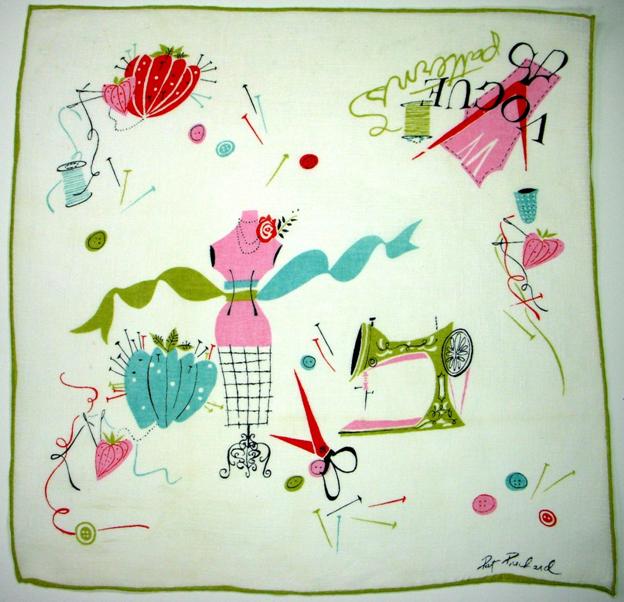 Tomato and straw
| | |
| --- | --- |
| | A tailor's take on fruits and veggies, the tomato and straw is a staple of every sewing basket.  The tiny but mighty strawberry is filled with emery and serves as a needle sharpener.  Much like an emery board used to file nails, the pincushion contains a finely ground substance (aluminum oxide and magnetite, among other things) to "polish" needles and remove burrs.  When a needle requires a sharper tip, you run it in and out of the strawberry several times.  So there's a fun tweet for trivia buffs… |
Today's fashion emporiums carry an endless selection of styles in almost every price range. Is it any wonder we no longer bother to sew?  Yet a generation ago, it was standard practice to visit the fabric store, select a pattern, notions (buttons, thread, snaps, hooks, pins, ribbon, trim etc.) the perfect fabric, and get down to business.  Everyone had a sewing basket and a button box, and nothing was ever wasted.   Buttons were removed from worn clothing to recycle.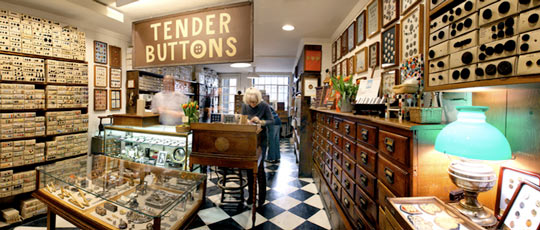 Tender Buttons
As a young adult living in New York, I happily stumbled across a tiny shop called Tender Buttons, which carried everything from hand painted Victorian buttons to wee buttons for infants shaped like bunnies, to lavish rhinestone spirals for cocktail dresses to sturdy horn buttons for winter coats.  It was the perfect place to meander and marvel on a rainy afternoon, and happily, they're still in business.  Below, a cascade of buttons delights the eye.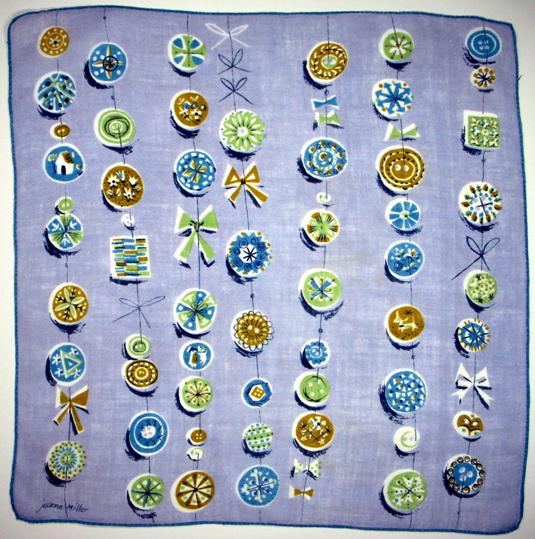 Tammis Keefe perfectly captures that drawer we all have at home which rattles with everything from pins and buttons to pens and keys, including ancient hard candy and wayward spools of thread.  The one thing featured that's truly obsolete? Old pen nibs!
Elaborately handled scissors and fancy velvet pincushions house an array of stunning hatpins.
More fanciful pins adorn these designer inspiration boards. Is it any wonder milliner Sally Victor's handkerchief on the left is adorned with a plethora of hatpins which dance like notes on a musical scale. Bows are mounted like insects, awaiting their placement on some fabulous chapeau.  Dress designer Carolyn Schnurer utilizes fancy pins to mount everything from medallions and jewels to fall foliage and fabric swatches on her brainstorming board.
Celebrate
Today marks the 165th birthday of the safety pin, and whether you're drawn to chocolate brown or crisp navy, these simple graphic renderings are simply terrific.   Few things in life are irreplaceable, but the safety pin is surely near the top of the list.   When you need a safety pin, a shoelace, a nail, a drinking straw, etc. nothing else will do.  Invented in 1849, we have yet to find something better to take its place.
Here, perhaps, is the best trivia of all – Walter Hunt, who invented the safety pin, also invented America's first sewing machine.  He didn't patent it because he thought it would cause unemployment!!  Little did he realize how employment would skyrocket as a direct result of the sewing machine.
"Pin Up" Girls
The safety pin hankie immediately brought to mind a jacket I once saw at the American Crafts Council in New York.  Safety pins affixed in patterns and swirls created the most amazing "art to wear", catching the light from every angle.  Today artists still employ the technique but I have yet to see anything rival the gazillions of hours that must have gone into the first jacket I ever saw.
Elizabeth Hurley's 1994 outing in Versace's Safety Pin Dress was so iconic that Lady Gaga tried to replicate it two decades later.  But it's hard to beat the original.  Never have so many men normally indifferent to fashion prayed for a pin to pop…..
| | |
| --- | --- |
| | a necklace of simple safety pins |
" A woman's dress should be like a barbed-wire fence:

serving its purpose without obstructing the view."

Sophia Loren
"Over the years I have learned that what is important in a dress is the woman who is wearing it."

Yves St Laurent
These hankies depict an industry that has been outsourced on such a grand scale that many girls may never touch a sewing machine in their lives.  Recently, while browsing in the appliance section of Macy's I overheard a girl of about 10 ask "Did they use irons in your day mom?"  The mother replied that her mother had one, but today "nothing needs ironing."  (I beg to differ, but that's a story for another day.)
No complaints, however.  Women's time used to be calendared by chores – Monday was for washing, Tuesday for ironing.  Now we can order most everything we need with a few keystrokes and have it delivered to our door.  Time has become our most valuable commodity, whether cooking (microwaves, pre-packed food), cleaning, or dressing, etc. which has elevated anything "handmade" to a higher status.
We understand the time and effort expended to do things by hand, and are thus willing to pay dearly for handwork we no longer have the time (or talent) to execute ourselves.  For those who crave creative outlets, what used to be mandatory chores – cooking, gardening, needlework – have been reassigned to hobby status.  We now use handwork to relax and recharge, so perhaps things have come full circle in a good way.  Rather than straining your eyes mending a sock at the end of a busy work day, you can delight your spirit working in colorful yarns to create a needlepoint pillow.
The Rules of Fashion
Except to make allowances for the politically incorrect terminology, most if not all of the fashion rules stated here hold true today.  So I guess this little number could be considered a personal shopper in the palm of your hand.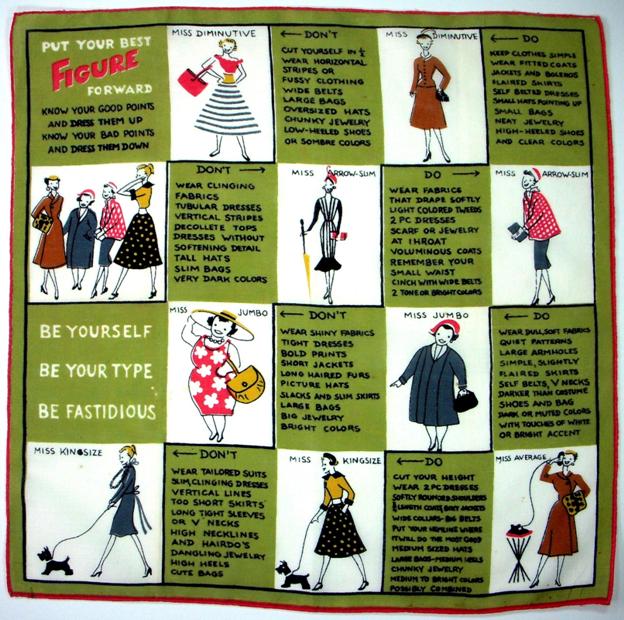 "A girl should be two things; classy and fabulous."

Coco Chanel
Epilogue
I'm often asked how I choose hankies for my collection, and frankly I can't explain it.  Although I admire the lines of a purebred as much as any owner, a shaggy mutt at the pound may tug equally on my heartstrings. This Jack and the Beanstalk child's hankie was one of those.  Can you guess what called to me?  Yep. The large embroidered "Mike" in the corner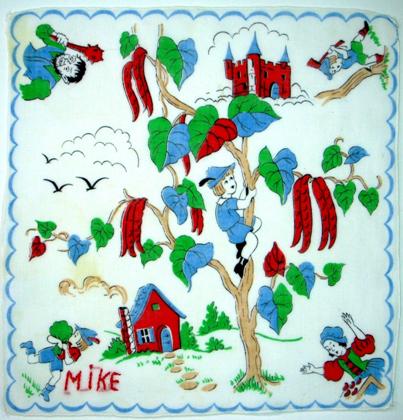 My first response was to think of 6'2" humorist Jeanne Robertson, married to an equally tall man, whom together produced stratospheric sons.  Once, when preparing to send her boys to (what else?) basketball camp, she received instructions to sew their names onto every single piece of clothing, underwear, washcloth, etc.  After attempting the impossible, she turned to one son and announced "from now on, your name is Izod Levi."  But I digress….
Is "Mike" the handiwork of a conscientious mom, hoping to avoid a hankie lost on the playground?  Is mom teaching Mike's sister the rudiments of sewing, as she practices on her brother's hankies?  Or….. perhaps it's the handiwork of young Michael Kors himself!  taking his first baby steps sewing alongside mom.  Perhaps it's the nascent needlework of interior designer Michael Smith, who today has his own line of signature fabrics and trims, or perhaps it's the burgeoning basting of Michael Costello whose couture is as sexy as it is stunning (the backs of his dresses are to die for.)  We'll never know, but everyone had to start somewhere, and it's fun to speculate, n'est-ce pas?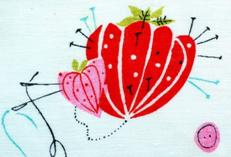 Just for Fun
Watch a team of experts execute a blueprint at the House of Dior