The endless weeks of scorching heat experienced in July and August are known as the Dog Days of Summer, as noted in everything from The Old Farmer's Almanac to The Book of Common Prayer, from Dickens' A Christmas Carol to the movie Batman. Legend has it the days are regulated by Sirius, the brightest star in the sky, which governs flood tides, extreme heat, and the moods of man and beast.  Best to lie low during this time when "the sea boils and wine turns sour." Whew!  Sure, dogs may get testy when it's torrid, but imagine how you'd respond enveloped in fur in 110 degree heat?  Yet unlimited stories recount the loyalty, love, heroism, and devotion of dog to man, through not only sweltering heat, but flood, fire, ice storms and more.  How delightful,  then, to find images of  man's best friend we can carry in our pocket every day.
Whether scruffy or svelte, teeny or tremendous, silly or sagacious, we love these furry friends. Everything from motley mutts to preening pedigrees adorns this cheerful hankie. The poor St. Bernard standing sentinel doesn't know whether to dive for the ball or head for the hills.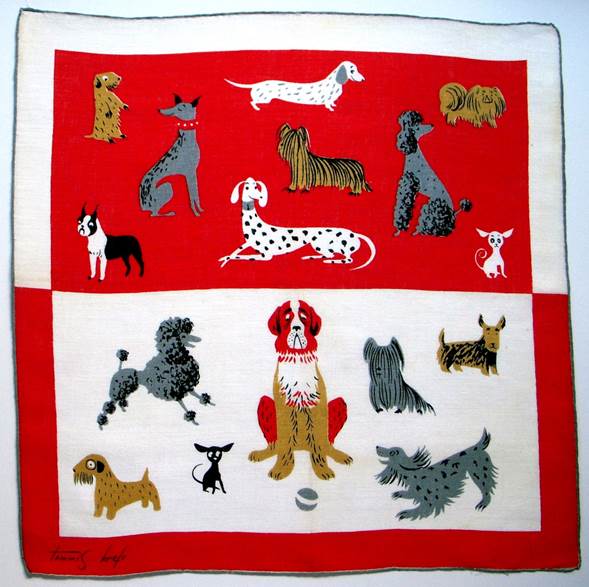 .
Because dogs not only seem to sense or moods, but mimic our behavior, they're often depicted anthropomorphically. Here a swain sweeps his lady off her feet with dining, dancing, chocolates and portraiture. (see Flirting) Good dog. Good dog!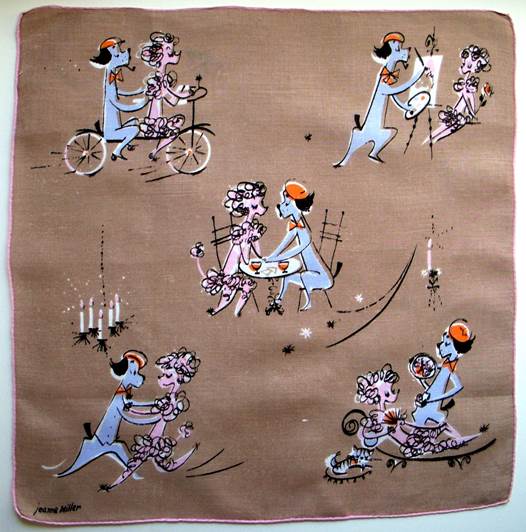 .
A gang of scruffy alley mongrels pines for the upper crust femme fatale who lives upstairs. The border confirms that hearts are racing.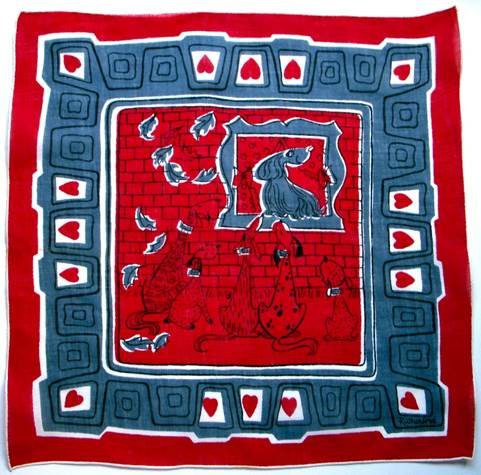 | | |
| --- | --- |
| | One classic depiction of puppy love was the spaghetti kiss in the 1955 Disney movie Lady and the Tramp, shown here on a charming children's handkerchief. So memorable was the scene, Barilla pasta chose to reenact it for a commercial 60 years later, with man imitating beast! |
.
Dogs were often a favorite image used to adorn the borders of ladies' handkerchiefs. On the left, terriers in polka dot jackets, which echo the hankie's polka dot center, anchor the corners of a crisp navy and white number.  In contrast, the fluffy pups who nap and scamper along the borders of the pink hankie underscore the overall impression of friendly and playful. This hankie brings to mind Oprah's faithful menagerie of spaniels.
.
Intricate embroidery adorns these hankies –  from tiny Scotties scampering  in a whirlwind of red, to pom-pom poodles prancing in a shower of flowers.
This trio of fearless flyers brings to mind Charlie Brown's dog Snoopy, who envisioned himself the canine counterpart to The Red Barron.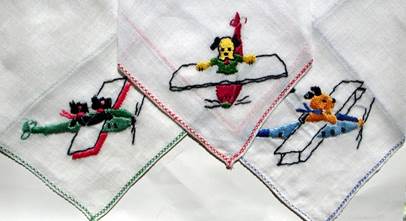 .
Play is always more fun with your pup in tow. For some reason these hankies bring to mind a story a friend related about her collegiate son whose dog accompanied him everywhere on campus. When Kenneth spent a semester abroad, his roommates continued to care for the dog, who, on his own accord, continued to attend class every day – the same classes, in the same buildings, on the same schedule – obviously hoping to find his master.  Talk about loyalty.
"Dogs have given us their absolute all. We are the center of their universe. We are the focus of their love, and faith, and trust.They serve us in return for scraps. It is without a doubt the best deal man has ever made."

Roger A. Caras
.

This handsome boxer standing sentinel is no match in craftsmanship to the simple hand sewn pups on the children's handkerchiefs, but each is special in their own way.

.

.

.
| | | |
| --- | --- | --- |
| | Love is reflected in every stitch of these hand crafted children's hankies.The blue Scottie is soft enough to cuddle, while the snappy formal coat and dress slippers of the birthday pup say Celebrate! | |
Appliqué handwork adorns these charming kiddie hankies. The blue pup is enormous in proportion to the overall dimensions of the hankie, yet, this is probably exactly how he's seen through the eyes of a child. His friendly rounded ears, paws and cheeks confirm he's a winsome companion.
"Slowly, Anna put up a hand to his muzzle and began to scratch that spot behind the ear where large dogs keep their souls."

Eva Ibbotson, A Countess Below Stairs
In these day of the week hankies, the naughty Wednesday pup invades the knitting basket, while his dapper pals sport a bow tie or walking stick. I've said it before, but such detail devoted to something as simple as a child's handkerchief can elevate a tyke to the status of little gentleman, deserving of hand embroidered accoutrements. Even a small gift can make one feel special.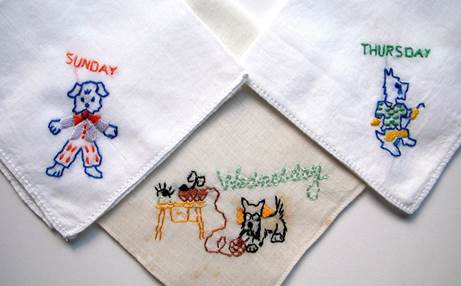 .
Even if you've misbehaved and must stand in the corner, you can be certain at least one individual will not abandon you, judge you, or turn away. He'll stand by your side for as long as you need him, and give you a kiss of encouragement – the faithful dog. The tiny gesture of the girl surreptitiously sneaking a touch from her pup says it all. This hankie epitomizes the unconditional love of man's best friend.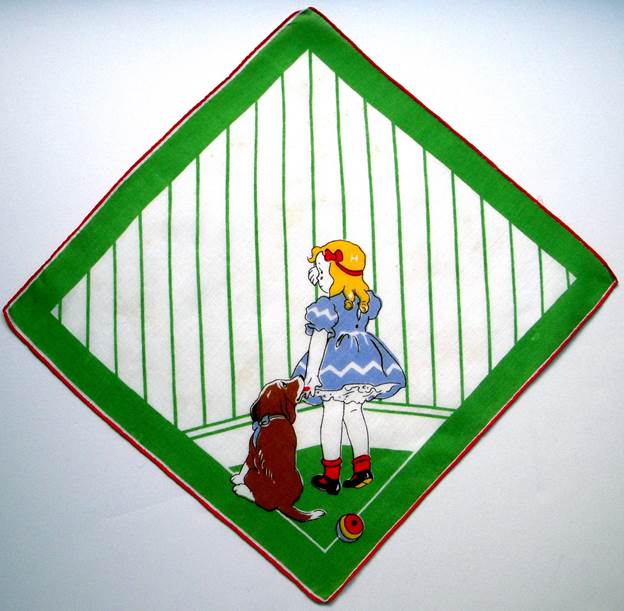 "A dog is the only thing on earth that loves you more than he loves himself."

Josh Billings
| | |
| --- | --- |
|   | Petting a dog has been shown to lower blood pressure and heart rate, release endorphins and improve immune function. Anything that increases the relaxation response reduces the stress hormone cortisol. Get this – studies now show the same benefits accrue to the dog!! Pretty cool for both of you. Studies published by the Journal of Personality and Social Psychology show pet ownership has not only health benefits (pet owners tend to be more physically fit) but psychological benefits. Pet owners tend to be less lonely, more extroverted, less fearful and less preoccupied than non-owners. (Roberta Lee, MD, vice chair of the Department of Integrative Medicine at Beth Israel Medical Center, NYC.) |
Everyone from little girls to five star Generals to Presidents are aware this endorphin effect, whether they know it consciously or not.
 
"

The friendship of a dog is precious. It becomes even more so when one is so far removed from home…. I have a Scottie. In him I find consolation and diversion… he is the "one person" to whom I can talk without the conversation coming back to war."   

General Dwight D. Eisenhower, Supreme Commander of the Allied Forces in Europe, WWII,  34th President of the United States
 
"

I was there in Jack Kennedy's office that day. Everything was in an uproar. I was ten feet from Kennedy's desk as Pierre Salinger ran around taking messages and issuing orders while the President sat looking awfully worried. There was talk about the Russian fleet coming in and our fleet blocking them off.  It looked like war.  Out of the blue, Kennedy suddenly called for Charlie, his Welsh terrier to be brought to his office.  He petted the dog, and it seemed to relieve his tension."   

Traphes Bryant,

Dog Days at the White House

. Kennel keeper Bryant describes events in the Oval office during the Cuban missile crisis in 1962, during presidency of John F. Kennedy, 35

th

President of the United States
.
This antique hankie confirms dogs have been a favorite companion for decades. (actually for centuries – think of Homer's Ulysses.)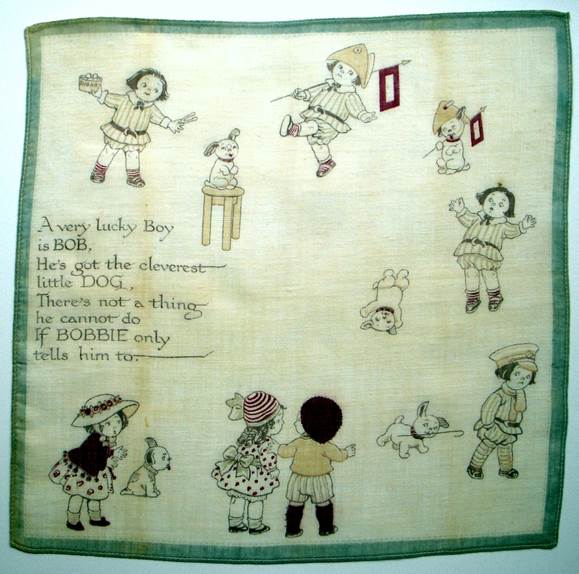 "Histories are more full of examples of the fidelity of dogs than of friends."

Alexander Pope
A little girl lovingly sings to and gently washes her somewhat apprehensive puppy. It may look like just a bath, but she's sharin' the love….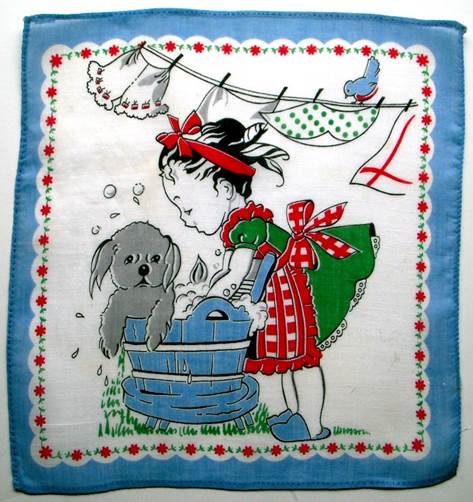 ◊◊◊◊◊◊◊◊◊◊◊◊◊◊◊◊◊◊◊◊◊◊
"The greatest pleasure of a dog is that you may make a fool of yourself with him, and not only will he not scold you, but he will make a fool of himself too."

Samuel Butler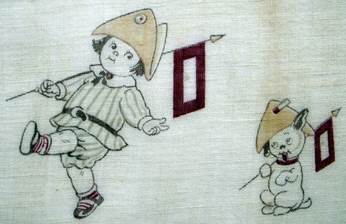 You think those dogs will not be in heaven? I tell you, they will be there long before any of us."

Robert Louis Stevenson
"If there are no dogs in Heaven, then when I die, I want to go where they went."

Will Rogers