We've traveled through Kansas and Oklahoma in our sojourn west, and I'm sure a few Texans are wondering when we're going to give a tip of the ten gallon to the Lone Star State where The Stars at Night are Big and Bright. (Sorry, couldn't resist. Did you know there are 100++ songs devoted to Texas? from Abilene to Amarillo,  Big D to Brownsville, One of Denver's most famous residents was Margaret Tobin Brown, better known as the Unsinkable Molly Brown, as she survived the 1912 sinking of the Titanic. Born in Missouri she moved to Leadville in 1886, enduring a hardscrabble existence before her husband struck it rich. A philanthropist who championed children's and women's rights, Brown ran for the senate eight years before women even had the right to vote. Speaking of voting, the 19th Amendment, granting women the right to vote, wasn't ratified until August 18, 1920, but what state gave women the right to vote as early as 1869?
Wyoming territory gave women the right to vote in 1869, followed by Utah Territory (1870) and Colorado (1893). Other states that granted female voting long before 1920 included Washington, California, Oregon, Kansas and Texas. At the time, these states were part of the "wild west" and uncharted territory. Every person pulled his/her own weight, and played a pivotal role in the survival of one another on the prairie. Populations were sparse, mortality high, and apparently a good woman was considered as valuable as a good man – at least in terms of voting!

What western town was the first city in the U.S. to be totally governed by women?

(answer at the end of the blog)

 
Once you head out west, you're apt to find almost anything, including penguins, as seen here in this hand embroidered souvenir hankie. Say What?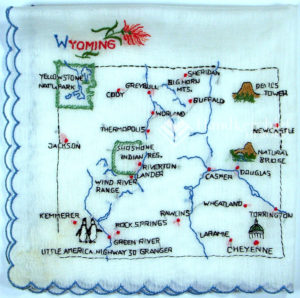 Little America
What are penguins doing in Wyoming? Little America was a hotel chain, originating in Wyoming and included Cheyenne, Salt Lake City, UT and Flagstaff, AZ. Founded in 1952 with two fuel pumps, a café, and 12 rooms, the original location now hosts 140 rooms and 55 fuel pumps. Fifty-five? Yikes.  The penguin logo is a reference to Admiral Byrd's remote Little America station established in Antarctica.  The penguin was used to remind travelers there was nothing else available for miles in any direction, so they'd better stop here, rest, and fill the tank.  Mighty clever. You can see more of Little America in our Road Trip blog.
Here's another fun Wyoming hankie that covers all the bases. The reference to Frontier Days is more than just a quaint description of the west. It refers to the "World's Largest Outdoor Rodeo and Western Celebration" affectionately known as "The Daddy of 'em All" when it comes to rodeos. It's been going strong since 1897, and if you're in the area in July, it's worth a visit.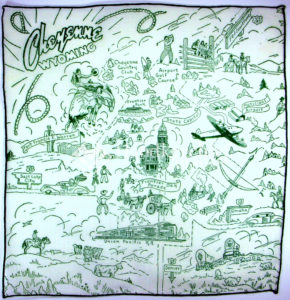 This trio of Nebraska images typifies the range of what you might find in souvenir state hankies, from a broad overview (left), to major highlights (center) to individual landmarks (right).
We'll peruse the "highlight hankie" which features a cowboy and an Indian flanking the 100th birthday banner. In addition to universities and coliseums, highlights include Boys Town. Founded in 1917 by Father Edward J. Flanagan, who believed every child could be a productive citizen if given love, a home, an education, and a trade. He accepted boys of every race, color and creed, which was innovative at that time. After WWII President Truman enlisted Flanagan to travel to Asia and Europe to offer advice on how to help children displaced by the war.  Many first learned of the orphanage from the 1938 movie Boys Town starring Spencer Tracy and Mickey Rooney.
The Singing Tower refers to a 200 ft. tall neo-Gothic tower that houses a 60 bell carillon alongside the First Plymouth Congregational Church. The bells range in weight from 16 lbs. to 12 tons! Carillon bells are tuned so they can play in any key. The bells themselves do not move, just the clappers which are operated by a keyboard.
Mount Vernon Gardens is a half-scale replica of George Washington's gardens at Mt. Vernon. Instead of overlooking the Potomac, they overlook the Missouri River, and provide a beautiful venue for weddings and other celebrations.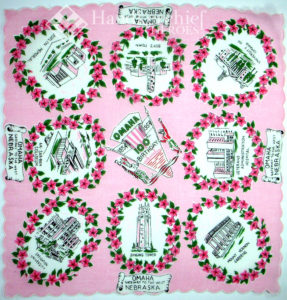 Some handkerchiefs combine one or more states
While others feature individual states and their landmarks
A Corn Palace – Who knew?
In the 19

th

century, several cities on the great plains constructed "grain palaces" to tout their rich soil and attract visitors to settle in the area. The palace murals were made of corn and other grains, and  replaced w/new designs annually. The South Dakota palace shown here hosts a Stampede Rodeo a Polka Festival and is home to Dakota Wesleyan U Tigers and the Mitchell High School Kernels (no kidding) basketball team. What you can learn from a hankie….

 
Mt. Rushmore
The most recognizable South Dakota landmark is Mt. Rushmore, depicting 60ft. high granite facades of Presidents George Washington, Thomas Jefferson, Theodore Roosevelt, and Abraham Lincoln. Historian Doane Robinson originally conceived of the sculpture as a way to draw tourists to South Dakota, and wanted to feature American West heroes like Lewis and Clark, Chief Red Cloud, and Buffalo Bill Cody, but sculptor Gutzon Borglum thought it would have broader appeal if it featured well known presidents. Visitors to the monument number 2,000,000+ annually.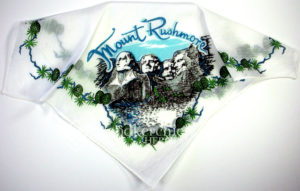 Director Alfred Hitchcock utilized images of Mt. Rushmore to stunning effect in the 1959 movie thriller North by Northwest starring Cary Grant, Eva Marie Saint and James Mason. In 1995 the Library of Congress included the movie in the National Film Registry, citing it as being culturally, historically or aesthetically significant.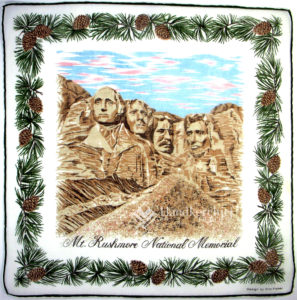 As a final salute to ingenuity and survival of the fittest, we'll end with an anecdote we first introduced in our cowboy annals.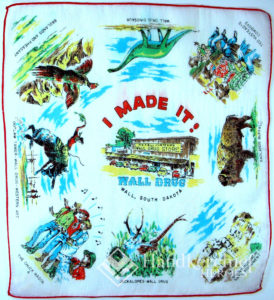 Every hankie tells a story and this one is no exception. In 1931, Ted and Dorothy Hustead were looking for a place to put down roots in a town with a church they could attend daily. Their search led them to the tiny prairie town of Wall, South Dakota, pop. 326, where they purchased the drugstore, and stretched a blanket across the back section to create a "home."  It was the height of the depression, and they gave themselves five years to make a go of it, but by 1936, with a nine year old and a newborn to feed, business hadn't improved.  One hot summer day, with traffic rumbling on Route 16A so fiercely it shook the house, Dorothy had a brainstorm. They staggered signs along the highway (in Burma Shave fashion) offering Free Ice Water.  They were instantly mobbed, and by the following year, had to hire eight girls to serve the customers.  Today Wall Drug serves up to twenty thousand people on a summer day. (You read that correctly.) So much for little ol' prairie ingenuity.  
Just for Fun
Stanley Marcus
There is neither time nor space in this blog to capture the brilliance that was Stanley Marcus, but I assure you his books are worth reading for the insight and creativity of this arbiter of style. You'll devour them as the history, stories and anecdotes are fascinating. They include: Minding the Store, Quest for the Best, His & Hers: The Fantasy World of the Neiman Marcus Catalog, Viewpoints of Stanley Marcus, and Stanley Marcus from A to Z. A good biography is Stanley Marcus, The Relentless Reign of a Merchant Prince. We'll share a quick anecdote here. During WWII, Marcus joined the War Production Board and encouraged clothing designs that would not only save elastic (rubber was rationed) but initiated fashion trends that would save 100,000,000 yards of fabric that could then be devoted to the war effort. During this time he also initiated a Hosiery of the Month Club which sent two pairs of stockings to every female charge card customer. Membership grew by 100,000 nationwide. (He understood both how to conserve, and how to market!)
Brooke Cadwallader
Cadwallader's life was as colorful as his scarves. When Brooke and Mary moved to the states, they lived in a French Normandy house of their own design nestled in fifty wooded acres in Stamford, Connecticut, and commuted to their baroque salon on 5th Avenue. Their friends ran the gamut from costume designer Adrian (his most famous costumes were for MGM's The Wizard of Oz) to conductor Arturo Toscanini, from actress Janet Gaynor to Medal of Honor recipient Donald Cook. You can read more about Cadwallder in articles from Colliers 1944, and the New York Post 1947.
Q.  What western town was the first city in the U.S. to be totally governed by women?
A.  Jackson, WY, which elected a woman mayor and women to all four city council seats in 1920. And there's your trivia tweet for the day.
Boys Town Movie Trailer