Once upon a time long ago in a land far, far away known as Dallas, there lived a beautiful young girl named Brandes (rhymes with Candace) who adored the color pink. From the tip of her little knit cap to the bows on her teensy slippers – pink. Her jammies, blankie, teddy bear, and bedroom – pink; her petticoat, sweater, suitcase, even her Christmas stocking – pink!  Methinks perhaps she was on to something and wise beyond her years.
Tailors and couturiers have known for eons that the rosy hue flatters everyone, men and women alike, enhancing every skin tone. (Ever seen Oprah in raspberry? She look spectacular.) Couture designer Elsa Schiaparelli, famous fashion rival of Coco Chanel, adopted shocking pink in 1947 as her signature color. The title of her autobiography "Shocking Life" pays homage to the color. Diana Vreeland, fashion editor at both Harper's Bazaar and Vogue, and consultant to the Costume Institute of the Metropolitan Museum of Art, had a gimlet eye when it came to fashion. Observing that other world cultures embrace color unabashedly, while Americans plodd to work in navy or gray, she opined "Pink is the navy blue of India" where rosy silk saris adorn women of every age.
From the Pink Panther to Legally Blonde's Elle Woods to Bruce Springsteen's "Pink Cadillac", the blushing shade is ubiquitous. It can sizzle and pop or soothe and caress. One psychological experiment involved painting jail walls pink in an effort to induce a calm atmosphere. I've also heard, though can't confirm, that football teams have painted their opposing team's locker room walls pale pink in an effort to subdue their fighting spirit! Bright pink is known to stimulate the appetite, particularly for sugar, which is why most bakeries utilize pink boxes. And hot pink is energizing. As we discovered in our blog on gloves no one worked fuchsia like Marilyn Monroe. (see video below)
Once, after my presentation on "Handkerchiefs through History", a woman approached and asked "Do you have many pink handkerchiefs?" I had to smile. "I believe I do" I answered, and soon thereafter perused my inventory. Yowsa. Pink is a favored palette regardless of the subject matter – from the standard florals and butterflies, to all manner of geometric patterns, to sundials, Egyptology, musical instruments, animals and more. It seems most subjects, at one time or another, have been rendered in rosy hues on a handkerchief.
Meanwhile, back to our tale… the little girl from Dallas grew up, and as any girl would, eventually embraced all the colors in the crayon box. She still dressed with flair; the first time I saw her sans pink, she shimmered in lemon yellow ski pants topped by a multi-hued parka and looked fabulous. Still….I believe one day Brandes may revisit to her peppermint past, so I'm saving a handkerchief embroidered with a pink "B" for her wedding day. ☺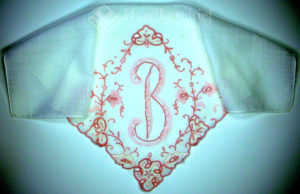 Parenting girls makes you quite gender-conscious

It's almost impossible to fight the power of pink.

Robert Webb
"Anything is possible with sunshine and a little pink."

Lilly Pulitzer
Here's a fun selection of pink handkerchiefs offered in an easy format for your viewing. We'll glide in with the softest baby pinks and move along through rose, blush, crimson, claret, fuchsia and fire engine reds. They're introduced with the song "La Vie en Rose" which translates literally "Life in Pink."  (The music is from the Parisian Café Album 2009, Beegie Adair and David Davidson)
httpv://youtu.be/nEgR0vyj9kQ
"I have always been a romantic, one of those people who believes that a woman

in pink circus tights contains all the secrets of the universe."

Tom Robbins
Just for Fun
Marilyn Monroe sings "Diamonds are A Girls Best Friend" in the 1953 movie Some Like It Hot
httpv://youtu.be/g__ANxxwKIk
"Think Pink" from the 1957 movie Funny Face
httpv://www.youtube.com/watch?v=LbxXA70gvrA
La Vie en Rose
Performed for the first time in 1946, "La Vie in Rose" was the signature song of Edith Piaf, who, according to one source, wrote both the lyrics and the melody. (The song was registered by Louiguy, since at that time Piaf did not have the qualifications to copyright her work with SACEM.)
There are numerous translations, as well as recordings of Piaf singing in English as well as French.
The English version reads:
Hold me close and hold me fast
The magic spell you cast
This is la vie en rose
When you kiss me heaven sighs
And tho I close my eyes
I see la vie en rose
When you press me to your heart
I'm in a world apart
A world where roses bloom
And when speak, angels sing from above
Everyday words seem to turn into love songs
Give your heart and soul to me
And life will always be la vie en rose.
I can't see myself without pink lipstick. I can go without it for a couple days,

but if there was no more pink lipstick in the world, I'd be useless. Seriously.

Nicki Minaj