"One shoe can change your life."
From Manolo Blahnik to Jimmy Choo, Christian Louboutin To Bruno Magli, Salvatore Ferragamo to Roger  Vivier, Stuart Weitzman to Edward Rayne…just the mention of their names can prompt hearts to palpitate and eyes to sparkle in anticipation.
Just as the fluttering fan, delicate glove, and winsome hat, can draw attention to a lady, so too, one accessory that towers above the rest (pun intended) that when deftly employed, can capture the roving male eye like no other – the fabulous, flirtatious shoe. For centuries, ladies have understood that a rosy satin slipper peeking provocatively from beneath a demure gown could jump start the imagination. Carried into today's milieu, women now sport skyscraping stilettos to showcases gorgeous gams to their best advantage.
"How can you live the high life if you do not wear the high heels?"

Sonia Rykiel
Certainly when considering a lady's boudoir and accessories, shoes are part and parcel of the equation, whether it's a hip gal embracing the Mad Men era 60's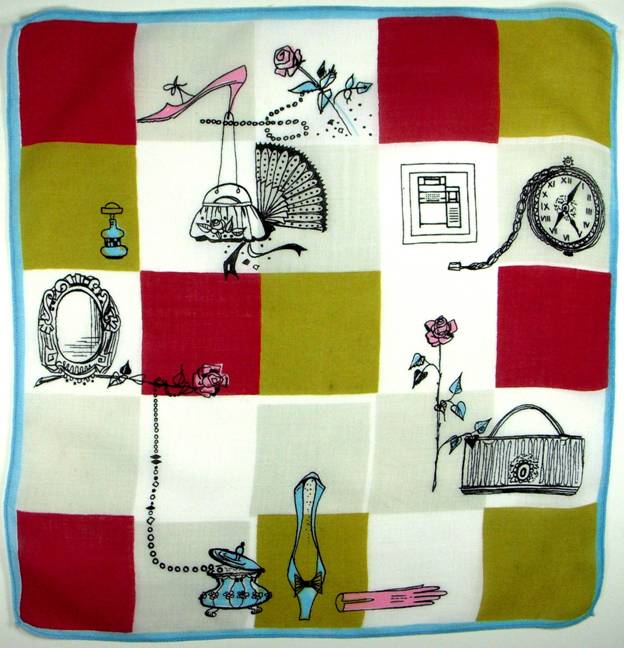 or a lady from the 1800's sipping a sarsaparilla at the soda fountain…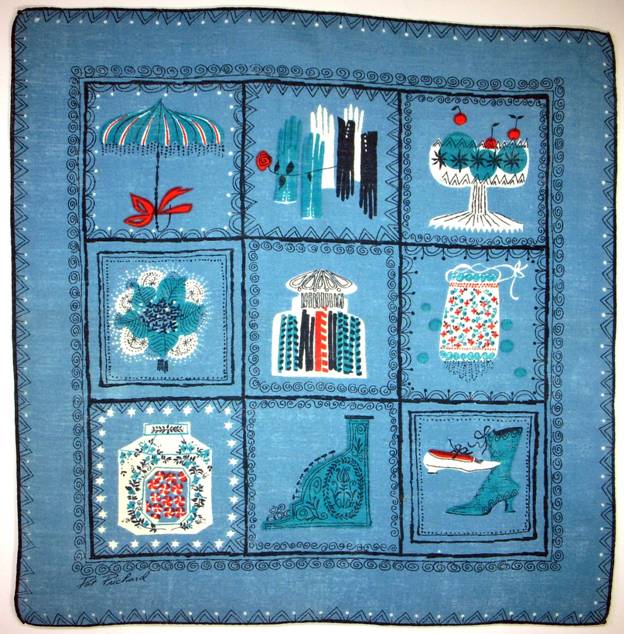 From pom-poms to tassels to bows on their toes, ladies took great care to outfit themselves in the latest style.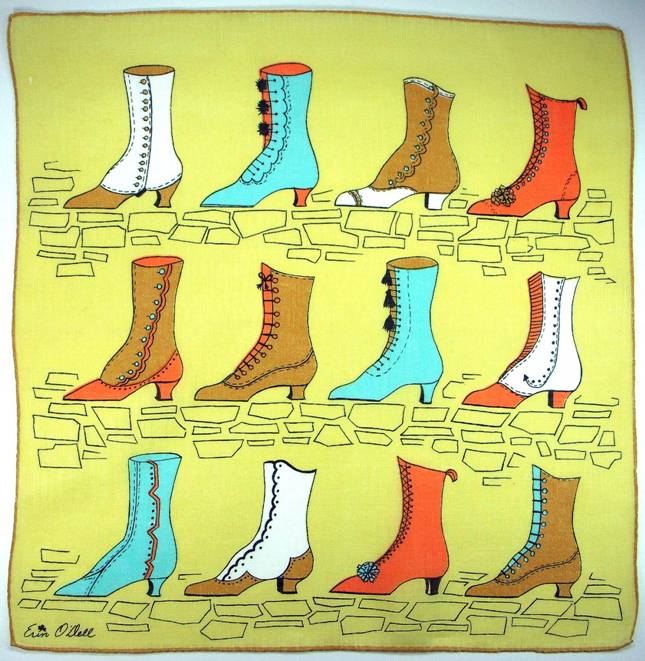 "If your hair is done properly and you're wearing good shoes, you can get away with anything."

Iris Apfel
Regardless of the era, shoes were not only a necessity, but an indulgence for a certain class of women. Here, an anniversary advertising handkerchief showcases ladies dressed in the era of Jane Austen, being outfitted from head to toe.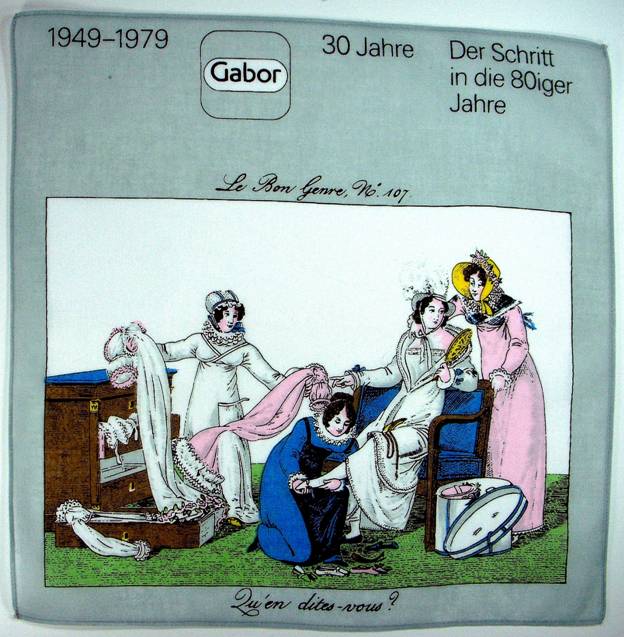 "To wear dreams on one's feet is to begin to give a reality to ones' dreams."

Roger Vivier
Trading cards of the day often advertised footwear. One of my personal favorites is from Fay's Shoes, Springfield, MA, containing a poem which admonishes the little lady to ignore gossip.
"And then, if you show the least boldness of heart,

Or a slight inclination to take your own part,

They will call you an upstart, conceited and vain;

But keep straight ahead – don't stop to explain-

For people will talk."
.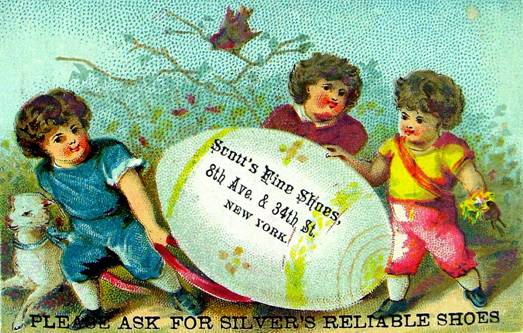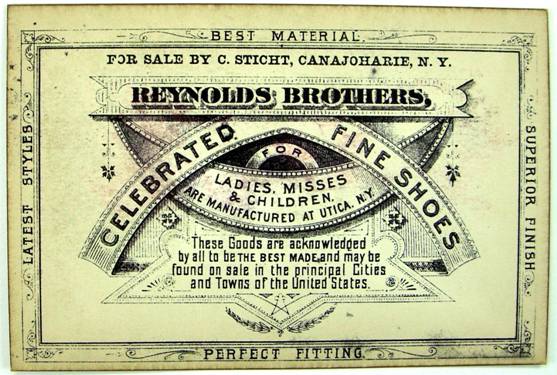 .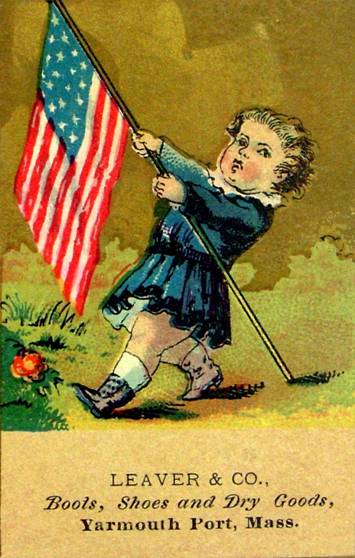 This next gal is a hoot with her fan, walking stick, opera gloves, and massive plumed chapeau. Apparently if you purchase shoes at H. J. Holbrook & Co., tiny Napoleons will throw themselves at your feet!
Winter is upon us, thus boots are in high demand, and what fun it would be to wear any of the following.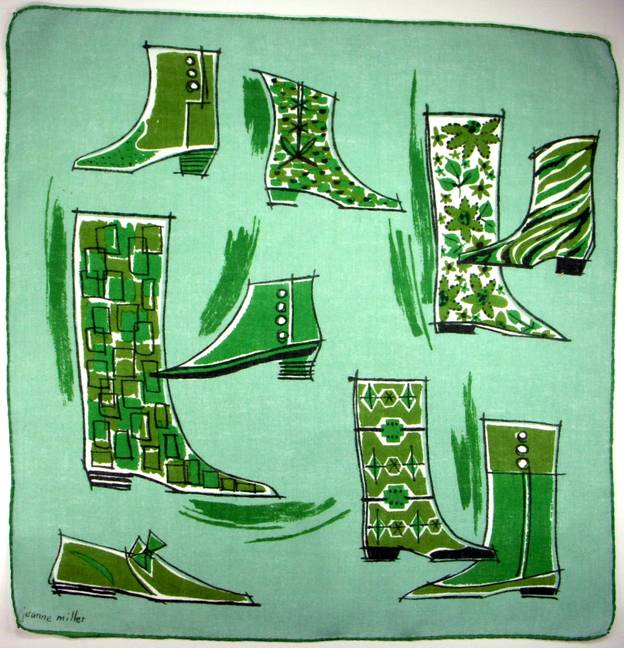 "The average woman falls in love seven times a year. Only six are with shoes."

Kenneth Cole
The flower power boots of the 1970's hold center stage here, flirty and feminine…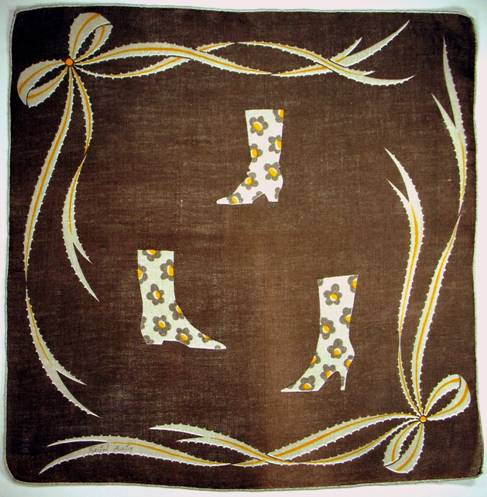 This little number could have zinged straight out of Carrie Bradshaw's closet, hosting a bevy of sexy, sizzling, super fun fantasies.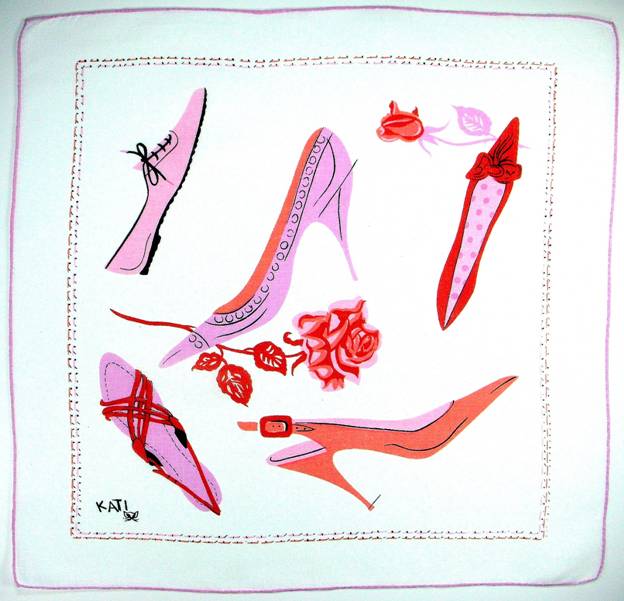 "You can never take too much care over the choice of your shoes. Too many women think they are unimportant, but the real proof of an elegant woman is what is on her feet."

Christian Dior
Even Andy Warhol appreciated a flirty shoe. Who knows? perhaps he saw gems like these on Bianca Jagger, Liza Minnelli, Diane Von Furstenberg, Princess Lee Radziwill, Cher, and others burning up the dance floor at Studio 54.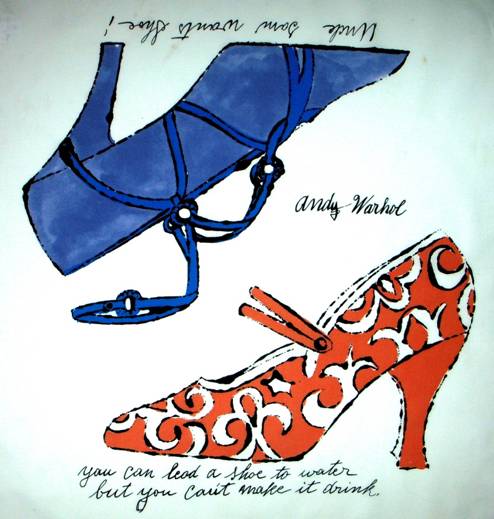 Andy's image immediately brings to mind Paul Simon's magical song "Diamonds on the Soles of her Shoes" performed with Ladysmith Black Mambazo. (1986)
Just hearing the name Paul Simon evokes a smile, as many of his tunes get your toes tapping. In 2007 Simon was the first recipient of the Library of Congress Gershwin Prize for Popular Song, and "Diamonds" was the number he chose to perform.
So whether your shoes are hot pink, ruby red, or dotted with diamonds, it's party season, and time to slip into something fabulous to dance the night away….
Just for Fun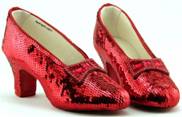 In MGM's 1939 film The Wizard of Oz, Dorothy's magic slippers were ruby red. What color were her shoes in the book that inspired the movie?  (answer below)
And if you think the movie is just a simple Hollywood fairy tale dusted off every few years, take a gander at the monumental slippers showcased at Harrod's in London in 2009 in tribute to the movie's seventieth anniversary. Yowsa!  The story of the call to adventure as opposed to remaining safely at home is a timeless classic.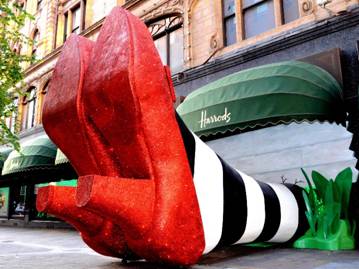 | | |
| --- | --- |
| | The Wonderful Wizard of Oz is an American children's novel written by author L. Frank Baum, and originally published by George M. Hill Company in Chicago, May 17, 1900. In the original book, Dorothy's slippers were SILVER.The Wizard of Oz was one of MGM's first pictures in Technicolor. Studio head Louis B. Mayer felt red would stand out better as Dorothy traveled along the yellow brick road.  And there's your trivia tweet for the day. 🙂 |
Seeing Red
Some women make it point to flash their Loubiton red soles. Color denoting status is nothing new. In Ancient Egypt shoes in red or yellow were reserved for the highest in society. It was easy to discern rank from the color of an individual's footware.
Two Left Feet
One source cites 1818, another 1850 as about the time shoes stopped being just straight forms, and began to conform to the shape of the foot. Before that time there was no distinction between right and left feet. The first pair of right and left footed shoes were made in Philadelphia.
Reaching New Heights
Louis XIV, the Sun King stood 5'5".  To increase his stature, he made high heels mandatory for men, apparently to compensate for the fact that he was vertically challenged.
And Even Higher
During the 16th Century, women began wearing shoes that were so high, they required servants to help them walk.  Shoes eventually became so high dangerous a law was enforced to limit the height of women's shoes. Fast forward to 2010, when Alexander McQueen designed shoes with a ten inch heel known as Armadillo heels. Concerned for their safety, models refused to wear them. (Bravo girls!)
Stout and Gout
Henry VIII passed a law that shoes must be six inches wide!! Say what? This was apparently to cover the fact that he had gout, and had to wear such wide shoes himself.
$$$$$
The most expensive shoes on record sold for $660,000 U.S. dollars. They were the ruby slippers worn by Judy Garland in the movie The Wizard of Oz. They sold at auction June 2, 2000.
Jocks Rock
The world's largest seller of athletic shoes is Adidas, named after their creator, German Adi Dassker. The shoes became famous after Jessie Owens won four Gold Medals, while wearing Adidas during the 1936 Olympics.
And a shoe in the bargain
In the Middle Ages, the father of the bride would host a ceremony where he would bestow a shoe on his future son in law. At the wedding, when the bride donned the shoe, it signified she was now a possession of the groom. (uh, no comment)
"Nicki Minaj has a better booty, but I have better shoes."

Rihanna
Sillier and Sillier
Again, if it isn't flattering, what's the point? In the video below, models try to negotiate the impossible on the runway. (Doesn't the designer understand he has completely stolen focus from his fashions?)
A Lovely Antidote
If you want to experience someone who truly understands the joy and beauty found in shoes, check out artist Elizabeth Barlow's work. She has been featured previously in Artiste Extraordinaire and her website contains additional gems.
For our European readers:
If you happen to be visiting London, be sure to catch the "extreme footware" exhibit "Shoes: Pleasure and Pain" currently showing at the Victoria and Albert Museum through January 31, 2016.