In this land of plenty we have extoled the beauty of the "fruited plain" and now turn our attention to the grandeur of the "amber waves of grain". Note the golden wheat featured on the prairie in this souvenir hankie, along with pioneers traveling the Santa Fe Trail, a miniscule oil well (gushing, no less!) and domed state capitol. Also note the American Flag at 12 o'clock marking the geographic center of the U.S. We are indeed in the "heartland" of America. As discussed in our New York blog, these delicately embroidered hankies were never utilitarian, but strictly for collecting and were often stored in souvenir albums, thus have remained pristine for decades.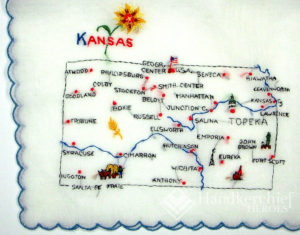 This little gems pays tribute to not only the state flower – the sunflower, but the state song – "Home on the Range"(at 11 o'clock). From the salt mines to the oil fields to the stockyards, it's all here.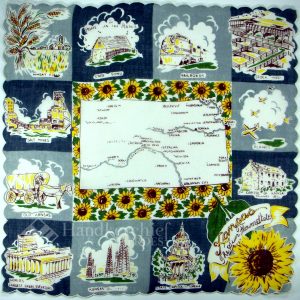 Time for a tap of the garden hoe and a heartfelt Thank You to this spectacular flower which is literally keeping our planet healthy. If you're a city dweller, you may have noticed sections of sunflowers are now being planted along freeways and highway exit ramps. Sunflowers do a remarkable job of absorbing CO2 emissions from automobiles. They've even been used to absorb nuclear radiation at Chernobyl and Fukushima. No wonder the sky is so clear in Kansas!
A child's farm hankie and a woman's hankie from the 1930's featuring a bouquet with shafts of wheat.
Birds in flight flash silver in the brilliant summer sun. (Yes, actual silver paint was used; this is a fashion hankie.)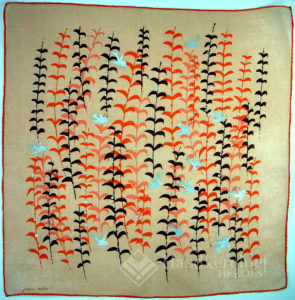 While naughty masked bandit raccoons snarf tasty snacks of grain.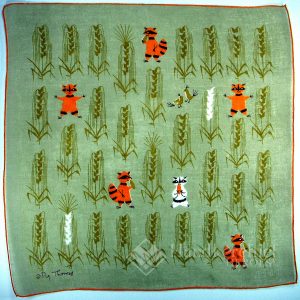 We saw a few of these images in our fruits and veggies blog, but they're so spectacular, we brought them around for an encore presentation. This jaunty chartreuse custodian stands guard over sheaves of wheat.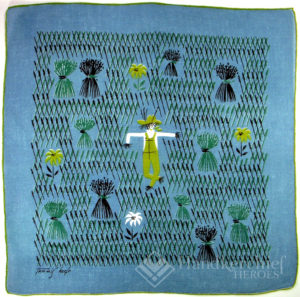 While this quartet of damsels spar mightily with a murder of contentious crows in an effort to save the corn.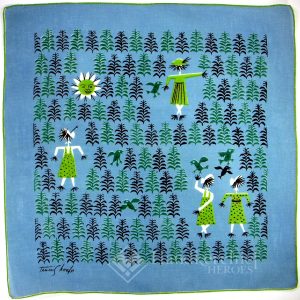 Deep burgundy and brilliant magenta are shot with flecks of silver paint on this beauty. As we've said before, no subject is too obscure when it comes to handkerchiefs – even corn. Collect long enough and there's no telling what you'll find.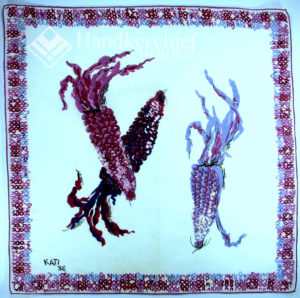 Brilliant sheaves of corn are bordered in understated gray. This hankie is both handsome and fun.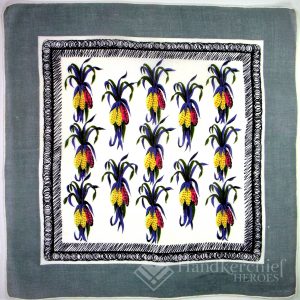 The sophisticated pen and ink illustration of the tractor driver could have graced the pages of The New Yorker, in contrast to the barefooted barnyard couple on the right, complete with polka dot cow!
This charming colorful compilation can't help but coax as smile…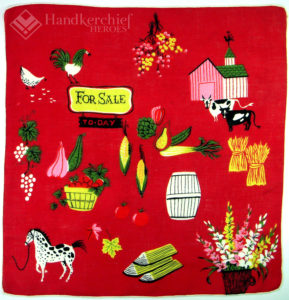 As does this child's tutorial in purple and gold – adorable!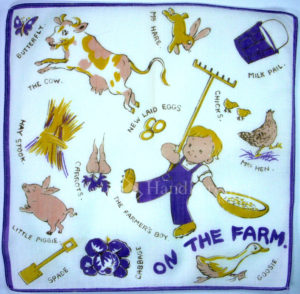 Where would a farm be without a morning call to arms from the faithful rooster? His magnificent obsidian tail mimics a burst of newly drilled oil exploding skyward in iridescent streaks. You'd strut too if your tail sashayed and gleamed in the sunlight. A staple of farm life, he's both regal in presentation and prolific in propagation, providing endless offspring via his harem of hens. This consummate cock o' the walk deserves his own blog and video and would expect no less!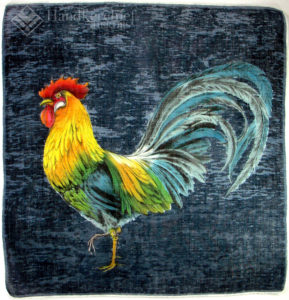 Ah Kansas, even those who were not born there, came to play, including Buffalo Bill Cody, Wyatt Earp, Wild Bill Hickok and Bat Masterson. Even her fictional characters are colorful – from Evangelist Elmer Gantry to Marshall Matt Dillon, Clark Kent aka Superman and the Wizard of Oz.
When you think of Kansas City, do you think of Kansas City, Kansas? Or Kansas City, Missouri? We're not going to split hairs, even though the city itself was split by an invisible state line along half of the ten mile border. The rest of the border runs along the Missouri River.
Kansas City, MO was the first to take the name. Legend has it names like Possum Trot and Rabbitville were rejected, and the city was named after the Kansas Indians. Missouri gained statehood in 1821, and Kansa became a state in 1861 when the new North/South state line cut the city in half. Whichever side you favor, it's best to adopt the attitude of the locals who understand it's all one wonderful city, claiming "We didn't cross borders; the borders crossed us."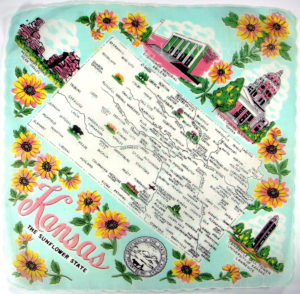 Observing Kansas' eastern border and Missouri's western border you can see how the puzzle pieces fit.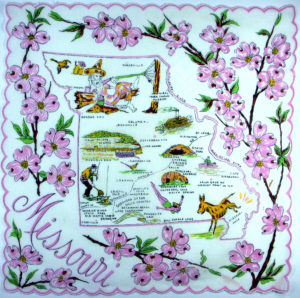 Quiz – what was the first language spoken by settlers in Kansas City?
The answer is at the end. Note we did not say first native language, as this was first and foremost Native American land.
You know you're in Missouri, as the state flower in the center of this hankie is no longer the sunflower, but instead the lovely white Hawthorn blossom. I love circular compilation hankies as they cover a wealth of information in an appealing format. This one includes everything from President Harry S. Truman's summer home to The William Rockhill Nelson Galley (now the Nelson-Atkins Museum of Art) to Union Station, once a hub of transportation, now housing theaters, a planetarium and a museum, to the famous Scout statue, Swope Park (1,805 acres!) and more.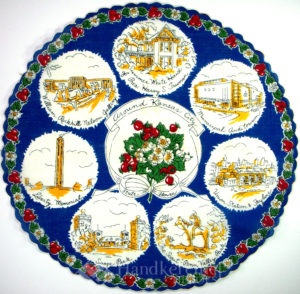 At first I wondered if Petticoat Lane had been named after Petticoat Lane Market i n London, but further perusal turned up an anecdote that claimed this stretch of downtown shopping was plagued by gusty winds that would lift women's skirts to reveal their petticoats! Whatever the source, it's a charming moniker for a shopping district which included the upscale Harzfeld's (opened as the Parisian Cloak Company). Kline's department store was famous for its Christmas displays which drew large crowds. They later added Toyland and a Fairy Princess who would listen to children's wishes, much like Santa Claus. One manufacturer which helped put Kansas City on the map was Nell Donnelly Reed, founder of the Donnelly Garment Company. Credited with developing "piece work", she captured the ready-to-wear market, and according to one source, post WWI, one in every seven women in the US purchased a garment that had been manufactured in Kansas City. By 1953 the Donnelly Garment company was purportedly the largest manufacturer of women's clothing in the world.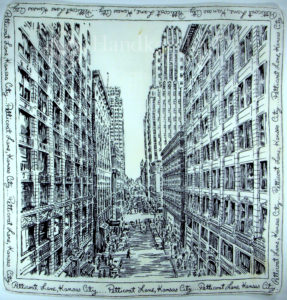 After WWII, with the growth of automobiles and highways shopping spread to the suburbs, and Country Club Plaza became a go to destination. Observe not only the proliferation of cars, but the two story garage!!! featured in the northeast corner. (When was the last time you saw a garage featured on a hankie? Also note the age of the cars.)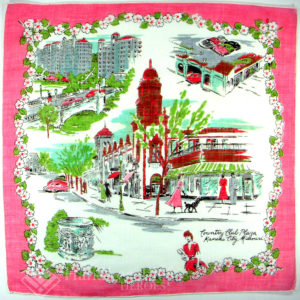 Starlight Theatre boasts 7,958 outdoor seats and remains a popular venue today, featuring Broadway shows, musical groups and more. What a fun souvenir to help you remember a special evening.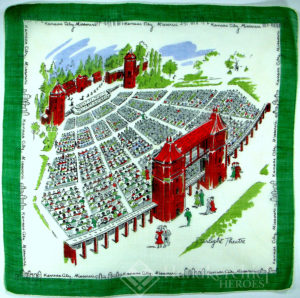 Compilation handkerchiefs featuring various landmarks and points of interest were extremely popular.
A visit to Kansas City wouldn't be complete without stopping to see The Scout. Sculpted by Cyrus E. Dallin for the

1915 Pan-Pacific International Exposition

in

San Francisco

where it won a gold medal. On its return trip back east, it was temporarily installed in Penn Valley Park and became so popular, residents raised $15,000 in nickels and dimes to purchase it and give it a permanent home overlooking the city. It was dedicated in 1922 as a memorial to loca

l Indian

tribes

.
Penn Valley Park was developed in 1904 on land once used for the Santa Fe Trail (which you saw in the first embroidered hankie.). It contains the U.S's official WWI Museum, The Liberty Memorial, and statues of The Scout and Pioneer Mother.
| | |
| --- | --- |
| | |
| Pioneer Mother | The Scout |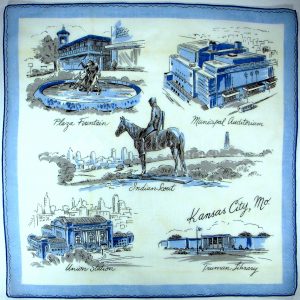 The Plaza Fountain or J.C. Nichols memorial fountain contains four horsemen said to represent the four rivers of the world – The Mississippi (the horseman is fending off an alligator), The Volga (the horseman is fighting a bear), The Seine and the Rhine.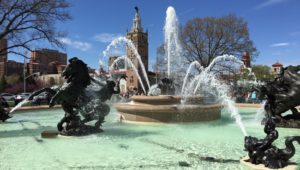 This hankie is quite worn (i.e. well loved) but I'm glad it was saved, as note what is prominently featured in the upper right corner. American Royal began as a cattle show in 1899 in the Kansas City Stockyards, with horse shows added in 1907. In 1926 agricultural students were invited to judge livestock and soon thereafter a group of them met to form the Future Farmers of America (650,000+ members today.) The 2015 World Series champion Kansas City Royals' name originated from this livestock show. And there's your trivia tweet for the day.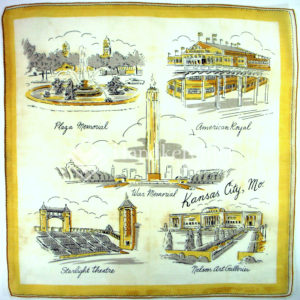 This hankie covers a plethora of landmarks in a concise, interesting formant. It appears to have more recent structures in the center, surrounded by images from history. Although Loose Park (upper left corner is famous for it's rose garden (4,000 bushes) and garden weddings, it was originally owned by William Bent, a man who led wagon trains and traded with the Indians. This hankie is loaded with history.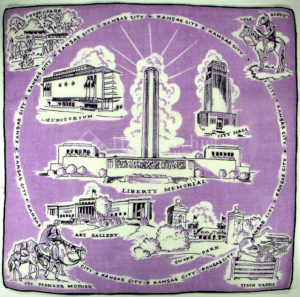 As with all our blogs, we can only touch on a few images featured, and by no means should this be considered a complete history. It's just a hankie lovers observations of a time when these fashion accessories were colorful, creative, fun, fanciful, and fabulous. We miss them. Thumb scrolling on a cell phone can't come close.
Just for Fun
Quiz answer: The first language spoken by settlers to Kansas City was French, originating with the fur trappers.
This image is not on a handkerchief, but is such fun we wanted to share the façade of the Kansas City Public Library which displays the Community Bookshelf. It showcases 22 book titles ranging from the "Tao Te Ching" to "Lord of the Rings" to "Romeo and Juliet". What child wouldn't want to spend time here? Kansas City has such a rich history, it is no surprise that so many people choose to live here. If you are thinking of moving to Kansas City, you can visit website here to view some properties for sale.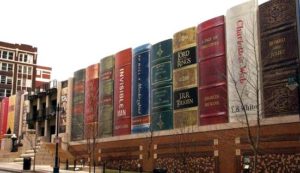 Kansas City
Has been performed by everyone from The Beatles to Fats Domino to Little Richard, but the original hit version is always the best.
httpa://www.youtube.com/watch?v=f8tZO97uhyE
Written by Jerry Lieber and Mike Stoller in 1952, it became a hit when it was recorded by Wilbert Harrison in 1959.
Home on the Range
Has been sung by everyone from Gene Autrey and Roy Rogers to Bring Crosby and Frank Sinatra, but since this is our Just for Fun section, we're going to give you the Slim Whitman version which includes a bit of yodeling.
httpa://www.youtube.com/watch?v=PE5sJy44s-Y
The lyrics were written in 1872 by Dr. Brewster M. Higley of Smith County, KS as a poem entitled "My Western Home". Music was later added by Daniel E. Kelley, a carpenter and friend of Higley. In 1947 it became the state song of Kansas. In 2010, members of the Western Writers of America chose it as one of the Top 100 western songs of all time.
Famous Folks from Kansas
We can't begin to name all the talent that hails from the heartland, but here is a tiny sampling in no particular order – President Dwight D. Eisenhower, Amelia Earhart, Damon Runyan, Charlie Parker, Barry Sanders, Gale Sayers, Erin Brokovich, Jason Sudeikis, Buster Keaton, Hattie McDaniel, Annette Bening, Kirstie Alley, Dennis Hopper, Melissa Etheridge and scores of authors, journalists, scientists, and more. Truly, this is the tip of the iceberg.
Famous Folks from Missouri
President Harry S. Truman, Mark Twain (Samuel Clemens), Dale Carnegie, Scott Bakula, Maya Angelou, Dick Van Dyke, Coleman Hawkins, Langston Hughes, Tom Watson, Casey Stengel, Joe Garagiola, John Goodman, Kathleen Turner, Chuck Berry, Burt Bacharach, Walter Cronkite, T. S. Eliot, George Washington Carver, Yogi Berra, General Omar Bradley, and on it goes….
"Where else but in American could a schoolteacher from Kansas City

end up the governor of her adopted State?"

Jane D. Hull