"Giving up smoking is the easiest thing in the world. I know because I've done it thousands of times."

Mark Twain
Along with dieting and exercising , another popular New Year's Resolution is giving up smoking. In decades past, smoking was considered sexy and sophisticated, and later, cool and hip. The Marlboro Man commanded the prairie with swagger and bravado. Holly Golightly flirted and flattered with her gloves up to here, and her cigarette holder out to there.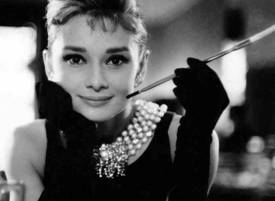 "Strange as it may seem, there is nothing in which a young and beautiful female appears to more advantage than in the art of smoking."

Herman Melville, Typee: A Peep at Polynesian Life
To enhance your viewing: Smoke Gets In Your Eyes, by composer Jerome Kern and lyricist Otto Harbach for their 1933 musical Roberta. Here is an instrumental version by James Sanders w/Kevin O'Connell trio
httpa://www.youtube.com/watch?v=iildu2FwnWs
In the early 1900's, gentlemen returning from their "Grand Tour" of the continent exhibited a newly acquired taste for French Gitanes, Gauloises or Turkish Murads. Much like clothing, watches, and designer logos of today, preferences for certain tobaccos, purportedly imparted a certain cachet, style or taste of the user.
Historians claim Robert Gloag opened the first cigarette factory in London in 1856, followed shortly thereafter by Philip Morris, known for his customized hand-made cigarettes. The Bond Street craze soon spread to Fifth Avenue in the U.S. With smoking quickly becoming "fashionable" it's not too surprising to find images on fashion handkerchiefs as well. Here an image from 1923 depicts wisteria vines framing fashionable flappers smoking languidly, perhaps after a strenuous twirl on the dance floor.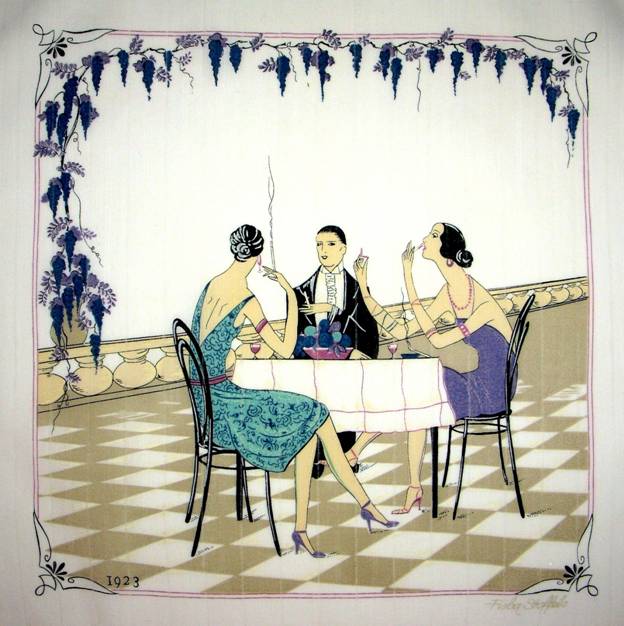 The names of early cigarette brands were as chic and trendy as their users – Non Plus Ultra, No Name 10s, Neapolitans, Full Dress, Old Judge, Straight Cut, Vanity Fair, Bon Ton, Three Kings, The Pet and Opera Puffs. The Marburg Company aimed at the "carriage trade" with brands like High Life, Golden Age, Sublime, Perfect and Herbe de la Reine. This was long before the 1929 crash, and indeed, uber sophisticates indulged in High Life to the fullest.
An afternoon of Canasta wouldn't be complete without a cocktail or two, the requisite cigarette, and a jaunty, flirty polka dot hankie.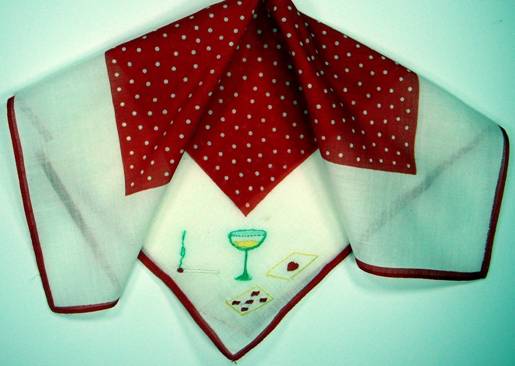 Both Frank Sinatra and Joan Crawford helped advertise Chesterfields. (If you'll recall, in our blog on Scottie Dogs Crawford purportedly gifted all her friends cartons of cigarettes for Christmas.)
| | | |
| --- | --- | --- |
| | Sinatra likes Chesterfield for its "Man Size Satisfaction" while Crawford appreciates the "milder" taste of this fine, light mellow tobacco. I guess you can be all things to all people | |
It was definitely a different time in history. Here Sinatra and Dean Martin both light up before a recording session, while a playful Sinatra jokingly holds five lit cigarettes at once.
| | |
| --- | --- |
| | Handkerchiefs were even sold in airtight tins where you could later store your cigarettes.This tin held six white men's handkerchiefs rolled like cigarettes. |
According to cigarette historian Dick Elliott, During WWII, the Office of War Information classified as Top Secret a project to have cigarettes manufactured and included in soldier's field rations. Smuggled behind enemy lines from the U.S. Cargo Submarine Narwhal, packages were dropped at night from B-24 bombers. Cigarettes carried both the American and Filipino flag with General MacArthur's signature imprint and slogan "I Shall Return." Apparently these packets helped sustain morale of the guerrilla fighters. During WWI, the Red Cross printed up matchbooks with an image of Uncle Sam posing with a sailor and a soldier, saying "I'm Proud of You. So are the folks at home." Again, cigarettes were a comfort, a way to pass the time. Their danger was not understood.

"Smoking had become my favorite thing in the world to do. It was like having instant comfort, no matter where or when."

Augusten Burroughs, Running with Scissors
"Smoking had come to be an important punctuation mark in the long sentence of a day on the road."

F. Scott Fitzgerald
A wartime souvenir hankie from France features a mademoiselle perhaps waiting for her beloved, while she enjoys a cocktail and cigarette.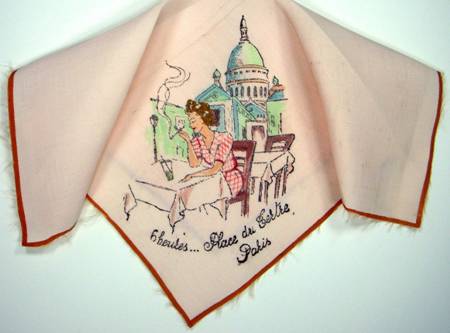 A popular hobby still active today is collecting matchbook covers. Artist Jeanne Miller gives us two terrific versions of collecting. One appears disciplined and organized, and one a tumbled jumble that looks like the "catch all" drawer in my kitchen.
Note how each cover is different – cocktail lounge, swanky beachside resort, historic city, etc. Also note the matches themselves are depicted in a variety of colors.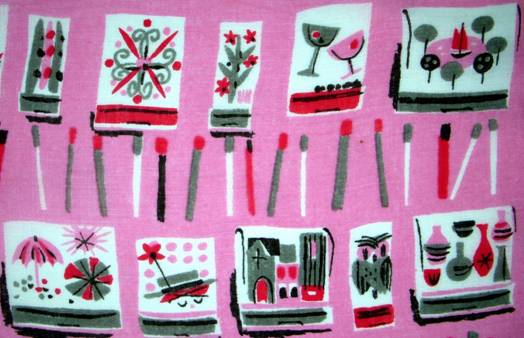 In these terrific samples from Leafcutter Designs, we find matches with images of everything from frankfurters to fish, men's ties to mocking birds, and paint brushes to poker. Deeelightful.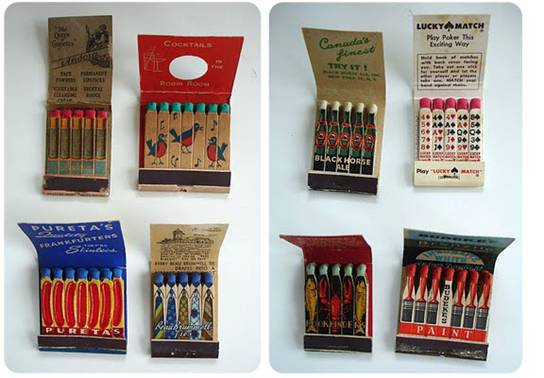 This sophisticated charmer is a stunning example of restraint. It's perfection in simplicity. Crisp and bold, the undulating smoke patterns are playful and hypnotic.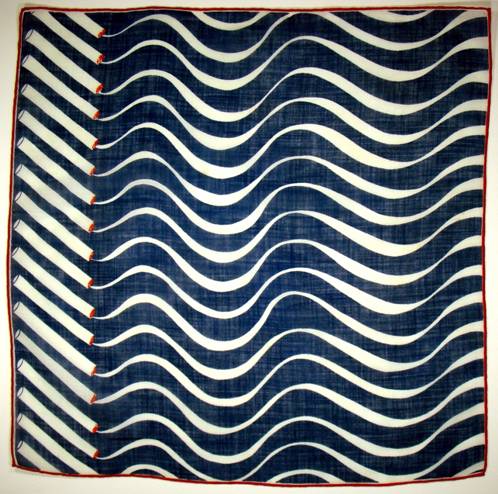 Her Dreams Went Up In Smoke
Cigarette + flame + ruby lips + meandering smoke take the lady on a journey of reminiscence, wherein she meets a great love, who whisks her off to Paris, where they cruise along the Seine, meander down to the French Riviera, to Monte Carlo and the Monaco Grand Prix, back up north to the Chateau de Vitre, while enjoying literally bags full of money. Oh my. What a whirlwind romance that was. Or perhaps it was just a dream, which like her cigarette, went up in smoke.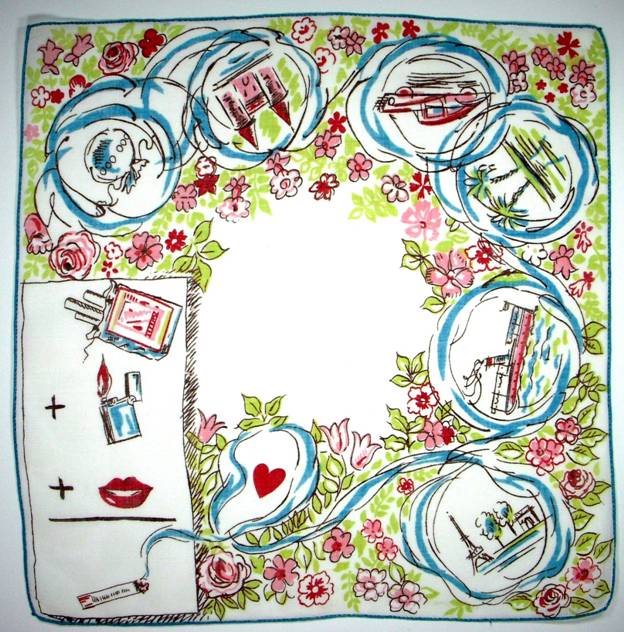 I sometimes feel as though handkerchiefs resemble tiny cotton novellas or one act plays. If you look carefully, you'll find the artist has conveyed volumes in the briefest vignette.
| | |
| --- | --- |
| The full danger of smoking was not completely understood until recently, but even in the 1950's and 60's, the fact that smoking could leave you winded was acknowledged, if still ignored. In this example, a doctor rejects his own advice. | |
This sad but true hankie runs the gamut from taking it out on the kids to exiling yourself to a desert island.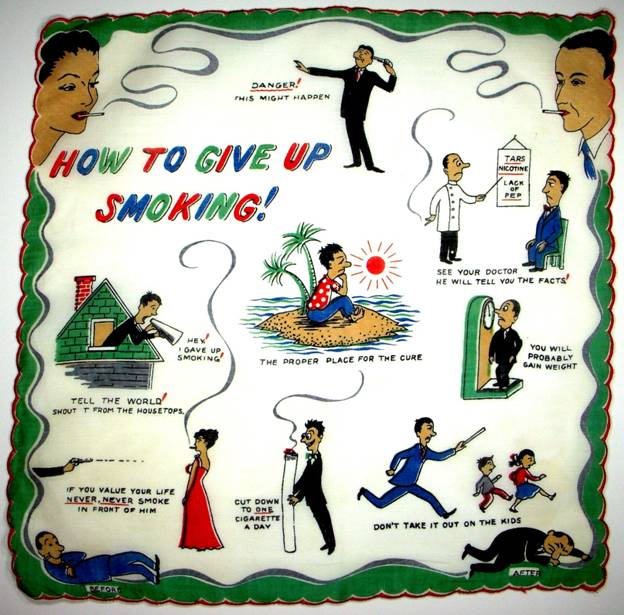 "Who knows whether, if I had given up smoking, I should really have become the strong perfect man I imagined? Perhaps it was this very doubt that bound me to my vice, because life is so much pleasanter if one is able to believe in one's own latent greatness."

Italo Svevo
Bonus
When Smoking Was Sexy
Bette Davis and Paul Henreid practically fall into foreplay as they share a cigarette in the tearful ending of the 1942 classic Now Voyager.
Bogart handled his cigarette more like a bit of hand rolled heaven, as seen here in another classic from 1942, Casablanca
His unique style left an impression on the rock/folk group Country Joe & the Fish who penned the song "Don't Bogart That Joint," which was featured in the 1969 film Easy Rider.
A silk scarf provides a colorful cornucopia of cigarettes from around the globe….