And one, and two, and kick, and kick….and three, and four….and SMILE….this if FUN!   Like milk & cookies, mac & cheese, ice cream & hot fudge, what goes with Diet?  EXERCISE!
Back in the heyday of the handkerchief, the king of exercise was Jack La Lanne.  Today people may chuckle at his stretch jumpsuit and pumped up "guns", but he motivated thousands to get off the couch and into shape; and he lived to be 97.  It was pneumonia that finally felled the workout master.  As far back as 1936 La Lanne had a gym, juice bar and health food store in Oakland, CA. Doctors decried him as a quack, and advised him working out with weights would not only give people heart attacks, they would lose their sex drive!
Thankfully La Lanne ignored their admonitions and utilized the "new" intimate medium of television to bring exercise into people's homes in 1951. What many don't realize is La Lanne had his German shepherd Happy perform tricks to entice children to watch his show.  Once tuned to his program," Uncle Jack" told the kids to "go get mommy or daddy, grandma or grandpa and make sure they exercise with me."  Pretty darn clever.  Using nothing more than a chair, a broomstick and a rubber cord, La Lanne helped legions of folks get into shape.  I was astounded to learn La Lanne didn't like exercise.  He said he did it because he liked to feel fit and stay in shape.  So there goes my excuse.
Aside:  According to sources, "At 60 he swam from Alcatraz Island to Fisherman's Wharf handcuffed, shackled and towing a 1,000-pound boat.  At 70, handcuffed and shackled again, he towed 70 boats, carrying a total of 70 people, a mile and a half through Long Beach Harbor." You can't argue with results..
Decades after La Lanne, Jane Fonda continued the trend with her at-home workout tapes, while boyfriends, spouses and brothers would intermittently walk by the tv to get an eyeful of toned women in leotards.  And that very motivator is what we find depicted on our handkerchiefs.
Here's a checkerboard patterned  hankie with every imaginable permutation of stretch, leap and twirl to keep you in tip top shape. U-tube videos have nothing on this exercise hankie.  If it isn't depicted here, maybe you shouldn't  attempt it.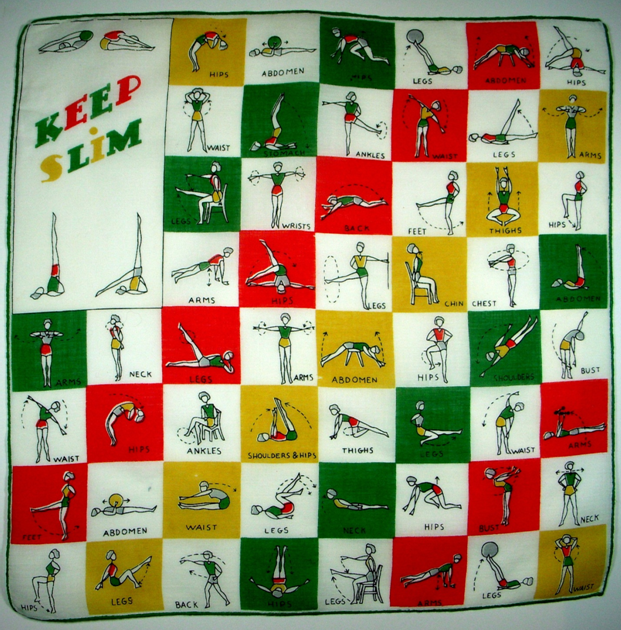 The graphics are colorful, clear and strong, the images simple and easy to follow.

Admittedly, a few positions  might require a call to 911, such as: this backward thrust for the hips.  Unless you're throwing yourself over a bar in a high jump competition and plan to land on a mound of mattresses, this move looks fairly suicidal.  I'm clueless about the last one.  If you throw your head back to touch your ankle, as the arrow indicates, who will lift you off the floor once you're flat on your back staring at the sky?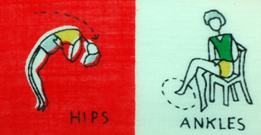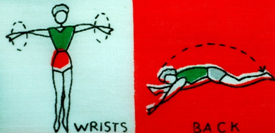 "I don't work out. If God had wanted us to bend over, he would have put diamonds on the floor." Joan Rivers
Speaking of which… diamonds may be the reward in store for the women on the following handkerchief. Apparently, if you persevere, there's quite a shining light awaiting you and the end of the exercise tunnel!!! (does it ever really end?)
This hankie spells it out for you loud and clear. As you bend and stretch, squat and lunge, plié, spin, and kick your toes skyward, Kings will hover nearby to offer you the crown to their kingdom.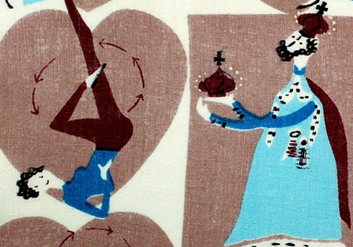 Suitors will queue in triplicate to vie for your hand.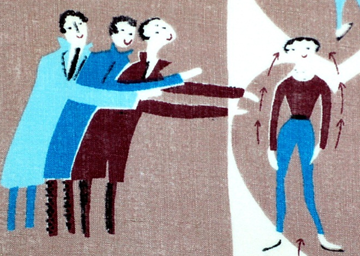 Men will float on air with bouquets of flowers and treasure chests overflowing with precious jewels.

Gents will fall on bended knee to supplicate, entreat, petition, and beg you to accept their heart.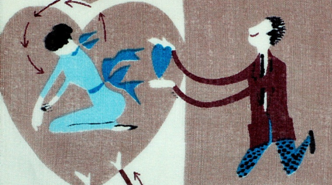 Just keep those shoulder shrugs and donkey kicks going non-stop.   Oddly enough, our border of disciplined dancers appear to be more focused on fitness than fiancés, but perhaps they're just playing by "The Rules" (i.e. ignore him 'til he's panting like a dog, poor thing…)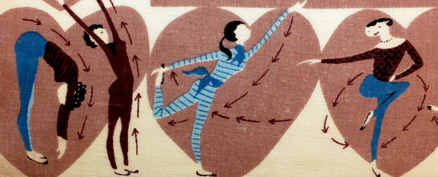 .

These gals in ponytails and skin tight slacks bring to mind Audrey Hepburn dancing for Fred Astaire in the1954 classic movie Funny Face.  She dances to Gershwin classics How Long Has This Been Going On? and Funny Face.
| | |
| --- | --- |
|   | The oh-so-radical "beatnick" choreography is reminiscent of Bob Fosse, while the skinny pants and white socks summon memories of Michael Jackson.  The dance number was so iconic, The Gap used it in 2006 to introduce their skinny black jeans, setting Hepburn's moves to AC/DC's Back in Black.  I supposes if you could look like Hepburn after dieting and exercising, it would all be worth it.  We all start the New Year with good intentions, and we all know basically what we should be doing to stay healthy, but if you long to be size  2, it helps immensely if the place you start is size 4. |
Let's hope we all have, or can find, some magical, invigorating, inspiring, delightful, delectable,  satisfying goal to keep up on track.  I wish for all who read this the best of health and happiness in the New Year – regardless of whether you're sitting, standing, stretching, or lunging…as long as you feel good about yourself !