"Like most little girls, I found the lure of grown-up accessories astonishing – lipstick,    perfume, hats, and gloves. When I write female characters in my historical novels, getting these details right is vital."

Sara Sheridan
Winter is slipping through the cracks in frosty gusts, as we rush to retrieve scarves, hats and gloves to keep us warm and snuggly. Nothing feels quite as sensuous as slipping into a pair of leather gloves lined in cashmere. Yum! An exquisite pair of gloves peeping from a Christmas stocking will surely be welcomed, and often the first gift put to good use.
Over the years, gloves as fashion accessory has been cast aside, and with it, opportunities to flirt, flaunt and vamp like a champ. Whether ingénue or vixen, the glove has been a standby for centuries to signal how a lady sees herself and expects to be treated.
From innocent ingénue to wily vixen (Audrey Hepburn in the 1961 film Breakfast at Tiffany's)
Even Marilyn Monroe appears naive and immaculate pictured in demure white gloves before she discovered "Diamonds are a Girl's Best Friend". (from the 1953 classic Gentlemen Prefer Blondes)
Wardrobe and costume professionals understand the subconscious power of the glove, and have utilized their visual impact for decades. Note how they can propel a girl from the streets into high society, conveying both innocence (left) and elegance in another film favorite, 1990's Pretty Woman.
"Gloves make you so much more delicate."

Karine Vanasse
Jacqueline Kennedy Onasis often completed her couture with beautiful kid gloves.
Gloves are de rigueur for royalty, from queens to princesses
Speaking of royalty, note the rich gold embroidery on the gloves of both Queen Elizabeth I and Elizabeth II.  (© Bath and North East Somerset Council, Museum of Costume)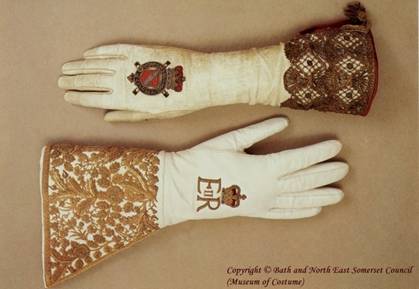 | | |
| --- | --- |
| | The flared cuff on the glove above identifies it is a gauntlet.  Preferred by nobles and knights, gauntlets were originally fashioned to protect the forearms during battles and tournaments. The term to "throw down the gauntlet" meant to issue a challenge to another, and would often proceed a heated argument, a duel, or even war. |
For dandies and fashionistas alike, the large cuff provided ample space to make a statement in embroidered gold, silver, seed pearls, and precious gems. When Lady GaGa forsook her usual attention grabbing garb in favor of elegant glamour at the Oscars, she still captured everyone's eye with blood red gauntlets. Madonna has understood the power of a bright red glove since day one of her careeer.
Note Madonna's gloves are fingerless, all the more advantageous for showcasing fiery red fingernails. With the world madly tapping away on cell phones and tablets, fingerless gloves have soared in popularity. They actually date back to the Romans and Greeks, allowing the wearer freedom to execute tasks requiring manual dexterity, such as archery, or embroidery for women. During the Renaissance, wealthy folk wishing to display their sumptuous rings often wore fingerless gloves crafted from the finest kidskin, silk or velvet.
Images of gloves appear frequently on handkerchiefs, as they were an integral part of fashion, and completed an outfit, much like a silk parasol or bespoke chapeau. Certainly neither half of this dandified couple would go strolling down the avenue sans gants.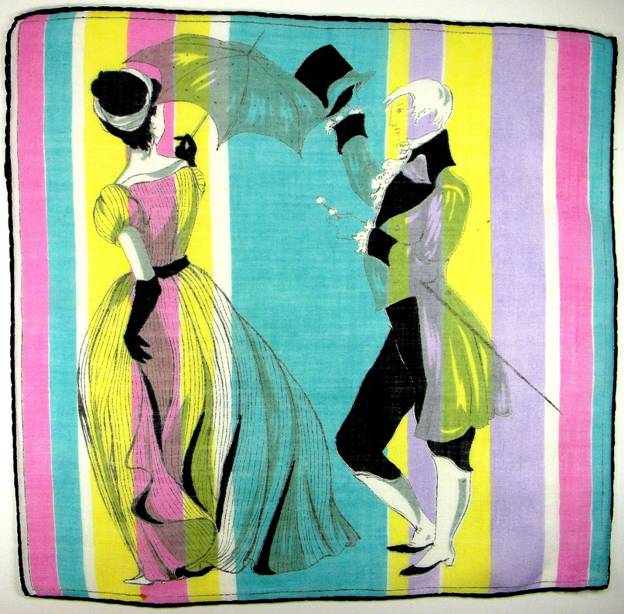 Oooooh. Can't decide which hankie I love more, the Schiaparelli pink with polka dots…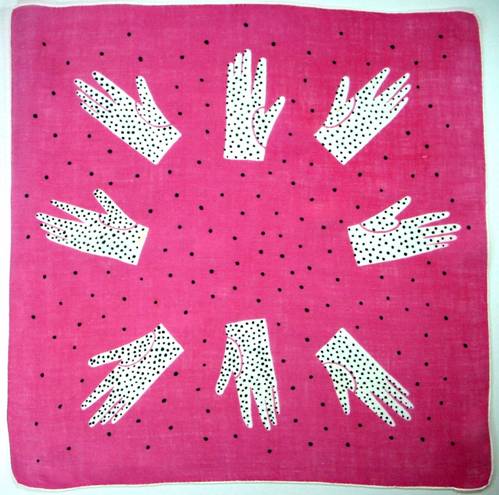 or the jungle green with grazing zebras. Absolutely smashing!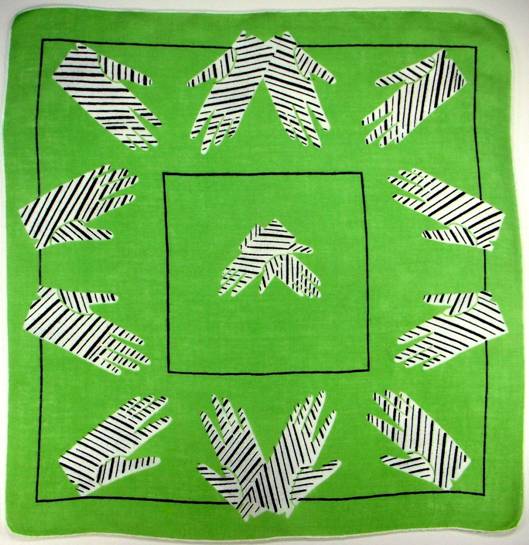 Wise women knew the right accessory could not only complete an outfit, but catch the eye of an intended love interest, thus hats, shoes, gloves and jewelry were chosen with great care. Naturellement, beautiful handkerchiefs were a staple in m'lady's boudoir of accoutrements. Note the lacy number beneath the opera glove.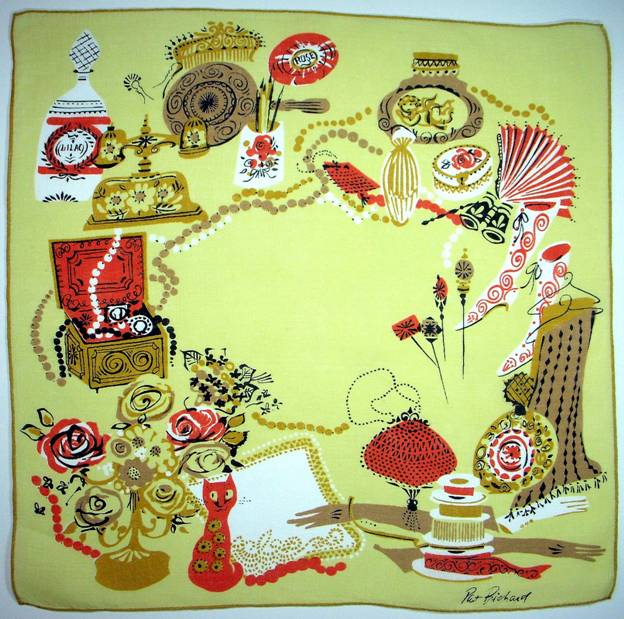 Some images depicted accessories from establishments like Selfridges, Harrods, Galeries Lafayette, Le Bon Marché, Bergdorf Goodman, Nieman Marcus, and more…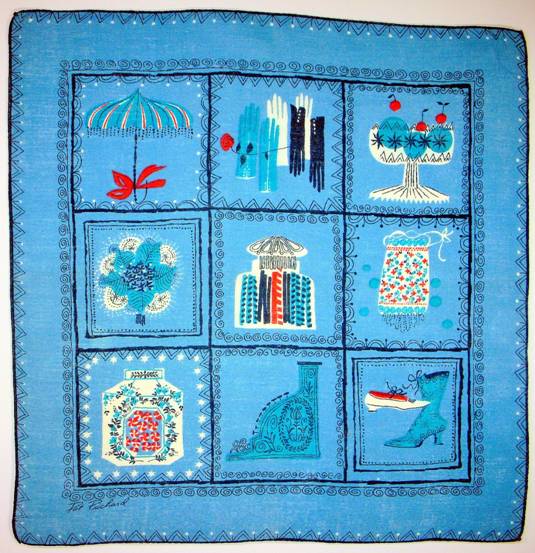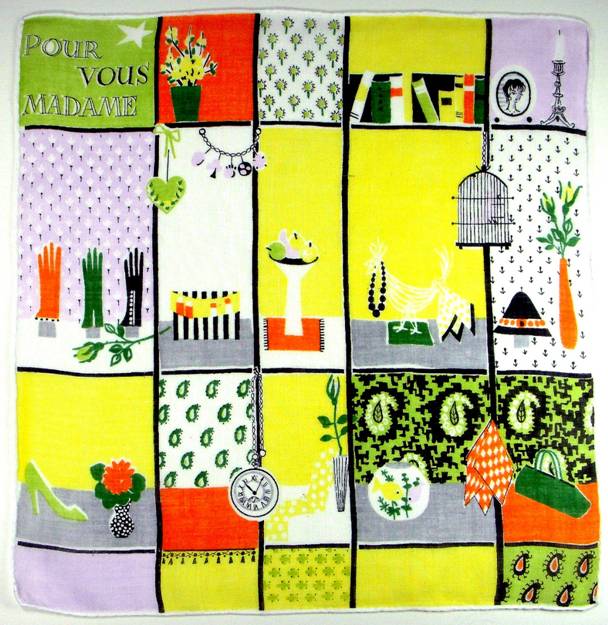 Gloves were part and parcel of images which showcased style, including this quartet of lipstick handkerchiefs.
Rich chocolate brown provides the backdrop for a pair beautifully gloved fashionistas.
So whether you're an ingénue strolling along the boulevards of Paris…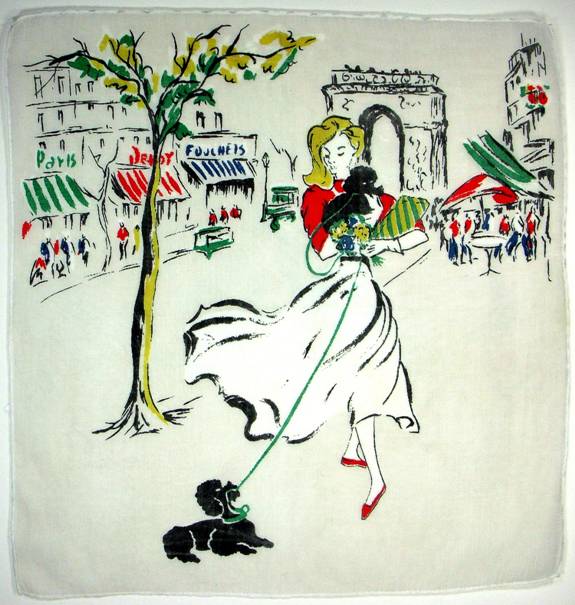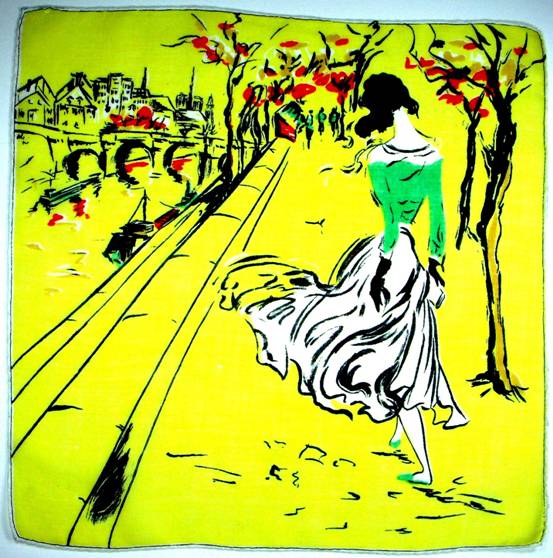 Or you're shopping for the latest spring fashion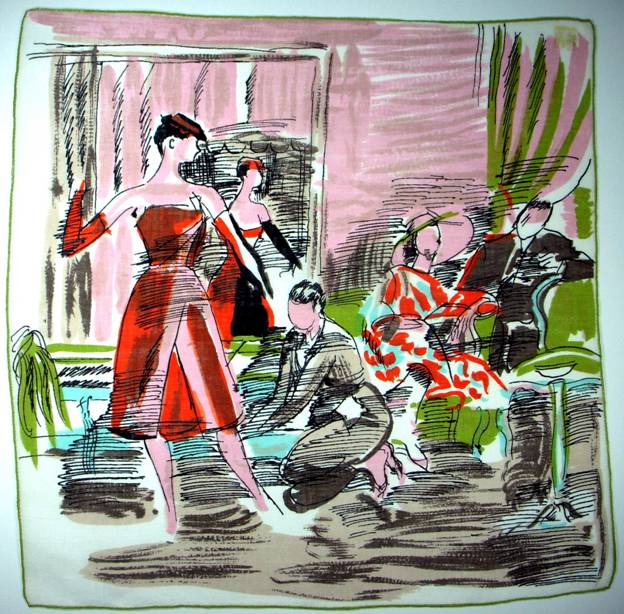 Whether you're enjoying an apéritif on the terrace…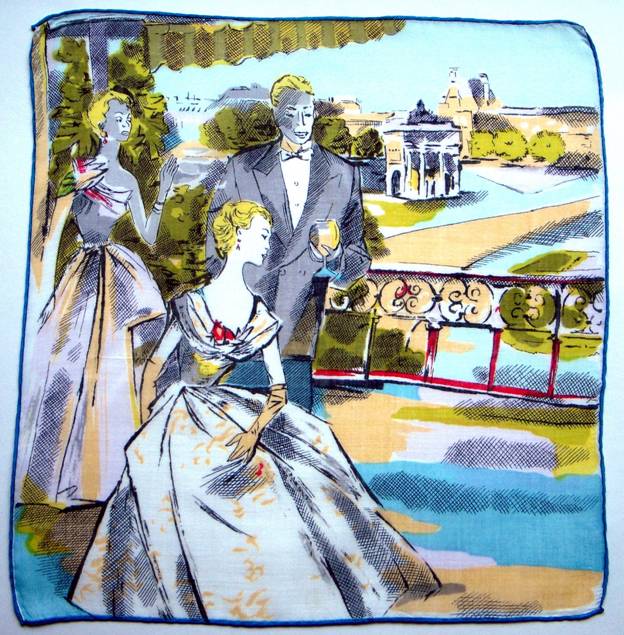 Or digestif while admiring the city lights… (three of the four ladies are gloved)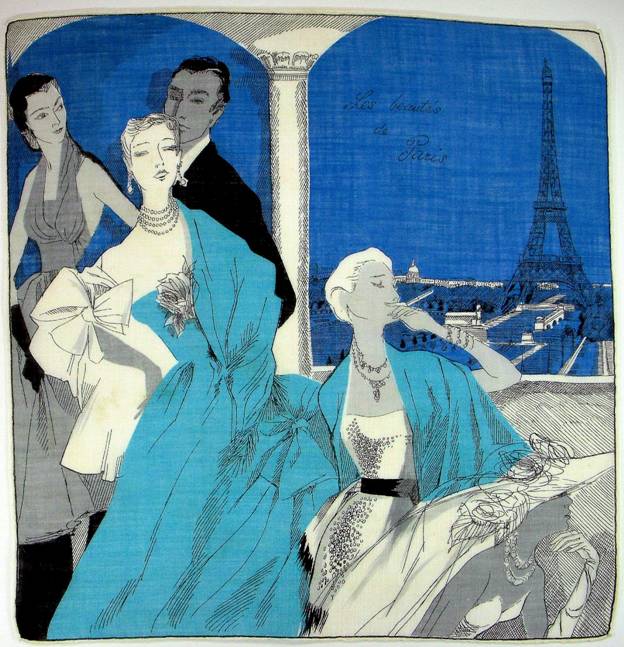 When dressing for opening night, formal gloves are de rigueur, adding elegance and panache to any ensemble.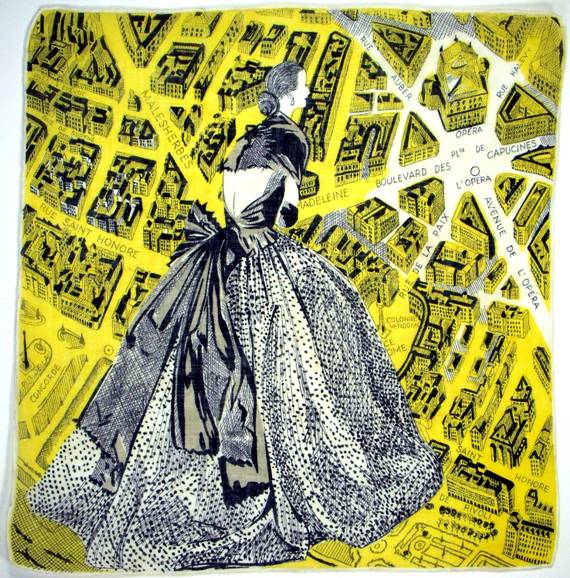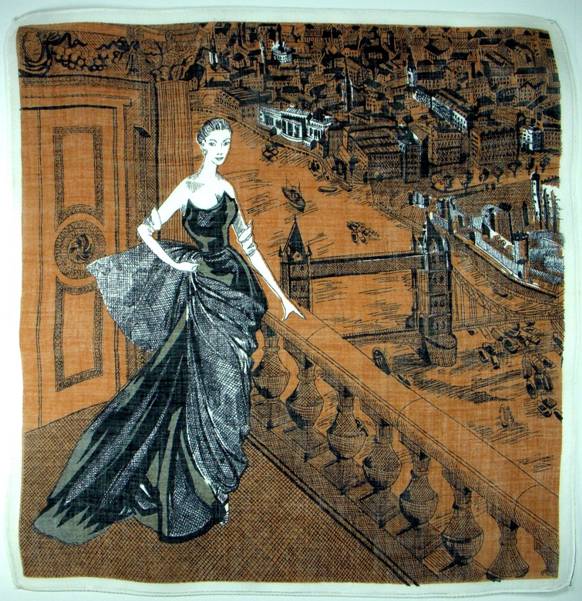 Intermission calls for a touch up here and there, including a reapplication of lipstick.
The quote on the right roughly translates "how is it that the ladies apply lipstick so poorly on their own lips, and so well on ours?" It's by French actor, director, and playwright Sacha Guitry. Having had five wives, he should know!
"Beauty, to me, is about being comfortable in your own skin. That, or a kick-ass red lipstick."

Gwyneth Paltrow
The reason we find so many lipstick hankies featuring gloves, perfume, pearls, etc. is that all of these accoutrements (including hankies) were flirting mechanisms, designed to draw the eye toward the woman. Yes, there are gardening gloves and oven mitts, etc. but we're not focusing on utilitarian gloves, nor are these handkerchiefs. It's all about fun, flirting and fashion!
Neither Rita Hayworth nor Jayne Russell were wearing these gloves for warmth!
(though undoubtedly they generated a bit of heat…)
The next pair of lipstick hankies convey a similar impression.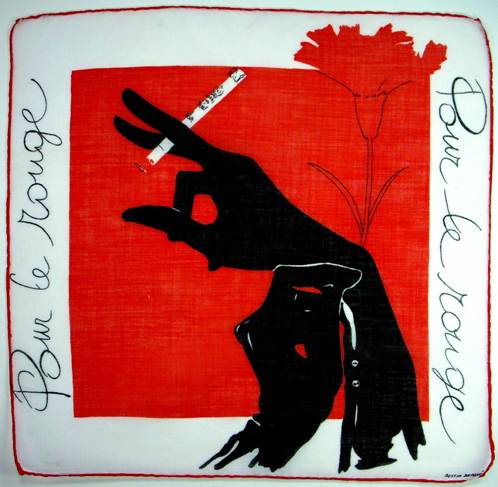 The temptress in the fishnet tights even cracks a whip to ensnare her target. Clearly long black gloves spell trouble!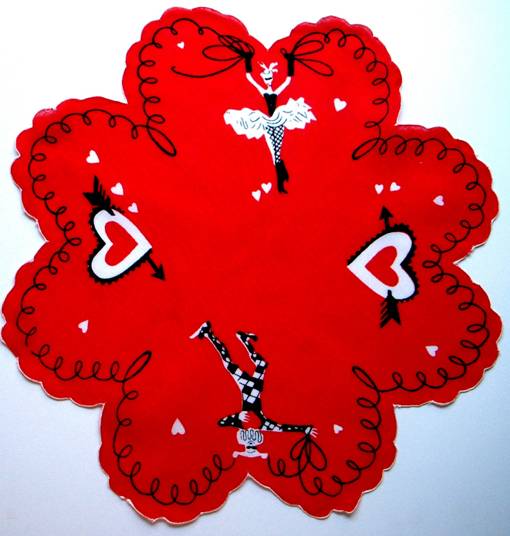 Conversely, long white gloves invoke images of cotillion, and long red gloves? – Anything Goes.
One woman I know who seems to have gloves in every color told me "Gloves make me feel feminine, also finished and pulled together. People just assume when they see gloves that I'm wearing great shoes and carrying a terrific handbag. I look like I have all the details covered, even when I don't."  Never thought of it that way. Better keep a pair in my purse!
"And her old Uncle William used to say a lady is known by her shoes and her gloves."

Virginia Woolf, Mrs. Dalloway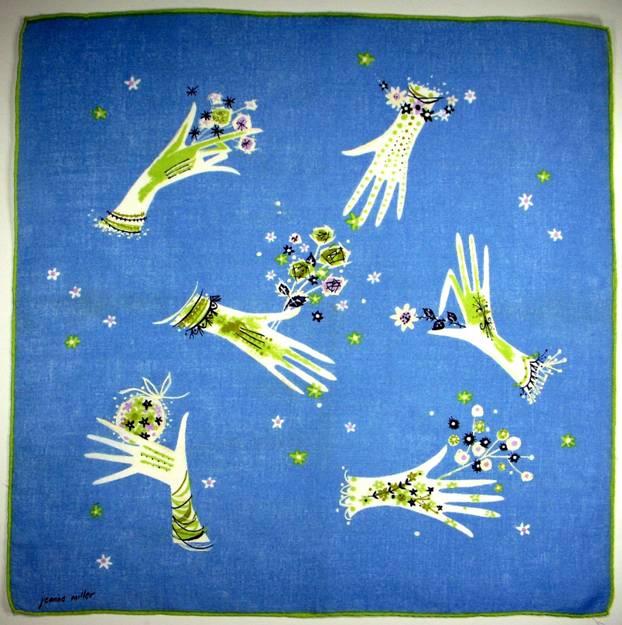 From the fall fashion magazines, it appears that gloves are on trend – buckled, beribboned, studded, embroidered and more.  I'm biased of course, but I believe hankie people and glove people have an advantage when it comes to femininity, and the lady who employs both is assuredly ahead of the game.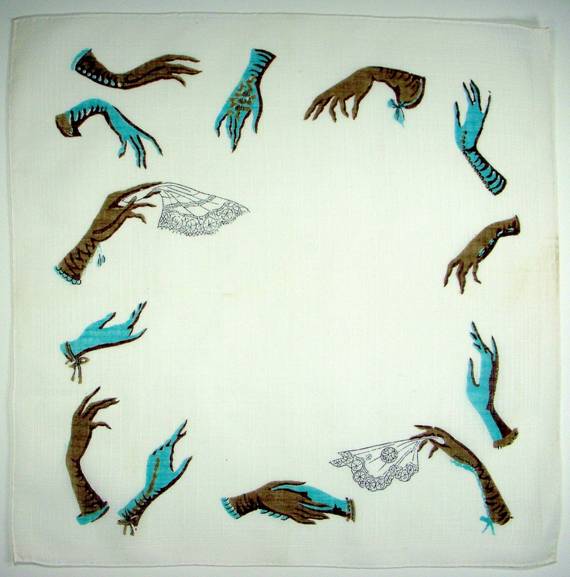 We've referenced flirting quite a bit, but aside from all the fluffing and flouncing, it's really more a matter of feeling you deserve to treat yourself, even in small ways, to little luxuries that confirm you're worth it – lovely stationery, a fountain pen, a lace trimmed handkerchief, a really great pair of earrings, or whatever small indulgence will put a smile on your face. Since it's the season, how about splurging on a smashing pair of gloves you might not normally buy? Or perhaps deliver several pairs of cozy gloves to your local shelter? The gift of gloves is like sending someone a warm hug day after day.
Just for Fun
We couldn't leave you without mentioning the Three Little Kittens who lost their mittens. Here a googly eyed kitten and her companions dance with joy at having found their warm wooly gloves.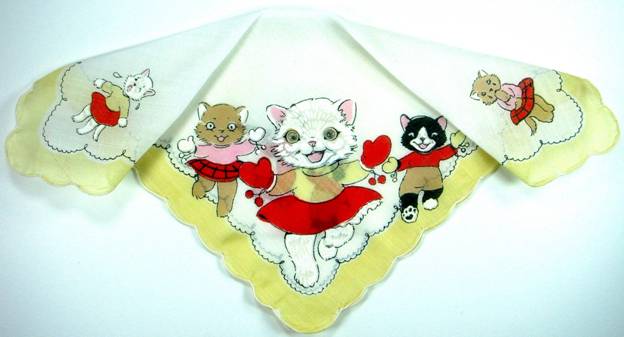 Glove Symbolism
BuzzFeed opines that in the movies, gloves represent hiding one's true intentions, and "characters seen wearing gloves are normally hiding something."  In the movie Frozen, Elsa uses her gloves to hide her powers, and only reveals her true self after discarding them. Conversely, the evil Hans wears gloves through the entire film. Interesting.
Ceremonies, Rituals and Customs
According to Yvette Mahe PhD, in "History of Gloves and Their Significance", gloves were employed in the investiture of monarchs, dignitaries and knights. The transmission of a glove to a monarch at an inauguration symbolized granting of tenure and recognition of the king's authority. The gloves were first blessed and anointed by the archbishop. It was understood that the monarchy could, in turn, consign power to others by the delivery of a glove. Similar rituals were employed when investing an archbishop or knight.
| | |
| --- | --- |
| | Michael Jackson's famous Swarovski studded white glove sold at auction in November 2009 for $350,000. (w/commission, the final price was $420,000, excluding taxes)According to Julien's Auctions "The glove was worn by Jackson when he first staged the famous moonwalk dance at the 1983 Motown 25 television special."(Reuters, New York by Chris Michaud, 11.22.09) |
Glove Flirting
Various books in the mid 1800's carried instructions on how to send signals via the glove. Could any poor swain keep them straight?  We list them here, from positive to negative:
Using them as a fan – introduce me to your company
Holding them with the tips downward – I wish to be acquainted.
Smoothing them out gently – I wish I were with you.
Striking them over the shoulder – follow me.
Holding them loose in the left hand – Be contented.
Holding them loose in the right hand – I am satisfied.
Dropping one of them – yes.
Dropping both of them – I love you.
Putting end of tips to lips – Do you love me?
Holding in left hand with the naked thumb exposed – Do you love me?
Holding in the right hand with the naked thumb exposed – Kiss me.
Twirling around the fingers – be careful! We are watched.
Drawing halfway up the left hand – Indifference.
Striking them over the hand – I am displeased.
Putting them away – I am vexed.
Tapping the chin – I love another.
Tossing them gently – I am engaged.
Clenching them (rolled up) in the right hand – No.
Biting the tips – I wish to be rid of you very soon.
Folding up carefully – Get rid of your company.
Turning inside out – I hate you.
…Whew!
 *Beck, S. William, F.R.H.S. (1969). Gloves, their annals and associations: a chapter of trade and social history. London: Singing Tree Press, Book Tower. First issued in 1883 by Hamilton, Adams & Co., London