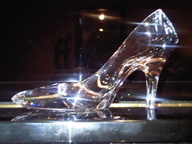 I don't know if this charming quartet of Cinderella hankies came as a boxed set, or if a little girl had to collect each image individually, perhaps as a reward for good behavior. This is an intriguing ensemble, for the heart theme unifies the images both visually and through subtext. Each scenario is ensconced in a heart, while Cinderella's ball gown is awash in tiny valentines.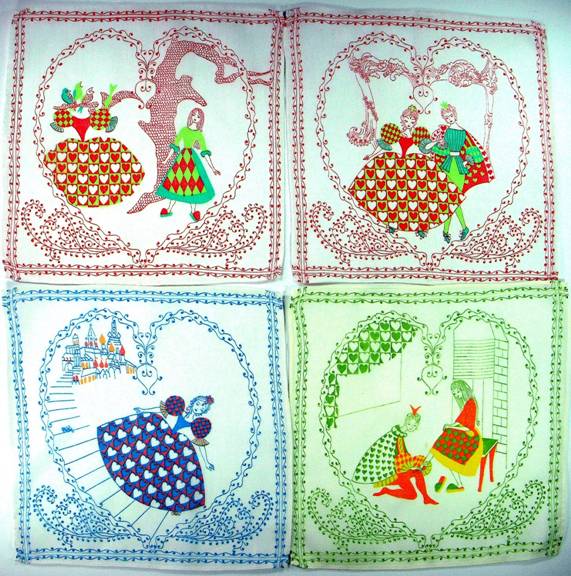 Let's start with Chapter One, where Cinderella appears to bypass her Fairy Godmother, white mice, pumpkin coach, stepsisters, frankly the who shebang, and zips directly to the Fashion Tree. Hmmm. Perhaps Carrie Bradshaw was cast as Cinderella?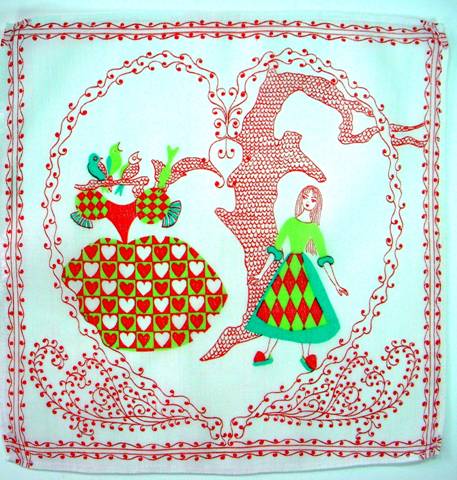 | | |
| --- | --- |
| | What? You never heard of a fashion tree?  This is a fairytale. You can have your gown delivered by a kaleidoscope of butterflies if you so desire. It's your dream. Stay with us, this tale takes all sorts of twists and turns. |
| | |
| --- | --- |
| | A quartet of songbirds trill in anticipation as they wait for the signal to float Cinderella's gown down over her head. |
| | | |
| --- | --- | --- |
| | Hold on….weren't those the same birds that helped Snow White? Apparently so. They also appear on a Cinderella hankie by Disney.  Methinks they alight wherever romance is in the air. 🙂 | |
In addition, the heart-adorned skirt is reminiscent of the Queen of Hearts in Alice in Wonderland.

(Helena Bonham Carter in Tim Burton's adaptation of Alice in Wonderland.)
Oh well. Surely with all those handsome princes running to and fro, there may be some overlap in the love department. But I digress… Back to Cinderella.
Note Cinderella's apron – the harlequin diamond pattern is part and parcel of her image, her "signature" she wears daily. (Some will rush to remind me this is Cinderella's "brand" – a concept quickly approaching "dead horse" status. Unless you have a custom logo and retail chain selling your wares, do you really need to "brand" yourself? Once New Yorker cartoons start snickering at Joe Average touting his "brand," it's time ease up on the concept. Unless you have a truly memorable product or image, back away from the campfire…) The magical ball gown retains the harlequin print on the sleeves, while transforming our heroine into a vision of enchantment, with a skirt resplendent in romantic hearts. We get the message loud and clear this gown was fashioned for her and no other…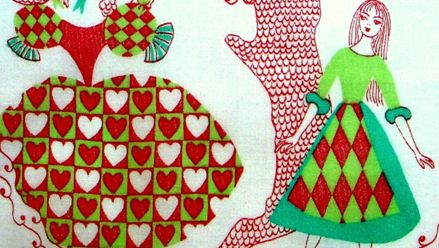 Once she dons her frock (with help from those little birds) and slips into her crystal slippers, it's off to the ball and into the arms of the prince.
"You are worthy of your wildest dreams."

Nicole Guillaume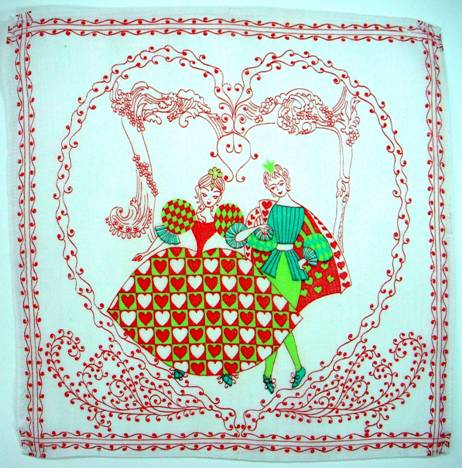 What's this? The handsome prince has identical harlequin patterned sleeves, along with a cape covered inside and out with hearts aplenty. Interesting.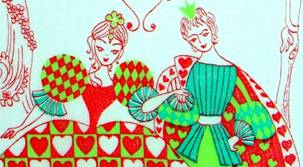 Both patterns (heart + harlequin) shared by the prince and his beloved link the pair visually in our minds the second they meet. The subtext reads they are "made for each other," two halves of the same whole, etc. No head of costuming or production for a major studio could have been more exacting than our handkerchief artist. The visual prescience is spot on. (Next time you're at the movies, step back from the story for a moment and note the care taken by wardrobe to make the hero or heroine stand out in a crowd, or fade into the woodwork, to look hip and sassy, or slick and professional, or appear like a bumbling loser.) These hankies practically storyboard it for you.
I love the fact that in image #3, the artist chose to drain Cinderella's dress of color, allowing it take on the deep hues of midnight as our hapless heroine dashes off into the darkness from what appears to be St. Petersburg. Who knew?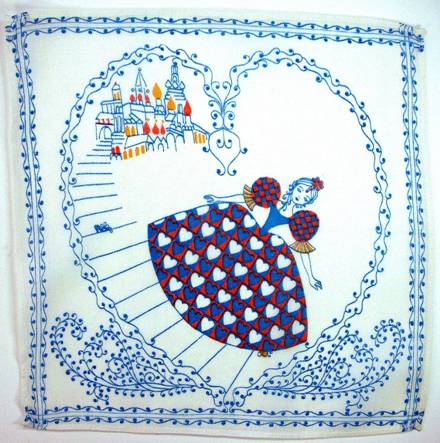 But all's well that ends well, and our brave swain once again unites with his beloved.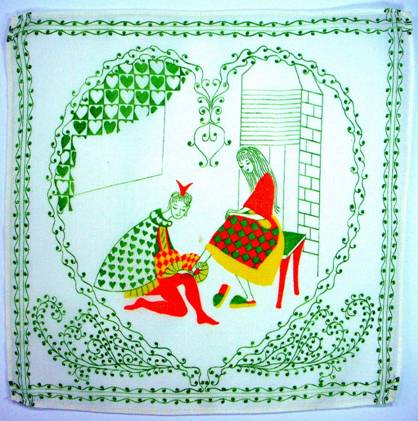 This time Cindy is decked out in brilliant orange and green which may be a tip off that she could have spent a spell as a cheerleader for the Miami Hurricanes. Nevertheless, the shoe fits and she can finally ditch those bedroom slippers. Whew! BTW, why is the prince barefoot? Was he giving that glass slipper a try?
| | |
| --- | --- |
| | Did you notice the curtain behind the Prince?  The fabric is the identical pattern in Cinderella's gown. Could it be that our Fairy Godmother fashioned Cinderella's dress from the drapes? Come to think of it, we never actually saw the Fairly Godmother… or mice, pumpkin, coach, or footmen.  Might we be witnessing a new twist on an old tale? That Cinderella, like Scarlett O'Hara in Gone With the Wind, or the equally industrious Maria von Trapp in The Sound of Music wielded her silver needle to fashion her own frock from the diaphanous drapes? I guess we'll never know… |
Just for Fun
Cinderella for Big Girls – or Christian Louboutin's Cinderella Moment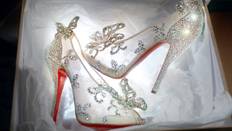 ©2012 Disney. All Rights Reserved
"Cinderella is not only an icon when it comes to beauty, grace, and fairytale love, but also shoes" proclaimed the maestro of shoe design, Christian Louboutin. He should know. His creations grace the feet of women from Hollywood to Royal Palaces worldwide. Quick – when you think "fairytale" and "shoes" who comes to mind? Cinderella…and Louboutin. Thus, it was only fitting Disney invited the famous designer to re-imagine the famous slippers for their Diamond Edition re-release of the famous 1950's movie.
Sparkling with Swarovski crystals, and adorned with butterflies, the shimmering shoes were on display for a brief time in Paris, as well as the Disney Museum in San Francisco. Personally, I'd be wobbling like a newborn baby giraffe in these skyscrapers, but it's fun to fantasize. I doubt even Sofia Vergara could waltz for long in these towering tributes to "high" fashion. (sorry, couldn't resist…)
In truth, eleven designers created footwear for the iconic fairytale including Manolo Blahnik, Stuart Weitzman and Jimmy Choo. (Choo's slippers will cost you £2,995. or $4,660.00 – gulp!) Have a look and let us know which one is your favorite: https://metro.co.uk/2015/02/13/designers-including-jimmy-choo-and-louboutin-have-created-cinderellas-glass-slipper-irl-and-theyre-dreamy-5061662/
"Wishes are possibilities. Dare to make a wish."

Lailah Gifty Akita