"Leaving San Francisco is like saying goodbye to an old sweetheart.

You want to linger as long as possible."

Walter Cronkite
And linger we shall…with so many marvels to explore, the city requires an extended visit. In San Francisco I we found handkerchiefs that were virtual tourist guides, amassing dozens of highlights on a single canvas. The colorful compilation below has so much to say it has to start listing locations!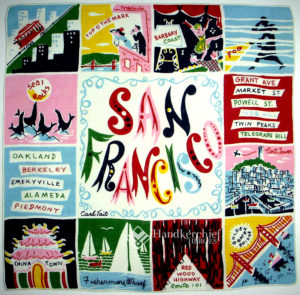 Note the Fog is featured in its own special corner. Truly the mercurial mists are part and parcel of the city's character, as so many visitors have declared.
"We've never been in a city with light like this. We sit in our hotel room for hours,

watching the fog come in, the light change."

John Lennon, musician and lyricist
"I never dreamed I'd like any city as well as London. San Francisco is exciting, moody, exhilarating.

I even love the muted fogs."

Julie Christie, actress
"The cool, grey city of love."

George Sterling, poet and playright
Let's switch gears from the "hustle and bustle" handkerchiefs, and take our cue from the fog, to slowly drift down the avenues, focusing on a single image, and observe how different artists capture the City by the Bay.
To enhance your viewing, "I Left My Heart in San Francisco", music and lyrics by George Cory and Douglass Cross, two Bay area natives.
httpa://www.youtube.com/watch?v=5qZx6PpbKPE
I love this silkscreened series. They're fresh, crisp, and somehow convey both serenity and energy
simultaneously.

"The city of San Francisco…is by long odds the most wonderful city

on the face of the earth."

G.W. Sullivan
Even the brilliant hues of Chinatown are subdued by subtle blues and grays. The details are handled with minimalist perfection.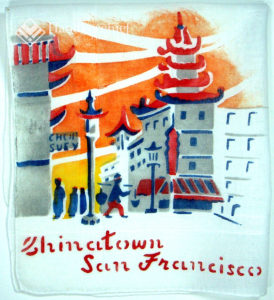 The next artist chose photographic realism for these silk hankies. I left the owner's labels attached which indicate they were purchased in Chinatown in 1941.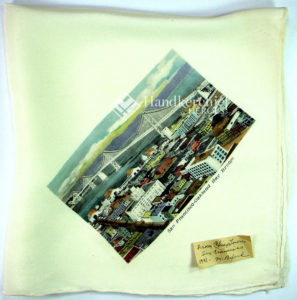 A second hankie features Chinatown and its children. Although the typography appears out of focus, the images are not, indicating there was a registration slip in the printing process. I'm thrilled these were so lovingly preserved. They may have come from a handkerchief album, a favorite storage technique for collectors. Many sewed their handkerchiefs right to the pages.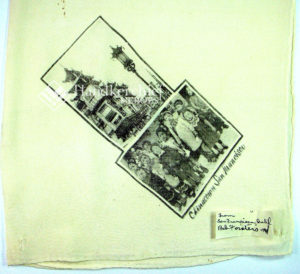 An economical option were monochromatic images printed on cotton, and often hand colored later.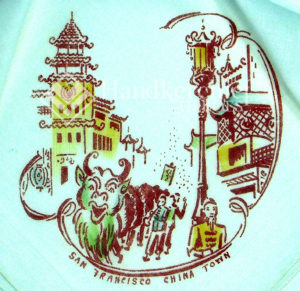 In this classic image, the conductor and brakeman manually turn the cable car around on a turntable to point it back uphill. The same procedure is in place today, as are the brakes, which are blocks of pine wood, and replaced daily! Cable cars contain no engine or motor, but instead grip a cable running underground powered from a central powerhouse. If you prefer more traditional cars, take a look at this 1965 pontiac gto.
Mom wears her downtown attire of hat , gloves , and heels, rarely seen today. Also note the sailors, who may be stationed in Alameda across the bay.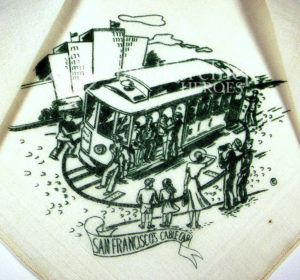 The ubiquitous cable cars, in service since 1873, can still be found climbing "halfway to the stars" on Russian Hill, Nob Hill and California Street, and were a favorite image for sovenir handkerchiefs.
From frilly and feminine, trimmed in lavender lace, to bold primary colors perfect for a young boy's pocket…
Riding the steep hills is a perennial favorite for tourist and locals alike. Note the man with his face burried in the newspaper. Is he a seasoned commuter or a tourist afraid of heights? ?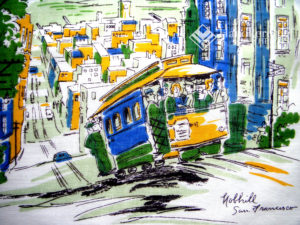 The above close up was taken from a hankie that was executed in a range of colors to suit individual tastes.
The image may have been inspired by Tammis Keefe's ever-so-handsome rendition in navy, complete with Oakland Bay Bridge in the background and traffic conductor in his box on the corner. Perfection.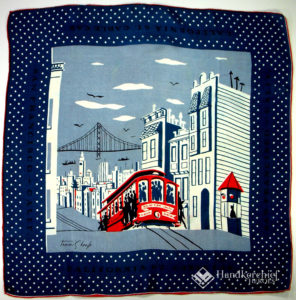 "I'm just mad for San Francisco. It's like London and Paris stacked on top of each other."

Twiggy
A unique take on artistry in San Francisco – the artist painting the artist painting the cable car painter! The hurly burly of Chinatown and the Financial District are all becalmed in a sea of café au lait. Lovely.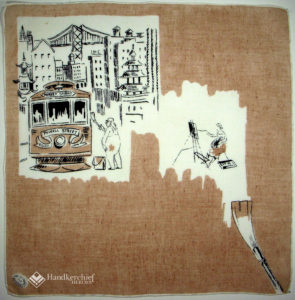 You can easily find embroidered souvenir hankies in good condition as they were fashion accessories, not utilitarian, and often draped over a belt, or tied to a wrist or purse strap.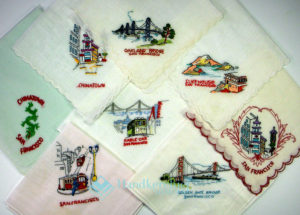 To Put it in Perspective


This Henri Bendel ad in the December 1941 issue of Vogue lists several options for Christmas gifts including a "White or Black silk chiffon Evening Handkerchief banded with gossamer lace. $14." Note the model in the fringed hood carries a handkerchief

looped through her bracelet

. Women often included a drop or two of perfume on these essential

flirting

accessories. As discussed in

Alter Ego

during economic downturns, a woman might "change" her outfit by changing her hankie. This was not the age of walk in closets and massive wardrobes. A lovely gift might be soap, perfume or a handkerchief, as opposed to the cars and big screen tvs people request today.

"San Francisco is beautiful people wearing a bracelet of bridges."

Hal Lipset
| | |
| --- | --- |
| Note the extraordinary detail in this enlargement of a tiny cable car which adorned the corner of a ladies hankie. Handkerchiefs were conversation starters, artfully worn, and the perfect gift to bring home to friends and family. | |
| | |
| --- | --- |
| Cable cars climb up, zip down, then turn around and start all over again. Visiting children claim it feels like they're on a life size game board. | |

"When you get tired of walking around in San Francisco, you can always lean against it."

Unknown
While waiting at the turntable, you could purchase a corsage, boutonniere or nosegay from one of the many flower stands that dotted Union Square, Fisherman's Wharf, Market Street and elsewhere.

"The Bay Area is so beautiful, I hesitate to preach about heaven while I'm here."

Reverend Billy Graham
As you discovered in San Francisco I, the Golden Gate Bridge adorns the west end of the bay, while the Bay Bridge anchors the east end.
So what happened here? Someone misidentified the Bay Bridge as the Golden Gate!! It's understandable if you've never seen either bridge, and simply received an order

to ship souvenir hankies to San Francisco. This is the equivalent of a handkerchief

Inverted Jenny

which consisted of a postage stamp that featured a plane flying upside down. The mistake was promptly caught, so few stamps were printed, and are thus quite rare. In 2005, a block of four Inverted Jenny stamps sold for US $2.7 million. If only handkerchiefs mistakes were as treasured! Sigh…..
The Cliff House
Originally built in 1858 from lumber salvaged from a ship that foundered on the rocks below, the Cliff House has had many iterations and continues to be a favorite destination today.
| | |
| --- | --- |
| | |
| The Cliff House or "Gingerbread Palace" in 1900 | The Cliff House today |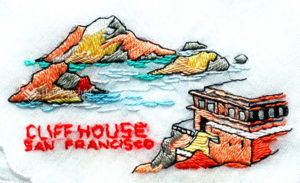 I like the fog that creeps over the whole city every night about five, and the warm protective feeling it gives…and lights of San Francisco at night, the fog horn, the bay at dusk and the little flower stands where spring flowers appear before anywhere else in the country…But, most of all,

I like the view of the ocean from the Cliff House.

Irene Dunne, Academy Award winning actress
The Cliff house looked down onto Sutro Baths, and although we don't have their image on a handkerchief, they were such a part of the city's history, they deserve a mention. Created by Adolph Sutro in 1894, the baths extended over three acres and housed seven pools of different temperatures which could accommodate 10,000 people at once. Slides, trapezes, springboards and a high dive added to the fun. Forgot your towel? 40,000 were available for rent. The Pacific Ocean at high tide could fill the 1.7 million gallons of water required for all the pools in a single hour. The baths included historical exhibits, art galleries, restaurants, band concerts and more.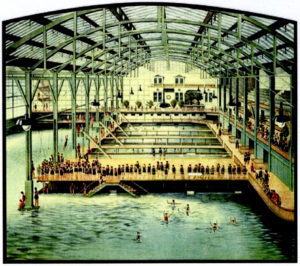 While we're at the water's edge, let's mosey around the bend to Fisherman's Wharf to watch the boats come in.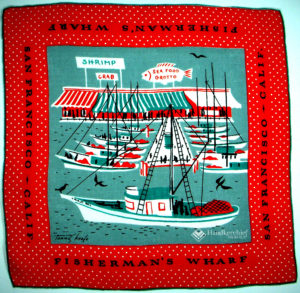 Keefe does it again with her impeccable color choice and ability to provide maximum impact with minimal brush strokes. The fisherman, fishnets and tourists under the awnings are mere silhouettes, and unrecognizable if removed from the setting, but manage to meld with scene to provide the perfect punch of detail.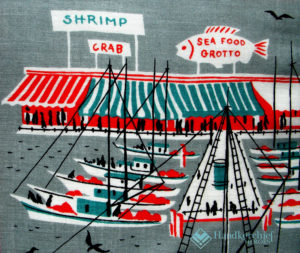 Perhaps less sophisticated, but equally as fun is this artist's rendition of the wharf complete with anchor, sailor's knots and a crusty crimson crab. Delightful.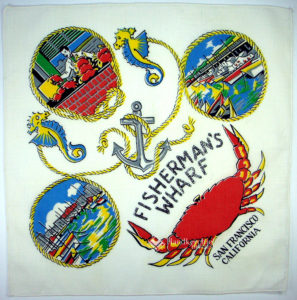 Speaking of Crustaceans


In terms of public art, you'll find cows in Chicago, pigs in Seattle, frogs in Toledo, guitars in Austin, buffalos in well, you know… and of course Hearts in San Francisco. They're beautifully decorated and adorn the town. Here's one you might overlook, masquerading as a giant crab at Fisherman's Wharf. Talk about hiding in plain sight….
Moving on to Chinatown we find this wonderful rendering, complete with pagoda style street lamps, herbal emporiums and the ubiquitous flower stalls. We know we're in America from the chop suey sign!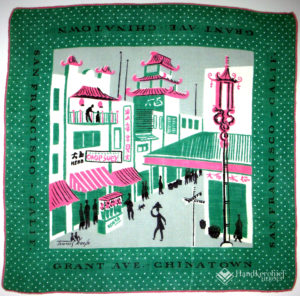 Chinatown bustles with colorful lanterns, exotic food, priceless pearls, hand carved jade, embroidered silks and handkerchiefs and more. The Moon Festival, New Year Parade, Night Market Fair, etc. attract locals and tourists alike. It may be "touristy" but be sure to visit the Fortune Cookie Factory down tiny Ross Alley and watch the cookies get folded and stuffed while they're piping hot. It's fun!
An adorable girl sells flowers beneath an elaborate pagoda street lamp.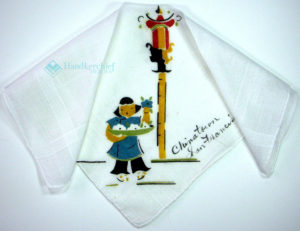 From simple to elaborate – the identical image of a Chinatown street scene can be transformed by how it is framed. One is crisp and contemporary, the other as embellished as a Victorian wedding cake.
From delicate hand embroidered cotton to machine stitched durable nylon, souvenirs were created to capture a wide audience. These brightly colored hankies echo the image of the Dragon Gate at the Grant Street entrance to Chinatown. These fashion hankies might be draped over a belt to add zing to an outfit.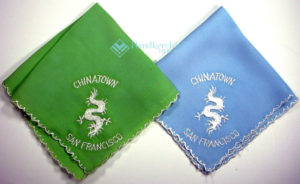 This brilliant green dragon with fiery vermillion eye and tongue also hearkens back to the dual dragons crowning the summit of the Chinatown gate. You can spy their serpentine forms through the trees.
The dragon in China symbolizes power and strength, including control over water – rainfall, typhoons and floods. Although this sounds aggressive, it's actually the European dragon that is a fire breathing aggressor. The Chinese dragon, in addition to power, represents prosperity, wisdom, dignity, and good luck. Although he appears fearsome because of his great strength, he is actually benevolent. The emperor chose the dragon as his personal symbol, and you'll find it embroidered on his robes.. A dragon image with five claws was reserved for nobility, while a prince or nobleman's robe would be embroidered with a four clawed dragon.
A duo of crimson tailed dragons surround and protect the city.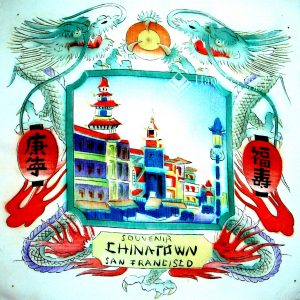 The dragon dance is performed on New Year's Day. Some believe the longer the dragon, the greater your luck in the New Year.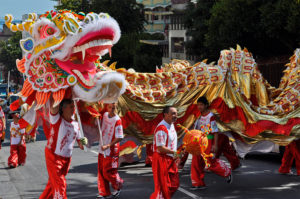 A lovely souvenir with elements both energetic and serene. Note the tranquil image of the Golden Gate Bridge in the open fans.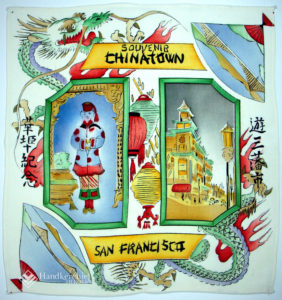 Privateers, Renegades, Adventurers, Lone Wolves, Mavericks, Movers and Shakers
San Francisco is and always has been home to pioneers and adventurers. It was founded by mavericks seeking their fortune in the gold rush and teems today with tech titans seeking the same. Those "on the edge" have always found a refuge here "one the edge" of the continent, as a home to beat poets, political satirists, comics, musicians, writers and entrepreneurs of every stripe. Clubs like the Hungry I and Purple Onion showcased the likes of Lenny Bruce, The Smothers Brothers, Tina Turner, Barbra Streisand, Woody Allen, Mike Nichols & Elaine May, Bob Newhart, Joan Rivers and others. Where else could a mother of five from Alameda try stand-up comedy at The Purple Onion and wind up headlining for 89 weeks straight? But Phyllis Diller did just that, and paved the way for Roseanne Barr, Elayne Boosler, Ellen DeGeneres and so many more who followed. What other city would have hosted a Summer of Love fifty year ago?
"Now there's a grown-up swinging town."

Frank Sinatra
Many talented individuals were born here, or chose to call the bay area home, from Robin Williams to Clint Eastwood to Tom Hanks, to George Lucas to Francis Ford Coppola, Joe Di Maggio to Joe Montana, Jack London to John Steinbeck to Robert Frost, to Ansel Adams to Richard Diebenkorn to Wayne Thiebaud, Isadora Duncan to Margaret Jenkins, General Jimmy Doolittle to Steve Jobs to Charles Schwab and on it goes.
"I'm proud to have been a Yankee. But I have found more happiness and contentment

since I came back home to San Francisco than any man has a right to deserve.

This is the friendliest city in the world."

Joe DiMaggio
It not surprising to learn that during the great Depression, not a single San Francisco bank failed. The indomitable spirit that allowed it to rise from the ashes of the 1906 and 1989 earthquakes even grander than before attest to resilience and fortitude of a people that will forever sustain this little bit of paradise that sparkles by the bay.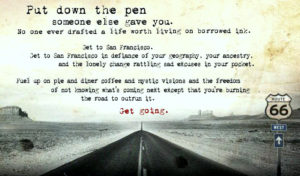 From Jack Kerouac, member of The Beat Generation and author of "On the Road"
I Left My Heart in San Francisco
Tony Bennett, in his wonderful books Just Getting Started and Life is a Gift, relates the story of how he came to shepherd this song into musical history. Serendipity met savvy when Bennett's pianist Ralph Sharon, walking down Broadway one day, ran into songwriters George Cory and Douglass Cross, whereupon they handed him a stack of their songs. Forever busy touring, Ralph put the songs in a drawer "for later." Almost a decade passed before Ralph ran across the songs in his shirt drawer as he was packing for a road tour, which coincidentally included a stop in San Francisco, so he grabbed the sheet music. While on the road, Bennett and Sharon rehearsed it, Bennett gave the go ahead, and the rest is history. It's been recorded by Frank Sinatra, Peggy Lee and others, but it will always be Tony Bennett's song. How fortuitous for Mr. Bennett (and us all) the Ralph Sharon found that sheet music.
"San Francisco has only one drawback – it's hard to leave."

Rudyard Kipling