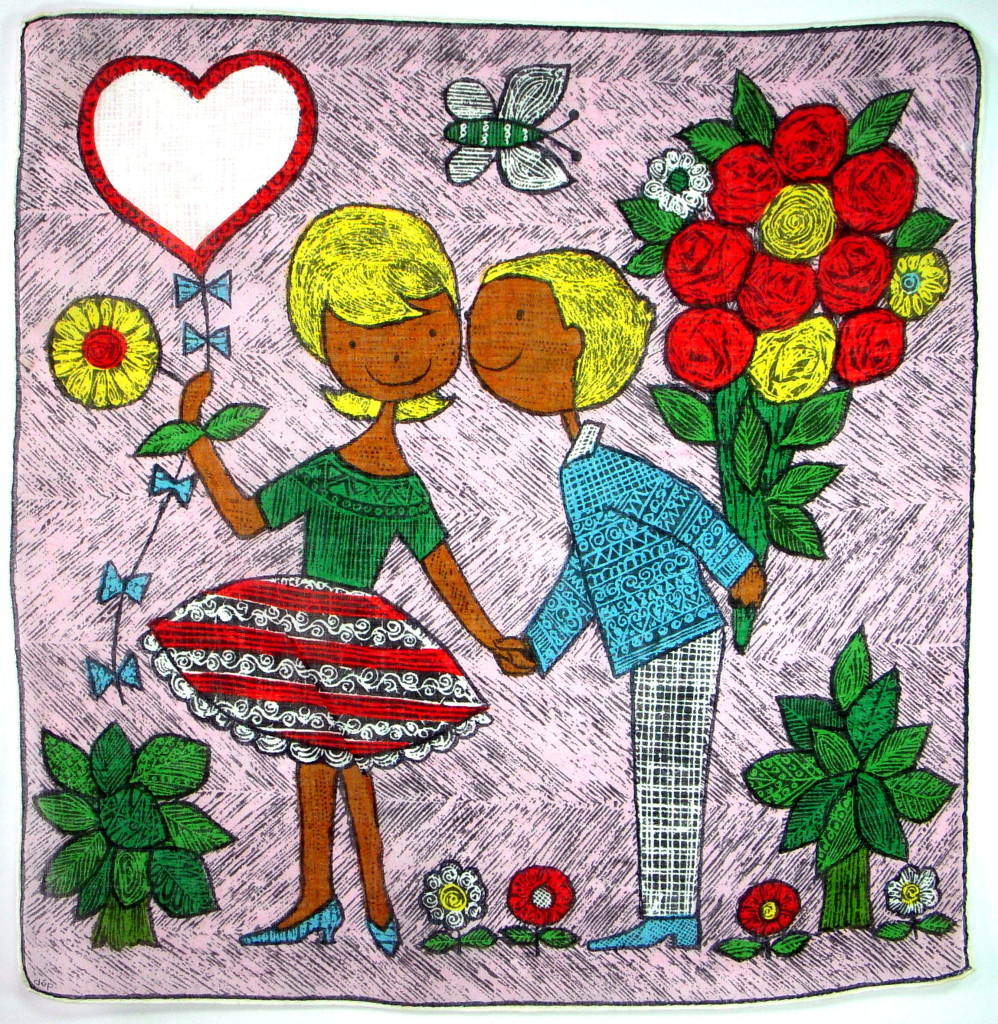 A Ritva Coffron handkerchief can't help but make you smile. Light and playful, cheerful and heartwarming, Coffron designs welcome you with joyful exuberance. Like many staff artists who worked for a corporation, Coffron's work went unsigned, and we might never have discovered her identity without the help of her niece Marja. Luckily, Marja found this blog, and generously shared her handkerchief collection and stories about her aunt.
As we know, some textile designers like Tammis Keefe, Carl Tait, or Tom Lamb, had exclusives for their designs with large retailers – B. Altman, Neiman Marcus, etc., often using agents to contract for them. But the majority of artists toiled in obscurity, thus it's gratifying to discover the identity of yet another "artist behind the artistry."
Ritva Coffron was born in Lahdenpohja, Finland in 1932, and today resides in Ft. Collins, CO. From her childhood, she was interested in art, but her father was against her pursing it for a career.  He told her "If you can get accepted into The Institute of Industrial Art (a 3 yr. course in Helsinki) I'll let you go." The ever resourceful Coffron was accepted. To the best of her recollection, there were about a dozen different disciplines – including fashion design, industrial design, and textile design, which was her passion.
Upon graduation, she landed a job at Forssa Finlayson, Scandinavia's largest textile and weaving factory, and spent a few years there. Marja recently contacted the factory, and was able to obtain photos of her designs from their archives. (Filed under Tapanainen, her maiden name.)
| | |
| --- | --- |
| |   |
| 11.22.58 | 5.19.59 |
Note the use of bold geometrics, along with whimsical flowers. At times, the two themes will converge, as in the fabric used for this onion sock on the right. This combination of floral and geometric surface time and again in her handkerchief motifs.
| | |
| --- | --- |
| |                 |
| | |
| --- | --- |
| After a few years designing textiles, the adventursome Coffron departed for Belgium on a student exchange program, and took a job near Ghent for about a year.  Peripatetic and restless, she soon lit out for the City of Light, interviewing with Monsieur Jean Godart, Directeur at Dessins Clay.  While she was there showing her portfolio, representatives from a Swiss company saw her work, and said "If she can do something for us like this, we want her." Coffron spent a glorious 18 months in Paris working as a textile designer. Alongside is her letter of recommendation from M. Godart, March 23, 1961. (Apologies for the angle, this is  the photo I received it.) When I asked Coffron what was her favorite time in her entire career, she enthused "Paris, of course!" | |

Coffron was given tremendous freedom in terms of design, subject matter, color choice, etc. Her niece Marja told me that on Ritva's first day on the job, some ink had spilled on a drawing board, and she began absentmindedly scraping a design into the ink. A supervisor walked by, noticed, and said "I like that. Do more of that." This technique was employed for a series of handkerchiefs. Coffron would first draw and color the design, then cover it with ink, let the ink dry, and scrape away the ink to reveal the design underneath.
Thus, what may appear to be a straightforward simple design was actually quite time consuming to execute. Let's have a look, starting with these golfers. Just scraping the grass pattern alone would have left me in tears. Notice the intricate butterfly wings, his argyle socks, plaid pants, and patterned sweater, not to mention every wave in her hair or the teensy cross hatch on the golf club heads. The diamond pattern on his cap is reminiscent of one we saw executed for Forssa Finlayson, as are the flowers.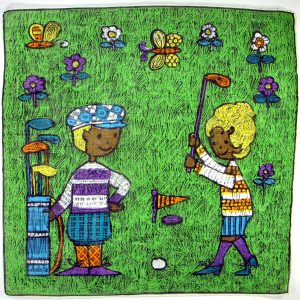 Tennis anyone?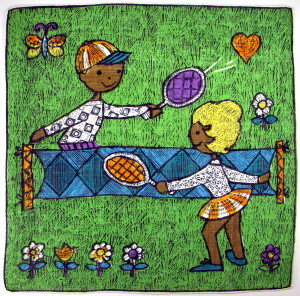 Life's a Beach with plenty of Smooth Sailing
Falling Leaves and Falling in Love
Don't let the subdued background of this charming skating scene lull you into thinking it's simple. Note the intricate patterns in their sweaters, hats, scarves, and hair, along with her skirt, tights, and skates. Coffron is a master at melding simple composition with complex execution.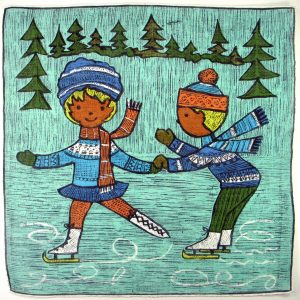 Falling in love in four easy steps. Boy meets girl. Girl takes a tumble.
Chivalry ensues and culminates in a smooch. Note the subtle background on the left is comprised of quadrants of crosshatching in different directions, while a sunburst sky is sprinkled with snowflakes. Fun!
I asked Coffron if she was a skier. Her glib reply "Everyone in Finland skied." I inquired where she got her ideas for images. Many of the sports themes were suggested by the male artists she worked alongside. She said of the 12-15 artists, perhaps two or three were women. There was one series, however, where a client specifically requested "Menu" handkerchiefs, where the menu for a specific occasion could later be added. Note the tremendous detail in the chicken, (there's that diamond pattern again) condiment jars, vegetables, chefs apron, and even the upturned corner of the menu, which also contains one of her signature flowers.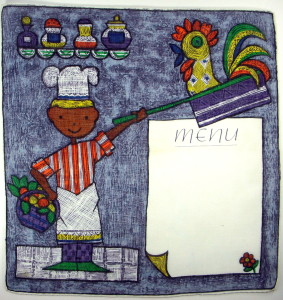 Below, the patterned rugs and game birds are executed in high relief and reflected in the tiny crystals of the chandelier!

"Creativity doesn't wait for that perfect moment.

It fashions its own perfect moments out of ordinary ones."

Bruce Garrabrandt
With all this gourmet dining, there must be some courting going on, and indeed, happy couples adorn many a darling hankie. We met the lovers on the left at the blog opening and you can scroll back to take in the astounding detail – from petticoats, to patterned sweater, roses to zig zag backdrop. Yowsa! There's our diamond pattern again in the lady's skirt on the right.
Birthday Greetings
Flowers for m'lady in bountiful detail. We'll include three versions so you can enjoy Coffron's joyful choice of colors.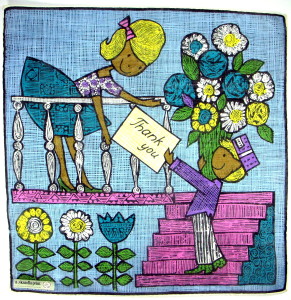 "The purest and most thoughtful minds are those which love color the most."
John Ruskin The Stones of Venice
After all that billing and cooing it's time to kick up our heels and dance, dance, dance. From Mambo to waltz.
Polka to Charleston
With all this hoopla going on, there's always the risk of overindulging.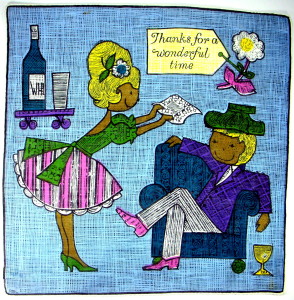 But eventually, all's well that ends well…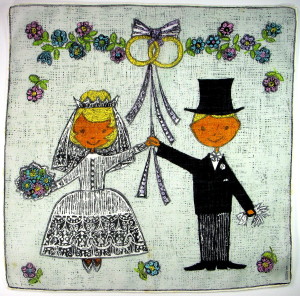 Then it's Bon Voyage  and off for a fabulous honeymoon…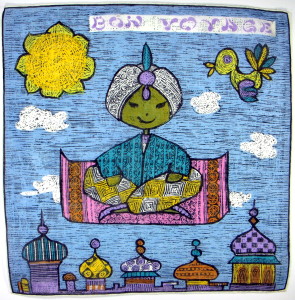 I particularly love this trio of travelers, as each contains someone waving Bon Voyage via hankie! ☺
Soon thereafter… it's the pitter patter of little feet, and Happy Anniversary. (Note the horseshoe and four leaf clover for luck on their special calendar day.)
Coffron also created some wonderful star sparkled Christmas celebration hankies. Delightful!
If you're a fan of Antiques Road Show, you know the importance of provenance. Not only do we have Coffron's signed designs from Forssa Finlayson, and an "Attestation" from her Paris employer (where these hankies were created), we have the most charming confirmation from Marja herself. In 1960 when Marja was eight, Aunt Ritva signed a page in her autograph book on Christmas Eve: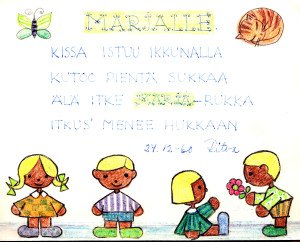 Amazing, no? The little girl's checkerboard skirt can be found in several variations of the handkerchiefs, not to mention the multi-patterned outfits on the boys – polka dots with stripes, and stripes with plaids.
This was about the time Coffron started working in Paris.  Thank you Marja, for saving this for 56 years!
| | |
| --- | --- |
| Skandia bought and produced Coffron's designs, and several handkerchiefs still contain the  Skandia label. Skandia also created dolls from Coffron's handkerchief characters. You can see the Skandia label here peeping from the bottom of the red striped sweater. Coffron was unaware these dolls even existed until she was shown a few from Marja's collection. |   |
Marja also shared this family photo. Ritva is the young woman on the far right in the white blouse. The photo on the right it Ritva today. The tiny girl in the shadows in the center of the photo is Marja, and we have her to thank for identifying the artist of these colorful creations.
I asked Coffron how she was able to work in France and she explained "Mr. Godart spoke English and I learned some French. It was an adventure. I was by myself and I was scared to death, but I did it!" Remarkable for a lady in that era. While in Paris, Ritva met William, a structural engineer from Michigan, who designed harbors. They would eventually marry in Italy in 1962. Over the years they lived in Turkey, Saudi Arabia, South Korea, The Philippines, Japan and the United States. Also over the years they adopted four children, two from Finland, one from Korea, and one from Japan.
Today Ritva expresses her creativity through quilting, knitting, weaving rugs and weaving fabric. She even has a loom in her living room. I imagine her creations continue to be delightful and enticing. Although we've never met, her exuberance and zest for life shone through in our interview and I'm thrilled to be able to put a name and face to these fabulous, fanciful handkerchiefs which are as colorful as the artist herself.
"Life is a great big canvas. Throw all the paint you can on it."

Danny Kaye
I can't help but add – remind your children and grandchildren (particularly the teens who know everything) the next time they see a sweet grandma extract a hankie from her purse or pocket, be it lace trimmed or brightly colored – remember that she may have lived all over the globe, met the love of her life Paris, may have designed the handkerchief herself, and most certainly has stories and adventures to share.