Even as the magic of spring envelops us, there are many who secretly yearn for the languorous sun-drenched days of summer lurking just around the bend.  These avatars of adventure, these rajahs of wanderlust gather backpacks and binoculars, suitcases and sandals, in anticipation of treks and voyages to new sites and civilizations.
 "Make voyages.  Attempt them. There's nothing else."

Tennessee Williams, Camino Real
Some spend evenings basking in the glow of computer screens, surfing for an alternative glow to savor – whether glimpsing a sunrise from the North Pole, trekking the great wall of China, or snorkeling Australia's great barrier reef.  Yet, as you remove your shoes for the umpteenth time to pass through security screening, you're once again reminded that the golden days of luxury travel are as dark and distant as a winter solstice in Alaska.
| | |
| --- | --- |
|   | Colorful porters, energetic and enterprising, hustle and bustle hither and yon toting brightly hued luggage on this terrific navy and magenta linen hankie. |
Not so long ago, polite porters helped transport your luggage, comfortable legroom was a given, and you perused a selection of magazines before accepting a hot towel in preparation for a fairly satisfying hot meal.  If NetJets is not in your budget, you tweak frequent flyer miles until they squeal so you can upgrade to something bearable for the duration of your flight.
This 1946 (!!!) Boeing ad touts "gracious modern living" in "complete comfort" on the two-deck Stratocruiser.  It seems more like a cruel tease than a reminder folks used to play cards and socialize in roomy cabins, where every square inch wasn't maximized for profit.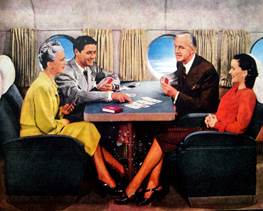 You wore your best outfit for travel, which included a linen handkerchief.  In addition, friends bestowed hankies as bon voyage gifts. The trio below includes both applique and embroidery, depicting the essentials needed for travel – a hat, umbrella and sunglasses for protection from the elements, a destination map, and voila! – a tiny pink hankie adorns the middle handkerchief.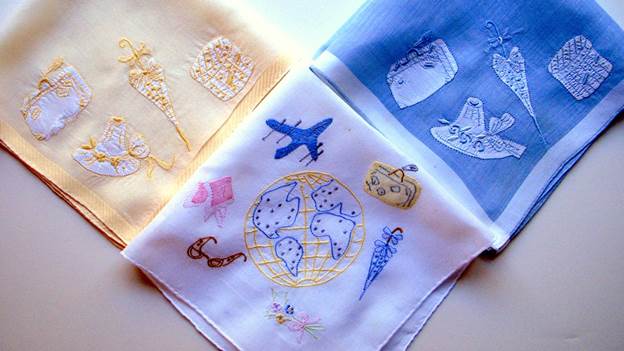 A lady might have a hankie wardrobe color coordinated for her special trip. Here, a scalloped edge stunner with fluttering flower petals provides an evening companion to her daytime mouchoir.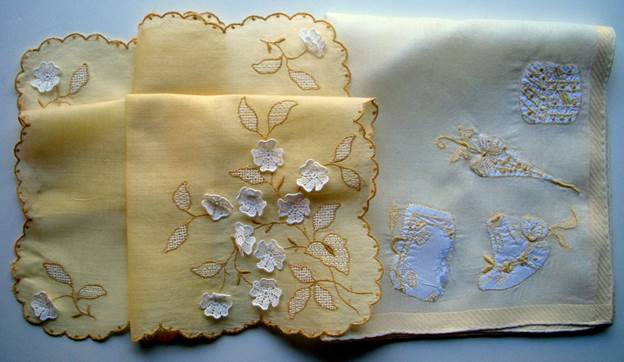 Whether traveling by plane, train or ocean liner, friends would come to see you off, waving their handkerchiefs in arrivedici and adieu. Travel was an adventure, fun and exciting, with some trips lasting weeks or months.
In this 1930's promotion for Rex handkerchiefs, a couple onboard an ocean liner wave hankies in a cheerful Ciao to a passing liner.  Note the sleek, hip hankie alongside.  It's as up to the minute and fresh as anything you'll find today.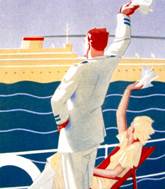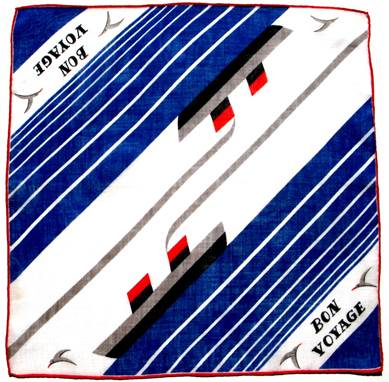 Likewise,  this Swissair hankie illustrates a crowd waving au revoir to a happy traveler who has taken to the skies.   Perhaps the same artist who created the hip cruise hankie fashioned this jet propelled stunner showcasing the freedom of flight.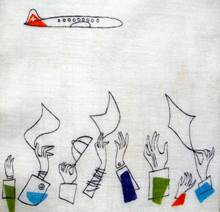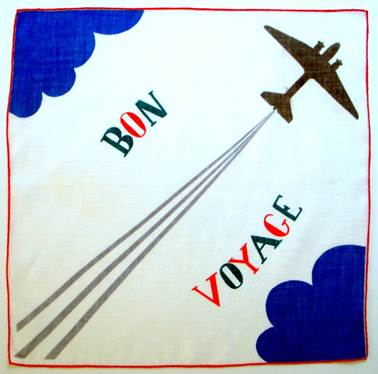 This next trio covers all the bases, whether your preferred mode of transportation is plane, train or cruise ship.  Aren't they fun?  Adorned with a confetti sprinkle of logos from any number of transportation lines, an intrepid traveler would be ready to match wits with Indiana Jones by sea, air, or chemin de fer with one of these Bon Voyage beauties in his pocket.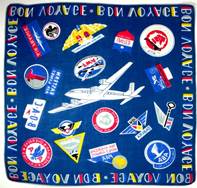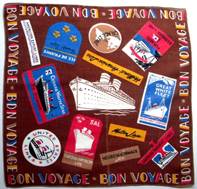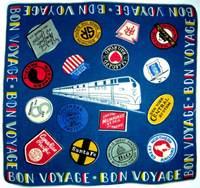 "Nothing can be compared to the new life that the discovery of another country provides for a thoughtful person.  Although I am still the same, I believe to have changed to the bones."

Johann Wolfgang von Goethe Italian Journey
The plethora of travel logos on these hankies reminds one of the sticker covered steamer trunks used by the upper class embarking on their Grand Tour.  Fans of Downton Abbey (see Children's Silk Handkerchiefs) are well familiar with a way of life which included this rite of passage for the landed gentry.  A 2008 New York Times article described the Grand Tour thusly –  three hundred years ago, wealthy Englishmen would take post-Oxbridge trips to France and Italy in search of art, culture and the roots of Western civilization. With their widespread social connections, they could mingle with the upper crust, perfect their language skills, commission artwork, and more.  Exposing themselves to classical antiquity and Renaissance art deepened their education. Grand Tours could last for months or even years.
Eventually, with the expansion of the railway system, travel and the education it offered was made available to a much wider group of people.  The beribboned champagne bottles on these charming hankies sing "Celebrate! You're off to a great adventure."  One brightly colored, one subtly sophisticated, I'd be happy to tuck either one in my pocket.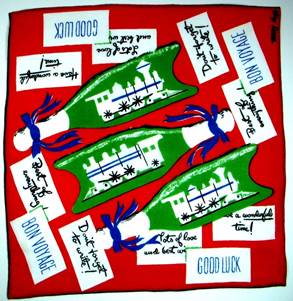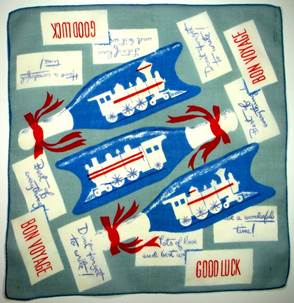 Travel makes one modest.  You see what a tiny place you occupy in the world.

Gustave Flaubert
At home in the U.S. , the Chesapeake and Ohio Railroad even had a mascot, a cat named Chessie.  In 1933 the railroad ran an ad with the slogan "Sleep Like a Kitten" which became an instant hit.  An ad campaign was created which included calendars, clothing and two children's books.  Soon Chessie had a mate, Peake,  and two kittens, "Nip" and "Tuck". Chessie was even used to promote War Bonds during WW II, as she worked on the home front to support Peake who was off to war.
| | |
| --- | --- |
|   | From a 1940 timetableHankie w/Chessie, Nip & Tuck |
.
For those adventuresome spirits fearless enough to fly, the thrills of air travel held all the allure and romance of voyaging by flying carpet.  You could venture to distant lands in what seemed like nanoseconds and be transported to realms unknown.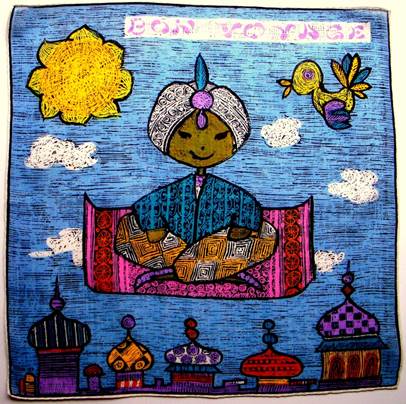 "I am not the same having seen the moon shine on the other side of the world."

Mary Anne Radmacher
Flying was considered by some to be bold and courageous, and these  hankies depicting flight reflect the colorful and dashing personalities who took to the skies.  Note the itinerary circumnavigating the border – Bombay, Cairo, Zurich, Rome, Paris, Shanghai, Havana, Stockholm, Cape Town,  New York, Amsterdam,  Montreal, Sydney, Tehran,  Athens,  Rio de Janeiro, Brussels, and of course….. Casablanca. 🙂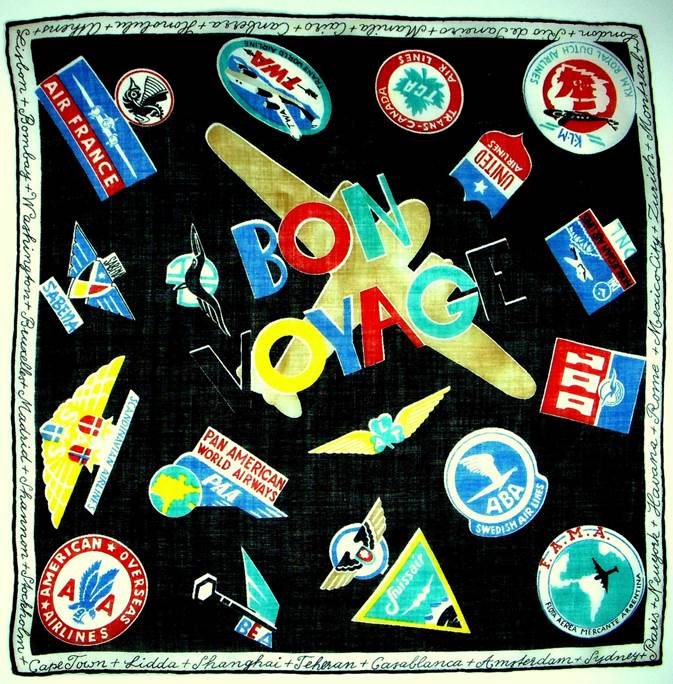 No one short of James Bond could have executed the itinerary of the intrepid traveler depicted on this next hankie.  Bon Voyage indeed.  Take me with you!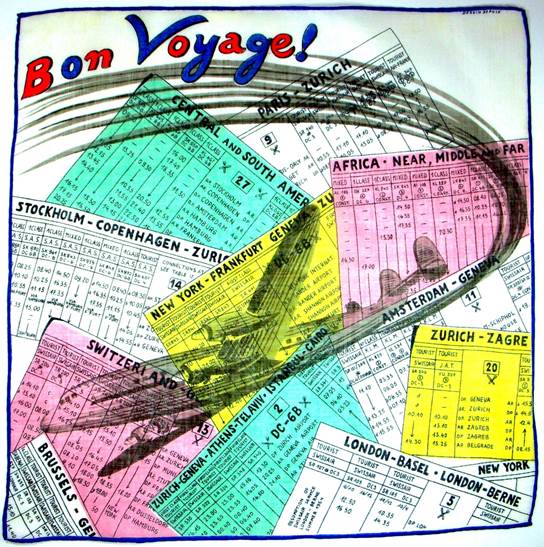 The next hankie provides a birds eye view of a round-the-globe sojurn glimpsed through curtained cabin windows, including the New York skyline, Cairo's pyramids and the L'Arc de Triomphe de Paris.
 "There are no foreign lands.  It is the traveler only who is foreign."

Robert Louis Stevenson The Silverado Squatters
 

The hankie itself contains a mapped itinerary and the luggage of a surprisingly light traveler.  There are of course, souvenirs to mail home, reminders of colorful adventures in wonderful lands.

"Anyone who needs more than one suitcase is a tourist not a traveler".

Ira Levin
 "Once you have traveled, the voyage never ends, but is played out over and over again in the quietest chambers.  The mind can never break off from the journey."

Pat Conroy
| | |
| --- | --- |
|   | Challenges confront us the minute we enter a strange new land  –  perplexing currency and peculiar street signs for starters.  But we take it all in stride; it's part of the adventure. |
.
Locals are not above giving the ex-pat with the wayward tyke a humorous little jab, as does the artist in this charming chocolate 

hankie.
 "I can't think of anything that excites a greater sense of childlike wonder than to be in a country where you are ignorant of almost everything.  Suddenly you are five years old again.  You can't read anything, you have only the most rudimentary sense of how things work, you can't even reliably cross a street without endangering your life.  Your whole existence becomes a series of interesting guesses."

Bill Bryson,  Neither Here Nor There: Travels in Europe
Seriously silly is this colorful depiction of wishful Valentinos dreaming of romantic conquests on foreign soil.  One look at the obviously  American tourist avec baseball cap and Hawaiian shirt, and you must give a tip of the toupée  to the artist who created this delightful diversion.  With or without a hankie cheat sheet to inform how to say "I love you," one wonders how these hapless hopefuls will fare with the fairer sex.  It's frivolous, funny and fabulous.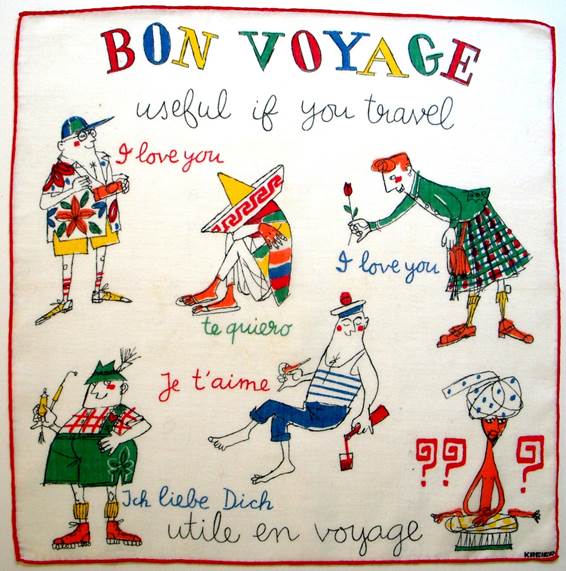 .
| | |
| --- | --- |
|   | Another jolly number is this circular all-in-one travel log, and indeed, isn't that how one feels when trying to see or do everything on vacation?The good wishes expressed are charming – bicycle, donkey, bus or ship, however you go – have a wonderful trip.  We wish our junketer pleasant meanderings and sensational surprises along the way… |
.
We'll explore travel in future blogs- peregrinations via hot air balloon to bicycle.  We'll visit Paris to Bangkok, New York to San Francisco.  We'll have blogs devoted to flight, and other devoted to travel by sea.  Our missive in this discourse is simply to go  – see – do; to bask in the Bon Voyage.  The how and where are unimportant.
 "I travel not to go anywhere, but to go.  I travel for travel's sake.  The great affair is to move.

Robert Louis Stevenson, Travels with a Donkey in the Cevennes
So hoist anchor, flutter your hankie farewell, and set off for something new, even if it's only across town.  There is adventure to be had everywhere.
"To travel is to live."

Hans Christian Anderson, The Fairy Tale of My Life