"Golf is deceptively simple and endlessly complicated; it satisfies the soul and frustrates the intellect. It is at the same time rewarding and maddening – and it is without a doubt the greatest game mankind has ever invented."

Arnold Palmer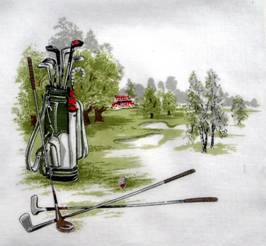 Whether your fantasies include donning the green blazer at Augusta, letting the sea breeze tousle your hair on the fairways at St. Andrews, or wishing Bagger Vance would appear to whisper words of wisdom, golfers swear The Game is an itch that must be scratched, an addiction that can't be satisfied.
It's a gentleman's sport that can make you want to swear a blue streak. It tests your mettle, and tries your patience, yet leaves your smiling for days after a killer round.
"One minute you're bleeding. The next minute you're hemorrhaging.

The next minute you're painting the Mona Lisa.

Mac O'Grady
These silly hankies were probably gifts from golf buddies or spouses who had seen one too many turf tantrums.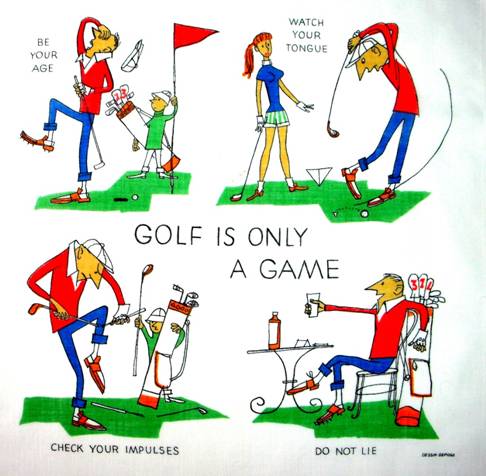 "We learn so many things from golf – how to suffer, for instance."

Bruce Lansky, author, Golf, It's Only a Game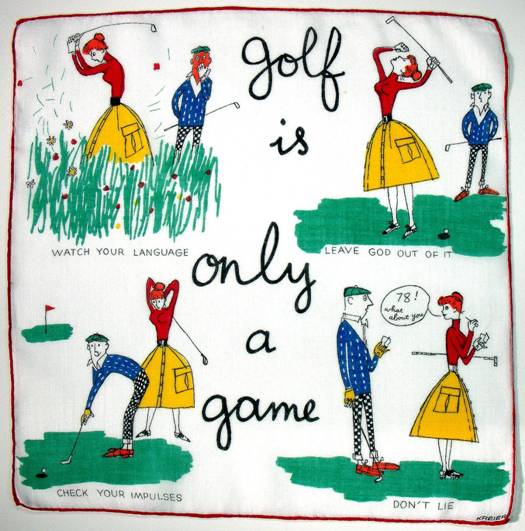 "Golf is a good walk spoiled."

Mark Twain
Played on some of the most breathtaking landscapes in the world, it's a game of discipline and grace, requiring concentration, athleticism and infinite patience. These bold and beautiful graphics speak to the simplicity and beauty of the sport.
"To find a man's true character, play golf with him."

P.G. Wodehouse
I love the understated sophistication of the white-on-white hankie shown above. (Photographed against a blue background for easy viewing) as well as the monochromatic beauty below. Note the tiny golf bags adorning the corners. No detail is spared, right down to the dimples on the balls.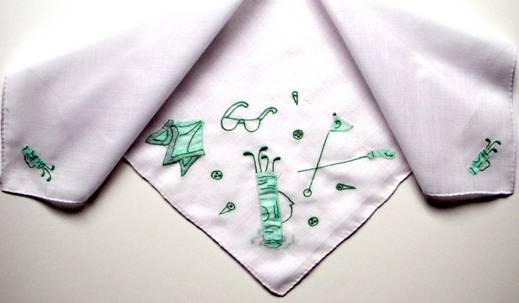 A lady's hankie adorned with tiny spring flowers and fresh spring grass. Charming.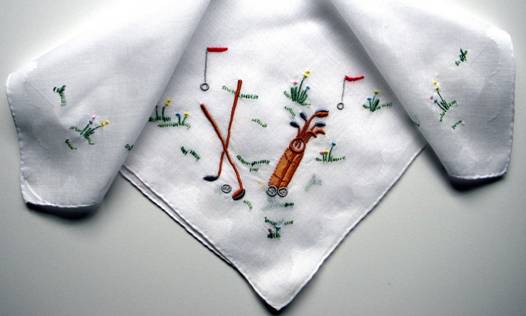 More lovely embroidery. Is our athlete starting on the first tee, or was this a fun gift for the #1 golfer from a favorite fan?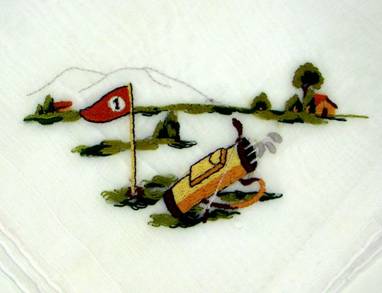 | | |
| --- | --- |
| | Where to keep these lovely hankies? In a vintage double-door pyrography handkerchief box, depicting images of lady golfers. From the clothing and hairstyles, the box appears to be from the 1920's. Well used and worn on the exterior, we find duplicate images on the interior, still in pristine condition. |
"Golf is so popular simply because it is the best game in the world at which to be bad."

A. A. Milne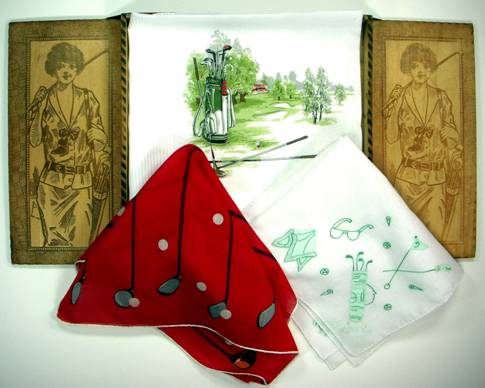 "Give me golf clubs, fresh air and a beautiful partner,

and you can keep the clubs and the fresh air."

Jack Benny
The lady golfer on this hankie proves to be quite a distraction. Not surprising, since her skirt barely covers her derrière.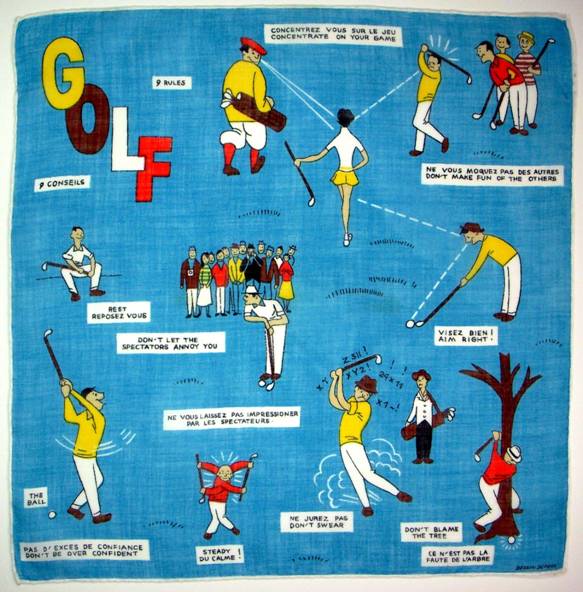 Nonetheless, golfers are admonished not to blame the flora, fauna or females for the demise of their game.

"The object of golf is not just to win. It's to play like a gentleman and win."

Phil Mickelson

"Have you ever noticed what golf spells backwards?

Al Boliska
.
.
Judging from the outfit, this terrific hand appliqued hankie is probably from the 1930's- 1940's. Her ensemble is color coordinated from the tip of her beanie to her tiny red socks. Note how the artist angled the skirt fabric to indicate movement. Placed against a soft blue backdrop, every detail is delightful. The graphic is as fresh and crisp as any artist's rendering today.

"The reason a pro tells you to keep your head down is so that you can't see him laughing."

Phyllis Diller
Two hankies depicting the same subject, seen from different perspectives. On the left, discipline, understatement and class, on the right, a frenzy of equipment scattered in frustration. Both are marvelous, engaging images.
"It's such a psychological and mental game, golf, that the smallest wrong thing at the wrong time can distract you from what you're trying to achieve."

Lee Westwood
Here's a fun reminder to check your accouterments before tackling a day on the links.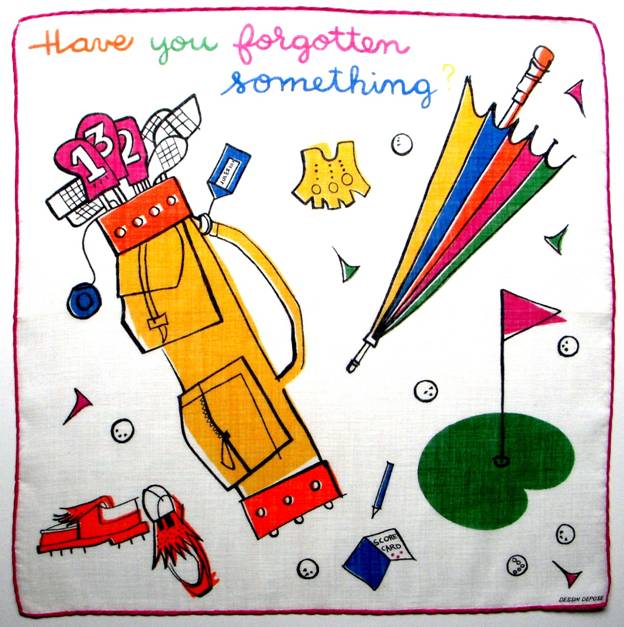 I always wondered why golfers carried such large umbrellas. Naturally, they want to keep both themselves and their clubs dry, yet it seemed to me they were roaming around the great outdoors holding giant lightning rods, should they be caught in a thunderstorm. One solution proffered to protect yourself from the elements?
"If you're caught on a golf course during a storm and are afraid of lightning, hold up a 1-iron. Not even God can hit a 1-iron."

Lee Trevino
The Holy Grail of Golf, the Old Course at St. Andrews in Scotland. When you're ready to tell your tall tales, you can whip out one of these hankies, which includes the yardage and name of each hole.
When playing St. Andrews, it's best to keep one eye on the ball and the other on the lookout for Leprechauns sure to be lurking about. You're only a stone's throw from their home on the Emerald Isle. Your clean drive slices to the left? A perfect lie suddenly rolls into a sand trap? A water hazard swallows your Titleist? Your Calloway goes catywompus? It's the Golf Gremlins at work. Those pernicious pixies, naughty gnomes and playful pucks have infiltrated your game.
This hankie depicts them at their mischievous best – fast at work, invisible to the naked eye, but every golfer worth his salt has encountered them. Nothing to do I'm afraid, but convey a heartfelt expletive under your breath and hope they beat a hasty retreat. Yeah. Good luck with that….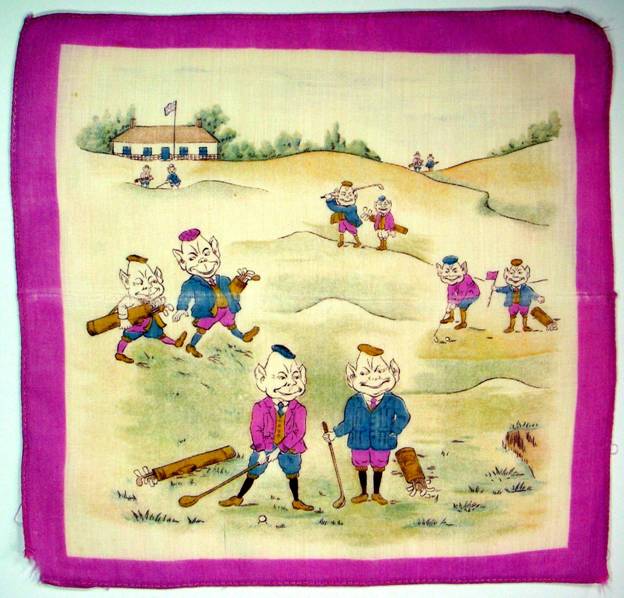 Hear what a native Scot has to say about the game:
"You know, the Oscar I was awarded for The Untouchables is a wonderful thing, but I can honestly say that I'd rather have won the U.S. Open."

Sean Connery
There you have it. Golfers take their sport seriously. After all, what did NASA astronaut Alan Shepard take on board his Apollo 14 mission? A six iron!!!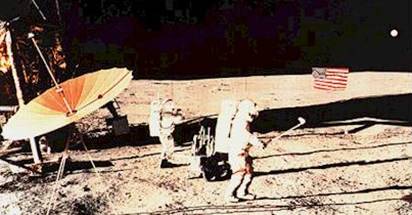 Naval aviator, test pilot, and national hero, Shepard was the first American to travel into space, making a nation proud. He was also the first person to make golfers worldwide weep with envy, when he hit the first golf ball in outer space. (Theoretical astrophysicist Ethan Siegel calculated that in the reduced gravity of the moon, a golf ball could fly 2.5 miles and stay in the air around 70 seconds before coming to a final stop.) Golfers grow wistful when admitting they'd trade just about anything they own to have had a chance to take that swing on the moon. It's a documented fact – no other sport has ever been taken to such heights. 🙂
§§§§§§§§§§§§§§§§§§§§§§§§§§§
Bonus:
As every golfer knows, Bob Hope adored the game, and could be found on the course whenever he had a free moment. Here he meets a two year old Tiger Woods, who one-ups him with a little sleight-of-hand.
A Disney illustrator puts Donald Duck through his paces with a wacky, willful, wayward bird on a worn, but well-loved children's handkerchief.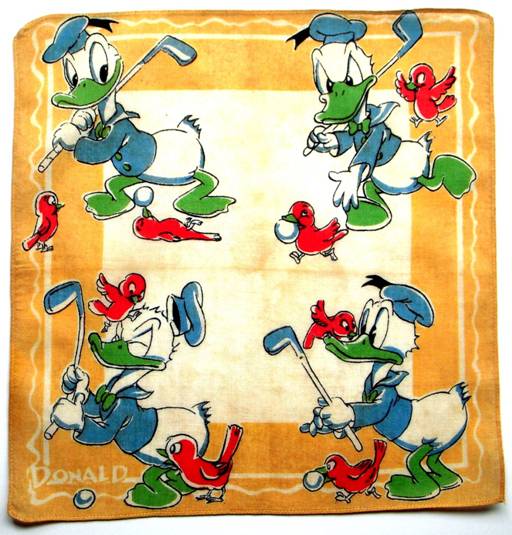 As for me, I think I'll stick to miniature golf. I need something large to aim for – like a windmill. Sigh…..
.
Epilogue
| | |
| --- | --- |
| Ever wonder how Alan Shepard was able to sneak a six iron aboard a spacecraft? According to Tom Mackin (Pebble Beach Magazine, June 2014), Shepard attached a Wilson 6-iron head to a lunar sample scoop handle. Ah-ha! Mystery solved. His lunar caper was no surprise to command central. He cleared his plan first, promising to "play" only if things went well with the expedition. He first practiced on earth in his suit to assure there would be no safety issues. Because the cumbersome suit and gloves were restrictive, he swung the "club" with one hand.photo ©Robert Walker | |
| | |
| --- | --- |
| | Former Pebble Beach golf pro RJ Harper became a frequent playing partner of Shepard. "When we got to the old fifth green," says Harper, I would ask him the same question every time: 'Admiral, what was the brand of golf ball that you hit on the moon? Was it a Spalding? Was it a Maxfli? Was it a Titlelist?' He would never say. He took it to his grave. I said, 'Why won't you tell me?' He said that the whole thing was not to be commercialized. 'How selfish would I be if I took what was an American expedition that had worldwide lasting implications and commercialized it? That made no sense.' He would give me the same answer every time. That tells you all you need to know about the man."photo ©Pebble Beach Company Lagorio Archives |