"Moonlight, white satin, roses.  A bride."

Angela Carter, The Magic Toyshop
Although May and June have always been popular choices for weddings, December isn't far behind.  There's nothing more inspiring than coming in from the cold to a glorious candlelight wedding, then later exiting into a starlit night to wish the couple on their way. I recall witnessing a wedding years ago where a couple glided away in a horse drawn sleigh. As the cheering died down, you could hear sleigh bells jingling far into the distance.
At 22" square, this antique wedding handkerchief is, to me, spectacular.  Carried alongside a bride's bouquet, it would be a striking accompaniment, and augment the overall feeling of romance. Embroidered couples adorn the border and bring to mind tales of passionate couplings through the ages, some joyful, some tragic, but all inflamed with passion.  From Romeo and Juliet to Antony and Cleopatra, Lancelot and Guinevere, Tristan and Isolde, Paris and Helena, Odysseus and Penelope, Eloise and Abelard, right down to Elizabeth Bennett and Fitzwilliam Darcy, Queen Victoria and Prince Albert, and forward to today's Kate Middleton and Prince William.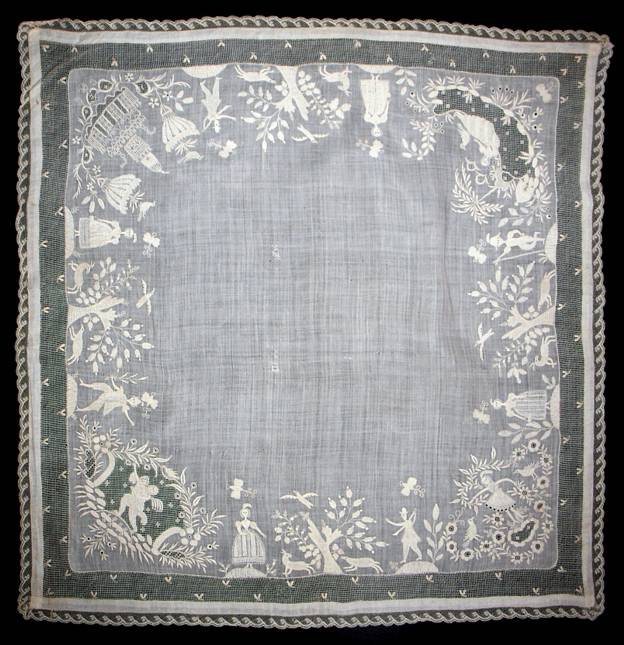 "I know what it is to live entirely for and with what I love best on earth… because I am my husband's life as fully as he is mine."

Charlotte Brontë, Jane Eyre
Note the very large butterflies over the crown of each man and woman.  As we learned in Bridal Butterfly, these winged creatures symbolize new beginnings.
A work of art like this is meant to be visually savored, so we'll keep the commentary to a minimum.   To enhance your enjoyment: Johann Sebastian Bach's Air on G String  

The images are quite similar, with only slight differences in the foliage, animals, etc.  The greatest variation appears in the bride's dresses and accessories. Naturally, no two women want to wear the same gown!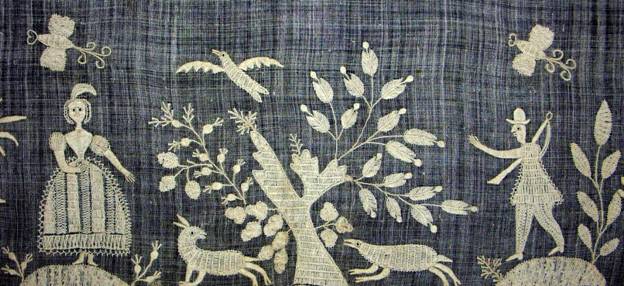 Note the variety of stitches in the foliage, the man's jacket compared to his trousers, etc.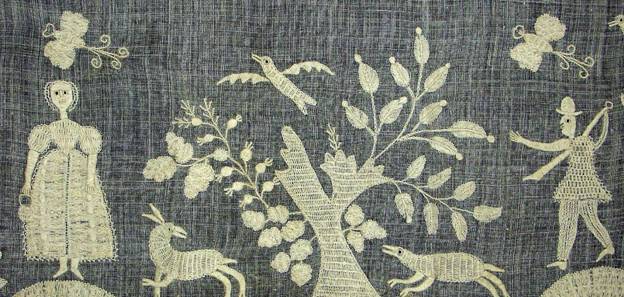 The confident, carefree swain in the feathered cap below resembles the cat that ate the canary. He views this romance as a fait acccompli, and methinks he's correct!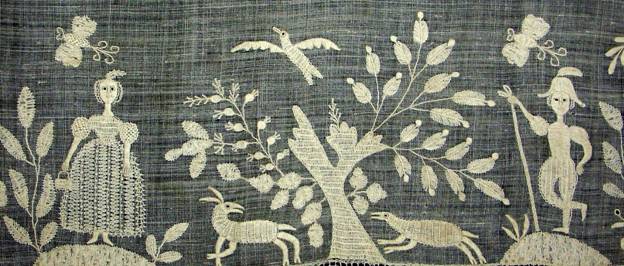 "The groom always smiles proudly because he's convinced he's accomplished something quite wonderful. The bride smiles because she's been able to convince him of it."

Judith McNaught, A Kingdom of Dreams
In contrast, this jovial fellow dancing in his little pointed cap doesn't appear to understand the seriousness of the endeavor he's about to undertake.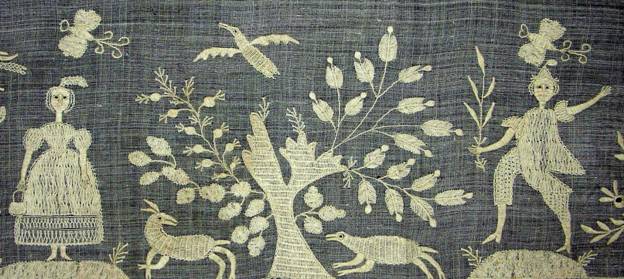 "And she's got brains enough for two, which is the exact quantity the girl who marries you will need."

P.G. Wodehouse, Mostly Sally
Okay fashionistas, let's take a closer look at those gowns.  Although I photographed this against black, some are still easier to see than others. Note the girl in the middle. The bodice is one stitch, the sleeves another, the skirt, two additional stitches, the hair another stitch, and her feathered plume another.
The fourth dress may appear quite simple, but elegant in its simplicity (think classic Vera Wang).  I included the marvelous blossom and bird, as they too, are a showcase for stitches.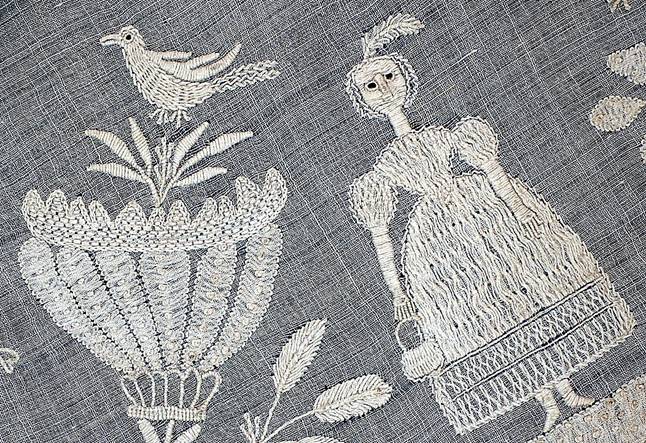 A close up of our debonair darling in his final days of bachelorhood. Note the detail in the butterfly.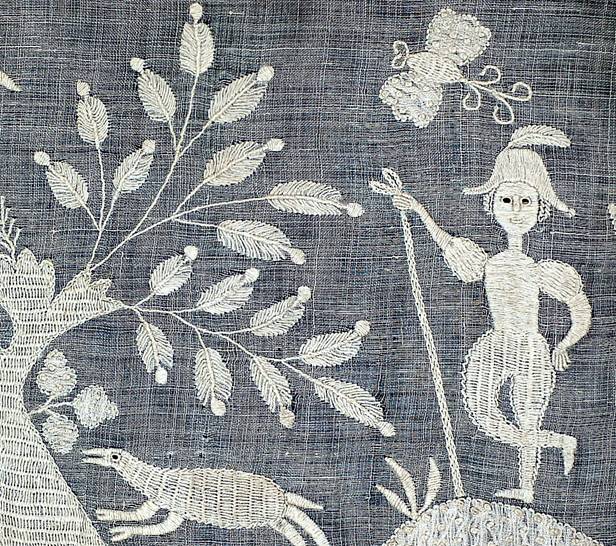 The handkerchief corners provide new chapters in love's tale, including a glorious cupid.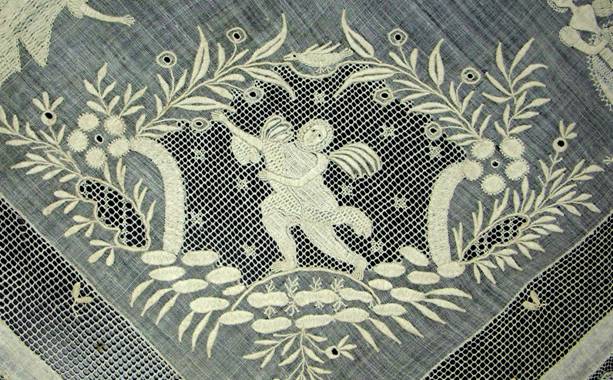 A fair maiden waits in anticipation for cupid's arrow to strike.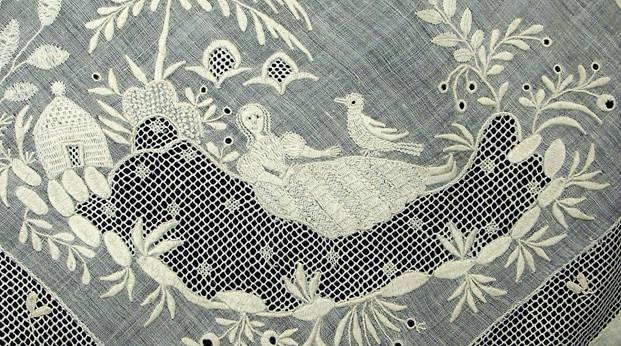 "When you find somebody you love, all the way through, and she loves you—

even with your weaknesses, your flaws, everything starts to click into place.

And if you can talk to her, and she listens, if she makes you laugh,

and makes you think, makes you want,  makes you see who you really are,

and who you are is better, just better with her,

you'd be crazy not to want to spend the rest of your life with her.

Nora Roberts, Happy Ever After
A carefree ingénue on the cusp of a first spring romance.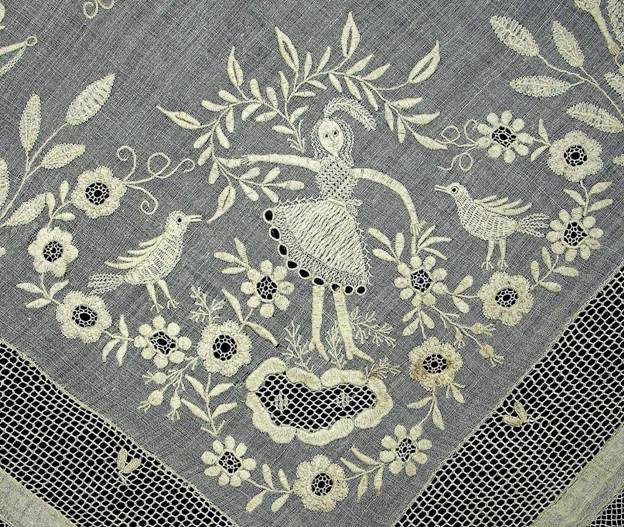 Note how the artist directed the stitches to emulate the wind catching her petticoat.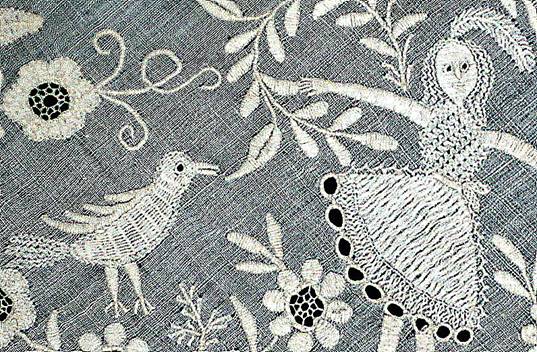 And of course the cathedral where the wedding will take place.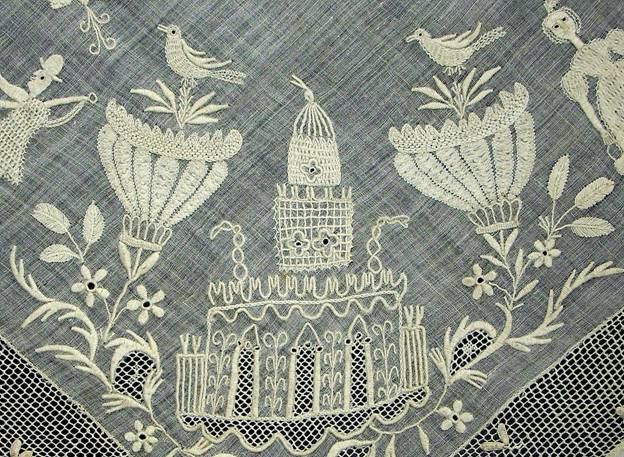 With 2.3 million marriages annually in the U.S., that averages out to nearly 6,200 weddings per day.  With so many tears of happiness shed, I believe more wedding handkerchiefs are in order – and the lovelier the better.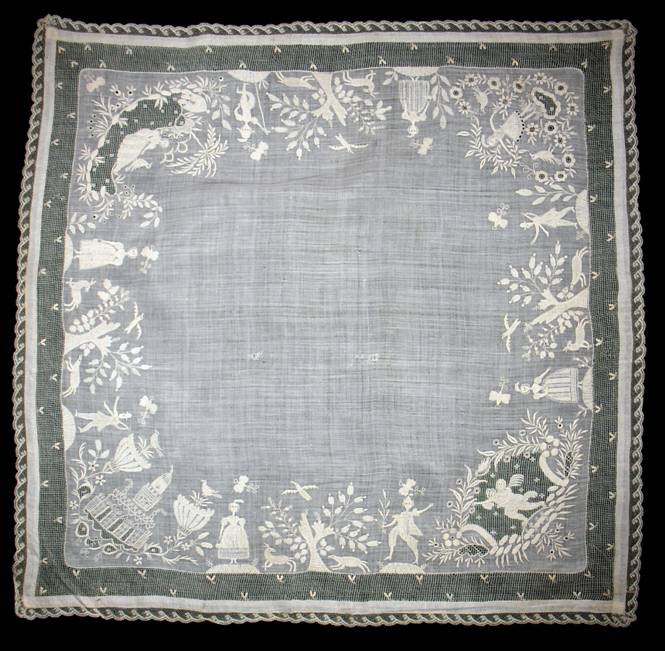 "To be fully seen by somebody, then, and be loved anyhow – this is a human offering that can border on miraculous."

Elizabeth Gilbert, Committed: A Skeptic Makes Peace with Marriage
 Background
If I understand correctly what I've been told, this handkerchief may have been part of the Blackborne Lace Collection. This particular piece was purchase by Darlene Armour from Julius Sternfeld. From what I could gather on the web, he was a lace importer located at 114 East Twenty-Third Street. (The New York Supplement, pg 1062)  He was also responsible for inventing a perforating machine used in making lace designs. (Textile America) According to Ms. Armour, who met Sternfeld in the 1980s when he was quite elderly, he attended museum auctions to assemble his collection. Over the years, he would sell off a piece here and there. Ms. Armour closed her shop in 1989 and moved to Scotland and lost track of Sternfeld. Web accounts have him passing away in 1991, so I guess I'll never know the complete history of this piece.
Blackborne Lace Collection, Bowes Museum, County Durham, U.K.
https://www.ntu.ac.uk/science_heritage/document_uploads/86769.pdf
Blackborne Lace Collection, Metropolitan Museum of Art Catalog
https://www.cs.arizona.edu/patterns/weaving/articles/met_lac07.pdf
Blackborne Lace purchased by the Metropolitan Museum of Art
https://query.nytimes.com/gst/abstract.html?res=9A03E3DF1E31E733A25752C1A9639C946897D6CF