It's no surprise that a city as diverse in culture, cuisine and citizenry requires multiple monikers to capture is magic. New Orleans is known by turns as "The Big Easy', The Birthplace of Jazz", "The Little Paris of the New World", "Mardi Gras City" and "The City that Care Forgot".
The current favorite sobriquet? – "The Big Easy". In the early 1900's New Orleans had a dance hall named The Big Easy, but it wasn't until 70 years later, when Betty Guillaud, columnist for the Times-Picayune used the term to compare New York (The Big Apple) to New Orleans (The Big Easy) that the name took hold. It was further solidified when James Canaway's 1970 crime thriller "The Big Easy", set in New Orleans, was released. It was subsequently made into a film starring Dennis Quaid and Ellen Barkin who sizzled hotter than a steamy summer night on the bayou.
New Orleans is called The Crescent City because the original town – the Vieux Carré or French Quarter was established at a sharp bend in the Mississippi, which you can see at around 4 o'clock on this handkerchief map. (Note: even the compass wears a Mardi Gras mask!) The French Quarter is the oldest neighborhood in the city and the entire district (78 square blocks) has been designated a National Historic Landmark.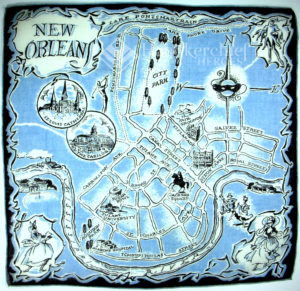 The mighty Mississippi was indeed an artery carrying lifeblood to the city. The first steamship was put into service between New Orleans and Natchez in 1812. By 1840, steamship arrivals had increased to 1,573. With a population of 102,192 New Orleans became the fourth largest city in the U.S. and was vying with New York to be the #1 port in the nation.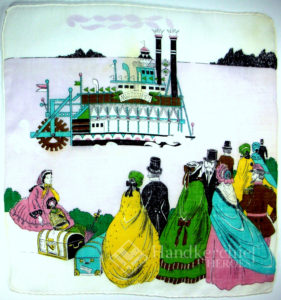 "She had understood before she had ever dreamed of a city such as this, where every texture,

every color, leapt out at you, where every fragrance was a drug, and the air itself was

something alive and breathing."

Ann Rice, The Witching Hour
Wealthy river boat captains and merchants built stately homes and entertained lavishly, particularly the pleasure-loving Marquis de Vaudreuil, who set a new standard for grand entertaining. Soon the city gained fame as both a sophisticated cultural center and bawdy river town.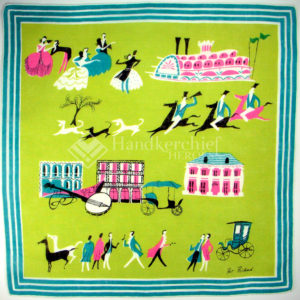 "To all men whose desire only is to be rich and to live a short life, but a merry one,

I have no hesitation in recommending New Orleans."

Henry Bradshaw Fearon, Sketches of America, 1919
There were riverboats devoted solely to entertainment.

Show Boat

, a 1926 novel by Edna Ferber chronicles the lives of three generations of performers on the riverboat

Cotton Blossom,

a floating theatre that traveled the Mississippi from the 1880s-1920s. It's a tale of both love & disillusionment, joy & sorrow. Adapted for Broadway in 1927 by Jerome Kern & Oscar Hammerstein II, their song "Ol' Man River" about life on the Mississippi stopped the show. When Ferber first heard the lyrics, she called them "powerful  native, tragic and true."

"The Old Folks At Home" a minstrel song written by Stephen Foster in 1851 is captured on this chartreuse beauty.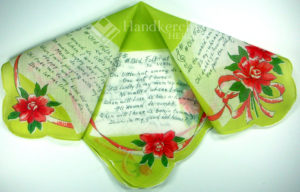 Songs like these were part and parcel of the lives of those who worked on plantations like this one.
| | |
| --- | --- |
| | This hankie features a home in Dixie, which is a nickname for the Southern States. One theory regarding the origin of the word, according to A Dictionary of Americanisms on Historical Principles, claims "Dixie" refers to currency first issued by the Citizens State Bank located in the French Quarter of New Orleans. Ten dollar notes were labeled "Dix" (French for ten). The notes were known as "Dixies" and French speaking parts of Louisiana were known as "Dixieland." |
Ten dollar note from Banque des Citoyenes de la Louisiane, 1869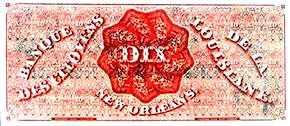 There were plenty of options for spending your dixies as you entered this vibrant, bustling town with its pleasant cobblestone streets enhanced by romantic wrought iron gates and charming tiered balconies.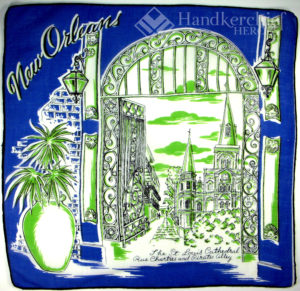 How appropriate the following hankie which features the Old Absinthe House is itself Absinthe green. Built in 1806 to house an import business, it was converted to a saloon in 1815, and later a coffee house christened The Absinthe Room. The marble fountains which dripped cool water over sugar cubes into glasses of Absinthe can still be seen today. During Prohibition, plans were underway to destroy the bar, but crafty locals carted it away in the dead of night and hid it in a warehouse on Bourbon Street. So there! The bar was finally returned in 2004, and the tavern is still known as Jean Lafitte's Old Absinthe House. Over the years, it's been visited by the likes of Oscar Wilde, P.T. Barnum, Mark Twain, Enrico Caruso, General Robert E. Lee, Franklin Roosevelt, Liza Minelli, Frank Sinatra and others. Absinth was made from wormwood and had narcotic properties that could cause hallucinations, delirium and even death, thus it was outlawed in the U.S. in 1912.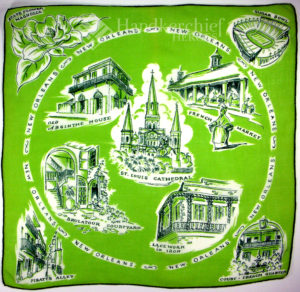 In this lavender lovely, the Old Absinthe House commands center stage above a Mardi Gras float possibly featuring Andrew Jackson in uniform. Note the charming border of Mardi Gras masks.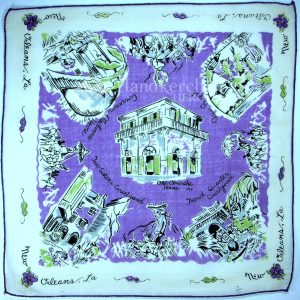 Many handkerchiefs feature the St. Louis Cathedral. Named after French King Louis IX, it is said to be the oldest continuously operating church in the country.  Founded in 1720, it became a cathedral in 1794. The statue of Andrew Jackson in the foreground resides on a military parade ground where the Louisiana Purchase of 1803 was signed, granting the U.S. 828,000 sq. miles for $15 million dollars. (The Louisiana territory first belonged to France, then Spain, then France before the U.S. acquired it which explains the mélange of cultures, languages, and cuisines of the city.)
The statue honors Jackson's role in the war of 1815, where the U.S. defeated the British, and regained maritime rights, a major victory, as New Orleans was a vital port for U.S. trade in flour, tobacco, pork, feathers, cider and cotton. Note the artist bordered the hankie with wrought iron fencing.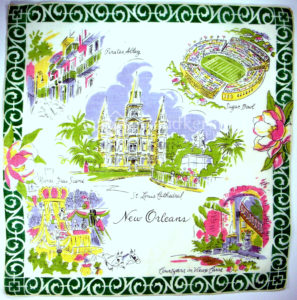 A statue of Andrew Jackson silhouetted against the façade of St. Louis Cathedral

Flower laden wrought iron balconies in the 

French Quarter

"There couldn't be anything more perfect, she thought, than slow dancing, barefoot, on

a balcony in New Orleans, while the rain poured down and twilight wrapped around them."

Linda Howard
To enhance your viewing:
"Way Down Yonder in New Orleans", music by John Turner Layton Jr., lyrics by Henry Creamer, 1922. This instrumental features Dave Chambliss Horns
httpa://www.youtube.com/watch?v=2OO0vIhQNrI
Whether pinwheel or checkerboard layout, both souvenir hankies, awash in landmarks and historic sites, are anchored in the center by a bold, beautiful magnolia, the state flower.
"I returned to New Orleans, and as soon as I smelled the air, I knew I was home.

It was rich, almost sweet, like the scent of jasmine and roses around our old courtyard.

I walked the streets, savoring that long lost perfume."

Anne Rice, Interview with the Vampire
What small landmark is often missing from actual street maps, but is known to every local, and featured on every hankie?  Hint: it bookends the city map opposite the Old Absinthe House.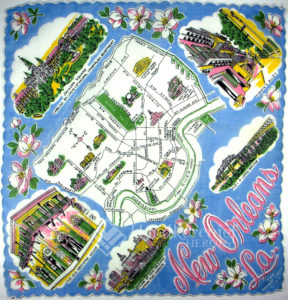 Pirates Alley of course!  Take heed Adventurers, Scallywags and Buccaneers – this one's for you. ☺ Serving as a walkway between Chartres and Royal Streets alongside the cathedral, it's only 600 ft. long and 16 ft. wide, yet here you'll find St. Anthony's Garden, William Faulkner's home, the Cabildo, or seat of government, and the remnants of a prison. Legend has it the alley was the home to duels, as well as the smuggling of contraband and pirate loot. Some sources claim privateer John Lafitte met Andrew Jackson here to help plan the Battle of New Orleans; others say he met to plead for the jail release of his brother Pierre in exchange for British secrets. 
"Jean Laffite was a sexy bad boy with a gentleman's manners and an air of

barely suppressed danger. Every girl's secret dreamboat in other words."

Suzanne Johnson, River Road
City map handkerchiefs were a hit with tourists trying to orient themselves. Everything's here from the Fair Grounds to the ball park to the yacht club to the airport, the hospital, the golf course and every tourist attraction in between. Yes, today we rely on Google maps, but hankies were infinitely more fun!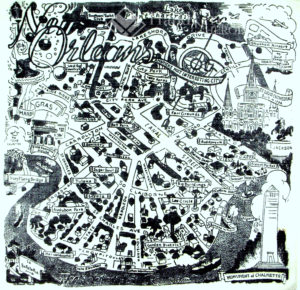 This colorful compilation captures the heat, the heart, the hoopla and the history that is New Orleans.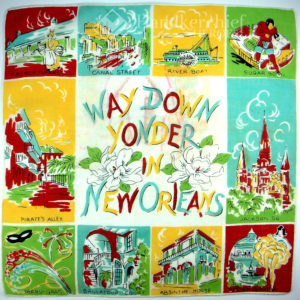 And Oh the Food!
"New Orleans food is as delicious as the less criminal forms of sin."

Mark Twain
Home to alligator sausage and gumbo ya ya, crawfish étouffée and shrimp remoulade, raw oysters, grillades & grits… from pompano au papillote to po'boys and red beans & rice, ditch your dietary don'ts and embrace your savory, succulent side.




Soothe your sweet tooth with pralines and cream, pecan pie, and sinful beignets dusted with powdered sugar. Love the food so much you wish you could bathe in it? Well, you can. Where else can you find Café Au Lait and Pralines & Cream

SOAP

? Where else can you belly up to the bar and order a Hurricane or a Hand Grenade? 

Mais oui, bien sûr.

"Satchmo was raised on red beans and rice, a meal so familiar that he described it as his "birthmark"

– indeed, in adulthood, he often signed off letters with "Red beans and ricely yours."

Fiona Ross, Dining with the Famous and Infamous
Eat, Drink and Be Merry, for tomorrow….
Mardi Gras is French for "Fat Tuesday" and refers to the final night of dining and imbibing before the onset of Lent. One last night of revelry before a time of repentance sounds reasonable. Ah, but this is New Orleans, where Mardi Gras stretches from Epiphany (January 6th) to Ash Wednesday. That's a boatload of partying! The floats, the dancing, the carousing allow you to enjoy life to the max. Even the local newspaper acknowledged as much over a century ago.
"Everyone in this good city enjoys the full right to pursue his own inclinations

in all reasonable and unreasonable ways.

The Daily Picayune, New Orleans, March 5, 1851
"He's got that New Orleans thing crawling all over him, that good stuff, that

We Are The Champions to hell with the rest and I'll just start over kind of attitude."

Chris Rose, 1 Dead in Attic: Post-Katrina Stories
Laissez les bon temps rouler!
Raise your hankies in the air and wave 'em like you just don't care!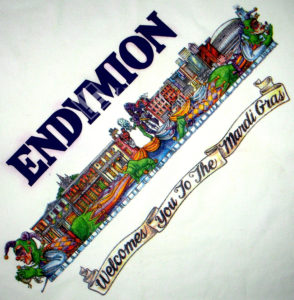 The Krewe of Endymion carry Mardi Gras hankies to twirl overhead 'til their arms ache. Named for the Olympian God of Fertility and Eternal Youth, Endymion is purportedly the largest "non-military" parade in the world, with 2,600+ masked revelers rolling along on floats through the city. They even hold an extravaganza in the Super Dome post-parade. Legend has it Endymion was so handsome, the moon goddess Selene had him put into a perpetual sleep so she could kiss him whenever she wished. You go goddess…
If the Mississippi is the artery that carries life to the city, surely music is the heartbeat that sustains its soul with non-stop rhythm, from syncopated jazz to euphonious blues.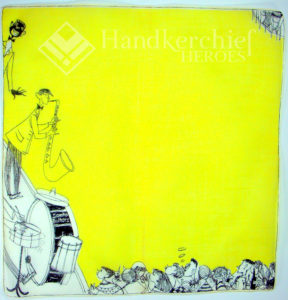 The Great Satchmo
Jazz singer Tony Bennett claims "I never met a man who wore genius with as light a touch as Louis Armstrong…he invented jazz as much as the Wright brothers invented the airplane…Louis was the one who made it soar." He's also handkerchief's leading champion, never performing without one at his fingertips. Born in 1901, Louis "Satchmo" Armstrong lived during the era of pocket watches and walking sticks, fedoras and handkerchiefs. Ever the gentlemen, he was rarely photographed in anything but a suit and tie, and always carried a pristine handkerchief.
His hometown so revered this humble, brilliantly gifted man, this grandson of slaves, that it named its airport Louis Armstrong International. Today you can't land in the home of jazz without passing through a portal that honors this masterful genius.
Another Bennett* anecdote affirms that although Armstrong was born on August 4

th

, he always claimed he was born on the 4

th

of July!!☺  Apparently he was wholly convincing, as this

astrology

 

hankie lists him as a Cancer, instead of the true Leo/Lion that he was. You can't help but smile at this one! Indeed "What A Wonderful World" it was when this talented, generous and modest man graced the earth.

We can't begin to do him justice here but Ken Burn's splendid documentary on Jazz pays tremendous tribute to Armstrong and other jazz greats and is well worth watching.
Jazz
From slow and sleepy to whiplash fast. From icy cool to fever pitch. Jazz can set the tone and take you anywhere. The blond in the hankie below reminds me of Peggy Lee at her finest. You can almost hear the sax caressing her velvet voice in the background.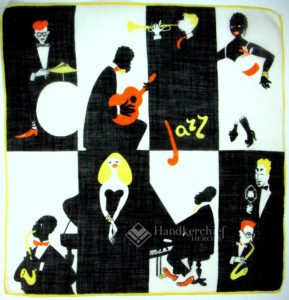 Flick a switch and the joint is jumpin'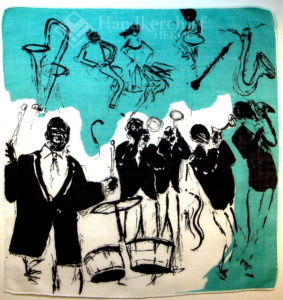 Blue has been used forever to describe both music and the mood it invokes, thus we pay tribute to those horns which can wail and moan or sing and scream, that raise us high and bring us low. The cigarettes alongside were permanent residents at jazz clubs.
"Smoking, drinking, never thinking of tomorrow, nonchalant…"
Since "smoke filled" and "jazz club" were once synonymous, whether hosting beatniks on bongos or Basie at the keyboard, we thought we'd include this smoking gem alongside. The sleek graphics are as sensual as any sybaritic jazz riff, and immediately conjure the 1932 Duke Ellington standard Sophisticated Lady (lyrics by Mitchell Parish). It's been sung by everyone from Ella Fitzgerald to Sarah Vaughan to Natalie Cole.  Perhaps that's Miss Sarah on this next handkerchief.
She's giving it all she's got, right down to her red lacquered fingertips. Terrific.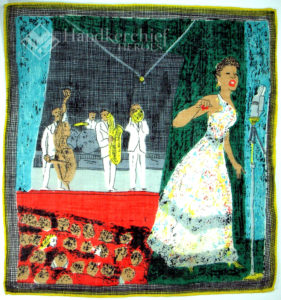 The companion hankie has our sax king in handsome herringbone wailing away while dancers take turns strutting their stuff.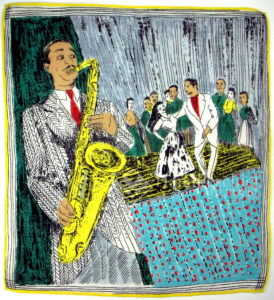 This chili hot hankie evokes the peppery syncopations of Lionel Hampton.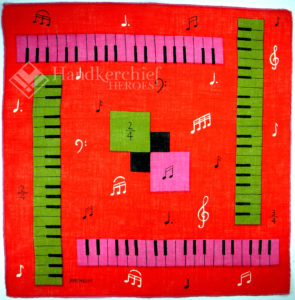 Lionel Hampton – Flying Home
In his autobiography, Lionel Hampton tells of an incident at the Apollo when an audience member, who was a bit "high", launched himself from the second balcony when the band played "Flying Home", mistakenly believing he could fly home! Hampton's performance had such a reputation for whipping crowds into a frenzy that in one instance Connecticut police forbade him from playing it for fear the balcony would collapse. All this from the vibraphone, an instrument that today (mistakenly, in my opinion) holds a marginal presence in jazz.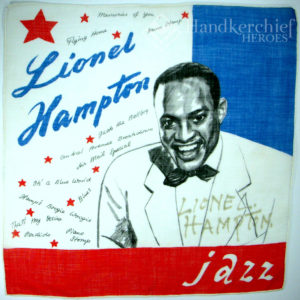 From Gene Krupa to Buddy Rich, Art Blakey, Max Roach, Tony Williams, Chick Webb, Ginger Baker, Phil Collins, "Questlove" Thompson, and more…. You gotta have a beat so you can tap your feet! This hankie manages to convey both cool and hot with brushes and base drum. Nuff said.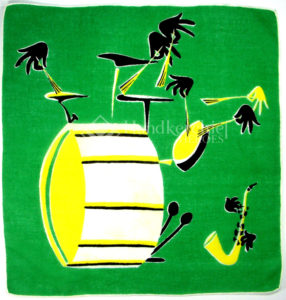 "He turned around to see the bass drum popping and the horn sections pointing their

instruments to the balconies and sending glorious notes to the rooftops."

Hunter Murphy, Imogene in New Orleans
So many hailed from or played jazz in New Orleans –  from Louis Prima, The King of Swing to clarinet master Sidney Bechet to Joe "King" Oliver, Al Hirt, Pete Fountain, the magical Marsalis family, Mac Rebennack aka "Dr. John" to the Neville Brothers, Randy Newman, Harry Connick Jr. and more. We give a toot of the trumpet and a roll of the drumsticks to them all.
Second Liners
If you've ever been in New Orleans when a parade, a wedding or even a funeral passes by, you've witness a long standing tradition. The parade, led by the principal parties (bride, groom, etc.) is followed by a jazz band, followed by a rowdy crowd of revelers twirling their hankies in the air. These hankie-spinning merrymakers are known as "second-liners", as indeed, they are second in line to the main event. No respectable second-liner would ever leave home without a handkerchief. What if a parade happened by? Often bystanders join in the fun, so best have a hankie handy when you visit The Birthplace of Jazz.
Second Line handkerchiefs are de rigueur for wedding parties.  Here are images from a few.
How to encapsulate the magic of the city for a fond farewell? I'm not sure it's possible, but we'll leave you with a few impressions from those who know her better than I.
"Mardi Gras is the love of life. It is the harmonic convergence of our food, our music, our creativity, our eccentricity, our neighborhoods, and our joy of living. All at once."

Chris Rose, I Dead in Attic: Post-Katrina Stories
"You can take the people out of the city, but you can't take the soul – that remains here."

TJ Fisher
"New Orleans possesses an astonishing vitality that has spoken to people around the world and shaped much of the best of what we think of still as American culture.Jazz music, rhythm and blues, and rock and roll, Creole cooking, Mardi Gras, the architecture of the French Quarter, the literary traditions of Williams and Faulkner and Percy and Kate Chopin, the Mardi Gras Indians…it is not something you find only in a tourist guide; it is a reality lived by its inhabitants every day, and as often as possible by those who live visiting."

Tom Piazza, Why New Orleans Matters, 2008
"I didn't really understand community until I moved to New Orleans."

Jordan Flaherty, Floodlines: Community & Resistance from Katrina to the Jena Six
*These anecdotes are from Just Getting Started by Tony Bennett. You'll love his book as much for his wonderful paintings as for his terrific stories. He's an artist on so many levels it's humbling.
JUST FOR FUN
Bing Crosby and Louis Armstrong from the 1956 movie "High Society".
httpv://www.youtube.com/watch?v=xum6ULWbIX0&authuser=0
Lionel Hampton Flying Home
httpv://www.youtube.com/watch?v=R_rTICMVXQQ
And of course…
Louis Armstrong's rendition of Way Down Yonder in New Orleans (a remastered oldie)
httpa://www.youtube.com/watch?v=WAvp7xm1aNA
Louis Armstrong's rendition of Basin Street Blues – written by Spencer Williams in 1928
httpa://www.youtube.com/watch?v=H8GjJD826vc
This amazing eight year old prodigy is Frank Isaac Robinson, known as Sugar Chile, seen here playing "Caldonia" in the 1946 movie "No Leave, No Love" starring Van Johnson. At the age of three he won a talent show at the Paradise Theater in Detroit. He performed with Lionel Hampton, Count Basie and others.
https://www.wimp.com/oldschool
JAZZ TERMINOLOGY  from dictionary.com
Over its hundred-year history jazz has traveled from the streets of New Orleans to the concert halls of Japan. The musical style that began as a derivation of Louisiana ragtime grew into the big-band swing of the 1920s and 30s, improvisational bebop beginning in the 40s, and finally to jazz fusion, a mixture of jazz, funk, and R&B. But unlike other musical mediums, every movement in jazz is still thriving to this day.
Hip
Originally spelled "hep" describes someone "in the know" or "in tune" with the latest style; iit refers to the "cool" demeanor of talented musicians or informed listeners. According to legendary saxophonist Cannonball Adderley: "hipness is not a state of mind, it's a fact of life."
Hep-kat
In 1938 bandleader Cab Calloway released The Hepster's Dictionary, in which he defined the word hepcat as a guy or gal "who knows what it's all about." By the late 1950s it was shortened to "cat", and was documented as the accepted title when jazz pianist Thelonious Monk first heard revolutionary saxophonist Ornette Coleman and declared "Man, that cat is nuts!"
Dig
The Hepster's Dictionary defines "dig," as "to comprehend, to understand," using the example: "Do you dig this jive?" (with "jive" referring to music).
Chops
Supreme musical skill or ability. In bebop, chops implies not only the stamina necessary to keep up with the lightning-fast melodies, but the ability to successfully improvise. According to bandleader Duke Ellington, bringing your chops to a session is as vital as bringing your instrument because "playing [bebop] is like playing Scrabble with all the vowels missing."
Scat singing
Substitutes words with nonsense syllables allowing vocalists to improvise in the style of a musical instrument. Trumpeter Louis Armstrong is rumored to have invented scat when he dropped his lyric sheet during a performance, but bandleader Jelly Roll Morton contested this claim, citing comedian Joe Sims as the first man who ever did a scat number in the history of this country. Ann adds – and no one did it better than Ella Fitzgerald.
In the pocket
When a tune is really grooving and everyone in the room feels the beat in their bones, or when a jazz musician falls into a rhythm like he's falling into his mother's arms, you can say he's in the pocket. Freddie Green's 1956 composition "Corner Pocket" led many to believe the term originated in pool vernacular, as in "I'm going to sink the eight ball in the corner pocket."