"The moon is a loyal companion. It never leaves. It's always there, watching, steadfast, knowing us in our light and dark moments, changing forever just as we do. Every day it's a different version of itself. Sometimes weak and wan, sometimes strong and full of light. The moon understands what it means to be human. Uncertain.  Alone.  Cratered by imperfections."  Tahereh Mafi, Shatter Me

 
To enhance your viewing, Beethoven's Moonlight Sonata.
httpa://www.youtube.com/watch?v=4Tr0otuiQuU
This is the season of the Harvest Moon which marks the official start of autumn.  With many crops ripening in late summer and early fall in the Northern Hemisphere, farmers relied on moonlight to assist  their harvesting crops late into the evening, thus the moniker Harvest Moon.   Gleaming gold and looming large, it seems closer than ever, but it's only an illusion. For those who are interested, we've provided a brief video at the end which explains this phenomenon.
Look at that moon. Potato weather for sure.

Thornton Wilder, Our Town
A medley of brilliant suns and slumbering moons float in rotation on this colorful winsome linen hankie.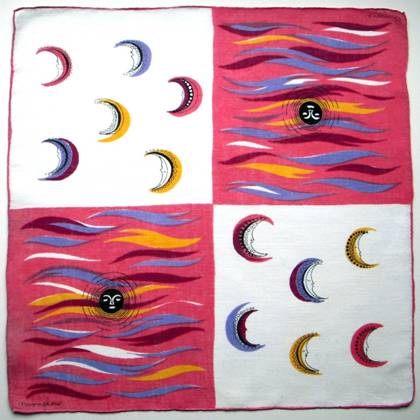 This blog should more accurately be titled sun, moon and stars, since we're addressing the heavens in general,  and its  impact on the harvest season.  Handkerchief-wise, there are numerous images to be found honoring the sun and astrological images, so here we go….
These hip and happening suns reflect a call-back to the 1950's futuristic clocks inspired by the Russian satellite sputnik. Like a skilled actor who brings new energy to every take, no two facial expressions are identical. The blue hankie is frivolous and fun, while the ultra modern pink hankie says "I'm ready for my moon launch. Let's go

. " 🙂
 
A gaggle of grinning starbursts wink and nod to their companions in a heliotrope heaven.  Merry and mischievous, they could give Paul Lynde and his Hollywood Squares posse a run for their money in the fun department.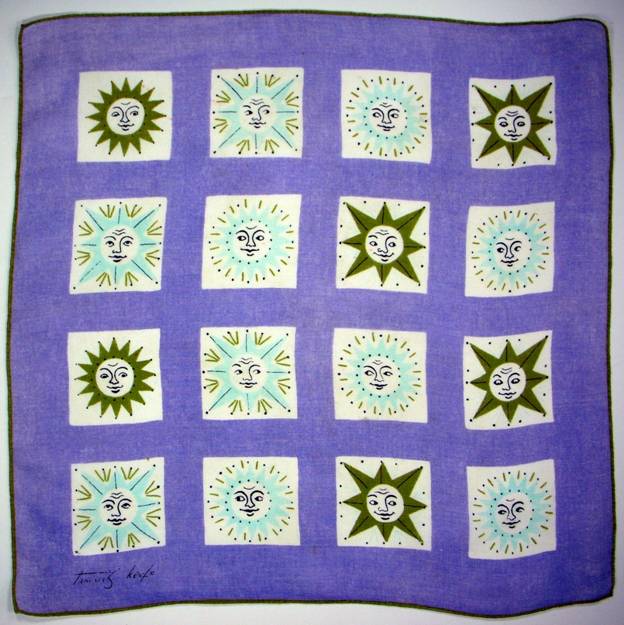 We downshift to cool and classy in these Keefe renditions of a sky full of zodiac symbols, sprinkled with a sugarcoating of stars.  The understated gray is sophisticated yet sexy, with a hint of passion simmering in the lipstick red border.  Perfect for the lady who flirts on the sly.
The brilliant royal blue figures burst beyond orderly borders to swirl and streak across the sky like shooting stars. Game on!
It is the stars, The stars above us govern our conditions.
William Shakespeare
 

These hankies remind me of Thomas Zimmer's magical self portrait beneath the Milky Way.

Ye stars! which are the poetry of heaven!
Lord Byron

Look out into the universe and contemplate the glory of God.  Observe the stars, millions of them, twinkling in the night sky, all with a message of unity, part of the very nature of God.

Sai Baba
When I worked in graphic design, one of our assignments consisted of specing the typography in both Mandarin and English for the Hong Kong Space Museum. One exhibit which captivated and intrigued me involved a map of the heavens, which was superimposed with a large sheet of plexiglass.  You were unaware the plexiglass was there until you pushed a button and light traveled through the glass to reveal etched lines which connected the stars in patterns of constellations – Cassiopeia, Ursa Major, the Big Dipper, etc. Press a second button, and a different  light source would illuminate a second set of lines connecting the same identical stars, but in completely different patterns, to reflect how the heavens were viewed by Eastern civilizations – dragons, tortoises, etc. It had simply not occurred to me that the east and the west viewed the heavens differently. The Western study of astronomy follows the Greco-Roman model (based on Egyptian astronomy), which compares sunrises and sunsets against the positions of the stars. The zodiac embodies the twelve constellations through which the sun moves over the course of a year.  The Chinese focused on the pole star Polaris, and divided the stars according to their position relative to it.
| | | |
| --- | --- | --- |
|   | Chinese constellations Azure Dragon of the East (spring), Black Tortoise of the North (winter), White Tiger of the West (fall),  Vermillion Dragon of the South (summer), shown alongside a western zodiac chart printed on a round scalloped hankie. | |
"I never really thought about how when I look at the moon it's the same moon as Shakespeare and Marie Antoinette and George Washington and Cleopatra looked at."

Susan Beth Pfeffer, Life As We Knew It
A world map with New York as its central focus is bordered by time zones from around the world and signs of the zodiac.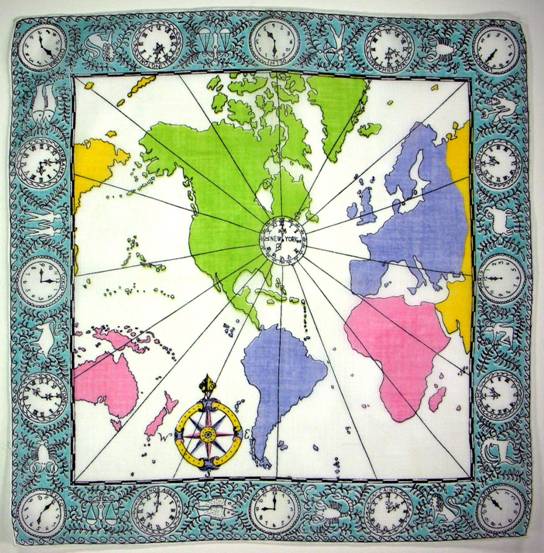 A handkerchief featuring the birthstone, flower and astrological symbol for each month.  Printed on silk crepe, it was obviously intended for fashion, not utility.  Apparently the flirtatious "what's your sign?" game has been in use long before the flower children of the 1960's adopted it during the Age of Aquarius.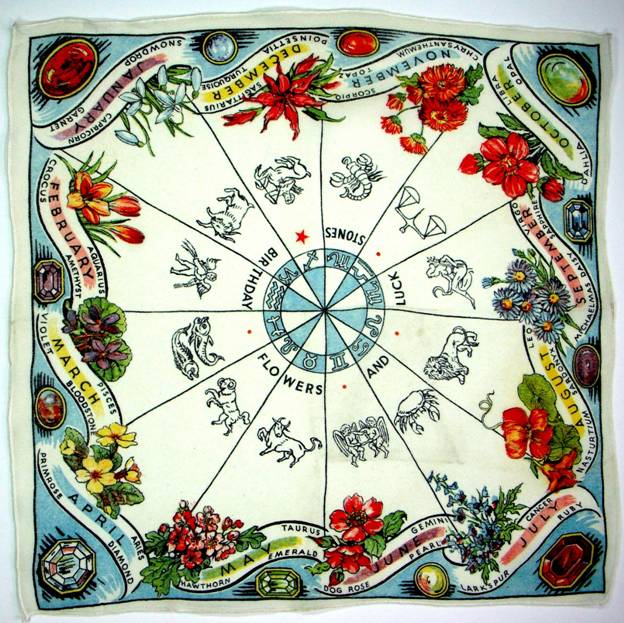 Some handkerchiefs limit themselves to the gemstone and flower of each month.   As we learned in

sailing

,

gemstones were believed to contain certain powers.  Many handkerchiefs showcase individual astrological signs, listing personality traits attributed to those born during certain phases of the sun and/or the moon.  That's a blog for another day.  For now, in this season of the harvest moon, we acknowledge that farmers for centuries have regulated the sewing and reaping of crops to coincide with seasonal cycles, which are influenced by all aspects of nature.

 
"Go slowly, my lovey moon, go slowly."

Khaled Hosseini, The Kite Runner
Artists Tammis Keefe masterfully crafts the zodiac symbols below.  Rather than cram twelve signs on a single hankie, she wisely divides the year in half, allowing  each image ample room to shine.  She focuses less on information and more on imagery.
| | |
| --- | --- |
| As always, Keefe manages to balance bold sweeps of color with just the right amount of detail to keep your eye engaged, yet not overwork the design.  Perfection.   |   |
This forest green number has me flummoxed as the animal silhouettes resemble a hippo, a giraffe, a rabbit?  yet the pine tree would be out of place on the Serengeti.  What's your guess as to where this harvest moon is shining?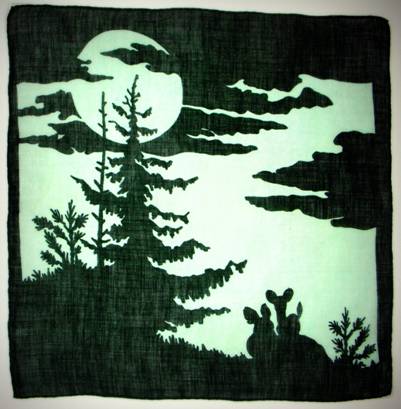 Moons  and stars fancifully dance in a cobalt sky around a brilliant kelly green zodiac wheel.  Its off-center placement underscores the impression of multiple planets filling the night sky. Note the dark forest green spheres also contain zodiac images in pen and ink. It's sophisticated, fashionable and fun.
So pop your hankie in your pocket, and tiptoe into the still fall night to steal a kiss under a golden Harvest Moon.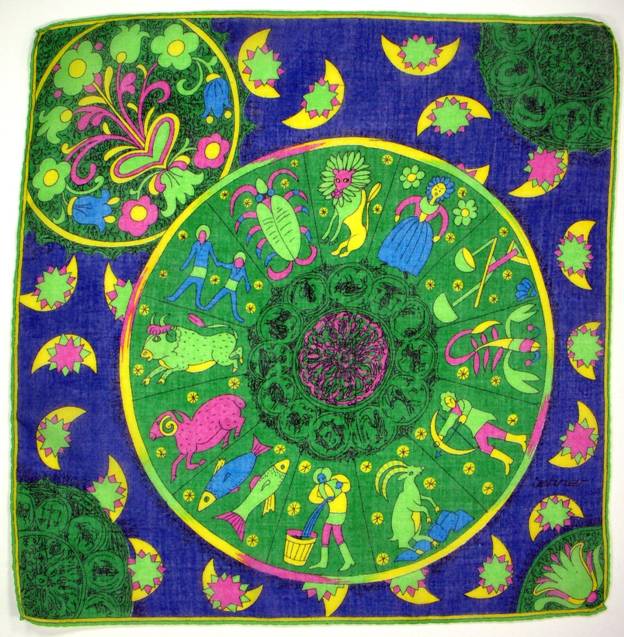 "We all shine on…like the moon and the stars and the sun… we all shine on… on and on and on and on…"

John Lennon
A spiral cloud with a tiny butterfly kiss of a moon observed in the Himalaya October 18, 2009.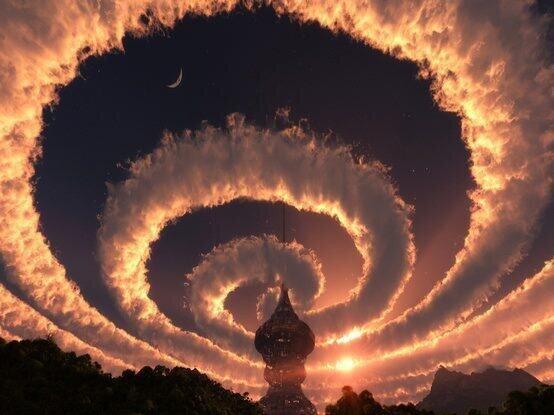 "When hope is fleeting, stop for a moment and visualize, in a sky of silver, the crescent of a lavender moon. Imagine it — delicate, slim, precise, like a paper-thin slice from a cabochon jewel.
It may not be very useful, but it is beautiful.
And sometimes it is enough."

Vera Nazarian, The Perpetual Calendar of Inspiration
Just for Fun
A brief video explaining the phenomenon of the Harvest Moon.
 
   Shine On, Harvest Moon
Music by Nora Bayes, lyrics by Jack Norworth.  First introduced in the Zigfield Follies in 1908.  Sung here by Leon Redbone httpa://www.youtube.com/watch?v=u4j7cAV9TNI
The night was mighty dark so you could hardly see,
Cause the moon refused to shine.
There's a couple sitting neath the willow tree,
For love they pine.
Little maid was kinda 'fraid of darkness
So she said, "I think I'll go."
The boy began to sigh, looked up at the sky,
And told the moon his bitter tale of woe.
Oh,Shine on, shine on, harvest moon
Up in the sky;
I ain't had no lovin'
Since January,Feburuary June or July.
Snow time ain't no time to stay
Outdoors and spoon;
So shine on, shine on, harvest moon,
For me and my gal.
Harvest Moon by  Neil Young
httpa://www.youtube.com/watch?v=3CqCSmrGh9g
But there's a full moon risin'
Let's go dancing in the light
We know where the music's playin'
Let's go out and feel the night
Because I'm still in love with you
I want to see you dance again
Because I'm still in love with you
On this Harvest moon